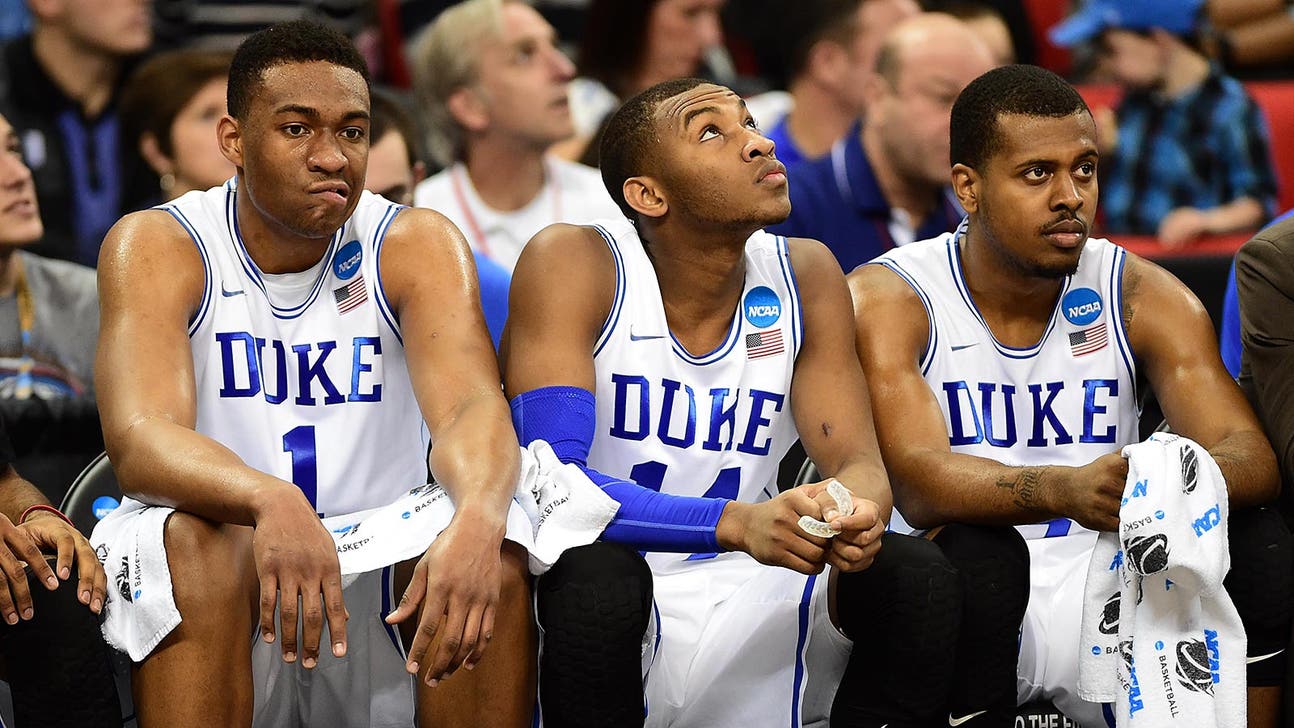 Stunner! No. 14 Mercer upsets No. 3 Duke in second round
Published
Mar. 21, 2014 2:17 p.m. ET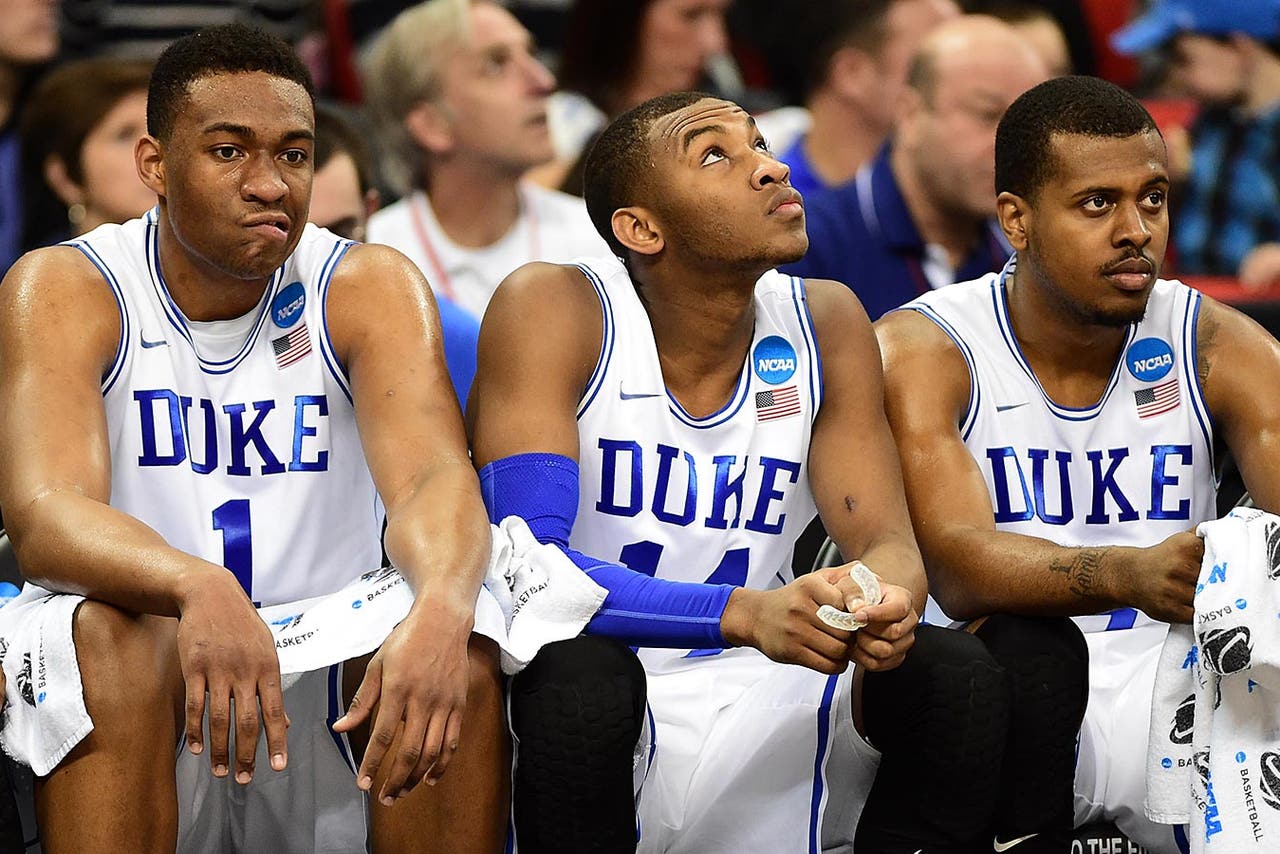 Dunk City is long gone. Make way for the next bunch of bracket busters from the little-known Atlantic Sun Conference: Mercer.
The 8,300-student school from Macon, Ga., delivered the biggest shocker in an already topsy-turvy NCAA tournament on Friday, going into Duke's backyard and knocking off the No. 3 seed Blue Devils 78-71.
"This," Atlantic Sun player of the year Langston Hall said, "is what March Madness is all about."
The 14th-seeded Bears -- with a starting lineup of five seniors -- came back from five points down in the last 4:52 as Duke's offense collapsed.
They sent home one of the true blue-blood programs, coached by Hall of Famer Mike Krzyzewski and starring freshman Jabari Parker, sure to be one of the top NBA picks this year. Mercer is coached by former Oklahoma Baptist player Bob Hoffman, who has banged around the coaching ranks from women's teams to the American Basketball Association to the Rio Grande Valley Vipers of the NBA Developmental League.
Next up: 11th-seeded Tennessee, which upset sixth-seeded Massachusetts 86-67, on Sunday in the third round.
Jakob Gollon scored 20 points and Daniel Coursey scored 17, helping the Bears overcome a season-high 15 3-pointers from Duke.
Mercer qualified for its first NCAA tournament since 1985 by winning the Atlantic Sun conference championship over Florida Gulf Coast, nicknamed "Dunk City" for the team's above-the-rim offense. A year earlier, the Bears lost that game and watched FGCU advance to the Sweet 16.
"When they were going on their run, we were sitting at home thinking, `Man, that could have been us,'" Anthony White Jr. said.
Now it is.
Mercer scored 11 straight points during the late 20-5 run that clinched the biggest victory in school history and sent the Blue Devils to their second first-game exit in three years.
Quinn Cook scored 23 points and Rasheed Sulaimon added 20 for Duke.
But their defense -- an uncharacteristic weakness all season -- did them in again while all those Mercer seniors simply got any shot they wanted. The Bears shot 56 percent -- 58 percent in the second half.
"They're a team that's been together a long time," Duke forward Rodney Hood said. "They sliced us up. There's no other way to put it."
Duke went up 63-58 with 4:52 left after Parker converted a three-point play and Tyler Thornton hit three free throws.
The Blue Devils didn't score again until the final minute.
"I don't know if we panicked," senior Andre Dawkins said, "but we didn't do the things we needed to do."
Like score. Or defend.
Coursey countered by rattling in a jumper in the lane, and after two empty possessions for Duke, some slick ball rotation by Mercer set up White's open 3 that tied it at 63.
Hood picked up his fourth foul on the Bears' next possession and Gollon hit two free throws to put Mercer ahead for good.
By that point, Duke could do nothing right.
Parker missed a 3-pointer in traffic before Hood was called for walking, leading White to give a fist-pump to those noisy Mercer fans who stood all day.
The Bears hit 12 of 14 free throws in the final 2 minutes to seal it.
After the buzzer sounded, the Bears players formed a circle on the sideline and danced. In the middle was guard Kevin Canevari, a Charlotte native who's one of the seven seniors on the roster.
"We were confident all week," Canevari said. "We don't really look at it like we're an underdog in this tournament. Obviously, everyone's a great team, there's already been so many upsets."
White finished with 13 points, and A-Sun player of the year Langston Hall and Ike Nwamu added 11 apiece for Mercer.
Watching Florida Gulf Coast upset Georgetown and San Diego State last year gave the Bears an offseason's worth of fuel. Hoffman said his players "worked harder than any team in the country individually to get a chance to get back to the same moment."
Mercer has 1,176 wins as a program -- only 191 more than Krzyzewski has all by himself.
Parker, one of a long list of high school All-Americans on Coach K's roster, finished what might have been his final college game with 14 points. Hood -- a redshirt sophomore who also could be headed to the pros -- had just six points.
Duke has been to 11 Final Fours and has four national titles under Krzyzewski, but his Blue Devils have lost their first tournament game five times.
Parker said he doesn't know what his future plans are. Hood said he also was undecided because "I thought I'd be playing after today."
---