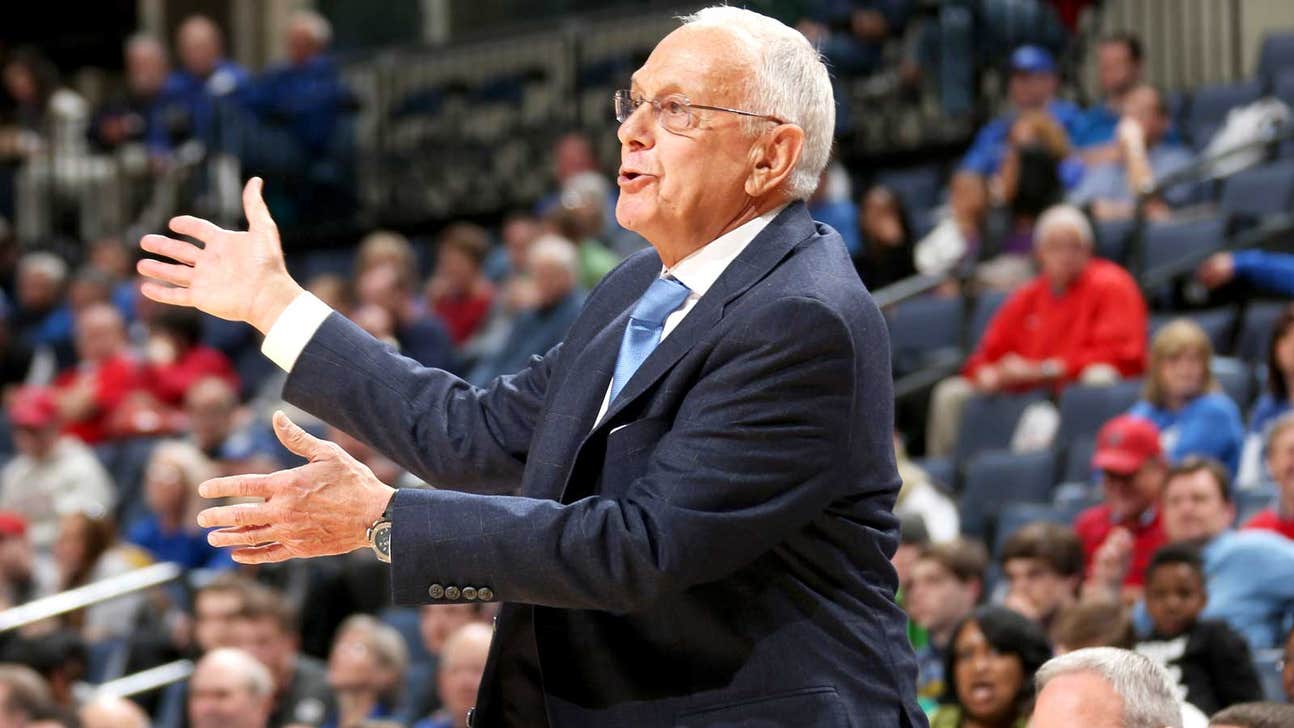 SMU, Hall of Fame coach Brown a No. 1 seed in NIT
Published
Mar. 16, 2014 8:47 p.m. ET

SMU and Hall of Fame coach Larry Brown are staying home to play in the NIT.
Snubbed by the NCAA tournament selection committee after a three-game losing streak, the Mustangs (23-9) are a No. 1 seed in the NIT along with Minnesota, Florida State and St. John's.
The Mustangs didn't have consecutive losses until ending the regular season with losses to Top 25 teams Louisville and Memphis, then dropping their American Athletic Conference tournament opener to Houston.
''We could have beaten Louisville at home. . . . We didn't play our best game at Memphis, but we didn't get blown out by either team,'' a clearly disappointed Brown said after SMU was left out of the NCAA field. ''But when we didn't beat Houston, I kind of thought this could possibly happen.''
The 73-year-old Brown is in his second season at SMU, which hasn't been in the NCAA tournament since 1993. The Mustangs' last NCAA victory was in 1988, when Brown was the coach for national champion Kansas in his last tourney appearance.
SMU opens the NIT on Wednesday night at home against UC Irvine (23-11) from the Big West Conference. The Mustangs are 9-1 at renovated Moody Coliseum, the lone loss being that regular season home finale after building a 14-point lead before halftime against defending national champion Louisville.
St. John's (20-12) plays at home Tuesday night against Robert Morris (21-13), which upset Kentucky in an NIT opener last year after the Wildcats missed a chance to defend their 2012 NCAA title. It is the record 30th NIT appearance for the Red Storm.
Florida State (19-13) takes on Florida Gulf Coast (22-12), giving ''Dunk City'' a chance in another tournament after last season being the first No. 15 seed in the NCAA tournament to make it to the Sweet Sixteen.
Minnesota (20-13) takes on Big South regular-season champion High Point (16-14) in the first round.
The 32-team NIT field includes 13 automatic qualifiers, teams that won their regular-season conference titles without getting an NCAA bid.
All four opponents for the No. 1 seeds were among those teams guaranteed NIT spots. FGCU (Atlantic Sun) and Robert Morris (Northeast Conference) lost in their conference tournament championship games.
An estimated crowd of more than 1,200 SMU fans were at Moody Coliseum to watch the NCAA selection show, which ended with SMU players either putting their heads in their hands or staring up at the overhead screen in disbelief as the final teams were revealed. They were all gone when the NIT announcement was made a couple of hours later.
Brown, whose first NIT appearance will be SMU's third, knew the Mustangs were in trouble when AAC regular-season and tournament champion Louisville was the No. 4 seed in the last of the four NCAA regional brackets released.
After addressing the fans and telling them he felt the Mustangs had let them down, Brown spoke to the Mustangs and their only two seniors in the privacy of the locker room.
''I said that I didn't want to see anybody crying or complaining, because I didn't want to take anything away from the teams that got in,'' Brown said. ''When I saw that Louisville was selected as a four seed, I figured that (the NCAA tournament selection committee) didn't have a lot of respect for our conference.
''We need to figure out how we can finish strong and get better,'' he said. ''We can only blame ourselves. That's the way I look at it.''
---