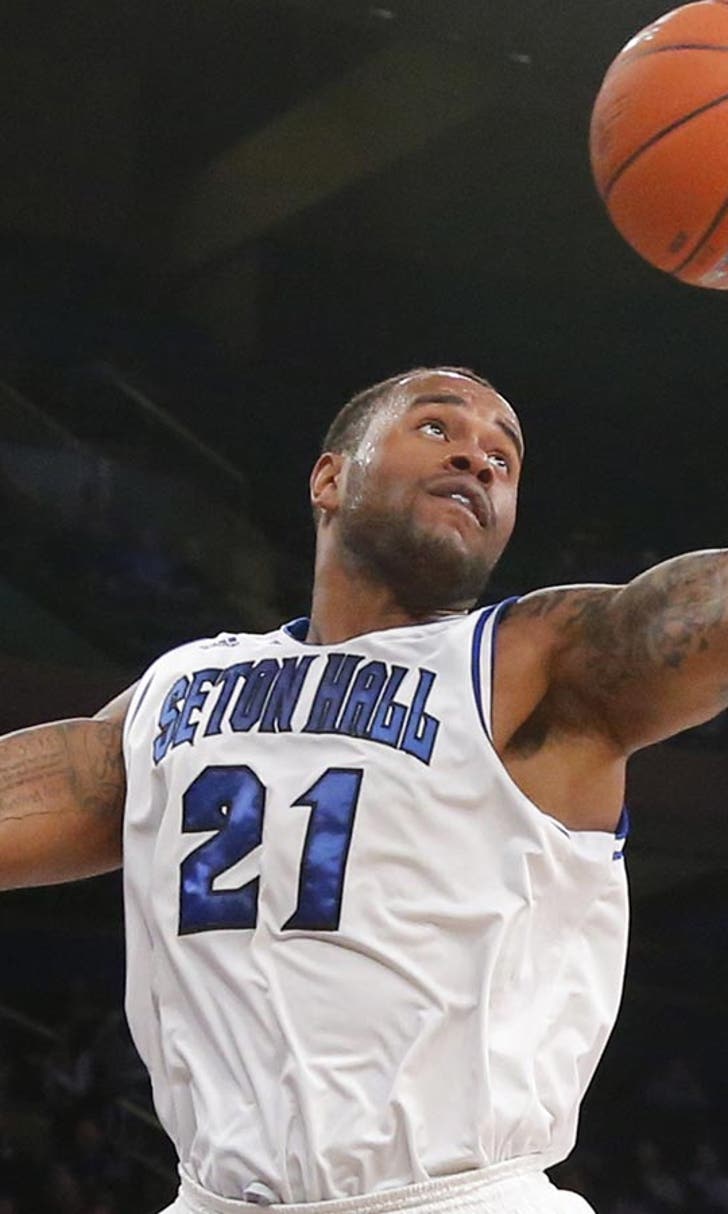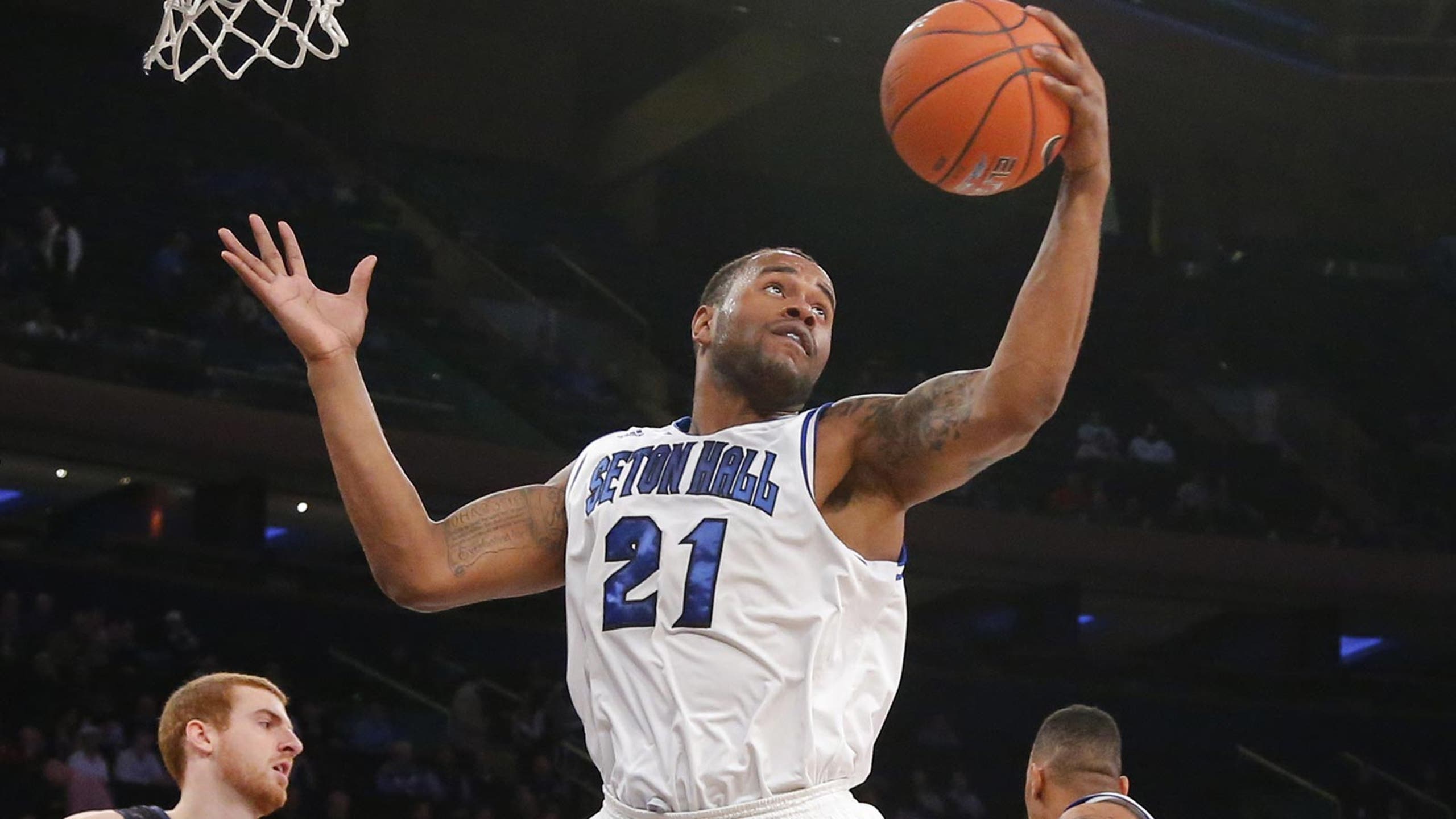 Seton Hall's Teague steps up late as Pirates slip past Butler
BY foxsports • March 12, 2014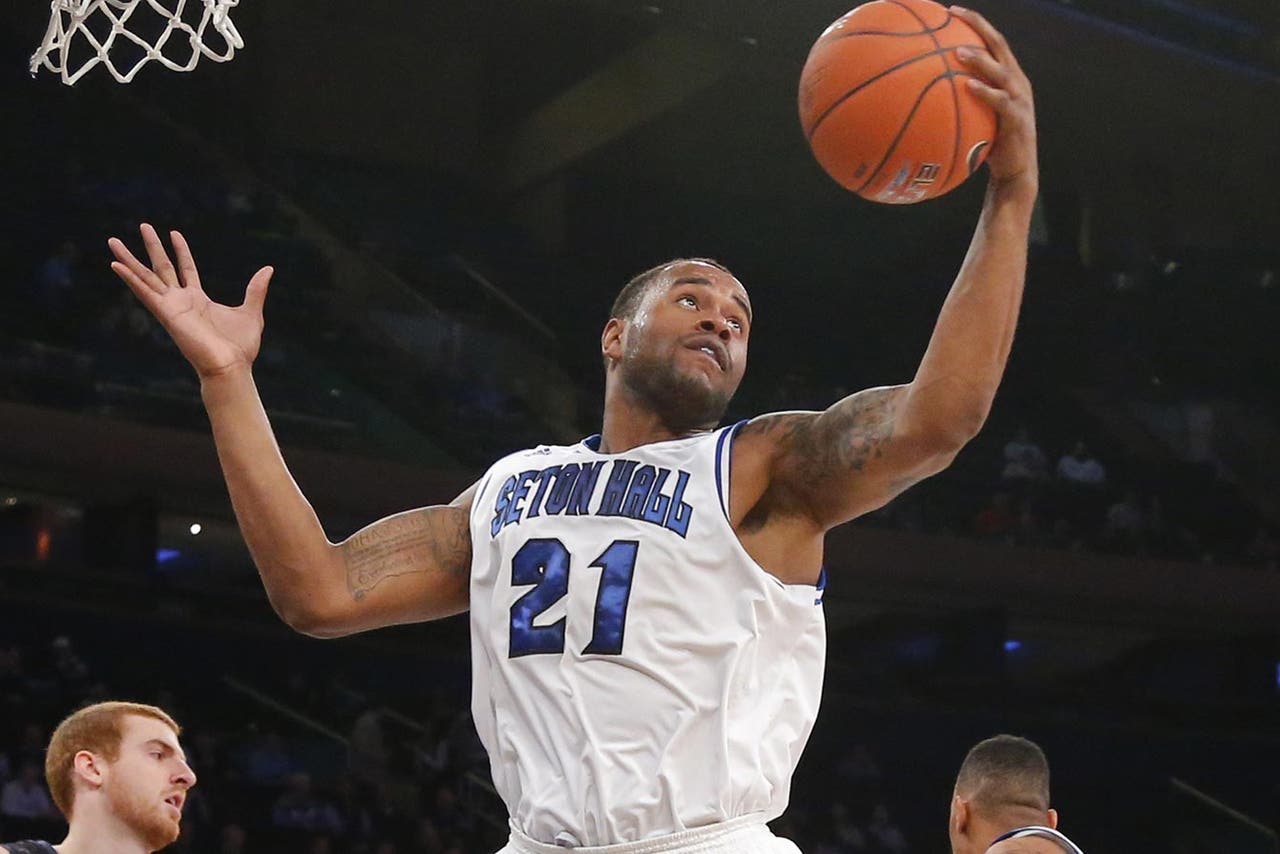 Eugene Teague not only didn't let the flu keep him from playing, he came up with a performance that extended Seton Hall's season and his career.
The senior center had 14 points, 11 rebounds and scored all of Seton Hall's points over the final 9:30 as the Pirates prevailed in a battle of second-half runs for a 51-50 victory over Butler on Wednesday night in the opening round of the Big East tournament.
Teague and fellow senior Fuquan Edwin get at least one more game as the eighth-seeded Pirates (16-16) face top-seeded and third-ranked Villanova in the quarterfinals Thursday.
"Eugene played terrific. No one really knew this. He's been battling the flu since Saturday," Seton Hall coach Kevin Willard said.. "I wasn't even sure he was going to be able to play as bad as he looked yesterday."
There was no doubt in Teague's mind.
"This was my last go-round. I wasn't going to sit it out," Teague said. "I was going to battle through it."
Seton Hall lost twice to Butler during the season including a 71-54 defeat on the road last Saturday when Kellen Dunham had 29 points and seven 3-poiners.
On Wednesday he finished with four points and missed all five of his 3-point attempts.
"Seton Hall did a good job of staying on Kelllen," Butler coach Brandon Miller said. "They knew where he was at all times during the zone. K.D. did a pretty good job of moving without the ball, at the same time, they had an awareness of where he was."
Seton Hall used an 11-0 run to take a 38-26 lead over the ninth-seeded Bulldogs (14-17) with 12:53 to play. Butler came up empty on nine straight possessions in the run and the Pirates extended their lead to 45-32 on a 3-pointer by Brian Oliver with 9:46 to go.
Khyle Marshall, who led Butler with 22 points, started scoring inside and the Bulldogs took advantage of some cold shooting by Seton Hall to go a 14-3 run that made it 48-46 with 4:44 to go.
Alex Barlow hit a 3 for Butler in the run, just the second in 16 attempts for the Bulldogs to that point.
Teague, who scored Seton Hall's only six points over the final 9:30, scored down low with 2:11 left to give the Pirates a 51-46 lead.
Marshall dunked with 1:50 to go and Dunham dunked after a steal with 47 seconds left to bring Butler to 51-50.
Edwin, the conference's defensive player of the year, came up with another steal to add to his league record career total of 294 with 4.3 seconds left.
"I seen him driving towards the baseline. I tried to read him, and I knew he was running into trouble and two of my guys was right there stepping up on him," Edwin said. " And I just anticipated the pass, and I came up with it."
Brandon Mobley was fouled but missed the front end of a 1-and-1 and Butler had a last chance to win but Barlow's shot from just inside midcourt hit the backboard.
Oliver and Edwin both had 10 points for the Pirates, who had lost four of five, and Mobley grabbed nine rebounds.
Kameron Woods had seven points and 12 rebounds for Butler, which finished 2 of 18 from 3-point range. The Bulldogs had won two straight after losing seven in a row.
This is Seton Hall's first appearance in the quarterfinals since 2003.
Willard had a simple plan for the team as it faces a noon game on Thursday.
"We'll get back to the hotel. We'll let these guys shower up and change. We'll come down. We'll eat. We'll watch our defense against them, our offense against them. We'll make any adjustments that we want to," he said of Villanova, which beat the Pirates by 16 and 17 points this season. "Tomorrow morning we'll have an 8:00 walk-through in the ballroom, have breakfast, and come back here.
"There's really not much else you can do."
Butler was making its first appearance in the Big East tournament. The Bulldogs had advanced in a conference tournament the last eight seasons. They are in the third different conference tournament in the last three seasons, first in the Horizon League and last season in the Atlantic 10.
"There's not a day where your have a guaranteed win, no matter who you play," Miller said of Butler's first season in the Big East. "You go into venues that are hard to play and get road wins, but from top to bottom, obviously, it's a very competitive league."
---