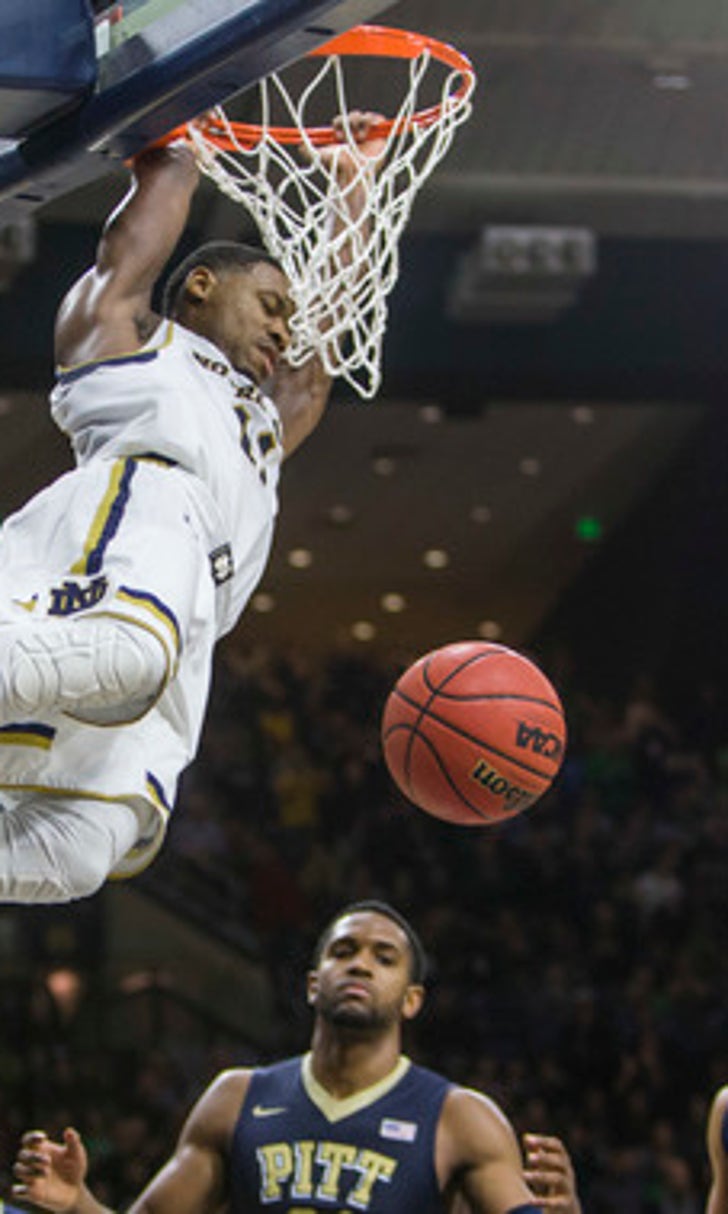 Playmaker Jackson adjusts to role as Notre Dame's go-to guy
BY foxsports • January 15, 2016
SOUTH BEND, Ind. (AP) The only positive coach Mike Brey remembers about Notre Dame's first trip to play at Duke as an Atlantic Coast Conference member was the emergence of guard Demetrius Jackson as a leader.
The Irish, who went on to win the ACC title last year, were overwhelmed by the fans at Cameron Indoor Arena and the Blue Devils, blown out 90-60 in Notre Dame's worst loss since 1999. Duke took control with a 43-7 run in the first half and Notre Dame's two leaders, Jerian Grant and Pat Connaughton, had no idea what to say.
''They were shell shocked,'' Brey said. ''It was the only time all year those two guys were shell shocked. I loved how Demetrius kind of took the baton, so to speak. I think the rest of the season his voice was more noticeable and more respected.''
Jackson heads into Saturday's game at No. 9 Duke (14-3, 3-1 ACC) as the unquestioned leader for the Irish (11-5, 2-2). He leads the Irish and is fifth in the league in scoring at 17.1 points a game and is second in the league at 5.44 assists per game.
The 6-foot-1, 201-pound junior is still adjusting to his new role of being the first scoring option and the playmaker.
''He's still developing on that front,'' Brey said. ''It's an area of, `When do I need to go get mine? When do I need to be a playmaker?'''
Jackson said he just tries to do whatever he can to help. He said he's just as happy playmaking as he is scoring.
''On nights when my shot's not going in, I'm still trying to help the team win by rebounding, assisting, playing defense and leading with my voice,'' he said. ''Whatever it is the team requires from me, I try to do that.''
Jackson showed that Wednesday night in a 72-64 victory over Georgia Tech. He shot just 2 of 11 from the floor, including 1 of 7 from 3-point range, but was 13 of 14 from the free-throw line to finish with 18 points. He also had nine rebounds and eight assists as he came close to becoming just the second Irish player to post a triple-double.
Teammates say Jackson leads by working hard in practices - even though he plays nearly 36 minutes a game - and through his words.
''Talking to us, criticizing us, telling us what we're doing wrong or telling us what we've done right,'' forward V.J. Beachem said. ''He'll tap us, let us know, `Hey, I need you right now,' or `Nice shot down there. Now let's lock down on defense.'''
Jackson said his message to the younger players heading into Duke for the first time is to remain calm. Jackson and Brey, who served eight years as an assistant to Duke coach Mike Krzyzewski , both said they don't want to talk too much to the younger players about what it's like playing at Duke.
''I don't want to over discuss it because I don't want to make it too big,'' Brey said.
Brey said he hopes Notre Dame's veteran players are better prepared last year.
''I would hope now that this nucleus has been in that atmosphere, they won't be as wide-eyed,'' Brey said. ''I would hope they're more able to handle it because they've experienced it.''
---