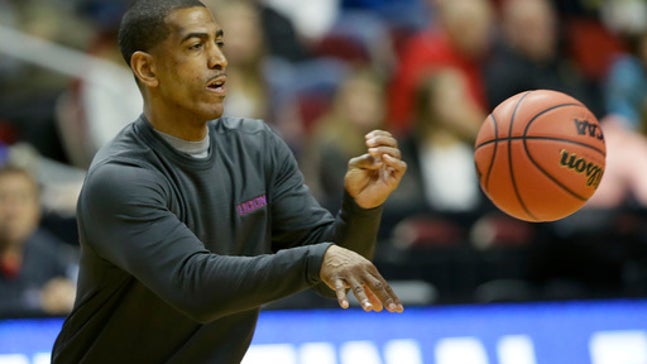 Ollie and 0: UConn's coach is 7 for 7 in NCAA Tourney games
Published
Mar. 18, 2016 3:58 a.m. EDT

DES MOINES, Iowa (AP) Look at the ''O'' in Kevin Ollie's last name long enough, and the letter might flatten into a zero.
As in the number of times Connecticut has lost an NCAA Tournament game in seven tries with Ollie as head coach.
Rodney Purvis, Daniel Hamilton, and a stifling defense carried UConn back from an 11-point deficit in their game against Colorado, and the Huskies made 95.7 percent of their free throws on their way to a 74-67 victory on Thursday for a second-round matchup with Kansas.
''It's a great feeling,'' Ollie said, ''but coaching is overrated.''
The Huskies (25-10), seeded ninth in the South Region, have a deep, confident, experienced team, even if only two of their regulars had a meaningful role on the 2014 national championship team. Despite his public deferral to the players, though, Ollie has clearly made a significant impact on the program he inherited from his former boss Jim Calhoun.
After playing for Calhoun and the Huskies in the early 1990s, Ollie came full circle after a successful NBA career as an assistant for his alma mater in 2010. UConn won the NCAA title in that first year, and two seasons later he took the reins following Calhoun's retirement. After UConn was ineligible for the NCAA Tournament in 2013, Ollie steadily steered the Huskies in year two to a No. 7 seed and a trophy six wins later for their fourth national championship.
Ollie, naturally, has credited Calhoun for the work ethic he has used to keep the Huskies running strong.
''When we won the first national championship in 2011, I was celebrating. I had my ticket to go on vacation and everything and he was like, `There is no vacation,''' Ollie recalled. ''He was like, `This is the best time we do our work. When everybody else is on vacation, we're working.' I always kept that motto in mind.''
The tenacity the Huskies exhibited in grinding their way back from the early hole against the Buffaloes didn't just drop out of the rafters.
''I just never met anybody that's tougher than Coach,'' Ollie said. ''In my life, I've never met `em. So he breathes that toughness in us, and we try to breathe that toughness into our players.''
The Jayhawks, the No. 1 overall seed, will pose a stiff test. The Huskies won't be daunted, though.
''We've been through so much throughout the year, so we don't get down too much,'' said the 43-year-old Ollie, whose playing career ended with a 102-96 loss to eventual champion UCLA in the regional finals of the NCAA Tournament in 1995. ''A lot of people on the outside, they get down. We don't get down. We're just going to keep fighting with each other, keep loving each other.''
One of the keys to being a successful basketball coach is creating an environment in which the players can essentially lead themselves, without needing to be policed or prodded. That's what happened at halftime in the locker room when the Huskies trailed 36-27.
''Of course Coach is going to speak up at halftime. He's our head captain, but I think it was a lot of motivation coming from among ourselves,'' Purvis said.
Another sign of valuable guidance from the bench is work on the basics.
''We pride ourselves on our defense, and anytime we're not playing defense it shows in the game,'' Hamilton said, ''and once we're playing defense it has a huge impact on our offense. We're able to score easier because we're a great team in transition.''
Then there are those free throws.
''We shoot a lot of them in practice. We go hard, I blow the whistle, make `em run to the free-throw line, and we do that throughout practice,'' Ollie said, adding: ''So in the midst of that practice or running sprints, you have to really calm yourself down. You've got to take the tension out.''
That's exactly what Ollie has done with the Huskies, picking up where Calhoun's legacy left off.
---
Online:
AP college basketball website: http://www.collegebasketball.ap.org
---