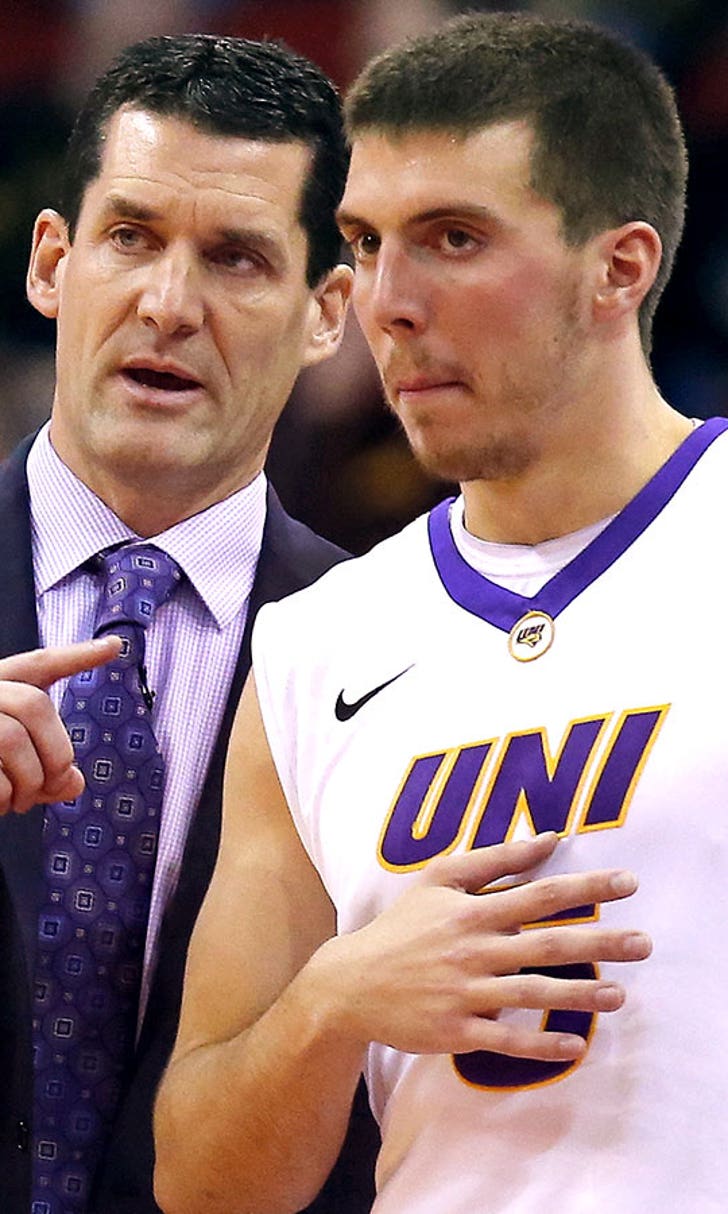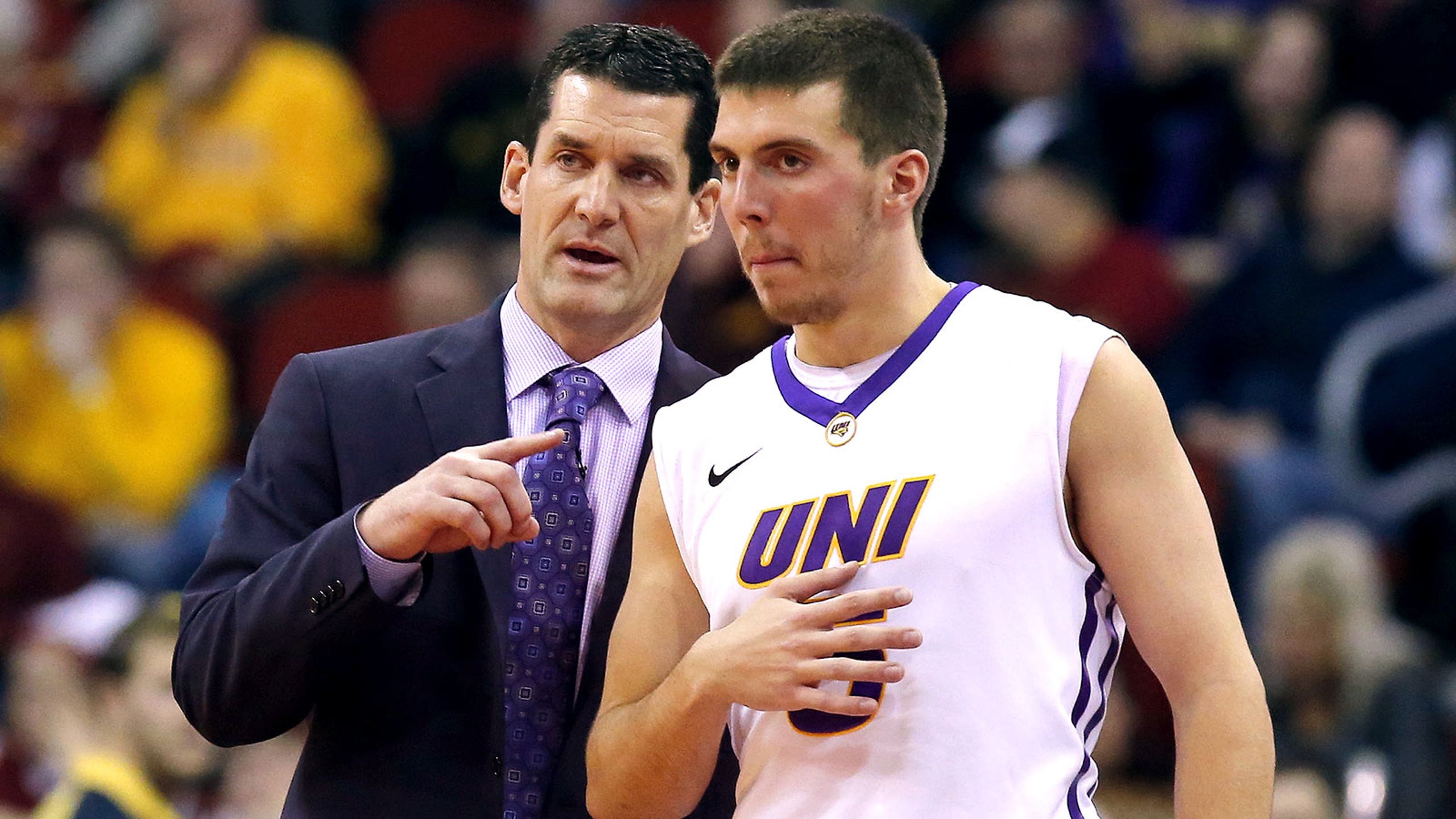 Northern Iowa coach, his team have found the right fit
BY Reid Forgrave • January 12, 2015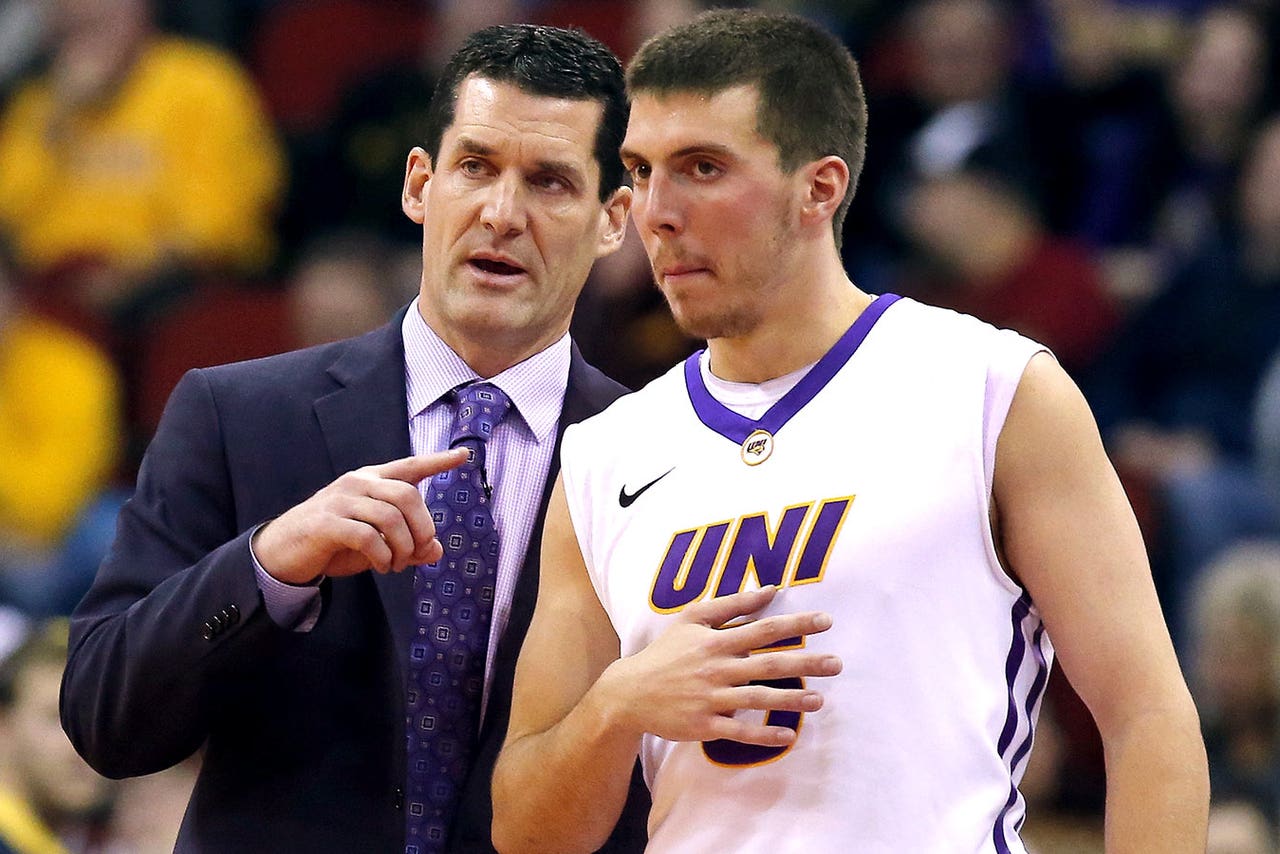 CEDAR FALLS, Iowa – Ben Jacobson, the head coach of the 23rd-ranked Northern Iowa Panthers, parks his SUV next to a snow bank outside Whiskey Road Tavern & Grill in this Midwestern college town. He tugs on a pair of giant mittens and zips his North Face coat, ready for the brutal winter in the place he's made his home, and he walks in for a late lunch.
"Hi, coach!" a half-dozen people in the restaurant shout. Country music is playing; at this moment it is Florida Georgia Line. Jacobson chats up the waitress about a country music festival, WE Fest, that's 15 minutes from his family cabin in Minnesota. He's been to the festival eight or nine times with his wife, just one of the simple, joyful things he's come to appreciate about life here in the Upper Midwest.
"You gotta try these smoked chicken legs," the ninth-year head coach says as he settles into a booth.
I have come to this mid-major school to figure something out: Why has a sought-after coach like Jacobson – whose deep, versatile, hard-working Panthers are on a roll, 14-2 and with a serious chance at upsetting Wichita State's hold on the Missouri Valley Conference – stayed at a school that's known nationally for little more than Ali Farokhmanesh's Kansas-killing three-pointer in 2010 that sent Jacobson to the Sweet 16?
As we talk about why he's said no to high-major jobs in favor of staying at a place that feels like the perfect fit for nine seasons now, this much becomes quickly clear: He is a different dude than most successful college coaches. Hell, he's a different dude than most Americans like you and me, people stuck in the rat race. He has a mindset that doesn't consider the current state to be merely a step toward something bigger, better and more lucrative. Simply put, he has that rare perspective of appreciating the life he has and not obsessing over the life he doesn't have.
In a world where everyone seems to be looking for the next big thing, Jacobson, 44, is damn happy with this thing right here.
Consider these facts about Jacobson: He still lives in the same house he moved into more than a decade ago, when he was an assistant for current Creighton head coach Greg McDermott. He's the type of guy who, after collecting a bonus for the team's Sweet 16 run, sent a big chunk of the money to the most underappreciated members of the team's staff: the trainer, the academic advisor and the strength coach. He speaks about raising his two sons, 11-year-old Hunter and 9-year-old Tanner, in the same small-town environment he and his wife enjoyed while growing up in North Dakota. He has job security he wouldn't get at a high major; as his athletic director, Troy Dannen, told me, "He can lose a game here at night and get a pat on the back at the grocery store the next morning. He doesn't have to worry about his job here because his job isn't threatened."
When Jacobson speaks about his family's decision to turn down high-major jobs, he says this: "We took a pretty good look at a couple jobs that inquired, but we also took a really good look at the job we have. And we decided the grass may not always be – and often isn't – greener."
The smoked chicken legs had arrived, dripping in barbeque sauce. I asked him the question every successful mid-major coach must answer: Ten years from now, do you expect to still be here? His earnestness, his frankness made me nearly choke on a chicken bone.
"Yeah. I do," he said, with zero hesitation. "I do. I'm hoping this is a place that's my place."
But is he right to think that? Is he right about staying at a mid-major job that's so far under the national radar? At a place that pays him well – $550,000 a year, which goes a long way in Cedar Falls – but nowhere near what a high-major job could pay? In a conference where at-large NCAA tournament bids come frequently but, as last season's one-bid Missouri Valley showed, are far from a guarantee?
After the most insane three-point shot I've ever witnessed helped Northern Iowa upset the No. 1 overall seed in 2010, Jacobson was besieged with outside interest. The spotlight, however, is the last place he wants to be. So after that win, when his athletic director raised $1.9 million in two days, Jacobson jumped at the chance to sign a 10-year contract extension to bind him to this place. He signed the contract in his office, then he walked out to a pep rally before the team left for the program's first Sweet 16.
The decision he's made is far outside the usual paradigm in the ambitious, high-stress, job-hopping world of college basketball. In one way, it can be seen as a simple statement about a guy and his family feeling comfortable at a program that's built to compete every year. In another way, it's a profound statement of dissent against the American rat race that's so easy to get wrapped up in.
"The world has changed so much," Jacobson told me. "You're either doing really well and everyone expects you should leave to take what they perceive to be a better job – or you're not doing well and you should get fired."
"The job is a good fit," he continued. "You do a quality job, be successful, you have good times and great times – the overwhelming feeling in our country is you can't do that. That's not possible. You either need to be climbing or you need to get fired."
There are plenty of role models Jacobson looks to in the world of college basketball. Guys like Mark Few, who has built Gonzaga into a national power in far-flung Spokane and has shown no desire to leave. And Shaka Smart, who has turned down numerous job opportunities to stay at VCU. And Brad Stevens, who didn't appear headed anywhere until the dream job coaching the Boston Celtics lured him away from Butler.
What Jacobson wants is simple: to be able to compete for an NCAA tournament bid every year. UNI is no high-major school, but it's far from a pushover. A $1 million offseason renovation to the locker rooms means the players now have an upscale lounge and a theater-like film room – different than the folding chairs and pull-down projector screen the school used to have. The athletic director allots about $150,000 a year for Jacobson to use for "buy games," where low-major teams make a trip to Cedar Falls. Jacobson has in his contract that the team travels by plane to a handful of conference road games every year in a conference that's considered a "bus league."
And assistant coaches are given free reign on travel for recruiting. One of the biggest challenges is manipulating his team's schedule every year so it plays best in the RPI formula that often determines at-large NCAA tournament bids.
It's the same sort of equation that coaches like Few, Smart and Stevens looked at early in their careers at their respective schools. Seeing their continued success has validated Jacobson's decision to stay.
"Being able to look at those guys, how they say they're at the right place and how it is a good fit – for them, that's what's most important," Jacobson told me. "It's more about the fit. That helped me get through those times, being able to see that it's worked for them. If everyone out there who'd stayed had eventually gotten fired, then you may want to think about it. It's more about what fits you. And this fits."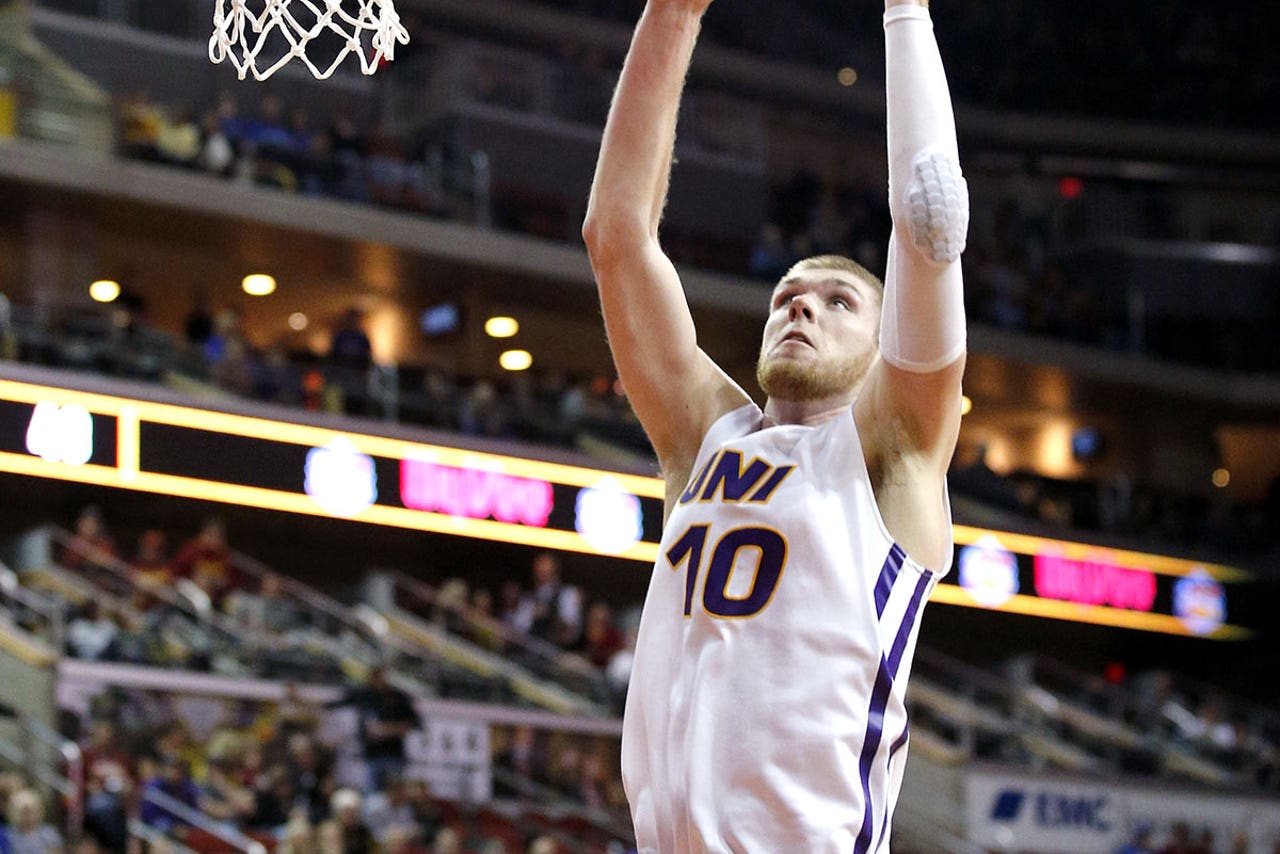 Seth Tuttle is the leading scorer on a versatile -- and newly ranked -- Northern Iowa team.
This year's team has a special feeling around it, reminiscent of 2010's Sweet 16 crew. Jacobson employs a 10-deep rotation – all players he feels comfortable with, all with unique skill sets. Senior forward Seth Tuttle, the team's leading scorer, ranks 15th nationally in effective field-goal percentage. Senior forward Nate Buss is a pure shooter, dropping threes at a 43.2 percent rate. Backup point guard Wes Washpun is the team's best athlete and flashiest player, and he happens to be a total changeup on the heels of the more steady starting point guard, Deon Mitchell. One night, Jacobson can dial up a game plan in which the Panthers shoot 25 threes; the next night, he can jam the paint with three 6-foot-9 players.
It's a workmanlike program with a slower tempo than most, focusing on guarding and rebounding above all else. A recent practice spent the first hour focusing on little else but trapping, boxing out and defending on the perimeter. The goal every game: Hold opponents to less than a point per possession and less than 40 percent shooting.
"It's more a mindset," said Tuttle, who hails from an Iowa small town of 1,000 people and said that was a big reason he chose UNI. "We're trying to shut out people. We're trying to not give anyone any good looks."
Back at Whiskey Road, the chicken bones had been cleared, and I was talking to Jacobson about the one thing he enjoys more than basketball: fishing. I asked him about the biggest fish he'd ever caught. It was a 41-inch muskie in northern Wisconsin. But that wasn't the story Jacobson wanted to tell. He wanted to talk about going fishing last summer with his oldest boy, Hunter.
The two were on a lake near their Minnesota cabin, where Jacobson used to fish with his grandfather. His son got a bite from an 8-inch bass. Nothing special.
"Halfway home, that crappie rod just bent over," Jacobson laughed. "A Northern Pike, a big one, had got a hold of that bass. Maybe four pounds. It dived down with the bass in its mouth, disappeared. Hunter pulled it back, and it had the bass turned around in its mouth, halfway swallowed. It dove again, and Hunter pulled him up again, and it had the bass all the way down in his mouth. You can see it underwater. My son was just laughing. The hook is in the bass, but the bass is gone, swallowed up. We netted the pike, and the pike spit out the bass."
Jacobson leaned back and smiled at the memory.
"The most fun part was just watching my son do that, navigate that thing, not breaking the line, hauling it in," he said. "There's an art to that. It was really cool."
All good fishing stories are metaphors, and I soon came to see that fishing story as the perfect metaphor for the life Ben Jacobson has chosen to lead in this quiet corner of Iowa. Most people love to tell the story about the big fish they caught, the impressive trophy they mount on their wall and show off to everyone. That was what I'd asked Jacobson about: Tell me something impressive. Instead, he told me a story about something much more mundane – a special moment between a father and his son – but something much more meaningful, too.
It's a nice lesson, one that's worth remembering as we spend all our time talking about the bluebloods and the NBA prospects and the road to the Final Four: That the little things in life are worth appreciating as much as the big ones. And sometimes, by opting out of the rat race and staying exactly where you are, you can find the rare combination of career success and personal happiness that Ben Jacobson has found here.
Email Reid Forgrave at reidforgrave@gmail.com, or follow him on Twitter @reidforgrave.
---