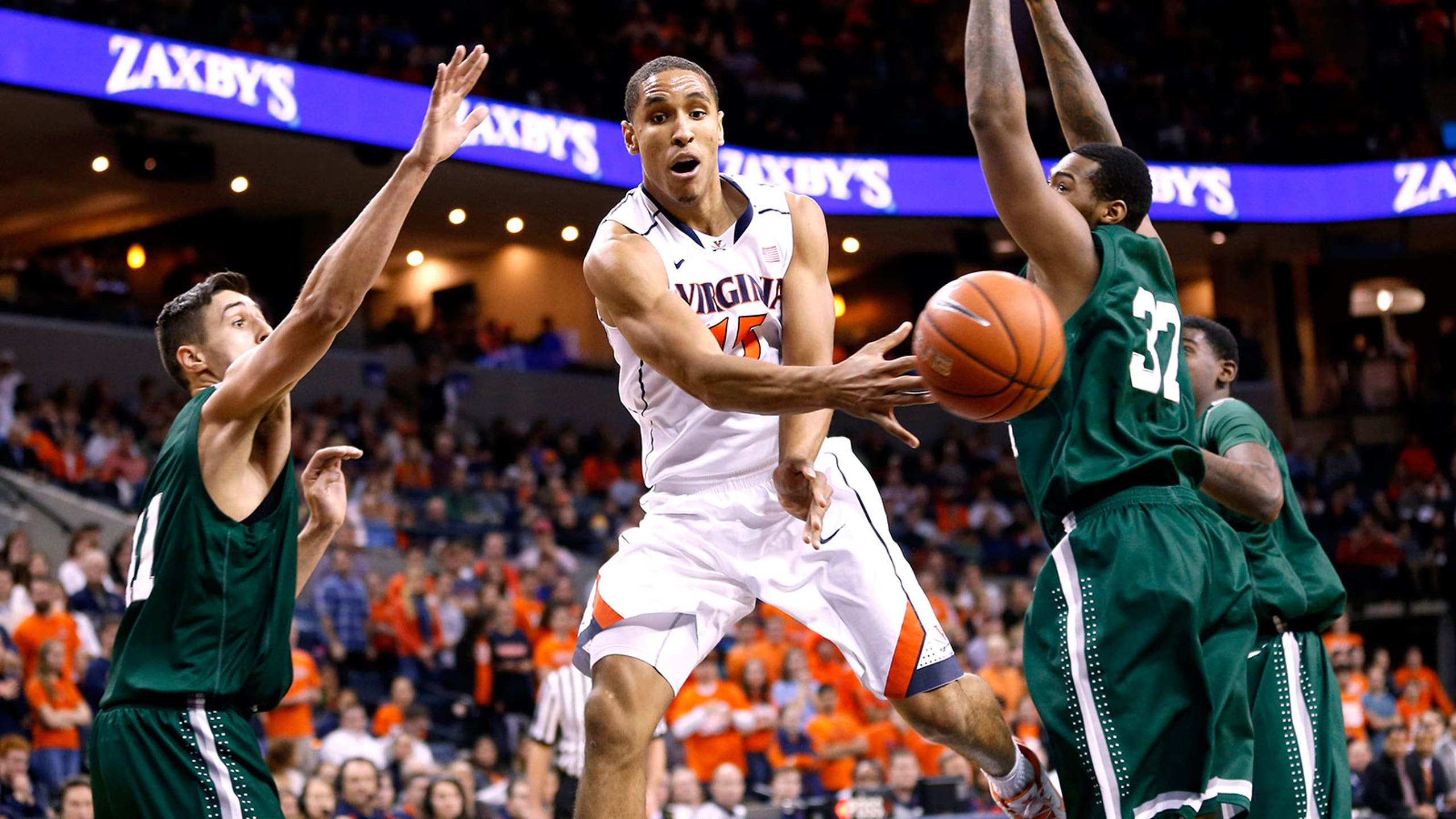 No. 6 Virginia sharp vs. Cleveland State after 11-day break
BY foxsports • December 18, 2014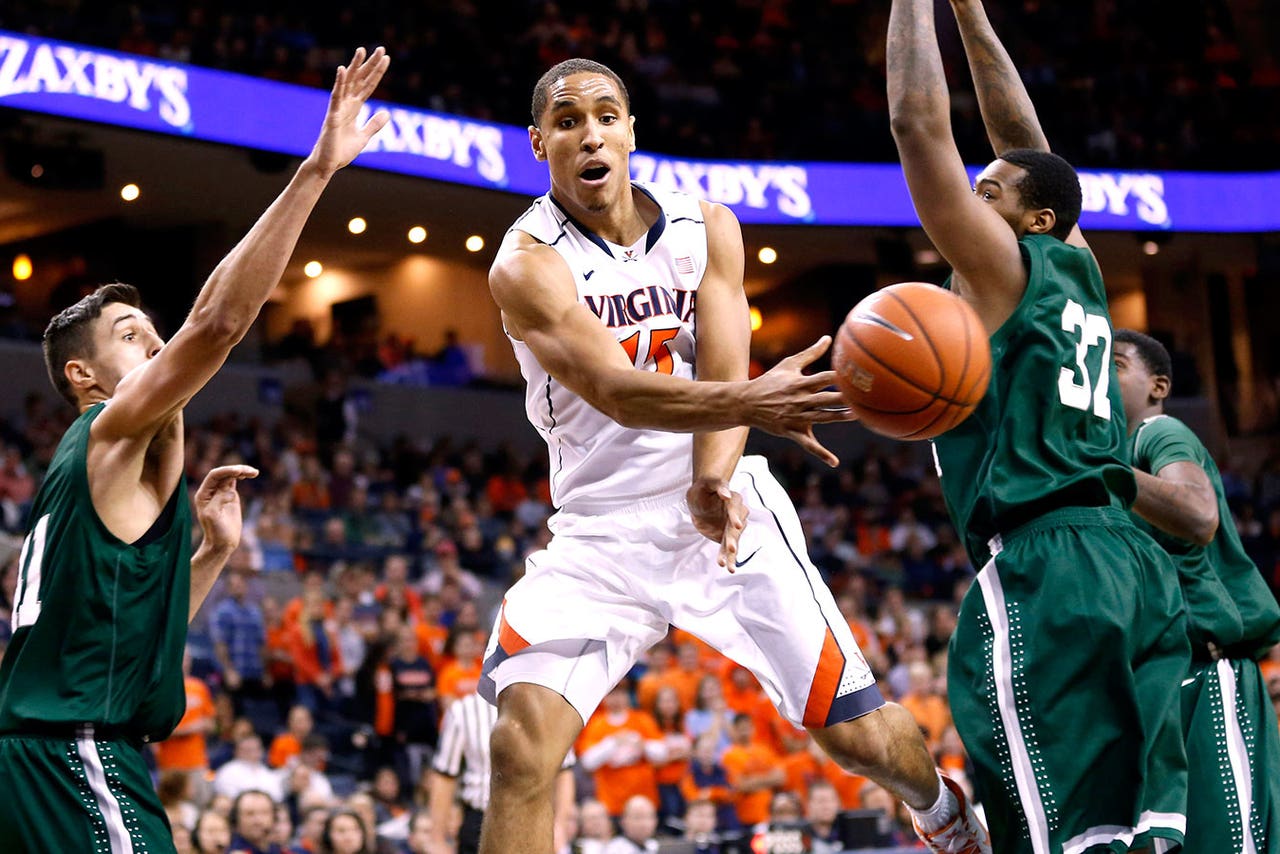 Justin Anderson's eyes lit up at the thought that No. 6 Virginia held Cleveland State scoreless for more than 10 minutes.
"That was super sick," Anderson said of the first-half stretch in the Cavaliers' 70-54 victory on Thursday night. "If we can ask ourselves to do that throughout the whole game, I think this team can go to another level defensively."
Anderson scored 14 of his 16 points in the second half, helping Virginia shake off the rust of an 11-day layoff for exams. The Cavaliers (10-0) won their 16th straight at home and matched their best start since the 2000-01 season.
Malcolm Brogdon also scored 16 and Anthony Gill had 13. Brogdon was equally pleased with the defensive work.
Virginia came into the game holding opponents to a nation's best 47.4 points and 32.1 percent shooting, third best, and used that ability to make scoring tough for its opponents to stay in front even when it was struggling to make shots.
"Being rusty and missing shots, I thought we came out and we were locked in on the defensive end," Brogdon said.
The Vikings made just 7 of 26 shots before halftime, or 26.9 percent.
Trey Lewis scored 18 to lead the Vikings (5-6). Cleveland State scored just four points in the first 13 1/2 minutes, and was blanked for 10:05.
"At moments, I thought we played hard, but we weren't accomplishing anything," Cleveland State coach Gary Waters said. "You know who I'm going to give that to? That's Virginia. Their defense is pretty strong."
Virginia led 31-18 at halftime, and Anderson scored the Cavaliers' first eight points of the second half, twice converting on drives inside and then making a four-point play from the top of the key.
The Cavaliers stretched their lead to 49-29 on a 3-pointer by Marial Shayok with 13:59 to play. Cleveland State, of the Horizon League, got no closer than 14 the rest of the way.
The Cavaliers looked sluggish throughout the first half, keeping the Vikings within striking distance. Even when Cleveland State went 10:05 between points, missing 15 of 16 shots in one stretch, Virginia's lead was just 16-4.
Vinny Zollo ended the drought with a 3-pointer 6:28 before halftime, one of four the Vikings hit before the break.
"If we had hit any shots, that would have been a seven- or eight-point game" at halftime, Waters said.
Virginia, meantime, made only two outside shots the entire half.
TIP-INS
Cleveland State: Trey Lewis, coming of a 32-point performance that included nine 3-pointers in a victory against Mount Vernon, hit his first 3 with 33 seconds left before halftime. He finished 7 for 13 from the field, and 4 of 9 from 3-point range.
Virginia: Former Cavaliers guard Sean Singletary was at the game, and got a huge ovation when introduced in the second half. Another former Cavaliers point guard, Cory Alexander, was the color analyst on the TV broadcast.
FREEBIES
Virginia led 31-18 at halftime, and had a 15-point advantage at the free throw line -- the Cavaliers were 15-19, Cleveland State 0-0. By game's end, Virginia had made 21 of 28 and the Vikings had made 7 of 9. 
---