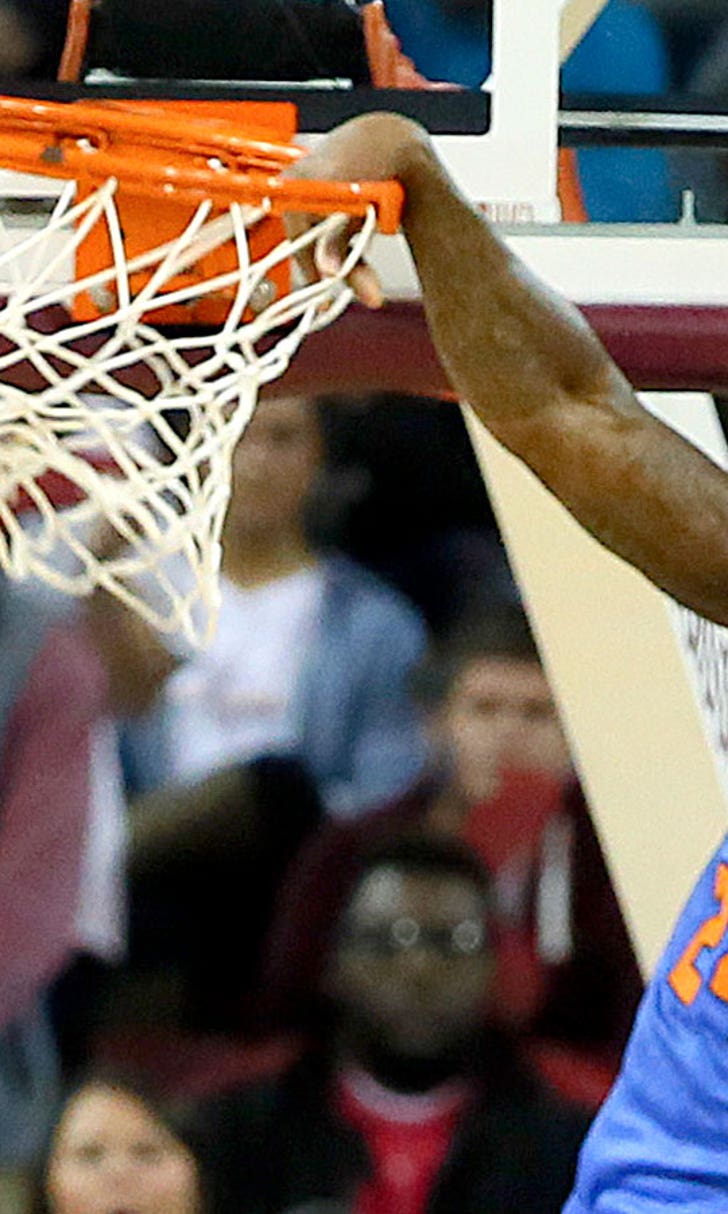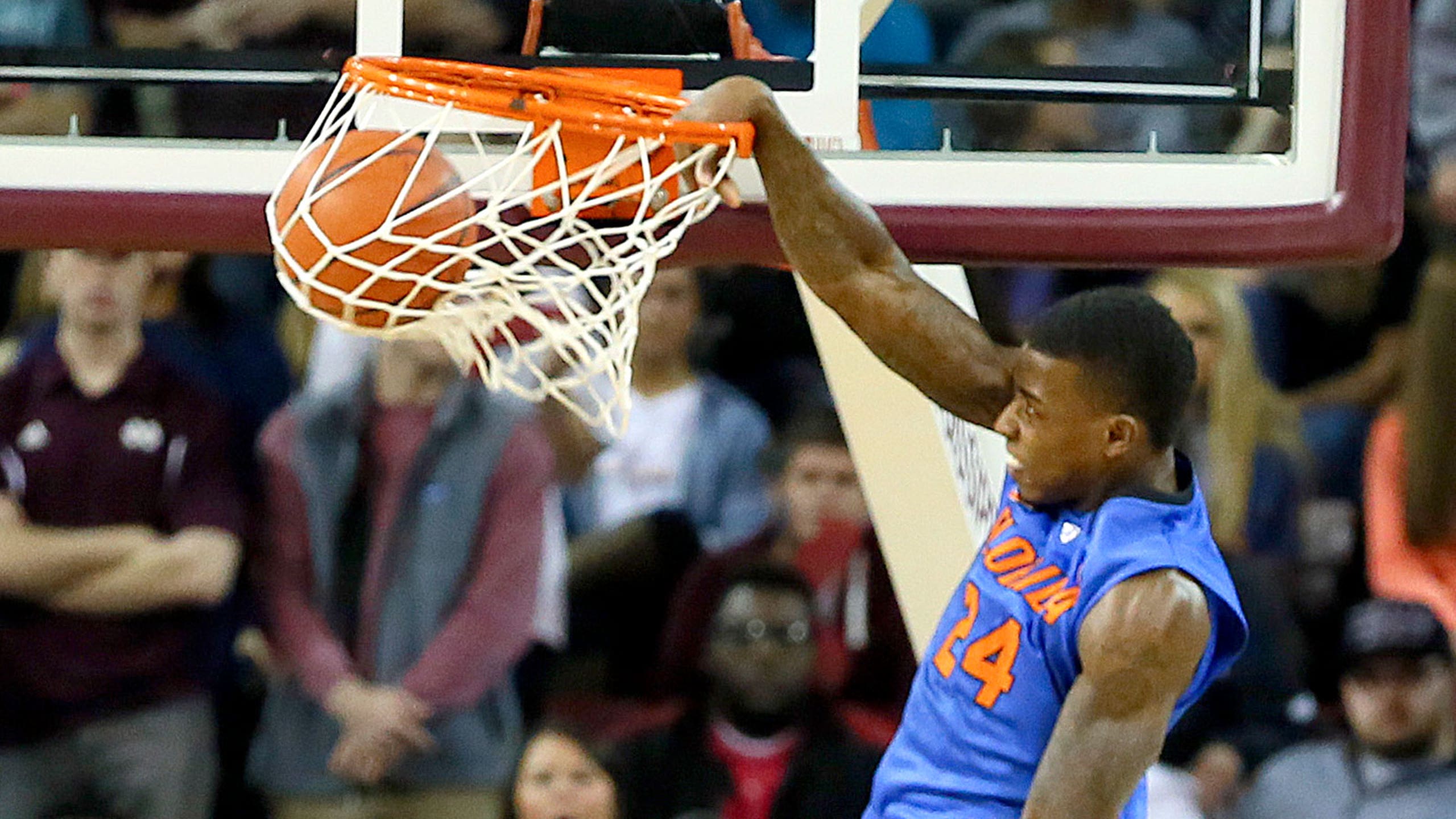 No. 3 Florida defense suffocates Mississippi State for 12th straight win
BY foxsports • January 30, 2014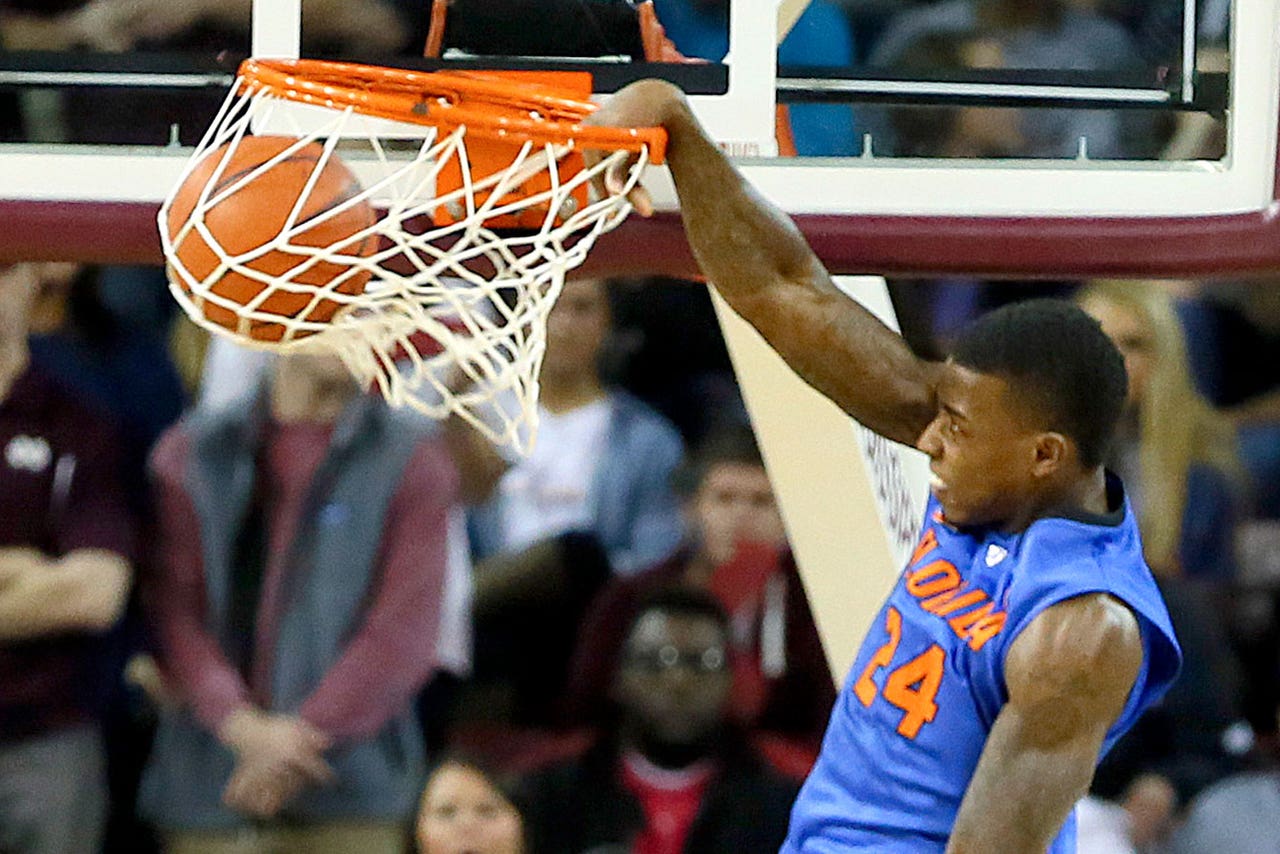 Florida's 3-point shooting was mediocre and its free throw percentage was absolutely brutal.
But even when the offense is inconsistent, the third-ranked Gators are still one of the nation's most dominant teams thanks to a defense that never quits.
Casey Prather scored 16 points, Patric Young added 12 and Florida beat Mississippi State 62-51 on Thursday night for its 12th straight victory.
"We can't always control the ball going in the basket," Young said. "But we can control our energy on the defensive end."
And that energy was intense the entire night. Mississippi State shot a respectable 23 of 54 (42.6 percent) from the field, but had to work hard on every possession.
The Bulldogs briefly took a 31-30 lead early in the second half on Gavin Ware's layup, but the Gators (18-2, 7-0 Southeastern Conference) responded with a 16-4 run. Mississippi State couldn't muster the energy for a rally.
It was the 12th time this season Florida held an opponent to 60 points or fewer.
Florida coach Billy Donovan said the key to stopping Mississippi State was keeping them off the free throw line. The Bulldogs had 117 combined free-throw attempts in three SEC home games this season. They were just 1 of 6 on Thursday.
"A huge key was if we could defend them off the bounce and not foul," Donovan said. "I thought we did a good job there."
Florida's Michael Frazier II had just nine points, but his three 3-pointers helped the Gators keep a comfortable lead throughout most of the second half. The 6-foot-4 sophomore missed his first six 3-point attempts before the last three dropped.
"When he's open, I want him shooting," Donovan said.
The Gators shot 6 of 20 (30 percent) from 3-point range and 8 of 19 (42.1 percent) on free throws.
Mississippi State (13-7, 3-4) lost for the first time at home during conference play. The Bulldogs have lost four straight to the Gators. Colin Borchert scored 15 and Craig Sword 12 for Mississippi State.
Chris Walker, Florida's touted 6-foot-10 freshman forward, is expected to make his college debut on Tuesday against Missouri after being cleared by the NCAA. His arrival will give the Gators some much needed frontcourt depth.
But Young was enough on Thursday. The powerful 6-foot-9, 240-pound senior was a consistent presence on both ends of the court, providing timely baskets and post defense.
"No disrespect to Mississippi State, but they're probably not going to win an SEC championship this year," Young said. "We have an opportunity to do that, and we need to play to a championship level."
Prather went to the locker room briefly in the first half after an ankle injury, but returned to shoot 7 of 8 from the field. His baseline drive and dunk gave the Gators a 55-42 lead with 5 minutes left that ended any remaining doubt.
Mississippi State had an 11-1 record at Humphrey Coliseum coming into Thursday's game and was tough once again on its home floor.
Florida was in control for most of the first half, jumping out to a 27-18 lead with 5:18 remaining.
But Mississippi State's Tyson Cunningham made an off-balance 3-pointer with the shot clock winding down to spark an 8-0 run, and I.J. Ready's layup a few seconds before the buzzer pulled the Bulldogs to 27-26.
Florida was coming off a dominant defensive performance in a 67-41 victory over Tennessee on Saturday, and the team's length and athleticism also gave the Bulldogs problems. But the Gators couldn't hit shots -- making just 10 of 27 (37 percent) from the field in the first half.
Nothing was easy. Young hit a couple inside buckets early in the second half and Prather's layup at the rim gave the Gators a 42-32 advantage with 12:05 remaining.
Mississippi State had a couple of good moments in the second half, but Florida's superior depth, size and athleticism proved too much to overcome. Ready added 10 points for the Bulldogs.
"Offensively we had our problems," Mississippi State coach Rick Ray. "I thought we had a plethora of opportunities in the first half to finish at the rim that we just didn't get done."
---