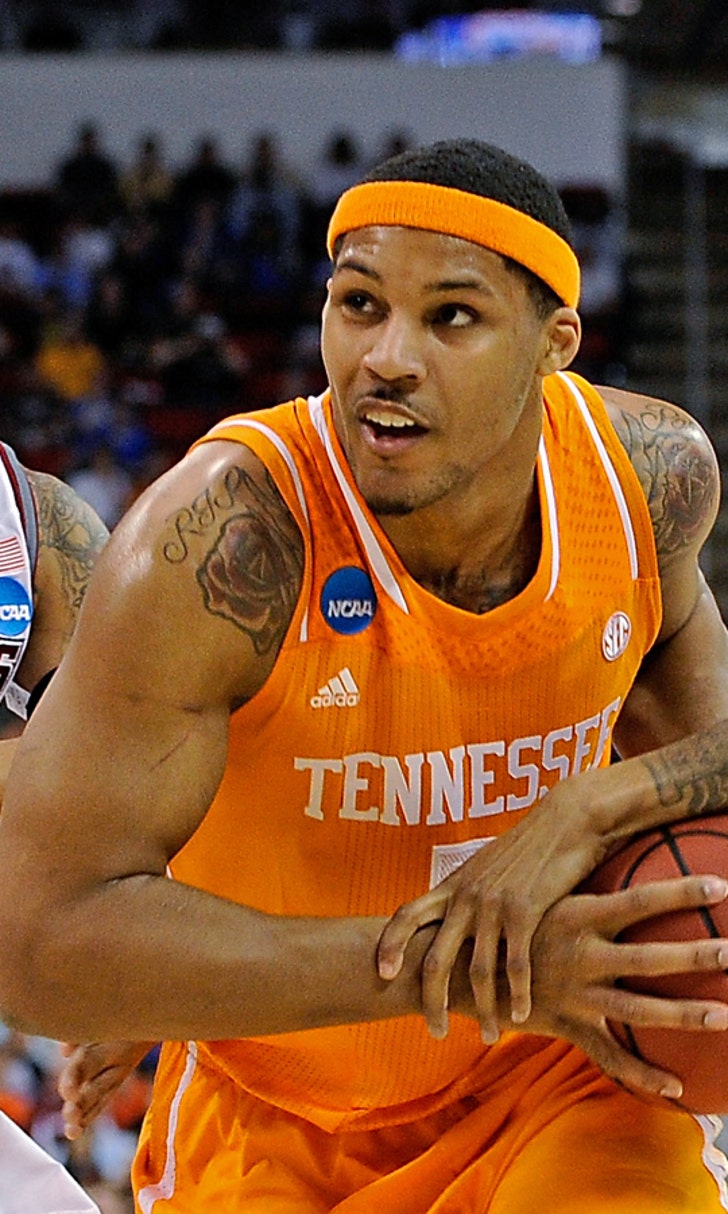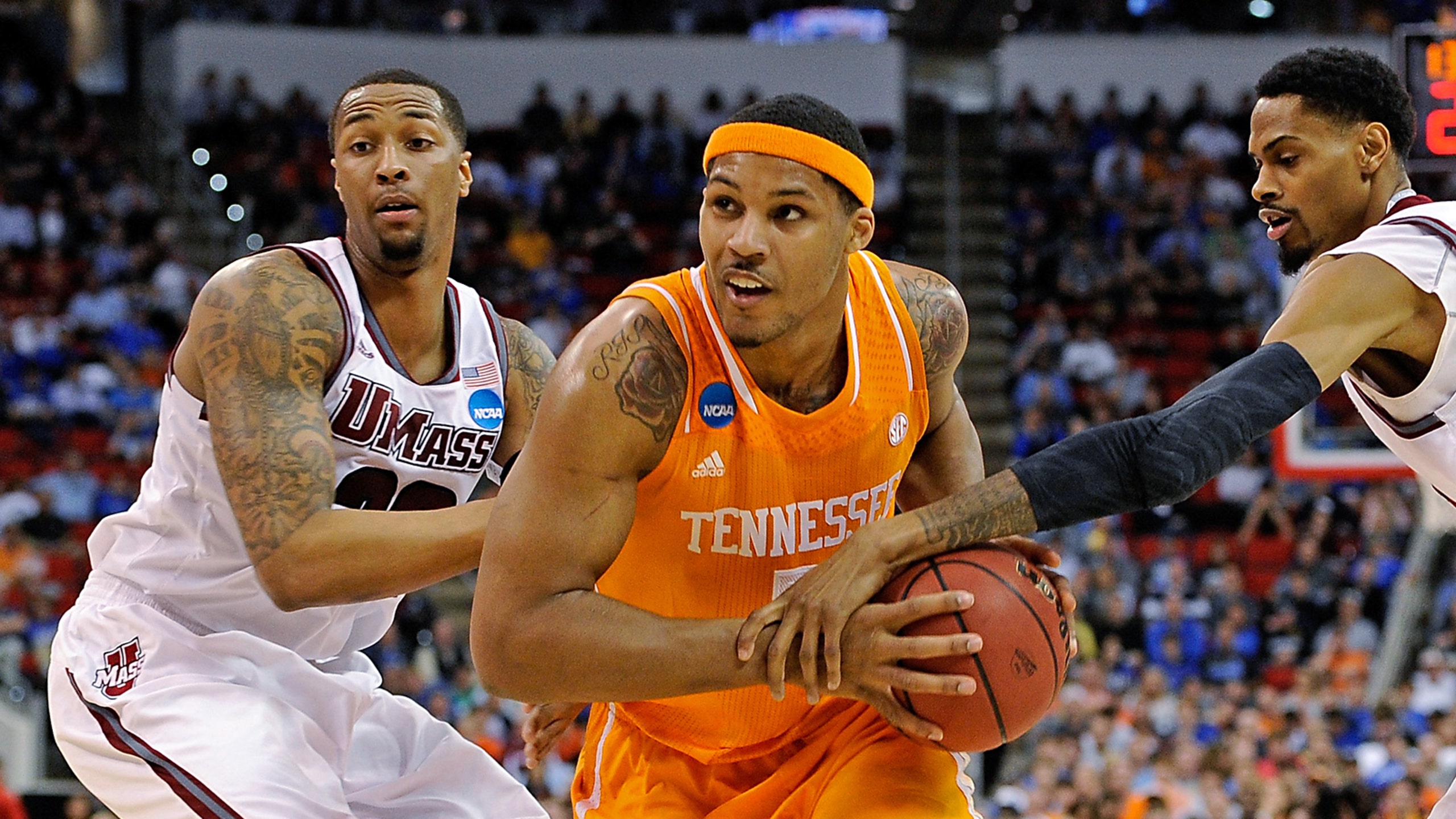 No. 11 Tennessee upsets Massachusetts, will take on Mercer
BY foxsports • March 21, 2014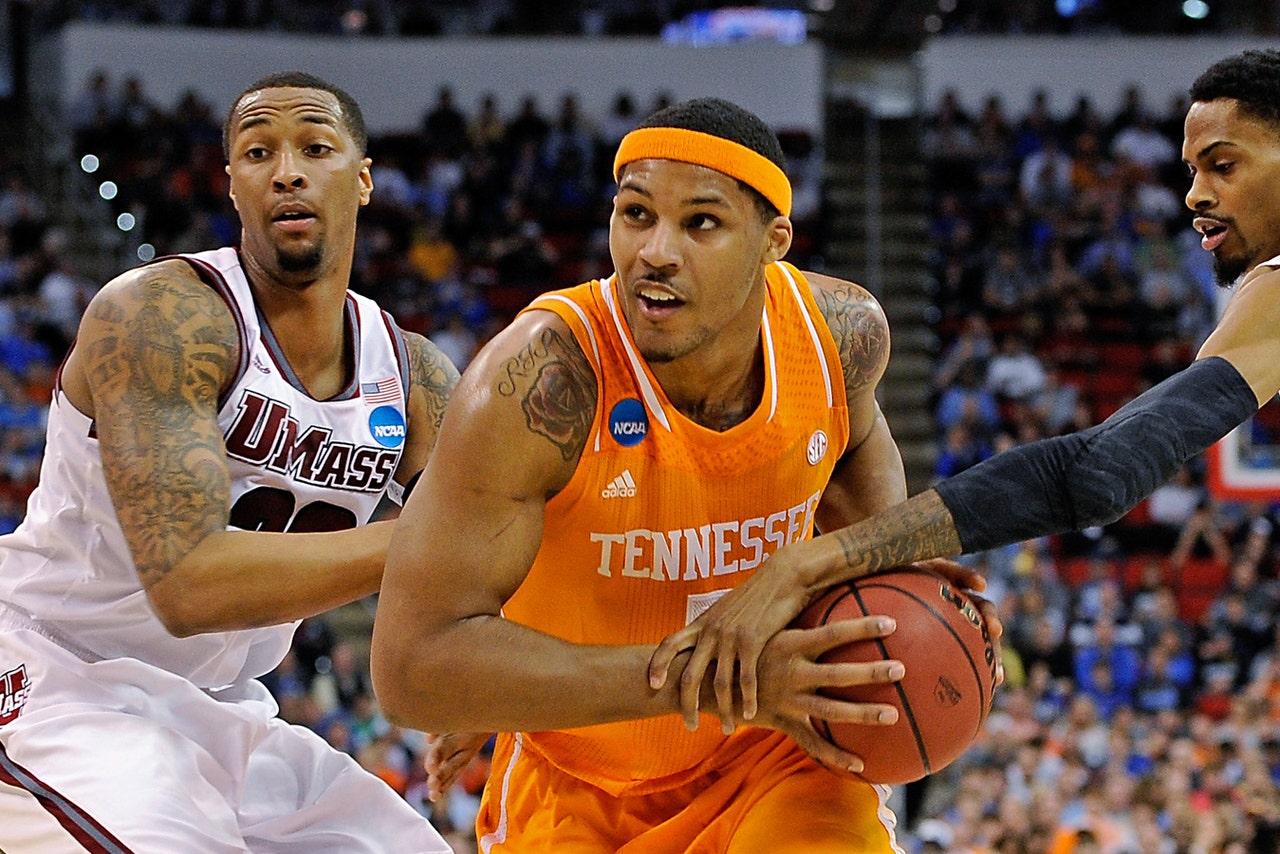 Jordan McRae flew in to throw down a dunk on the break and increase Tennessee's big first-half lead, then came down the floor to scream triumphantly toward the orange-clad fans near the court.
Confident? Check. Enthusiastic? Yep.
Maybe playing in the First Four to get the jitters out wasn't such a bad thing for these Volunteers after all.
Jarnell Stokes scored a career-high 26 points and grabbed 14 rebounds to help Tennessee beat Massachusetts 86-67 on Friday in the second round of the NCAA Midwest Regional, earning the program's most lopsided win in the tournament in seven years.
Now 11th-seeded Tennessee faces 14th-seeded Mercer, which beat No. 3 seed Duke 78-71 on Friday, in the third round on Sunday. The game is a rematch of an NIT game won by Mercer at Tennessee last year.
"We didn't come into this tournament saying, `OK, if we beat UMass we can play Duke.' Not at all," Martin said. "Our guys understand that it's one game at a time. Anything happens this time of year."
McRae added 21 points for the Volunteers (23-12), who had little trouble with the sixth-seeded Minutemen (24-9) in a surprisingly one-sided performance. Tennessee shot 54 percent from the field, led by 20 points before halftime and used another strong defensive performance to shut down UMass.
"We just wanted to keep our foot on the gas the whole time," McRae said.
With that mentality, coach Cuonzo Martin's club is building momentum at the right time of the season.
"They understand and I guess they realize when you defend at the level we're capable of defending at, these are the results behind it," Martin said. "They've really bought into it and embraced the fact that we can defend the way we defend because you can still score the ball, but scoring is a lot better when you can defend like this.
"They're just playing with confidence as a team. Everybody understands their role and just wants to win as a family."
The Volunteers had missed the past two tournaments and squeaked into this year's field of 68, earning a trip to Dayton, Ohio to face Iowa in the First Four. But they controlled the boards and dominated the overtime to beat the Hawkeyes 78-65 in the program's first NCAA game since Bruce Pearl's final game as coach in 2011.
Martin had said he thought the win helped his Vols get the jitters out -- they didn't score until 6 minutes into that one -- while also giving them a taste of tournament intensity by fighting through a tough game.
He was right. Tennessee protected the ball against UMass' pressure by committing three first-half turnovers, while Stokes and McRae led an offense that shot 52 percent in the first half and kept coming up with press-breaking answers to turn away every spurt.
"The Iowa game, we were just getting our feet wet, first time being here," said Jeronne Maymon, who had 11 points and 11 rebounds for Tennessee. "Then it was time to get down to playing basketball."
This was Tennessee's biggest margin of victory in an NCAA game since beating Long Beach State 121-86 in the 2007 first round, which came near the start of a six-year run of tournament appearances under Pearl.
Stokes' 14 rebounds tied the school record for an NCAA tournament game, equaling the mark set by Isiah Victor in 1999 and Reggie Johnson in 1980. Throw in Maymon's performance, and it marked the first time the Vols had multiple double-doubles in an NCAA game since 1977.
Chaz Williams and Maxie Esho scored 12 points each for UMass in its first NCAA appearance since 1998. But the Minutemen fell behind by double figures early, trailed by 19 at halftime and never got closer than 10 again.
"We had a couple of great practices the past couple of days, and I felt like we were going to come out great," Williams said. "But once get under these lights and the crowd starts roaring, you start second-guessing."
UMass came in averaging 76 points and shooting 46 percent, but finished well short of those numbers with much of its production coming after the Vols had seized control. Tennessee led 38-18 on McRae's first-half dunk and pushed the lead to 24 points late.
"This don't even seem real right now," said sophomore Derrick Gordon, the only UMass player to have tournament experience from his previous stop at Western Kentucky. "It's just a loss that just like, `Man, am I still sleeping?' Reality sets in, like we really just lost and it wasn't a loss by like four points. It was a loss by double digits."
It was a frustrating finish for the Minutemen under coach Derek Kellogg, who was a player during Massachusetts' 1990s surge under John Calipari. He started on a team that reached a regional final in 1995 during a run of seven straight NCAA appearances for the program, but his team never gave itself much of a chance to stick around Raleigh for another game.
UMass shot 42 percent and went 3 for 11 from 3-point range.
---