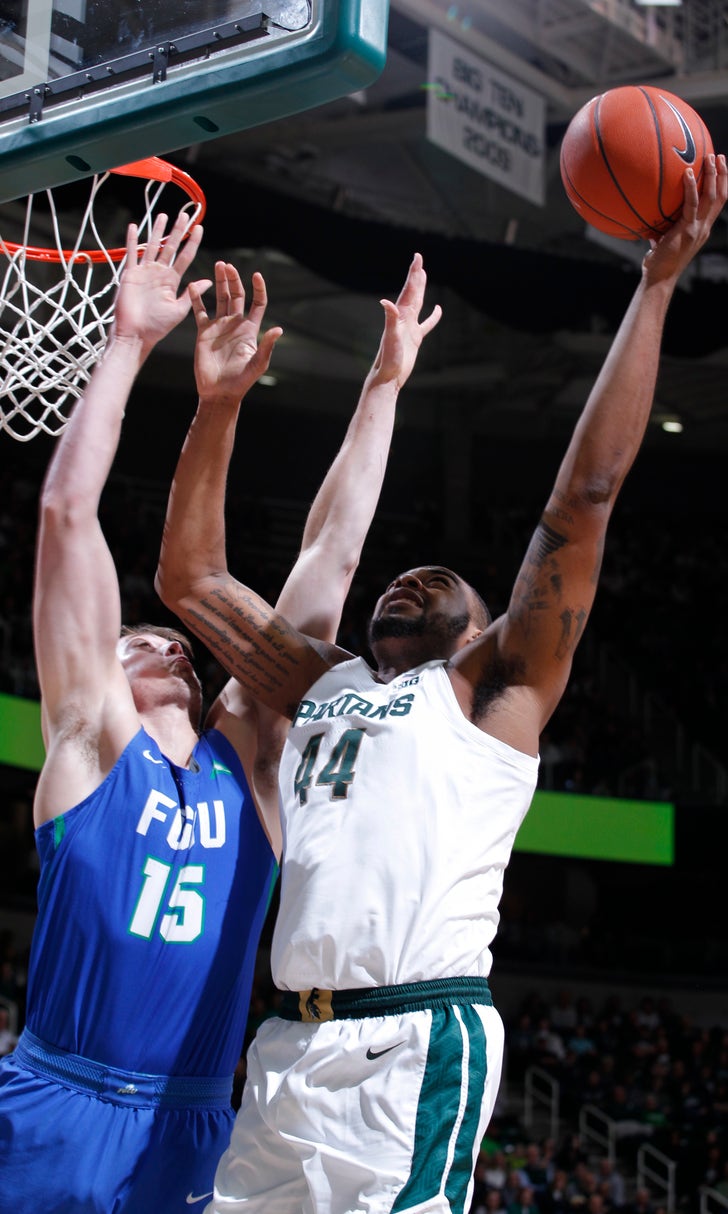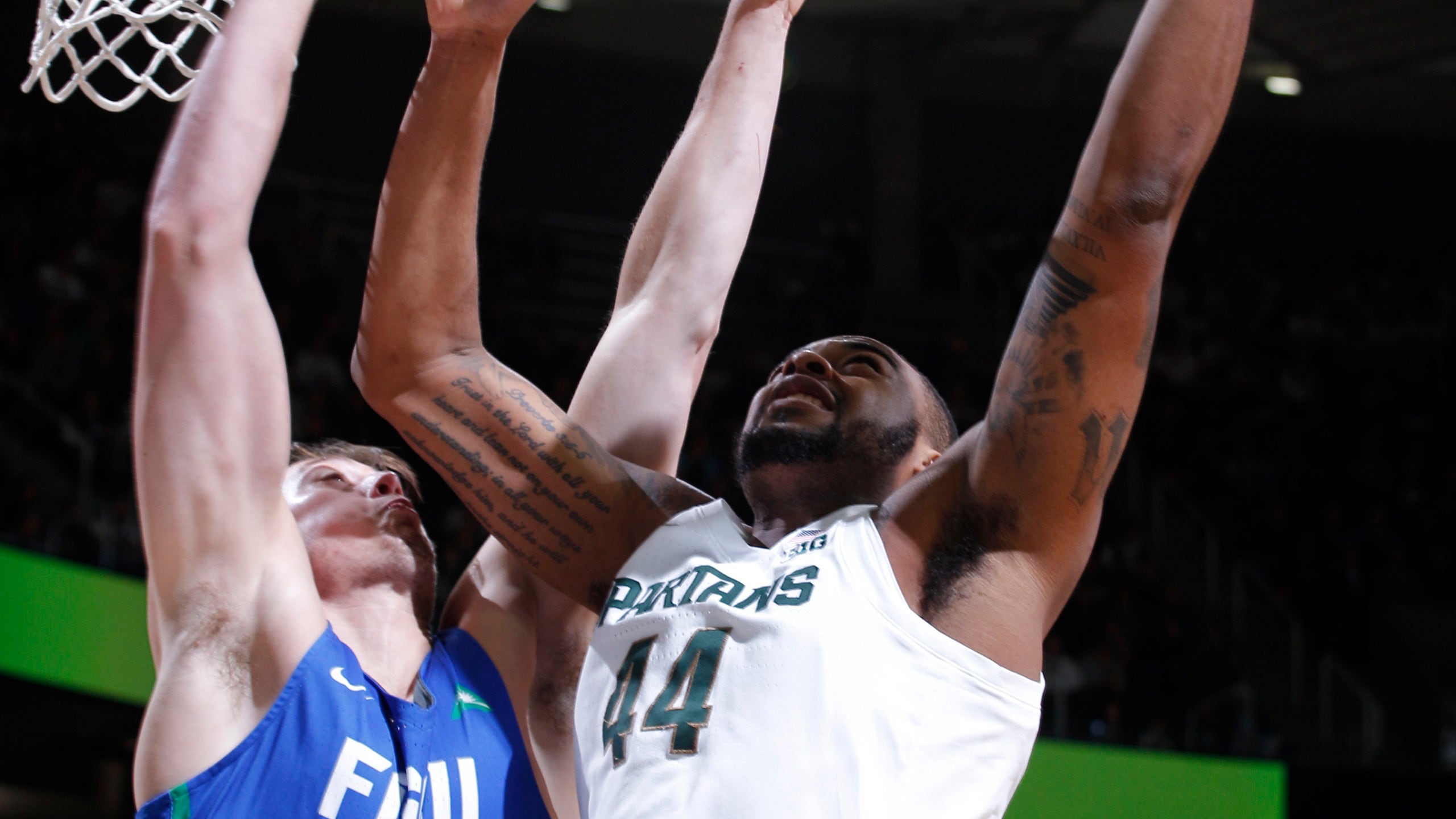 No. 10 Michigan State breezes past FGCU 106-82
November 11, 2018
EAST LANSING, Mich. (AP) — Two games into the season, Tom Izzo has already had it with how college basketball is being officiated.
And he doesn't blame the referees.
"I felt bad for our fans, I felt bad for their team, I felt a little bad for our team, and I felt really bad for the officials," Izzo said. "I've been here 24 years as a head coach and not sure I ever felt bad for an official,"
Nick Ward had 25 points and 10 rebounds, and Joshua Langford added 18 points to lead No. 10 Michigan State to a 106-82 victory over Florida Gulf Coast on Sunday night. But Izzo didn't feel the game was especially pleasant to watch. The teams combined for 50 free throws, and FGCU's Haanif Cheatham was ejected late in the first half. Izzo didn't hold back afterward, voicing his concern about what happens to the flow of the game if so many flagrant fouls — and monitor reviews — stop play.
"How many times did that thing stop — for minutes? Four? Five?" the Michigan State coach said.
Izzo made it clear he felt this officiating crew was simply doing what was expected of it.
"The poor officials are mandated. If they don't call it this way, they don't work the NCAA Tournament," Izzo said. "But the stoppage of action in that game made it the most boring game."
The Spartans (1-1) were barely challenged in their home opener and rebounded comfortably from a season-opening loss to top-ranked Kansas. Michigan State led 59-35 at halftime on the strength of a dominating performance on the boards.
Cassius Winston contributed 14 points and eight assists for the Spartans, and Matt McQuaid scored 12 points.
Troy Baxter and Christian Carlyle led FGCU (1-2) with 20 points apiece.
The previous time Michigan State faced FGCU, in 2016, the Spartans won by a point in a finish marred by a timekeeping error. This game didn't go down to the wire.
FGCU led 10-6 early before Michigan State went on a 25-5 run that broke the game open. Langford, Winston and McQuaid made 3-pointers during that stretch.
"We didn't play well tonight, and to me it has nothing to do with the fouls or anything like that," FGCU coach Michael Fly said. "We just didn't compete from a defensive standpoint. Obviously, it doesn't help to lose one of our better players in Cheatham early in the game, but had we defended and rebounded then we would have had a chance to be in the game."
Cheatham was called for a flagrant foul and ejected late in the first half for undercutting Ward near the basket. Cheatham appeared to be coming over to try to box Ward out, but he came in low, and the bigger Ward ended up in a dangerous position.
"I'm fine. Just realizing that I could have got kicked out too if I retaliated," Ward said. "I'm no help to my team if I'm kicked out too, so I just kept my cool and just walked it off."
BIG PICTURE
FGCU: The Eagles lost their top three scorers from last season's 23-win team, but it was the defense and rebounding that let this game get out of hand. Florida Gulf Coast was outrebounded 30-10 in the first half, when Michigan State had 11 offensive rebounds to FGCU's 0. The final rebounding margin was 49-25.
Michigan State: It was an impressive all-around game for Ward, who not only contributed points and rebounds but also had a career-high four assists. The Spartans easily reached 100 points in this fast-paced game, and they had 33 assists on 41 baskets.
TECHNICAL
One call Izzo did not take issue with was the technical foul he picked up early in the second half.
"Definitely earned," Izzo said. "Immature. I was upset over a lot of things."
POLL IMPLICATIONS
Michigan State may drop a bit because of the loss to Kansas, but it's unlikely the Spartans will be punished too much by voters, especially after taking care of business against FGCU.
UP NEXT
FGCU: The Eagles host South Dakota State on Friday night.
Michigan State: The Spartans are home again Wednesday night against Louisiana-Monroe.
---
---