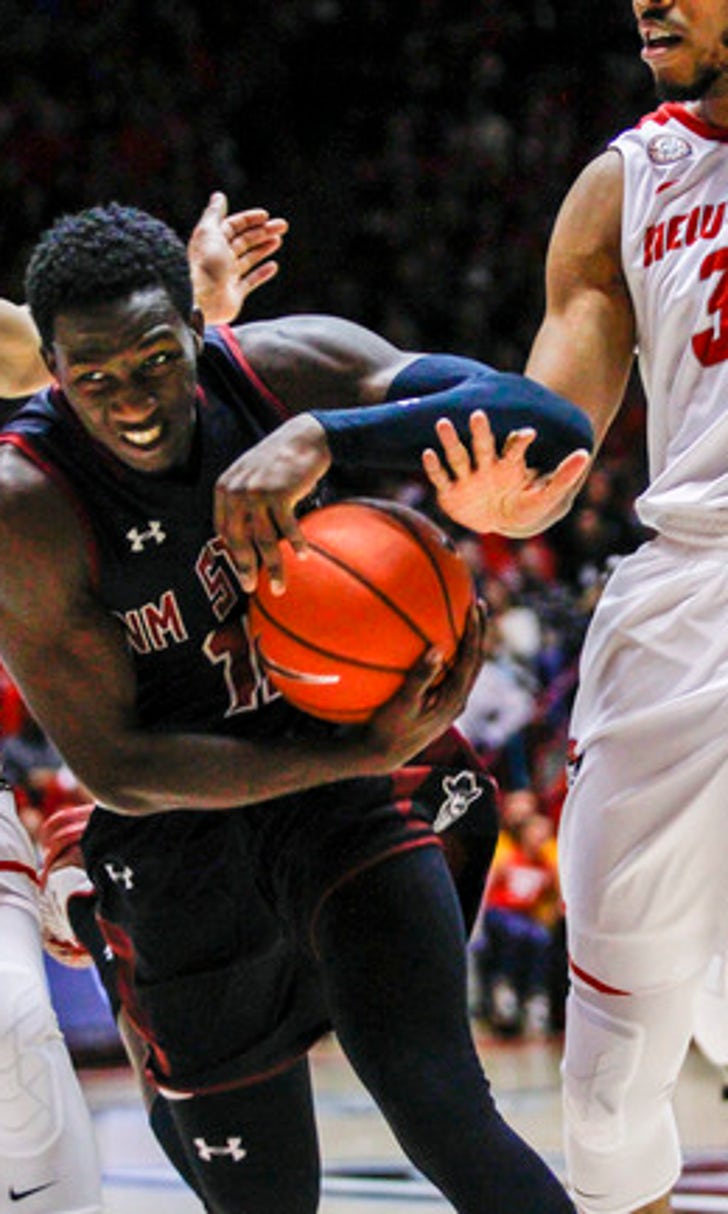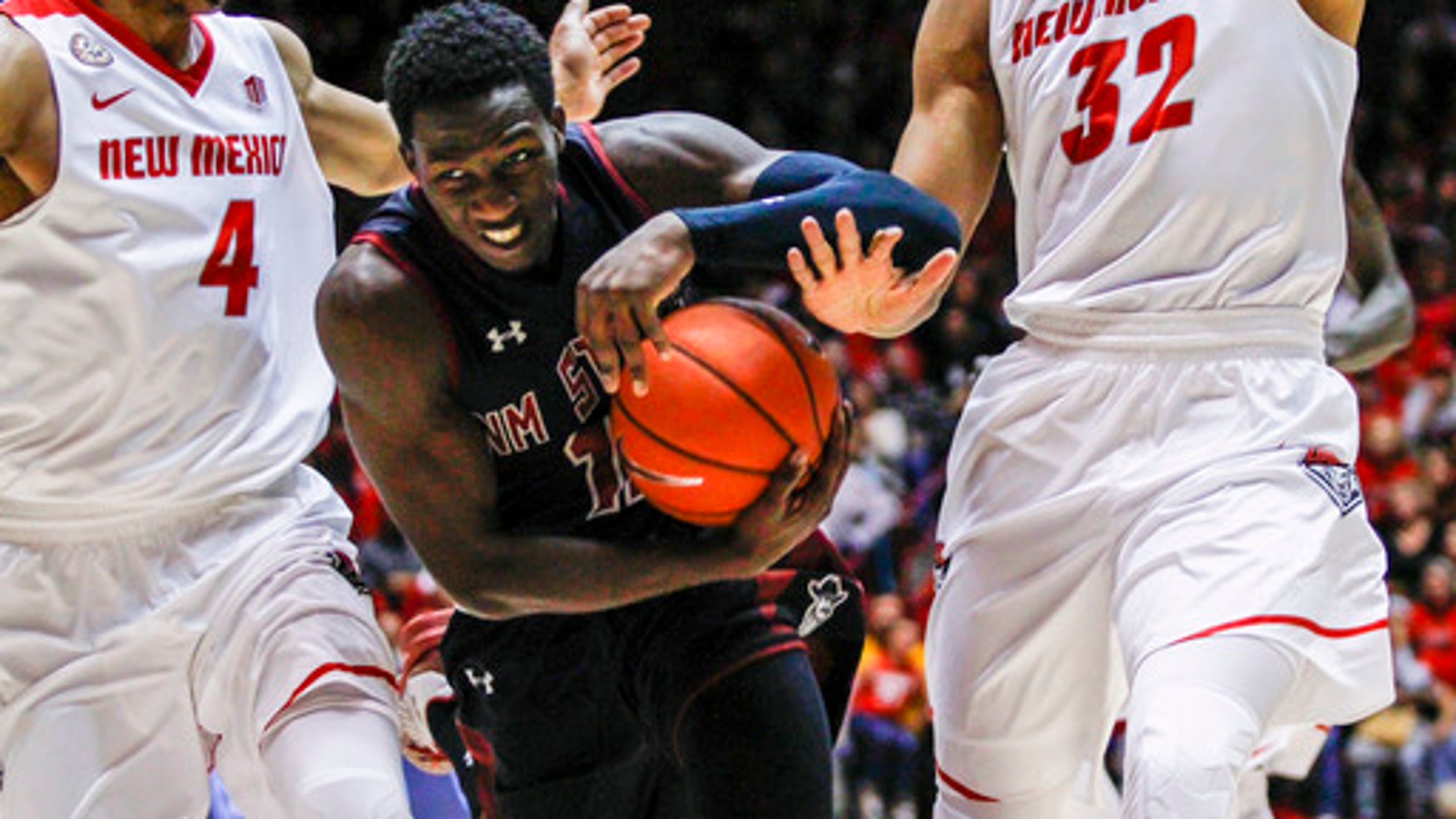 New Mexico rallies to beat New Mexico State 72-59
BY foxsports • November 19, 2016
ALBUQUERQUE, N.M. (AP) New Mexico forward Tim Williams had 20 points and Elijah Brown scored a season-high 19 points with eight rebounds as the Lobos pulled away late Friday to beat downstate rival New Mexico State 72-59.
New Mexico (3-0) forced 20 turnovers, turning them into 20 points, and gave it up only three times in the second half. The Lobos rallied from 30-29 halftime deficit after the Aggies finished the first half with a 13-6 run.
''I thought our defense was a lot better,'' New Mexico coach Craig Neal said. ''I thought their focus was a lot better, just because of how hard they played. If you play that hard, they can be really good.''
Ian Baker scored 25 for the Aggies (2-2) and Sidy N'Dir added 14, but the pair of guards combined to go 13 of 30 from the field.
New Mexico overcame a poor shooting effort after going 1 for 10 on 3-pointers and 24 for 54 overall (44 percent). The Lobos made 23 of 37 free throws (62 percent), led by Williams, who was 10 of 13 from the line.
Sam Logwood added 12 points and four assists for the Lobos.
BIG PICTURE
New Mexico: Brown and Williams are New Mexico's best players, but both were having off nights until the game was on the line. With the Lobos leading 44-42 after a 9-0 Aggies' run, Williams and Brown combined to score 20 of the Lobos' next 22 points in a 22-8 run that decided the game.
''I don't we had great execution in the first half then we slowed down and let the game come to us,'' Neal said. ''And then we had really good execution in the second half. We were able to Tim Williams and Elijah and some guys going.''
New Mexico State: The Aggies were unable to capitalize on a size advantage inside with 6-10 forward Johnathon Wilkins fouling out without any contributions and 7-2 Tanveer Bhullar finishing with nine points and 10 rebounds.
''The defensive rebounding still has a long way to go,'' New Mexico State coach Paul Weir said. ''We went to a small lineup which hurt us a little bit. But we're just not rebounding well enough right now to win games.''
THIS JUST IN
New Mexico junior forward Joe Furstinger, who had not played a minute in the first two games of the season, made his first appearance with 5:36 left in the in the first half and had an immediate impact, forcing a turnover on the ensuing inbounds play, then drawing an intentional foul on a drive on the other end of the floor. He finished with six points.
''He turned zero minutes into 12 because he did exactly what I asked him to do,'' Neal said. ''He didn't take any bad shots. He played with intensity. He played post defense. .He came in and did a heck of job. If I had an MVP of the game, it had to be him. He was outstanding.''
Likewise, Bhullar had not played this season either because of fitness issues, but he also made his presence felt.
''We kind of have some physical standards in place for these guys to meet in order to play,'' Paul Weir said. ''And Tanveer just met his. He wasn't going to play until he met them. I thought he looked pretty good for his first game. He's trimmed down quite a bit. He's moving a lot better. But he made an impact.''
QUOTABLE
''I think Tim thinks he can score on a guy who's eight-foot tall,'' Neal said of his power forward, who is averaging 23 points a game.
UP NEXT
New Mexico heads to California to face Virginia Tech on Thanksgiving in the Wooden Legacy Classic in Fullerton. The Lobos are hoping to reach the championship round in the event and a possible matchup with former coach Steve Alford and his son, Albuquerque prep star Bryce Alford.
New Mexico State goes home for a Sunday meeting with Bethune-Cookman as part of the University of San Diego Classic tournament. The Aggies continue that tournament at home Tuesday against Nicholls State.
---