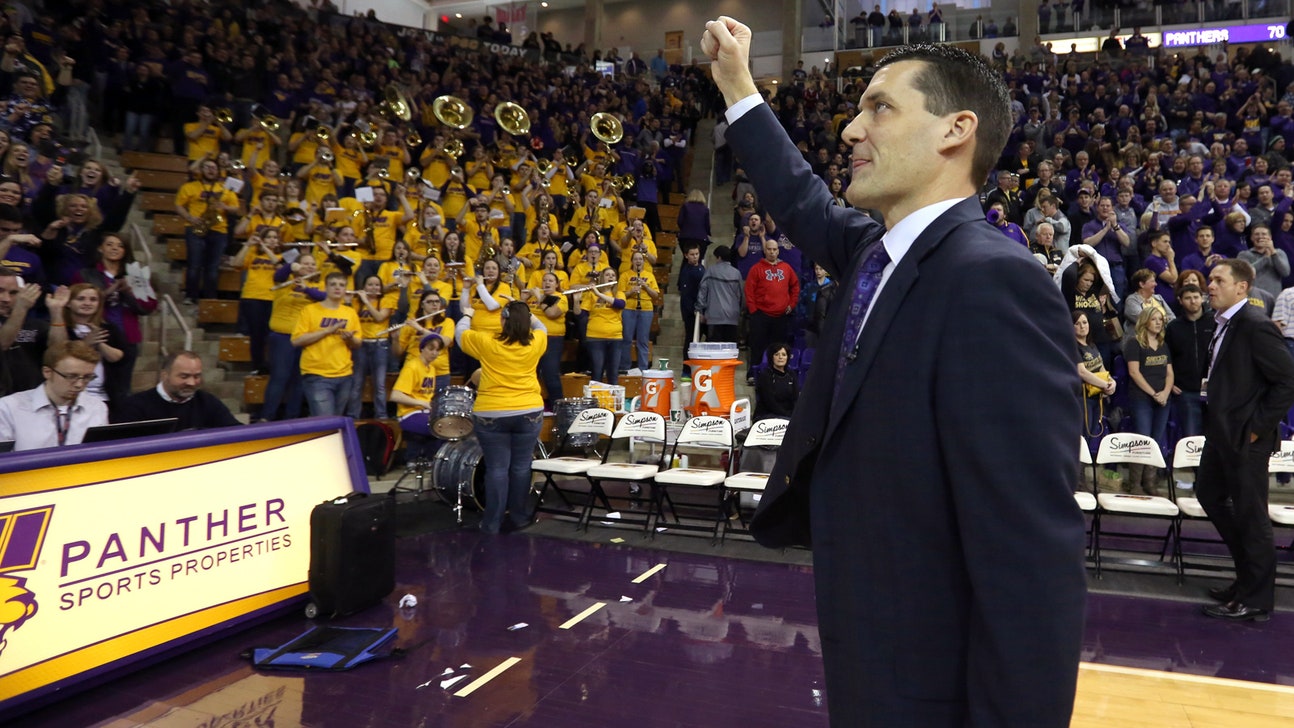 Most dangerous team you're not aware of: Northern Iowa Panthers
Published
Feb. 1, 2015 12:10 a.m. ET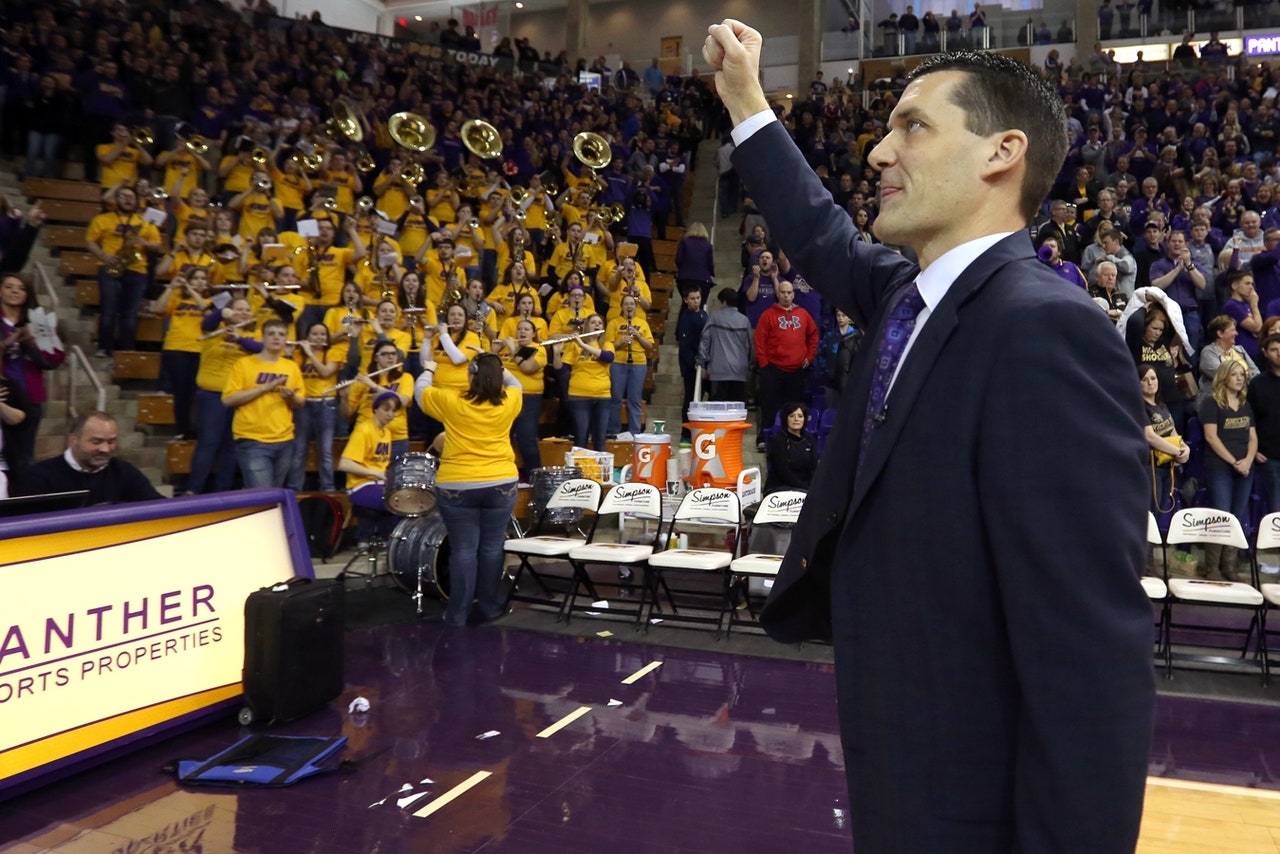 You know about the Northern Iowa Panthers.
But more likely than not, you only know a tiny little about them.
You surely know that the Panthers are Jayhawk Killers. Or at least they were Jayhawk Killers on one Saturday in March 2010, when a kid named Ali Farokhmanesh shot a 3-pointer that, ill-advised or not, went in, knocking off No. 1 overall seed Kansas and making head coach Ben Jacobson's team the Cinderella of the first weekend of that NCAA tournament.
You also know that, this season, starting in December, there's been a number next to their name in the AP poll, and that number keeps getting smaller. It got to 18th in the nation last week and will only get smaller this week once the newest poll is released on Monday.
But let's be honest: Unless you are the proud owner of a diploma from the University of Northern Iowa (known for its education school and its speech-language pathology program, by the way), that's probably the extent of your knowledge of the UNI Panthers.
And so, after Northern Iowa on Saturday ended 12th-ranked Wichita State's 30-game winning streak against Missouri Valley opponents with a resounding 70-54 victory, perhaps it's time to learn a little bit more about this team that'll be making plenty of noise come March:
— The Panthers' head coach has spurned offers from high-major schools to stay in the small college town of Cedar Falls, because he's a small-town guy and his wife's a small-town girl, and they want their two sons to be raised as small-town boys.
— The only thing Jacobson enjoys more than basketball is fishing; the only thing he hates more than losing is being in the spotlight. That should underscore where this team's workmanlike, share-the-ball mentality comes from.
— Senior big man Seth Tuttle is the best college basketball player you haven't heard of. He proved this on Saturday when, playing on one of the biggest stages of his college career — the first time two Top-25 Valley opponents have played each other in more than three decades — he dropped a career-high 29 points on one of the nation's toughest defenses. The leading analytics website in college basketball, KenPom.com, has Tuttle fifth in its National Player of the Year rankings, behind some pretty big names (like Duke's Jahlil Okafor and Wisconsin's Frank Kaminsky) and ahead of some pretty big names (like surefire NBA lottery picks Karl-Anthony Towns of Kentucky and D'Angelo Russell of Ohio State).
— The Panthers are winning, and winning a lot — 20-2 heading into February. Their only defeats were a one-possession road loss to conference opponent Evansville and a double-overtime road loss to VCU, a team that's ranked 14th in the country.
— They're winning by stubbornly sticking to their own brand of control-the-pace basketball, with an efficient offense (15th in the nation in effective field-goal percentage) that rarely operates in transition, a stout back-line defense that doesn't give up many uncontested shots, and a plodding tempo (347th in the nation, according to KenPom.com) that dictates the flow of the game.
If you watched them Saturday like I did, you saw a team that will make you look pretty darn smart come March — if, that is, you take all this evidence and pick them to knock off one more blueblood five years after Farokhmanesh's shot was immortalized on the cover of Sports Illustrated.
People love to look at UNI's low-scoring affairs and think that this must just mean a team that defends, defends, and only defends. That part is true — Northern Iowa defends with the best of them, owning a defensive efficiency that's ranked 15th on KenPom.com — but the Panthers can score, too. By one measure, Tuttle is a top-10 offensive player nationally, according to KenPom.com's offensive rating tool.
"Tuttle was unstoppable," Wichita State coach Gregg Marshall said simply after Northern Iowa's statement win.
Tuttle, yes, he has been phenomenal, but what sets this Northern Iowa team apart — and what should make them the betting man's pick in March — is that this is truly a star-less team. Jacobson has a rotation that's 10 players deep, and it's a legit 10 players — 10 players the coach knows he can trust, not just 10 bodies he can plug in and hope for the best. It's a hugely versatile lineup. Depending on the needs of the moment, Jacobson can trot out a steady ball-control point guard or a slashing flashy point guard; he can clog the lane with three 6-foot-9 guys or spread the floor with five shooters. In many ways, this team reminds me of a mid-major version of Virginia, the type of team that looks like one of the best-coached teams around.
That's saying a lot when I'm coming off seeing Northern Iowa face Marshall's Wichita State, which is easily one of the most tenaciously coached and toughest teams in the country.
After his team's biggest win since Farokhmanesh's shot — that was the last time UNI made the NCAA tournament — I asked Jacobson what he wanted his guys to be known for nationally. After all, this is a team that few on either coast know much about, other than that it keeps creeping up the polls.
"That effort level that we played with today," the understated Jacobson said. "There was only one play that stood out there over the course of the game, where Seth didn't cover who he was supposed to cover because he was tired. I'm sure there were some other ones, but that's the only one that sticks out. That means we played with tremendous effort, with tremendous passion. That's the thing, more so than the basketball stuff."
Saturday's dominant win does not mean that all of a sudden Northern Iowa has replaced Wichita State as the best mid-major program in the country. (I don't even consider Wichita State a mid-major program, but we'll leave that discussion for another day.) Northern Iowa dominated this game, from controlling the pace on offense and on defense, to continually breaking Wichita State's full-court presses in the second half, to being enormously efficient on offense (5 of 7 from 3, and shooting a sizzling 60 percent from the field).
But Wichita State was simply off. The Shockers' star scorer, Ron Baker, shot a measly 2 of 10 from 3; the Shockers' star distributor, Fred VanVleet, a man who rarely gives the ball away, had four turnovers. This was not Wichita State's night, and given a reset and a neutral court, I probably think Wichita State and its tops-in-nation backcourt wins.
But Saturday was Northern Iowa's moment. On the smaller stage of the Missouri Valley Conference, this was equivalent to knocking off the Jayhawks in March. Wichita State had not lost to a Valley opponent in 693 days. Since then, the Shockers have been to a Final Four and have gone through an entire regular season undefeated. It took one of the nation's deepest and best-coached teams to knock the Shockers off their perch.
"It was our goal," Tuttle said. "We talked about coming in here and beating them by 15. That was our mindset. That was what we were trying to do."
That's exactly what they did — and that's why, come March, you ought to get pretty well acquainted with the Northern Iowa Panthers.
Email Reid Forgrave at reidforgrave@gmail.com, or follow him on Twitter @reidforgrave.
---