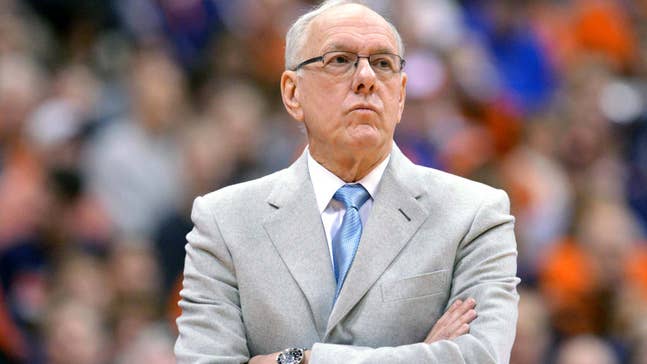 Jim Boeheim's nine-game suspension begins against Georgetown
Published
Dec. 3, 2015 1:26 p.m. ET

Jim Boeheim was an integral part to the Syracuse-Georgetown rivalry. Unfortunately, he won't be part of its renewal on Saturday afternoon in Washington, D.C.
The NCAA Infractions Appeals Committee announced on Thursday that it had upheld its ruling, although it altered the start of Boeheim's nine-game ban. His suspension will begin on Saturday against the Hoyas instead of at the start of ACC play.
In his appeal, the coach stated that he believes the Committee on Infractions used the wrong standard to determine its finding that he did not create an atmosphere of compliance. He also argued that the Committee on Infractions abused its discretion when it prescribed a nine-conference-game suspension.

After an oral argument attended by the coach and Committee on Infractions, the Infractions Appeals Committee determined the Committee on Infractions had sufficient information to support the finding on the coach's failure to promote an atmosphere of compliance. However, the Infractions Appeals Committee determined the stipulation that the suspension be served during conference play was a departure from precedent. Because the coach was not directly involved in the underlying violations of the case, the appeals committee modified the penalty to begin with the team's next game.
The change in suspension also means Boeheim will miss a meeting with another former Big East foe, St. John's on Dec. 13.
Syracuse associate head coach and "coach-in-waiting" Mike Hopkins will take over for Boeheim during his suspension. Boeheim's return will be on Jan. 9 vs. North Carolina.
The Orange and Hoyas are set to tip on Saturday at 1p.m. on FOX Sports 1. Georgetown and Syracuse have not played since the 2013 Big East Tournament championship game.
---