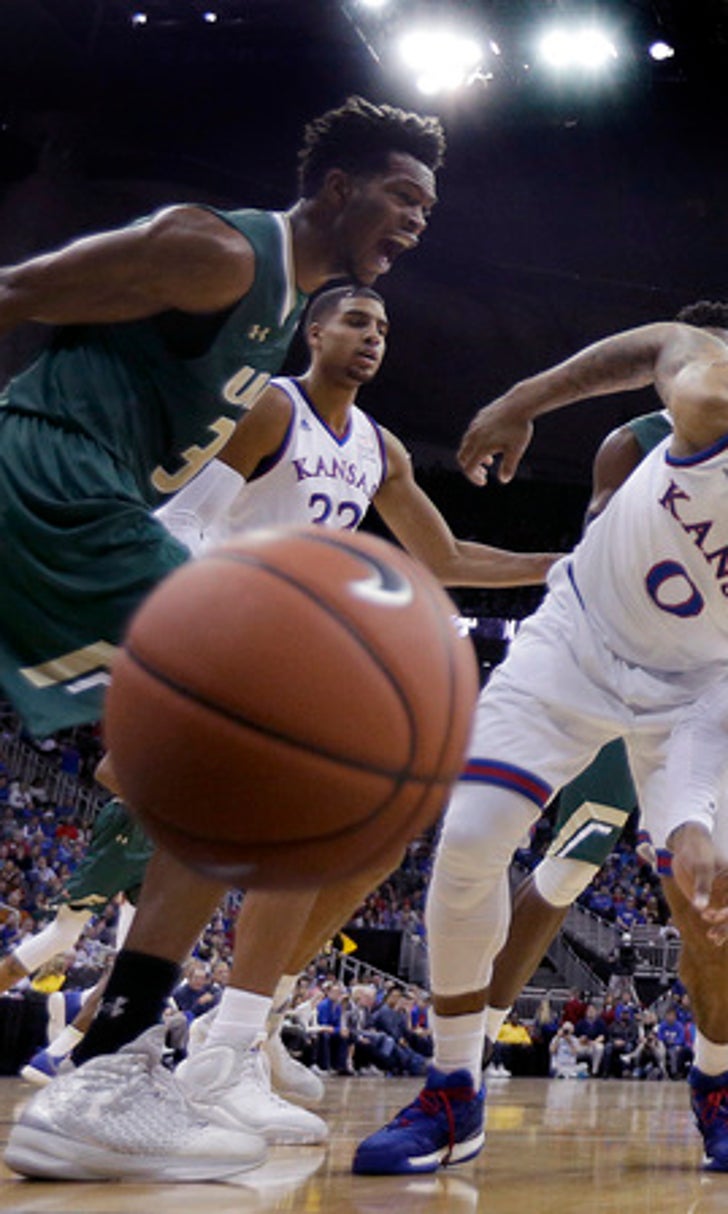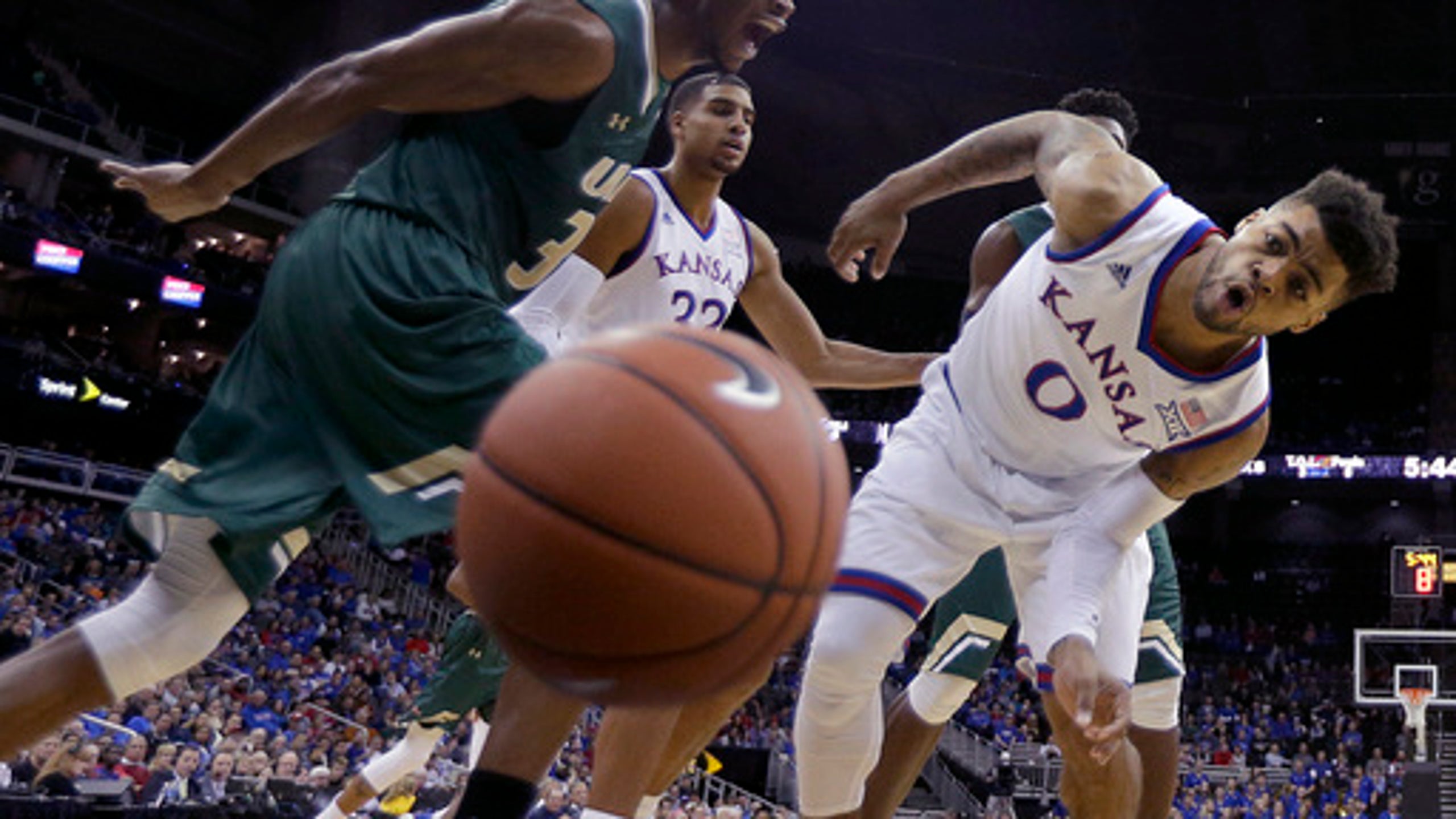 Jackson leads No. 5 Kansas past UAB 83-63 in CBE Classic
BY foxsports • November 22, 2016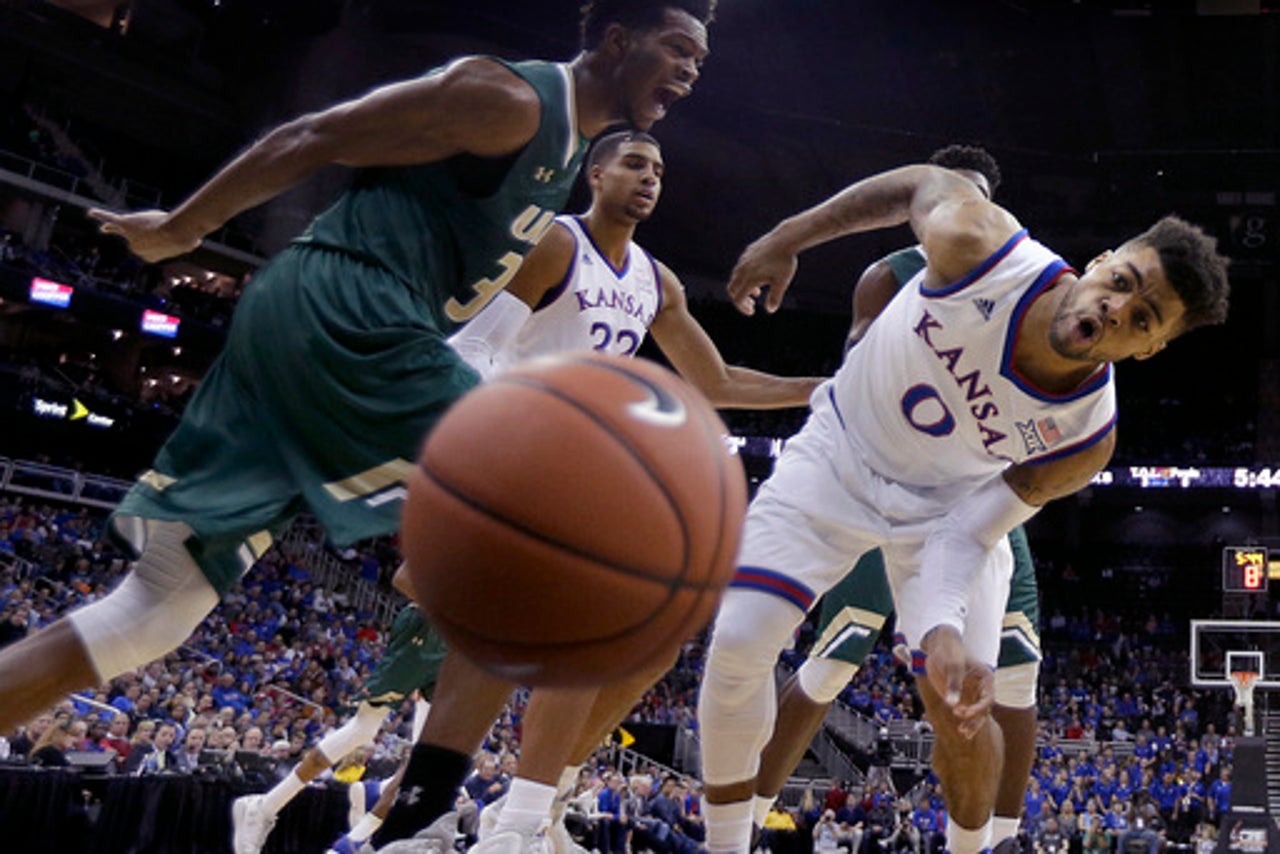 KANSAS CITY, Mo. (AP) Josh Jackson has been huddling with the Kansas coaching staff since the start of the season, and the message has been the same: If you quit fouling so much, you would say on the floor more.
The sensational freshman must have finally listened.
Jackson poured in 22 points, many of them on highlight-worthy dunks, while backcourt mates Frank Mason III and Devonte Graham helped carry the load as fifth-ranked Kansas routed Alabama-Birmingham 83-63 on Monday night in the semifinals of the CBE Classic.
''Me committing silly fouls take me out of the game, and don't allow me to play as much as I'd like,'' said Jackson, who also had seven rebounds and three assists. ''It worked out today.''
Mason finished with 20 points and Graham had 16 for the Jayhawks (3-1), who advanced to play Georgia for the title on Tuesday night. The Bulldogs beat George Washington 81-73 in the other semifinal.
Kansas raced to a big early lead, weathered several runs by UAB, then relied on their backcourt of Jackson, Mason and Graham to pull away from the Blazers down the stretch.
''They're very good. They're obviously one of the best teams in the country,'' UAB coach Robert Ehsan said. ''When they shoot it like that, they're very hard to beat.''
Dirk Williams led the Blazers (2-2) with 13 points. Tyler Madison had 12.
The Blazers got off to what looked like it would be a catastrophic start, turning the ball over seven times and missing their first 11 field-goal attempts. Their only points over the first 10 minutes came on foul shots, and by the time they finally hit the Jayhawks led 23-3.
''They started off really shooting it bad, and we defended pretty well,'' Kansas coach Bill Self said, ''but I didn't think our defense was very good the last 30 minutes. I thought it was average at best.''
The Blazers took advantage with a run of their own.
They ripped off a 17-2 run over the next 6 minutes as the Jayhawks missed seven straight shots of their own, and they quieted a partisan crowd by getting within 27-20 late in the half.
If that didn't make Self irate, the way Kansas ended it did. Graham hit a 3-pointer with 5 seconds to go, but UAB went coast-to-coast for a buzzer-beating basket to deflate the Jayhawks.
''We were exciting going into halftime,'' Ehsan said. ''I thought if we could make a run in the second half, we would have a shot. But they're Kansas for a reason.''
The teams resumed trading runs early in the second half before the Jayhawks began pulling, and four 3-pointers by Svi Mykhailiuk - who finished with 15 points - helped put the game out of reach.
''We played really well. I think everybody's mind was right,'' Graham said. ''We came in focused, just trying to do the little things we've been watching on film that we hadn't been doing well.''
Jackson added an exclamation mark with just over four minutes left, taking a pass in the open floor and throwing down a windmill dunk while getting fouled for a three-point play.
''He's an extremely talented player. His versatility is what I've been surprised with, how many things he can do on the floor,'' Ehsan said. ''He's a tremendous player.''
CHARITY STRIPE
Self was plenty unhappy with the foul line at both ends of the floor. Kansas sent UAB there 26 times while going just 9 of 19 at its own end. ''We have to figure out a way to get to the free-throw line,'' he said, ''and when we do, it'd be nice when we made some every now and then. We're putting people on the line too much and giving people too many free points.''
BIG PICTURE
UAB showed some moxie in rallying from its big early hole, even the Jayhawks never led by fewer than five the rest of the way. It had to be encouraging for first-year coach Robert Ehsan, who is trying to get the Blazers back into the NCAA Tournament this year.
Kansas looked tired at times from a brutal start to the season. The Jayhawks played Indiana in Hawaii, Duke in New York and Siena at home on Friday night. The grind continues with the CBE Classic title game before another home game against UNC-Asheville on Friday night.
UP NEXT
UAB plays in the consolation game Tuesday night.
Kansas plays the Bulldogs for the tournament
---