Indiana knocks off No. 22 SMU to improve to 3-0
BY foxsports • November 20, 2014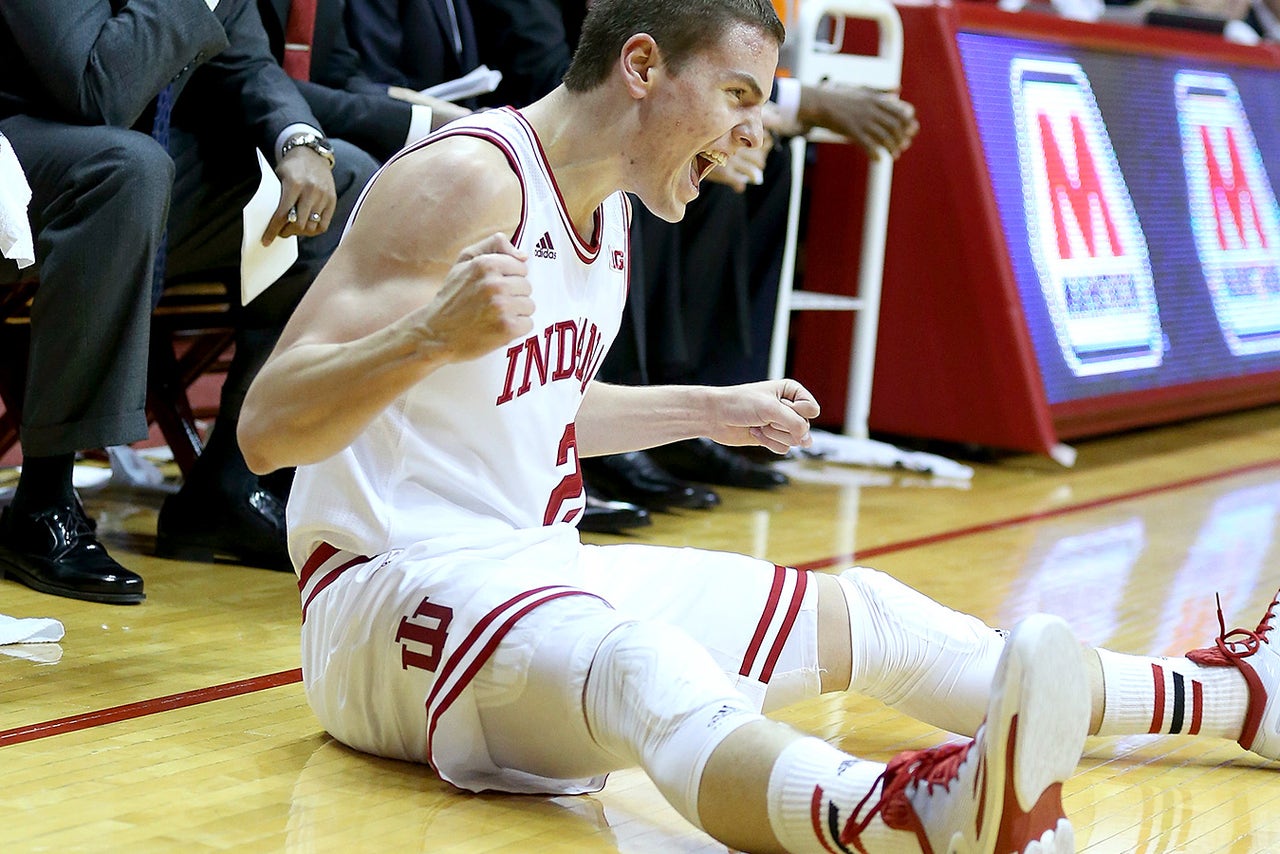 James Blackmon Jr. is shooting Indiana back into the national conversation.
If his 3-pointers keep dropping, the freshman star might soon have the Hoosiers climbing back into the rankings, too.
Blackmon hit five 3s and scored 26 points, twice leading Indiana back from deficits and eventually past No. 22 SMU 74-68 Thursday night.
"I just try to stay aggressive and my teammates find me in the right spot," Blackmon said. "They know my game and they find me in the right spots."
Nobody has had a bigger influence on the unbeaten Hoosiers (3-0) through the first week of the season than Blackmon, who came into the game as the nation's top freshman scorer at 22.0 points. He played an even bigger role against the Mustangs.
When Blackmon heated up in the first half, the Hoosiers charged back from a 22-10 deficit to take a 38-33 halftime lead.
When the shooting guard got started again in the second half, Indiana took the cue and went on an 18-5 spurt that erased a 5-point deficit and turned the game.
It wasn't a spectacular night for the Hoosiers, who shot just 36.2 percent from the field and 36.4 percent from 3-point range.
But with Blackmon leading the charge, point guard Kevin "Yogi" Ferrell finishing with 13 points and seven assists and Nick Zeisloft knocking down two crucial, late 3s, the Hoosiers had just enough to hang on.
"I think sometimes when you shoot it quick or you don't hold your follow through or you don't get your last dribble down on the pull up, the ball's behind you, little things like that can mess with you," coach Tom Crean said. "I don't want them feeling afraid. That's how we have to play."
Indiana and Kansas are tied with the most wins against Top 25 teams (16) since 2011-12.
For the Mustangs (1-2), it's been an agonizing start.
First, they lost 6-foot-9 forward Markus Kennedy because of academic ineligibility. Now they've lost two straight.
SMU was led by Ben Moore with 16 points and seven rebounds and Nic Moore, who had 13 points and six assists, but gave away a 12-point first half lead and a second half lead, too.
"We had control of the game and had four straight empty possessions," coach Larry Brown said.
Indiana started slow, making just 3 of its first 12 shots.
Blackmon made sure the shooting woes didn't last as the Hoosiers trimmed a 22-10 first half lead to 27-20, then scored nine straight to finally take a 29-27 lead.
But after trailing 38-33 at halftime, SMU opened the second half on a 10-0 run and still led 47-42 with 14:25 left.
That's when Blackmon rallied Indiana again. His 3 from the top of the key gave Indiana a 53-52 lead with 8:57 to play and when the spurt ended, Indiana led 63-55.
All the Hoosiers had to do after that was fend off one last charge from SMU. Blackmon helped seal it.
TIP-INS
SMU: The Mustangs' Indiana contingent had a big night. In addition to Nic Moore, the Mr. Basketball runner-up to Cody Zeller in 2011, forward Justin Martin, who attended Lawrence North in suburban Indy, had seven points, three rebounds three assists.
Indiana: Williams had the best night of the three Hoosiers who were reinstated following four-game suspensions. Williams had 11 points and four rebounds. Stanford Robinson had two points. Emmit Holt did not play.
SCHEDULE STRENGTH
Both teams wanted to upgrade their schedules after missing the NCAA tournament last season. Kennedy's academic troubles threw SMU's plan a little off course. "I would have played in December, you know, a little later," said Brown, who coached the NBA's Indiana Pacers during the 1990s. "But we want to get to where Indiana is and all these great programs are."
TURNOVER TURNAROUND
One of the biggest complaints about Indiana last season and early this season has been their propensity for turnovers. They turned that around Thursday. The Hoosiers gave it away just seven times, while forcing the Mustangs into a season-high 19 turnovers. It led to a 19-5 discrepancy in points off turnovers. 
---