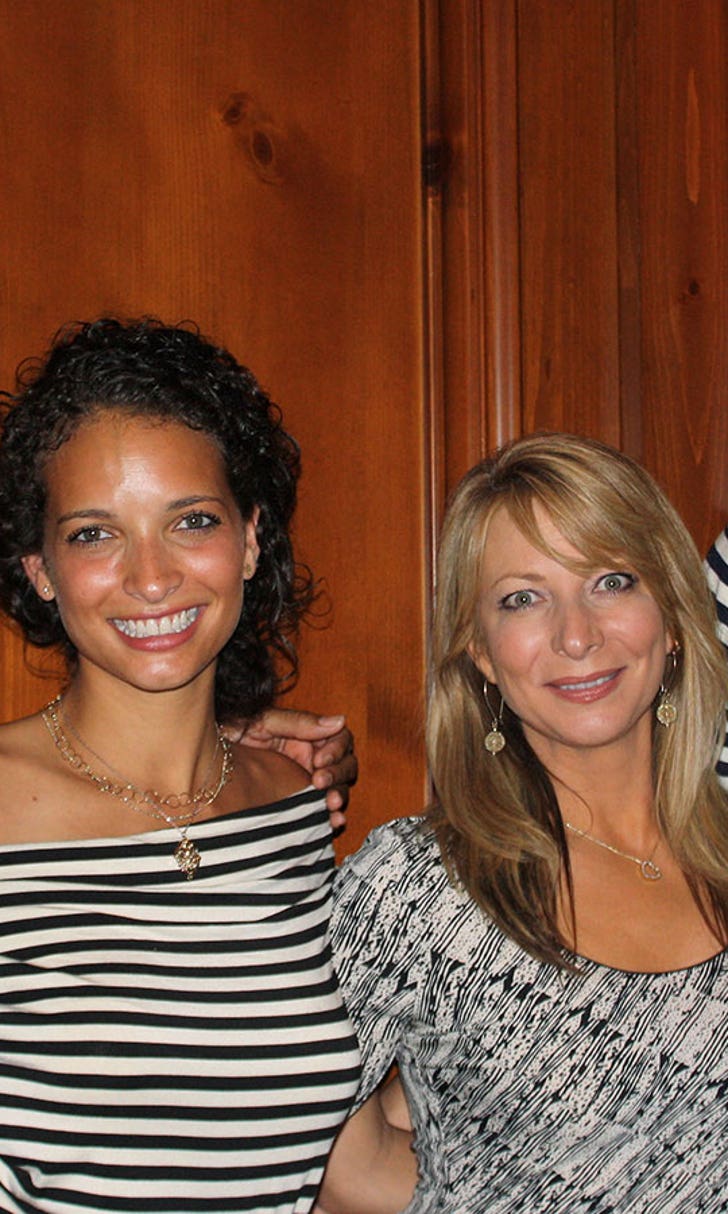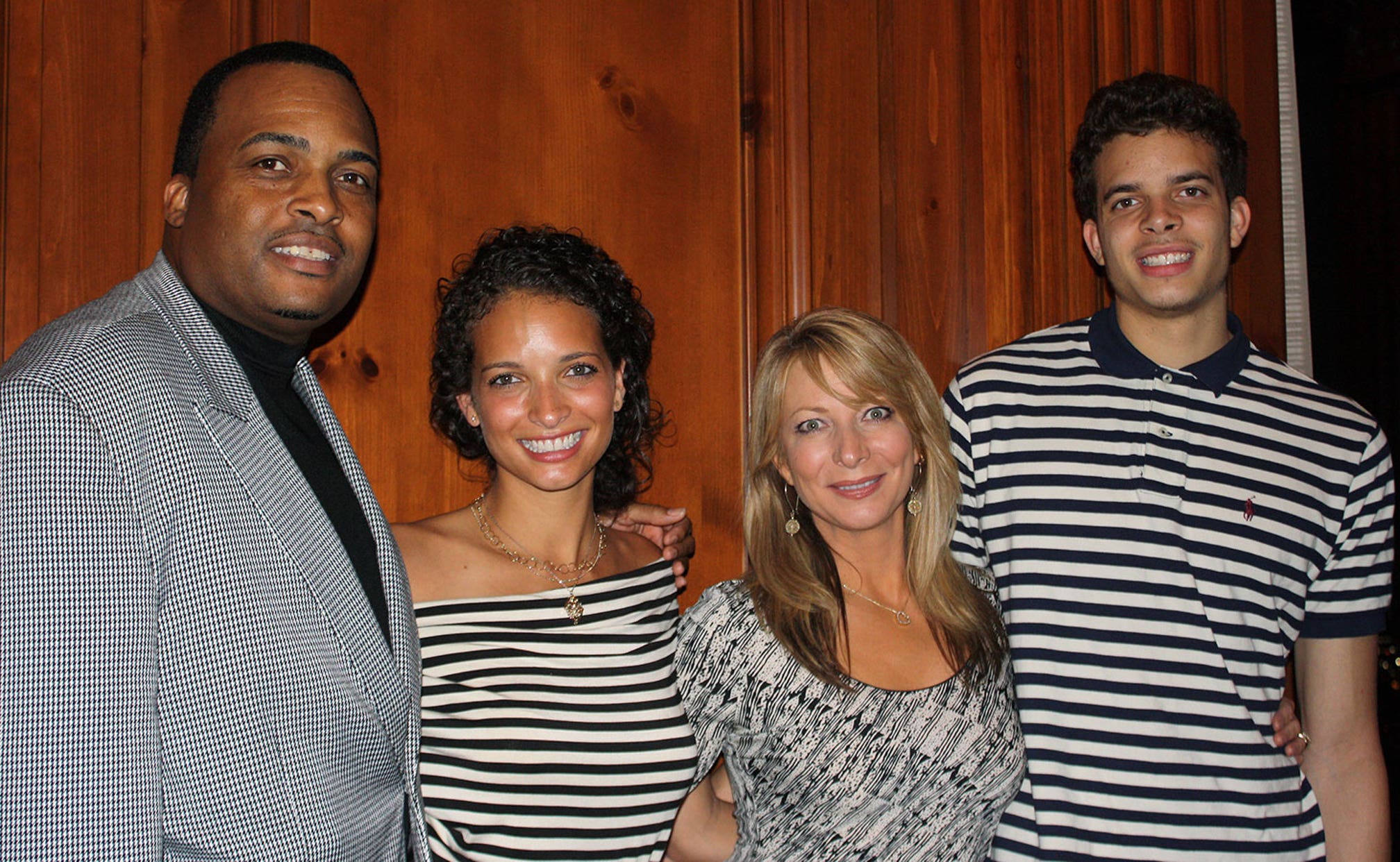 In the Hunter family, mother knows best ... every day
BY Sam Gardner • May 10, 2015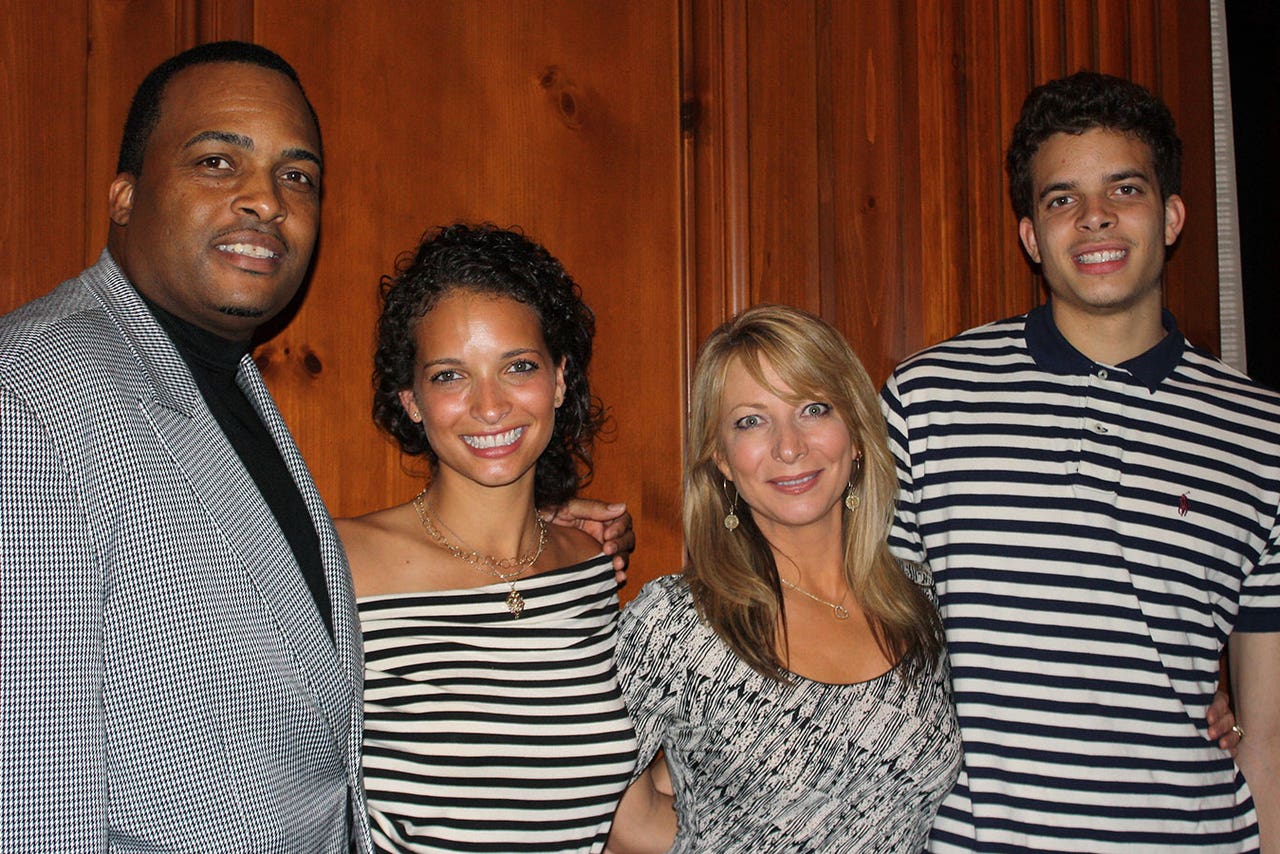 After the brackets had been busted and the stunned Jacksonville crowd had dispersed and the tears had seemingly all been cried at Veterans Memorial Arena following Georgia State's breathtaking win over Baylor in the NCAA tournament, Ron and R.J. Hunter joined R.J.'s mom, Amy, and his sister, Jasmine, in their hotel room, seeking a brief escape from the madness.
In what felt like a blink of an eye a short time earlier, the Panthers' star guard R.J. almost single-handedly pulled his team, a 14-seed, out of a 12-point hole against the third-seeded Bears with less than 3 minutes to play. The run was capped by a ridiculous 35-foot, game-winning 3-pointer that sent R.J.'s father and coach, Ron -- confined to a rolling chair by a torn Achilles --tumbling to the floor in exultation.
With almost no time to compose himself after the comeback was complete, Ron approached the dais outside the media workroom and offered a touching tribute to R.J. that quickly became the talk of the tournament. He then reiterated his point in the locker room for those who felt compelled to hear more. "I'm proud as hell of this guy," Ron told reporters, blinking away tears as R.J. did the same. "This is my son. I'm proud of him, so I wanted to say that."
While the world wanted to talk about Ron and R.J. that March night, all the Hunter men wanted was to rejoice in the moment with the women who make the family whole. So while the hiatus from the hysteria was limited to what felt like no time at all, it was more than enough for Amy, the true star of the Hunter family, to put the gravity of the experience in perspective.
"My leg was hurting so I was laying across the bed, and it was just my family in the room," Ron Hunter told FOX Sports in a phone interview last week. "We laughed and cried, and it was just unbelievable. We only had about 10 minutes but I remember every second of those 10 minutes, and that, for me, was the most memorable thing about that whole run.
"R.J. was talking to Jasmine about 'One Shining Moment,' " the 50-year-old Hunter continued. "That's all he cared about. And just the look on Amy's face was something I'll always remember. Shortly after, we were going to have an interview with the whole family, and they were all laughing about the things they were going to say about me, and then the last thing Amy did before we walked out, she stopped us and said, 'All of the things that we've been through, it happened so that we could end up right here, right now, just like this. So everybody, enjoy it. Please enjoy this.' "
-----
Ron Hunter first met Amy Puglia at Miami of Ohio, where Ron was a member of the basketball team alongside longtime friend Ron Harper. They were classmates in a course called Three-Dimensional Media during their sophomore year -- Amy was an art education major; Ron took the class because it was taught by a member of the host family he'd been assigned at Miami -- and, as fate would have it, the pair shared a workbench because it was the only seat available when Ron arrived late on the first day.
"I knew she was the one within 20 minutes because I'd been staring at her the whole time and didn't even know what class I was in," Ron Hunter said. "Then I was late to my second class because I followed her out of the first one."
Amy, however, was a little less smitten from the outset.
"It was the kind of thing where it was an 8 o'clock class, and it was a studio class, so you sat there for two hours with one other person, facing each other," Amy said. "We were both kind of smart alecks, so I'd ask him, 'Do you ever wear anything that doesn't have your name on it?' because the basketball players always had their name and number on everything. So it started off a little adversarial, but I knew a lot about basketball, and I think in that setting you're going to get to know a lot about each other, whether you like it or not. So it definitely didn't take long to get to a point where we enjoyed each other's company more."
After about a year, Ron and Amy were dating, and, on the court, Ron would go on to close his career with three consecutive NCAA tournament appearances for the then-Redskins -- two of which ended with first-round overtime losses.
With Ron's playing career over, the couple remained in town for grad school. Amy finished her masters in December 1986, Ron completed his five months later with his sights set on getting into coaching, and then a few weeks after Ron's graduation, the couple married, tying the knot on June 25, 1987. Unfortunately, there wasn't much time for the newlyweds to enjoy the honeymoon phase because by that fall, Ron was already an assistant at Wisconsin-Milwaukee.
"I think I knew what I was in for because obviously it was his passion," Amy said of her introduction to life as a coach's wife. "Milwaukee, at the time, was just going Division I, and the only reason that he took it was because they were closer to home (than Vermont, which also pursued Hunter) and he knew it was a situation where they were going to be at that level.
"But it paid diddly squat," she added. "It didn't hardly pay anything, and I knew, at that point, that the job was more important than money. It was a struggle, though. We moved in the summer and I was in education, so it was hard to get a job, and I ended up substituting that first year. But we made it work, and I knew just from that -- how little money we were moving for -- that it was going to be more important for the big picture."
After six years coaching under Steve Antrim at Milwaukee, Ron felt it was time for a change, so in 1993, he and Amy packed up and moved back to Oxford, where Ron took a job as an assistant at Miami under coach Herb Sendek. Of course, by then, the Hunters were a family of three, as their daughter Jasmine was born in December 1988, and the crew was about to grow by one more, as Amy was pregnant at the time with the couple's second child.
On Oct. 24, 1993, the Hunters' son, R.J., was born, but by Dec. 3 -- Jasmine's fifth birthday --Ron was already on the road, grinding away at his new gig, coaching in the MetLife Classic tournament in San Francisco. Three months after that, Miami was playing in the NIT against rival Xavier, and before Ron  had a second to relax with his newborn son and growing daughter, the family was packing and moving once again after Ron was named head coach at IUPUI.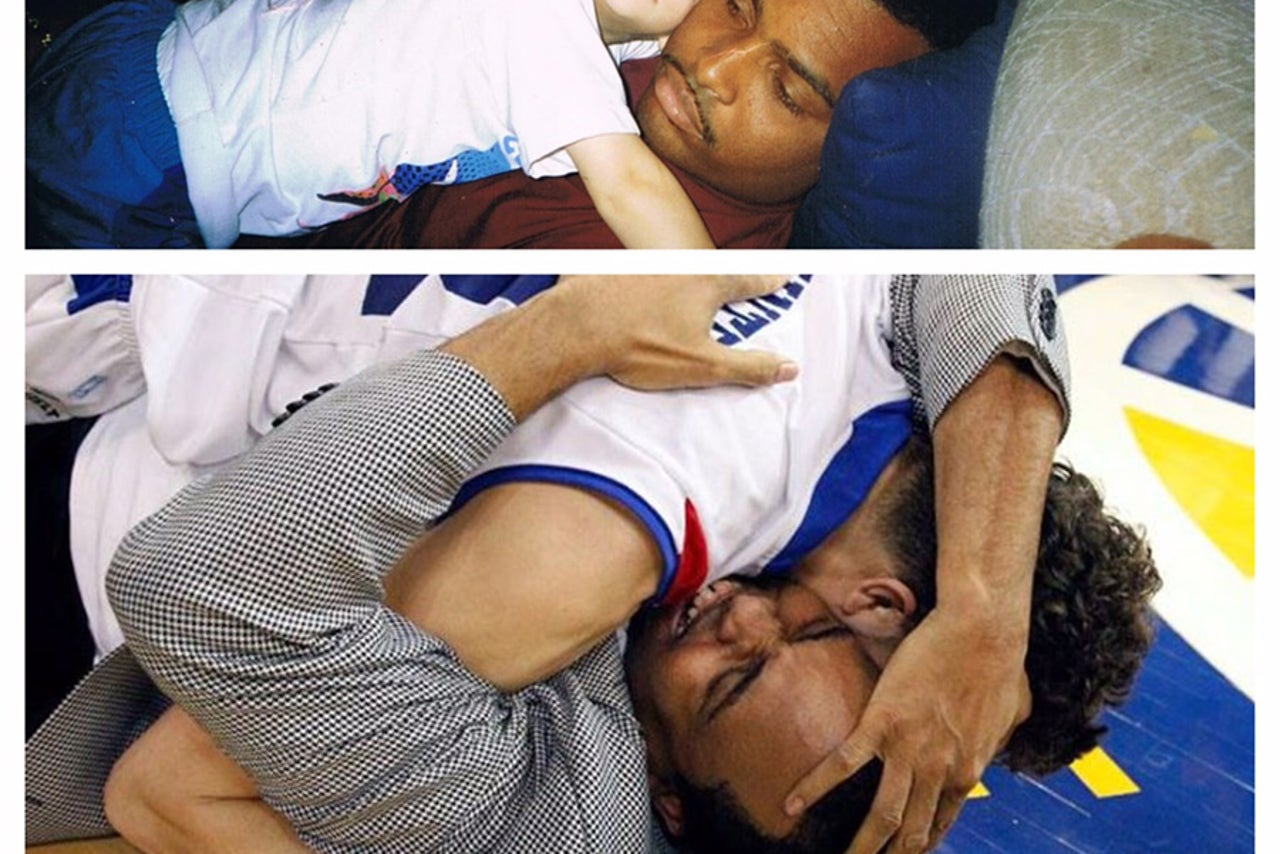 Ron and R.J. in days past -- and nearly present.

At the time, IUPUI was in the process of moving up to Division II after 15 years at the NAIA level and would not ultimately join Division I until 1997. But it was Ron's previous experience at a burgeoning D-I program in Milwaukee that helped get him the job, and though it wasn't the ideal time for another relocation, it was an opportunity Hunter couldn't forgo.
"He was 30 years old at the time," Amy said. "A lot of his coaching peers were like, 'Are you crazy? You would only want to be part of a program going through that laborious, painful process of turning Division I one time in a career. And you're doing it twice? Are you nuts?' But it actually was the thing that helped him get on there, and it felt like a place where we knew we could be for a while. I don't think we ever imagined we'd be there that long, but it was good. It was great."
Even so, it didn't mean Ron didn't have his doubts about uprooting his family's life for the sake of his job yet again.
"I think it was especially tough on Amy," Ron said. "She had a master's degree, she had her own career goals, she had things that she wanted to do, and once she would get settled with something, I'd come in and say, 'Hey, we have to leave, it's time to start over.' It really hurt her career, and she had to put it to the side, not only to raise our kids but to further my career, and that was really hard and something that I'll always appreciate.
"She put everything on hold for me and for our kids, and that's tough, and she never once complained about it. She never once talked about, 'You guys get the glory and I was never able to get my career like I wanted to.' She put all of us first."
-------------
Thankfully, the Hunters were finally able to put down the roots the family desired once they arrived in Indianapolis.
Ron coached the Jaguars (known as the Metros until the move to Division I) for 17 seasons -- an eternity, especially for a young coach in a developing program -- and won 274 games. Hunter gained notice at the school for partnering with Samaritan's Feet, coaching select games barefoot to raise awareness for the program, which provides shoes to underprivileged kids. He also coached IUPUI to its first NCAA bid in 2003.
During that time, R.J. and Jasmine were able to find comfort in having a sense of home, spending their entire lives in the same school district and keeping the same friends.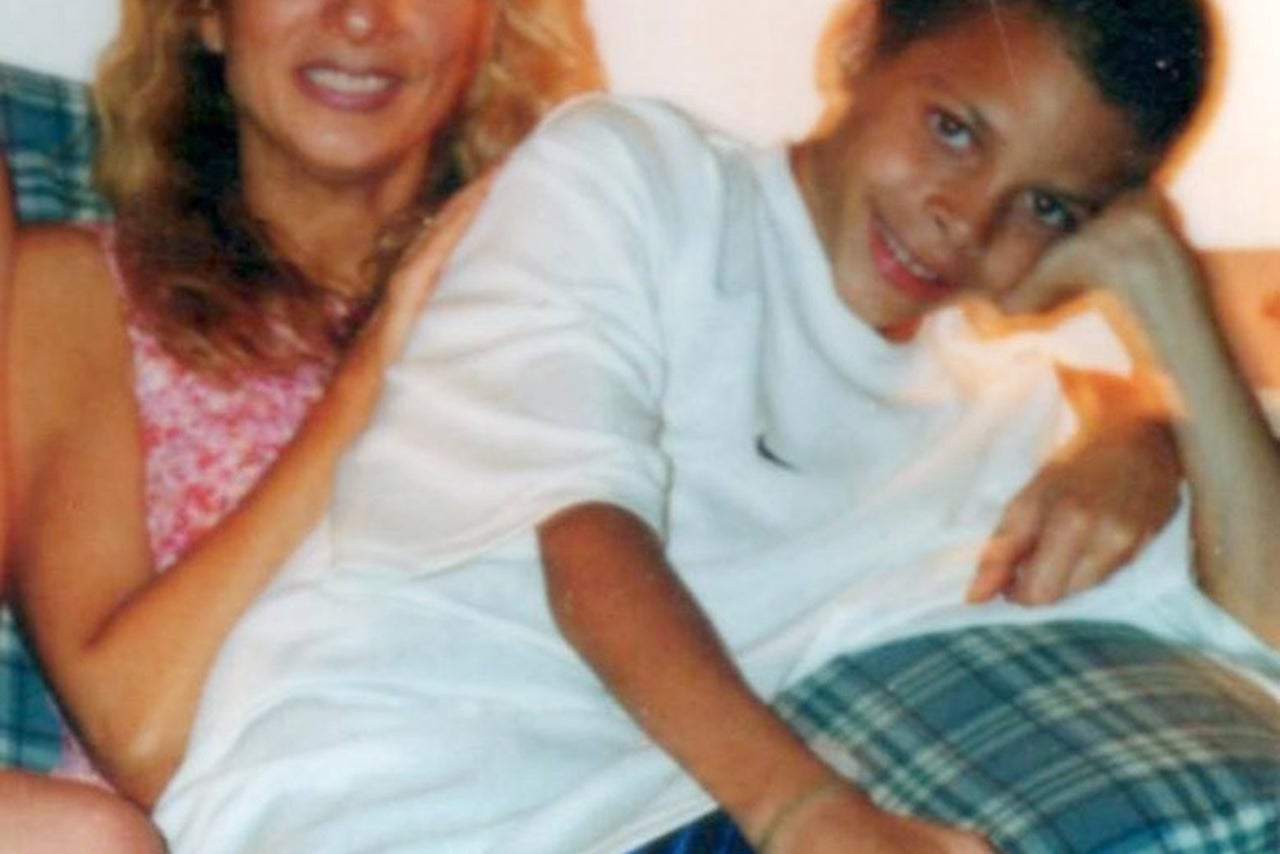 Amy and young R.J.

"My godbrother is (Sacramento Kings guard) Ray McCallum, and he was always moving, like every two years, and having to make new friends and go to new schools and I don't know if I could have done that," R.J. Hunter said. "So from a social part of it, it was definitely easier for me and my sister, and even from an economic side, it was good. We were always able to keep our house --I grew up in the same house, the whole time, 17 years -- and we didn't have to keep selling, renting, moving. And that came into play when I went to college because I was able to be more socially stable and economically stable because of it."
But being part of a coaching household is never easy, and the Hunters still faced plenty of hardship over the years. The travel and long hours were part of it, of course -- any coach's family will tell you that -- but the stress of remaining competitive in a profession not known for its patience also understandably weighed on Ron, and often it found a way to transfer to Amy, as well.
"It was hard," Amy said. "Everything revolves around (basketball). Jasmine was born in the middle of basketball season, and R.J. was born just as one was getting rolling, and so my daughter was at games when she was a week old and my son was at games when he was two months old, and everything else had to work around it. People still talk about me carrying R.J. out of the arena as a toddler, going to the restroom because he's having a tantrum.
"But even at home, running of the household, I just remember trying to be the buffer," she continued. "It would be like, 'Well, maybe I'll take this up with Ron at a less stressful time of the season or at the end of the season.' There's always that to it, and everything revolved around the level of stress that coaches experience, because their vocation ultimately depends on the actions of 18- to 22-year-old young men."
Added Ron: "Sometimes it's almost like she was a single parent because I was busy trying to get my career going."
One concession Amy wouldn't make was leaving, however. At least not early on. There was too much going right for the Hunters in Indiana to just up and go unless they had no other choice.
"There was about a five-year period where my wife basically flat-out told me, 'You can't take another job right now,' and it was probably during the best five years I had at IUPUI," Hunter said. "So I probably had to pass up on some opportunities because we thought, for the development of our kids, that it was best. I'll never forget when she finally came to me and said, 'I know that you're ready to move. It's time, and we're OK with it.'
"But some of the best things she ever did for me was just say no," he added. "There were decisions I wanted to make over the years and she just said no, and every one of those 'nos' turned out to be the right call."
It was also about more than just finding a better job. Ron was talented enough that the opportunities were always going to be there. Rather, for a black coach with a white wife, it was about finding the right job in the right place at the right time for a family that had faced its share of discrimination.
"I think there were several years there toward the end there where (Ron) felt a little bit stuck," Amy said. "He wanted to move on, but there were reasons that he didn't, and I think we were both very cognizant of being an interracial couple, having multi-ethnic kids, and understanding that just landing anywhere was not an option. Our thing was always, 'OK, neither of us are mixed, but our responsibility is to provide a situation in which our kids can thrive,' and they had that in Indianapolis.
"I think we always were conscious of the fact that we had to be even stronger and more diligent regarding our kids in a society that, unfortunately, has its pitfalls when it comes to a multi-ethnic family," she continued. "We never dwelled on that and never made excuses about it, but I think we've had an understanding that it was our decision to take this on and that we have to be very diligent about the experience that this becomes for our children."
Over the years, Ron and Amy looked to former Arkansas coach Nolan Richardson and his wife, Rose, as a model for how such a situation should be handled.
"(Richardson) had been the coach at Arkansas, so we were like, 'OK, if he could do that back then in the deep south ...' " Amy said. "He was like a pioneer for a couple like us."
"There were certain jobs that we just didn't feel comfortable enough to go to, to be honest with you," Ron added. "There were comments a lot of time, people who would stare at our children when they were younger. But we tried to never make it an issue, especially in front of the kids. We wanted them to know that they were just as grounded or normal as everybody else. So then as they got older, we felt that they could handle themselves in that regard."
If anything, Ron's job and R.J.'s growing interest in hoops served as an escape for the family when times got tough.
"The pressures of being an interracial couple are so much greater than people understand, but what really was a common denominator in all of it was basketball," Ron said. "We used basketball because that was the kids' common ground, where race didn't matter. You didn't have to worry about that with basketball, but we had to with everything outside of it, to make sure our kids were protected. But the basketball court was the one place we could put our kids in and it never came up. I don't know how we could have done this without having basketball, especially during that time."
The only time it would really come up around sports is when R.J. would watch the Indiana Pacers as a kid.
"He wanted to be Reggie Miller, but he looked more like Austin Croshere, and he was like, 'Is my hair at least going to be black when I'm older?' because he was blond," Amy said. "He'd be like, 'Am I going to change? Am I going to appear to be more ethnic than I do right now?' and our message was always that he was meant to be exactly how he is."
Finally, in 2011, the right opportunity did present itself, and Ron left IUPUI to become the head coach at Georgia State, which forced the family into yet another challenging decision. By that time, Jasmine was off to college, but R.J. was about to be a senior in high school, so he and Amy stayed behind in Indianapolis while Ron moved to Atlanta. In the end, the decision turned into something of a windfall for mother and son, despite not having dad around as often as either would have liked.
"They became even closer in that year when I was here in Atlanta by myself and it was just the two of them in the house," Ron said. "They felt like they had to protect each other, and their relationship grew even stronger."
"It was a year of responsibility," R.J. said. "I had to learn how to take care of my mom when my dad wasn't there, and all the things he used to do were now things I had to do. I think it helped me turn into a man right before I went to college, so it was really perfect timing."
--------------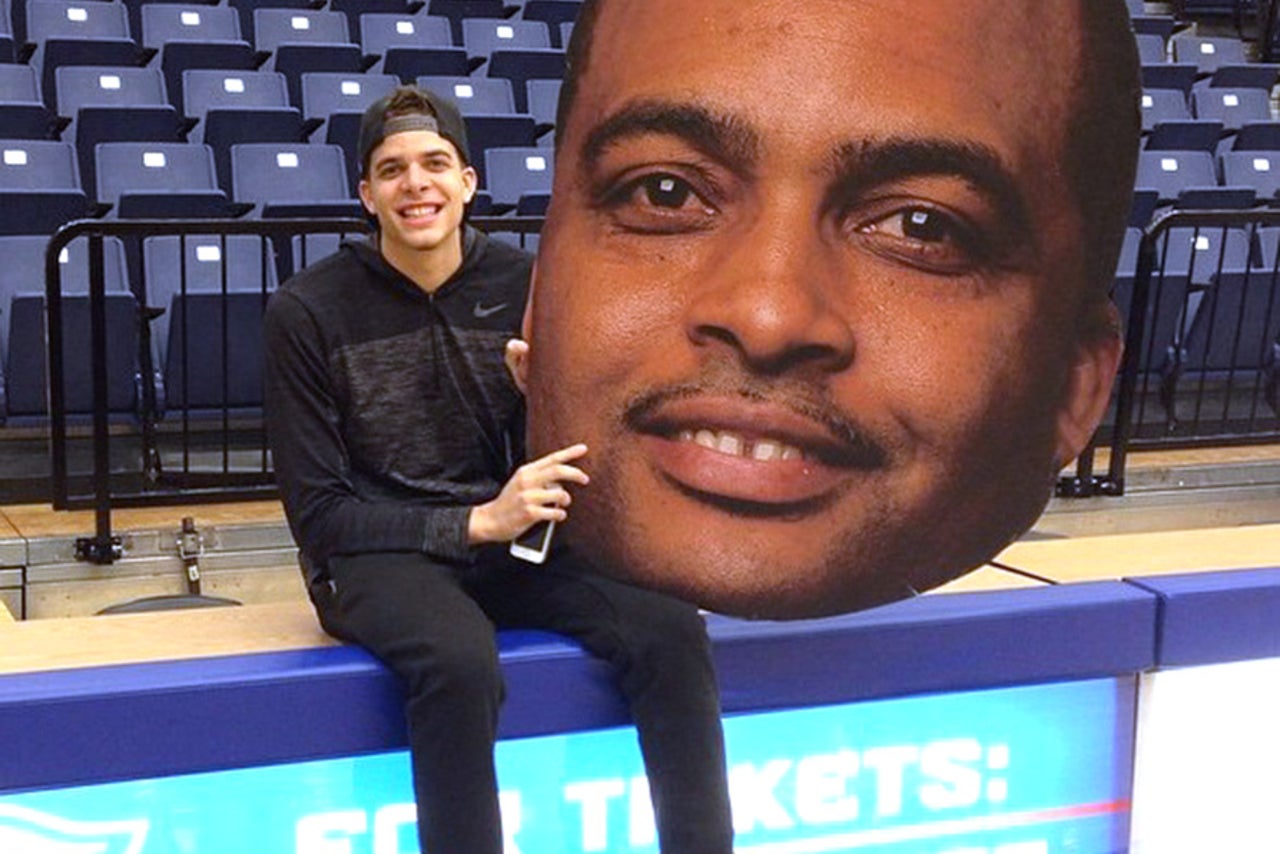 Fun times for R.J. with his 'dad.'

The timing of Ron's career move was not random, either. Though Ron's profession left him with little time to coach R.J. as he was growing up, it was still obvious to Ron that R.J. had the talent to play at the Division I level. Problem was, he wasn't totally sold on playing for his dad, and he definitely wasn't going to do it in his own hometown -- in part because his mom wanted him to have a chance to have that experience somewhere else.
"It absolutely occurred to me that it might be better for him to play for someone else, and for Ron, he wanted a situation where he felt that it would be right for him and right for R.J.," Amy said. "I just really wanted R.J. to make the right decision and I wanted him to play wherever he felt he should be.
"He was recruited by the Miami Hurricanes and he was recruited by Wake Forest, and Iowa, and to me, I'm like, 'Those would be great places to land.' But the thing about it is, I told him, 'You're going to have an all-star class coming in the door every year behind you.' I'm wasn't saying that's not good for his game, but I told him he needed to be aware of all that.
"We just tried to present all sides to him and wanted him to make the decision. As a mom, you just want him to be ready, but it was certainly a little unnerving, the notion of him playing for Ron."
Ultimately, R.J. decided on his own that playing for Dad was the right call, and Amy and R.J. made one final move. And while Hunter was a star from the beginning for the Panthers, Amy still found that, even though R.J. was no longer living at home, he and Ron needed time to adjust to their new player-coach relationship.
"I had to play peacekeeper, and I also had to play Switzerland, where I'd just tune both of them out," she said. "And I know other female heads of household who have been in this situation will say similar things. You can't predict how you're going to be because you don't know how it's going to go until you're in it. But certainly, since my personality is more in alignment with my son's, more often we would be collectively frustrated with Ron. It was a mother bear-cub scenario."
Fortunately, there was always one thing that always kept everyone in check throughout R.J.'s three years in Atlanta: Sunday dinners at the house, where basketball was the one topic of discussion that was always off the table.
"It was just a getaway for a little bit," R.J. said. "During the season, and even in the offseason, you get caught up so much in being coach and player and what's going on on the court, so that was a time when Mom kind of shut all that down, and it was family time at that point. You need that if you're going to go through that situation, and I think my mom realized that, and she would have (dinners) more often as the years went on because she knew how stressful it could be."
Meanwhile, over the course of R.J.'s three seasons at Georgia State, the team continued to improve. During R.J.'s freshman year, the Panthers finished 15-16 despite 17 points per game from their young star, but by R.J.'s sophomore year, which saw Hunter earn the first of two Sun Belt Conference player of the year honors, his team was a legitimate threat to reach the NCAA tournament for the first time since 2001.
Georgia State owned the Sun Belt during the regular season, losing just one conference game, but ultimately lost by one point in overtime to Louisiana-Lafayette in the conference tournament championship.
All of that set the table for this past season. Georgia State didn't dominate the conference quite like it had in 2013, but it still took a No. 1 seed into the league tournament. There, the Panthers redeemed themselves with a victory over Lafayette in the semis before beating Georgia Southern in a championship game that will be best remembered for the celebration during which Ron suffered the torn Achilles that left him confined to a set of wheels in Jacksonville.
At that time, the Hunters couldn't have known what would transpire less than a week later, but even so, just making the tournament at all felt like a welcome new chapter in the family's story.
"After Ron took IUPUI to the tournament, he desperately wanted to not be a fluke and wanted to build a legacy with a program," Amy said. "IUPUI is a great university, but the resources weren't there for athletics, and people realized how much he was just willing that team to success. He kept feeling like he wasn't going to be able to do anything more than what he had already done.
"By the time he left there, it felt like so many years had passed since he'd been to the tournament, so to do that at Georgia State was a huge weight lifted. It was one of those things where you felt like there was a lot of destiny and other things involved and when you feel that vibe and you feel there's a destiny that should be yours -- when it happens, there's just no greater feeling."
To see her son and husband do it together, however, was the real reward.
"Over the years, I would take personal days from work and get my kids excused from school every single year for the conference tournament, so, literally, the weight of the moment was about all of the work and the time and the devotion and the belief building up to that," Amy said." So you finally have gotten to this point, and this is just the beginning.
"It's one thing to run across the finish line in a race, and that's great, but if you're a marathoner, there's all the training and everything that goes into it and all of that anticipation when you're at the starting line. And that's really what it's about. All the focus is on the finish line, but it was that kind of feeling, where you know exactly what all you've done to prepare for that moment, and the hope that you have for what will follow."
Little did they know, what followed would turn out to be even more memorable.
----------
Though it was the Baylor game that initially catapulted Ron and R.J. Hunter into the national consciousness, it was an equally touching address from Ron following Georgia State's season-ending loss to Xavier in the next round that solidified the family's place there.
In the moments after the 75-67 defeat, Ron finally cracked, letting his tears do most the talking as he gushed not so much about coaching or winning but about being a dad in what ultimately amounted to a thank you note to his son.
"This is a special thing," Ron said, when he could finally muster the words. "The one thing that I got from this is that you don't take these things for granted. I don't know if we'll ever get a chance to do that again. The next day isn't promised to you."
In Amy's eyes, Ron's emotional outpouring had been more than 20 years in the making.
"That's my husband -- he's going to hold up and make the decisions whether he wants to or not," she said. "The hard ones, the easy ones, he's going to shoulder them, and he's going to do what needs to be done, and he's brilliant at keeping perspective. But now that he'd coached (R.J.) when it really counted, that flood of emotion, that's what it's about.
"All while R.J. was growing up -- AAU, high school, the college recruiting process -- that was Ron's whole thing. It was, 'I want to coach him when it counts,' and that's what he'd always say. There will be very few that can refute that Ron coached him when it counted, and it counted big-time. And for R.J. to be in a position now to possibly have an opportunity to get drafted into the NBA, if you could ever say, 'My work here is done,' he certainly can say that."
R.J., meanwhile, will tell you it was Mom who did just as much to get him to the doorstep of the NBA Draft.
"I wouldn't be where I am without her," R.J. said. "It was huge to have that rock that I needed, that person that I needed, that support I needed. It's the kind of thing that you can't even really explain. It's just something that has to be there, and she was. She was there for all my games, and when my dad was on the road, she took care of me and my sister, so she's been solid and stable and balanced throughout everybody's lives, not just mine."
With a year of eligibility left, R.J. could have come back for his senior season, but few expected that to pan out. And after talking it over with his family at one of the rare family meals during which basketball was permitted as a topic of discussion, R.J. made the decision to forgo his senior season in favor of the draft, where he's projected by many to be a first-round pick. But to hear the Hunters discuss the decision, it didn't seem like much of a decision at all.
"I'll be honest, it was less than five minutes before we came to the conclusion that it was time to go," Ron said. "The shot against Baylor sealed it. I think we would have had a discussion about it if we had just gone to the tournament and lost. There might have been more to talk about -- he still would have been leaning toward leaving, but there would have been more to talk about -- but after the shot and everything that happened after that, it was easy."
It wouldn't be a talk with Mom, however, without a little advice, and Amy made it clear that the road ahead would be challenging.
"We have really tried to be realistic in preparing him for all of this and not holding back anything as far as, 'This is a business, and there are sharks in this business, so do not get it twisted,' " she said. "Will he be able to make a living playing a game that he loves playing? Absolutely. But I told him, 'Don't think for a second that it means more to you than it does to the guys who own these teams, run these teams.' They're looking at the business aspect at all times, so you have to be aware of that. You need to appreciate the blessing, but you have to see the big picture as well."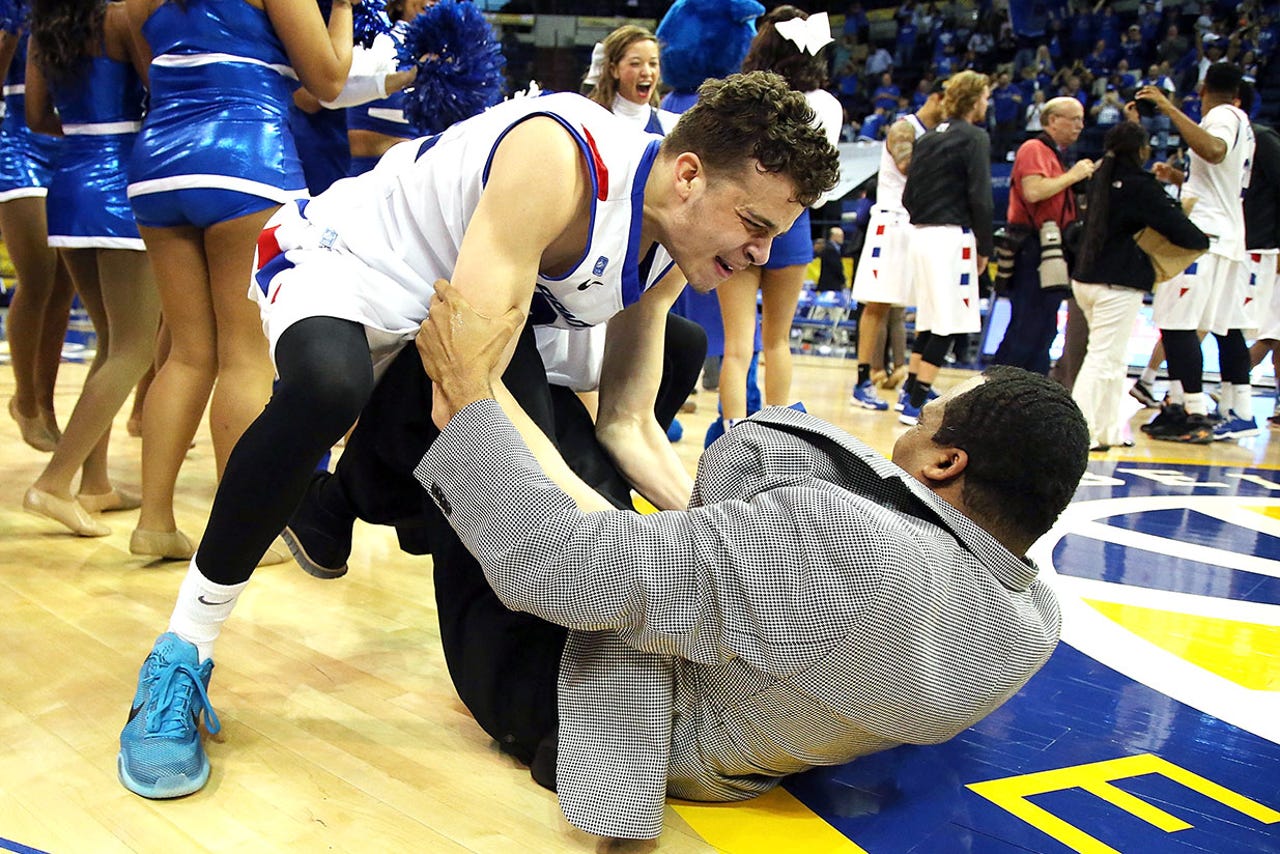 R.J. and Ron celebrate moments before dad tore his Achilles after clinching an NCAA tournament bid.

------------
In April, after signing with an agent, R.J. moved to Chicago, where he's been preparing for the combine and the draft on June 26, the day after his parents' anniversary. The freedom has been nice, sure -- he is just 21, after all -- but it's also been a challenge for a mother and a self-proclaimed "mama's boy" who have never really had to live without each other.
"It's been an adjustment, for sure, but I think you've got take the good with the bad -- or in this case, the great with the bad," R.J. said. "Because I moved for a great reason, and if anybody would want me to leave and chase my dreams, it would be her. It's tough, and it's not easy being away from your family, but it's easier knowing the greater outcome in this and what you're doing this for."
"It's a tough, tough thing for parents," Amy added. "The minute you bring kids into this world, you spend every other phase letting go of them. It's various stages of letting go, and it's your duty and your responsibility to do that, but it never gets easier. Whether it's weaning him off the pacifier, or dropping him off at first grade or dropping him off at college, it's all just larger, more high-stakes versions of the same thing."
Some of that void has been filled by the presence of R.J.'s sister, Jasmine, who is living in Chicago as she pursues a PhD in clinical psychology -- R.J. says he's seen her more in the last few weeks than he had in the last year -- but ultimately, there's nothing quite like the comfort of home. So when he returned to Atlanta last weekend for a weekend with mom and dad and a few bites of Amy's famous pasta carbonara, R.J. was reminded all over again why his bond with his mom is as strong as it is.
"Her strength goes beyond anything that I have or anything that I've seen," R.J. said. "Just her will to balance everything going on in her life to give all she has to three other people, that's incredible. And to do that and still always be a great person and a sweet person and a person everybody else wants to love, it's indescribable and going forward, I know I can learn so much from how she carries herself and carries everybody else.
"That's the biggest trait that I feel like I got from her, how I care for people, and it's something I don't take for granted. So when people tell me I remind them of my mom, that's the biggest compliment they can give."
Still, the reality is that one day soon R.J. will be in the NBA with very little control over where he lives or how often he'll be around. Surely, Mom and Dad will look forward to seeing R.J. play when they can, and both Ron and R.J. joke that they'll have to someday have a talk with Amy to keep her from trying to move in with R.J. once he finds out where he'll be playing.
The truth is that it will probably take a while for Amy to truly catch her breath and come to appreciate the new family dynamic -- especially right now, with Jasmine's wedding in just two weeks. But with Mother's Day on hand, Ron says he hopes Amy will come to realize just how much she has done behind the scenes to make the Hunters one of sports' most beloved families.
"Sometimes as a husband you can take things for granted, especially when you've been married for as long as we have," Ron said. "But during my career I've become more appreciative of her because I coach a lot of kids and I realized how good of a kid she raised. One thing I've always said is that R.J. is a better son than he is a player, and he's a great basketball player. And I say that because she did that. He is an unbelievable kid, and she did all of that.
"She's the unsung hero of this family," he continued. "No one knows about her, but it's all her. Someone asked me the other day, 'What's your secret?' and all I could say was that it's all Amy. She created this. She has the hardest job. She really does, and I don't know how she does it. I told her the other day, 'We've got a daughter who's about to get married and is getting her PhD, and we've got a son who's about to get drafted into the NBA,' and all I could really say to her after that was, 'Thank you.' "
You can follow Sam Gardner on Twitter or email him at samgardnerfox@gmail.com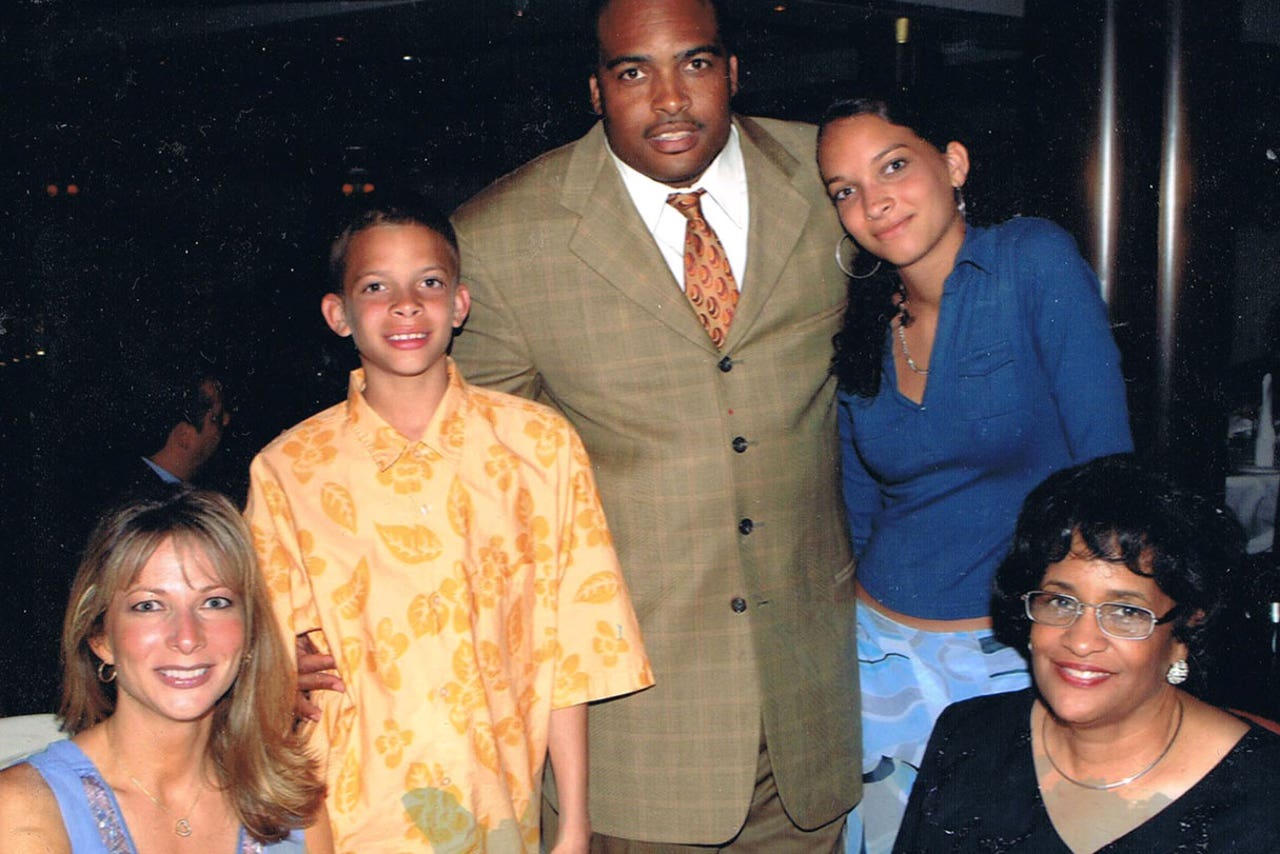 To the Hunters, family is everything.
---