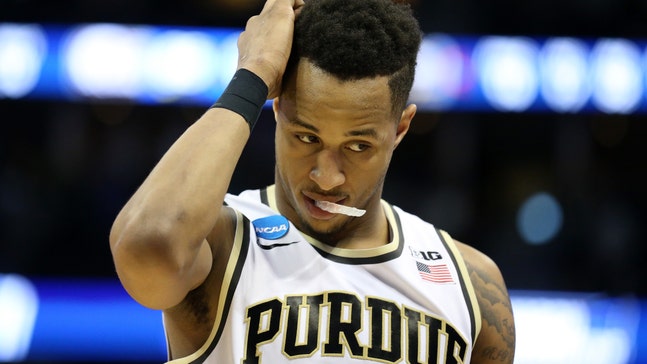 How Purdue bizarrely blew its NCAA tournament game
Published
Mar. 17, 2016 8:47 p.m. EDT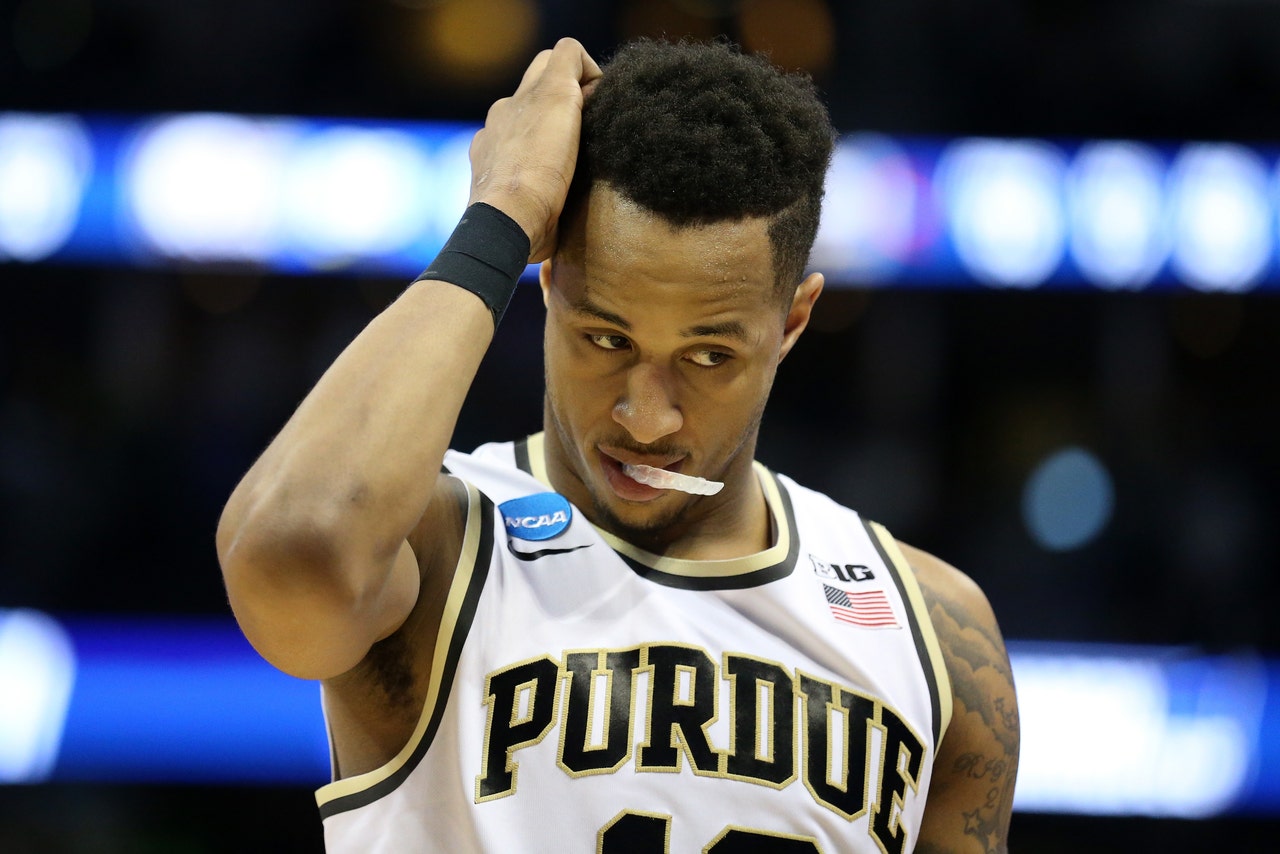 There are going to be many plays on the highlight reel for Little Rock and a hundred missed opportunities that will be rushing through the minds of Purdue players over the next few days, weeks, months and years. But one possession, the final one of the regulation game, was the oddest one so far at the tournament. It didn't necessarily cost Purdue the game, but it was such a mental lapse (think Chris Webber or Fred Brown Lite) that it deserves a second look and at least the consideration that Purdue might be comfortably in the second round.
How does one blow a 13-point lead with 3:25 remaining? It's simple, really: Turnovers, bad shots, stupid fouls, your opponent getting hot and, usually, but not in this case, missed free throws. For Purdue, this blown lead involved a bizarre play immediately after Josh Hagins drilled a three to tie the game late. Here's that replay. Notice two things: There's 5.1 seconds on the clock and Purdue has two timeouts.
So, not only does Purdue have plenty of time to score the go-ahead basket, they have enough time to get the ball to half court with, like, 3.3 seconds left, call timeout and then run a play from there. They have enough time for a three pointer and a tip-in. They had enough time for literally anything.
Instead, here's what happened, in devastating picture form.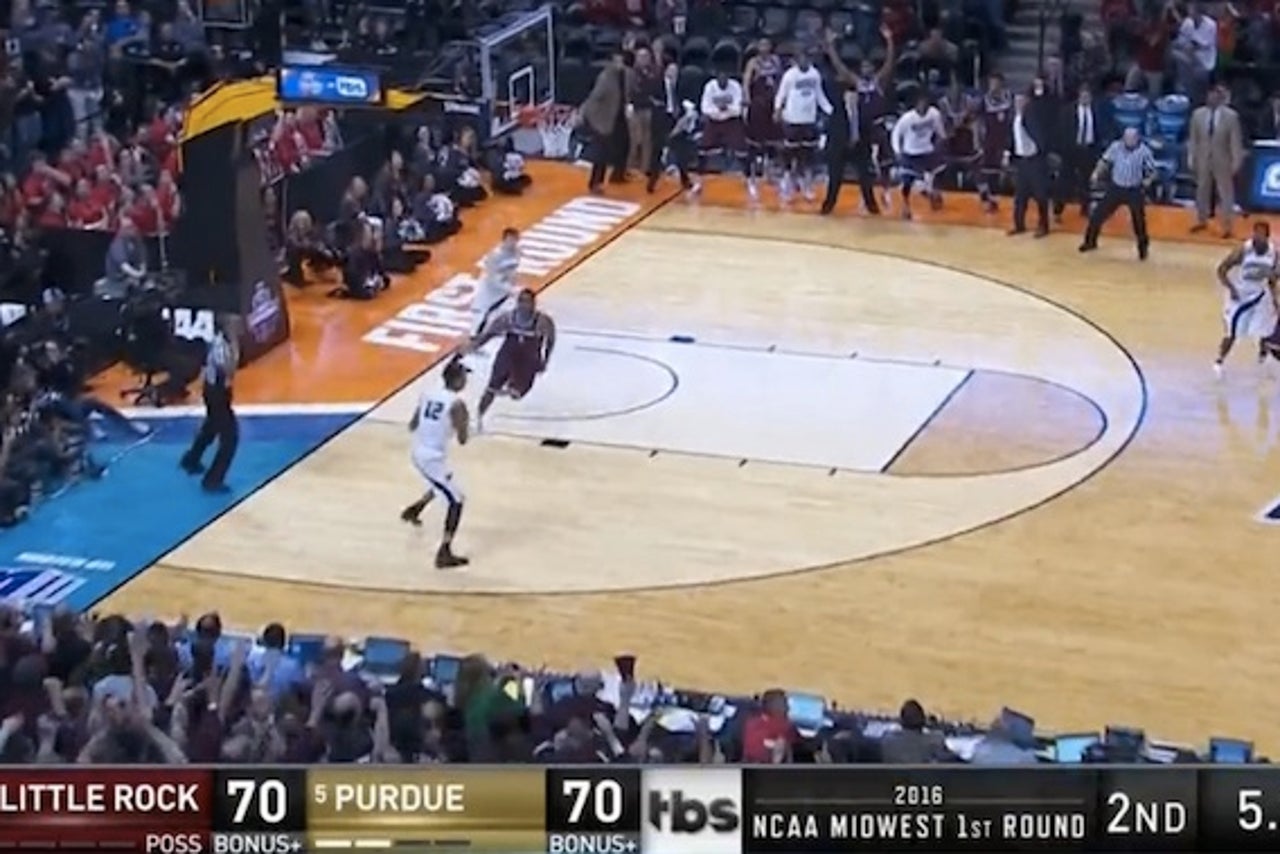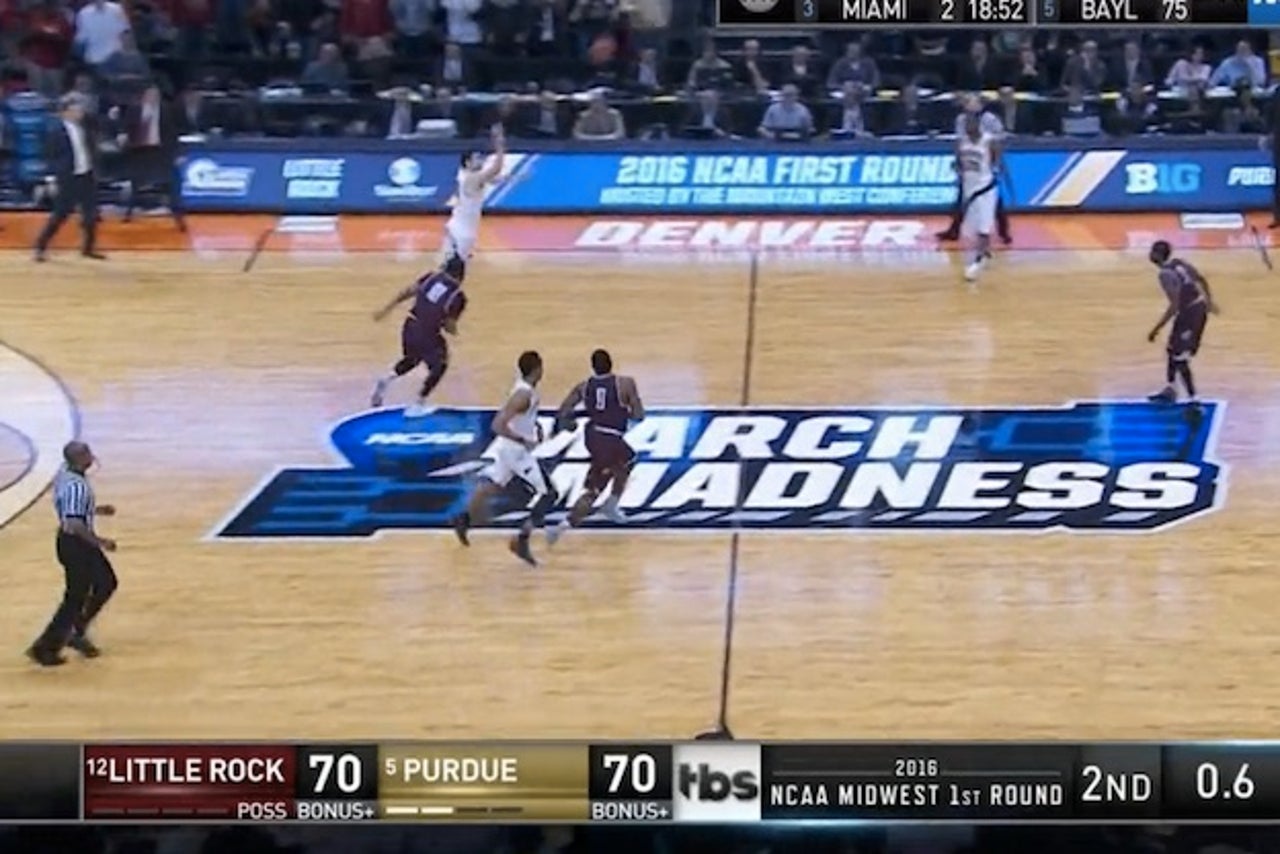 That's forward Vince Edwards who received the pass with that 5.1 seconds left on the clock. Much like the aforementioned Webber in the infamous 1993 championship game, Edwards froze, but instead of traveling (and not getting called for it like Webber), he just stood there. He was so Frozen he'll probably end up on my daughter's lunchbox next week. After two seconds he started to move, with all the haste of a guard at the start of the game, then threw the ball to the only teammate who was near half court, who then heaved it, obviously, to no avail.
1. You never want to rip a college kid, so let's go with coach Matt Painter instead. First of all, there's no reason Edwards should have had that ball inbounded to him. There's no reason his teammates should have abandoned him. It suggests Purdue panicked and had no set play for such a situation, which is like a school not practicing fire drills. You hope you'll never have to use it, but it happens and when it does, you need to be ready. And if you're not, the players need to know to call timeout.
2. That being said, it's odd, and unfortunate, that Edwards' panic move was to freeze instead of calling timeout like almost every other player would have (whether they had one or not). In case you could tell how disorganized things were going to be, look at Purdue after the shot. If basketball shorts had pockets, these guys would have had their hands in them.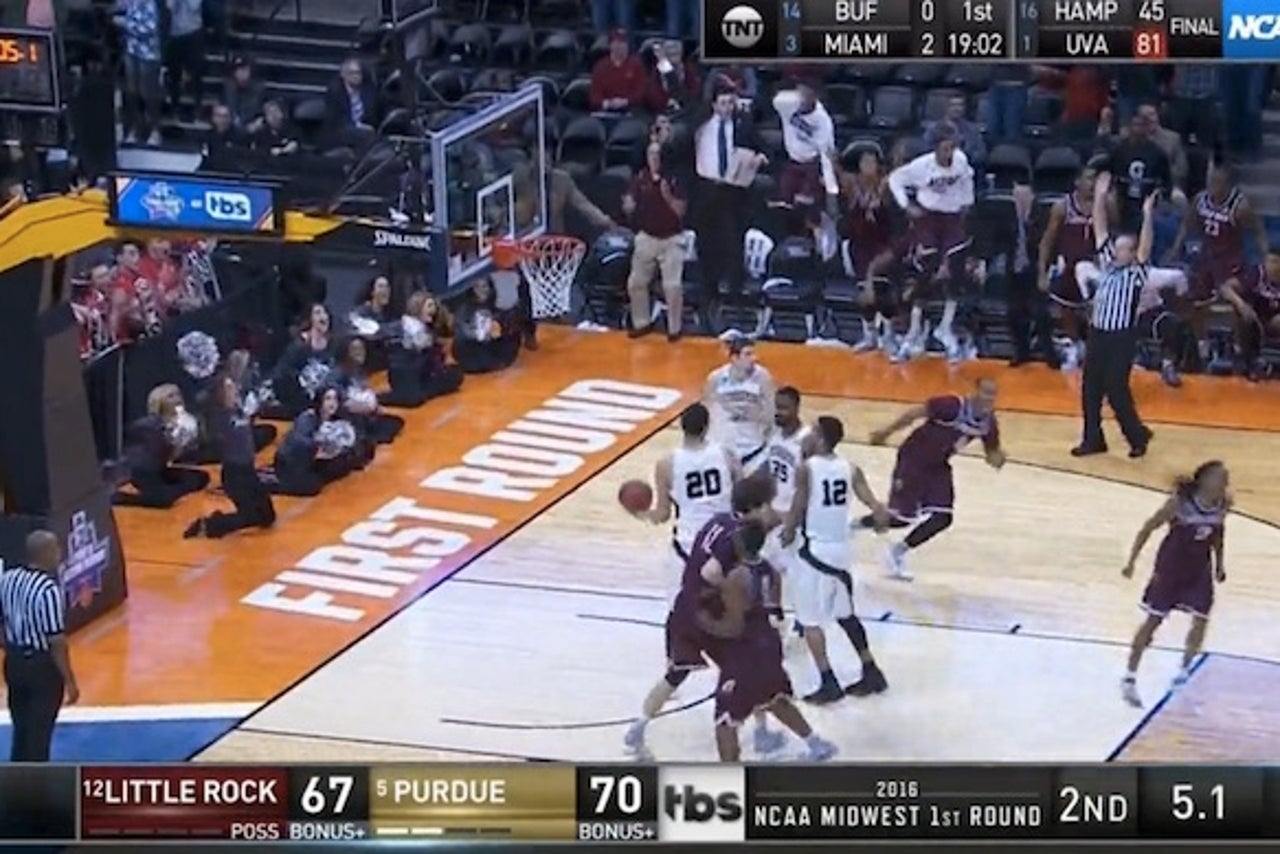 3. How any other Purdue player on the court doesn't call timeout while watching this whole thing unfold is beyond me. Because let's remember: THERE WERE 5.1 SECONDS LEFT. Off the top of my head here was the time left when the ball was inbounded on some of the tournament's most famous buzzer beater  Christian Laettner (2.1 seconds), Christian Laettner (2.6), James Forrest (0.8), Tate George (1.0), Bryce Drew (2.5), Drew Nicholas (5.0) and Tyus Edney (4.8). And those are just the first ones I thought of! Of them, the first Laettner, George, Drew, Nicholas and Edney all started on the baseline (like Purdue's) and Edney ran the full distance himself! I can't stress how much time was left.
4. The No. 12 over No. 5 upset is commonplace. The lower seed wins about 1/3rd of those matchups and is already 2-for-3 in this tournament. With a shorter shot clock it seems that there's been a ton of late-game, double-digit comebacks this year (but that may be just anecdotal, I've yet to see a breakdown of how the 30-second shot clock changed the game). Teams blow leads and/or make comebacks all the time. Not like this, however. Basketball teams don't play for OT. This isn't the NFL!
5. Purdue didn't blow the game with that abysmal play at the end of overtime. It merely blew a very, very good chance to win the game. For those two interminable seconds, Edwards might as well have been fitting Little Rock for its glass slipper.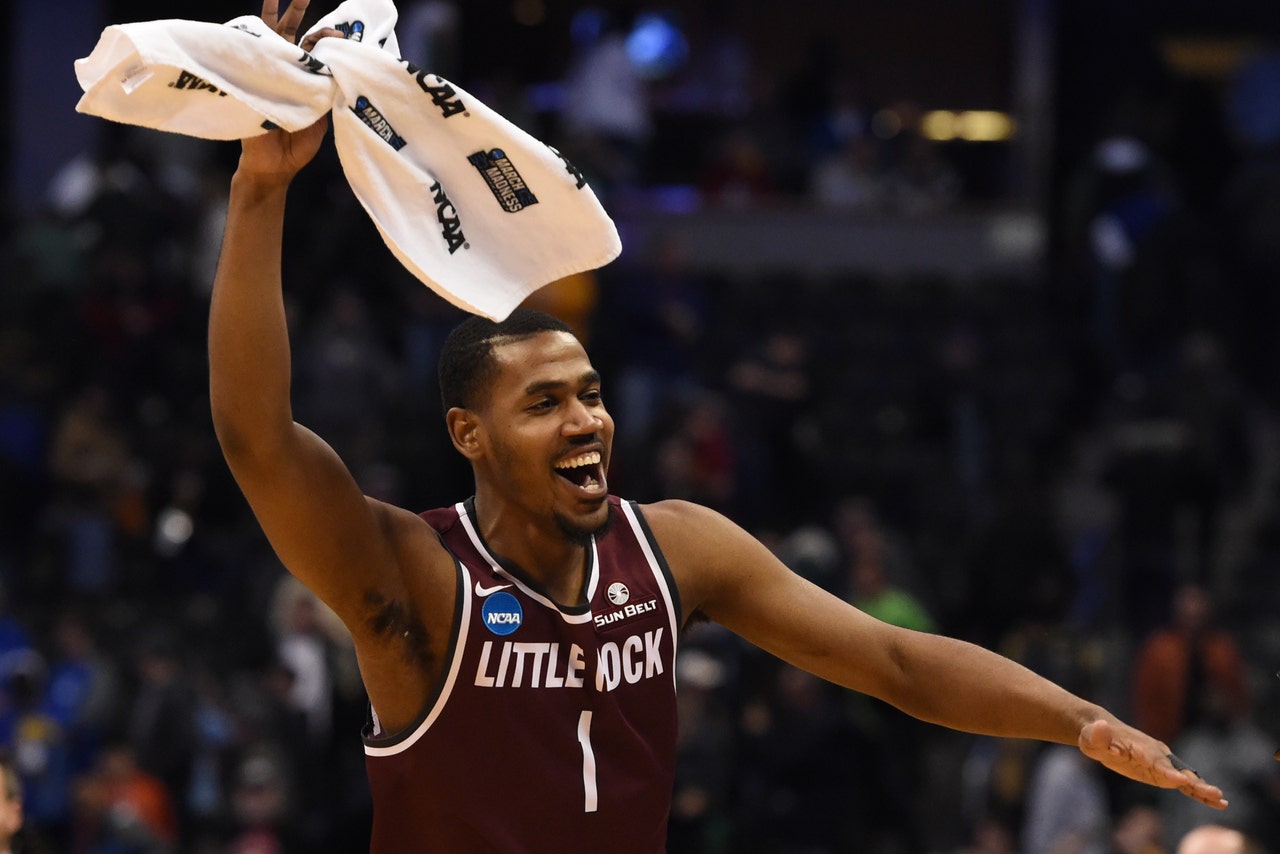 (Photo By John Leyba/The Denver Post via Getty Images)
---
---