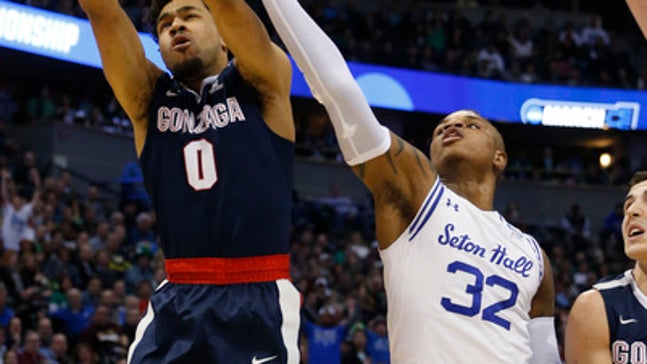 Gonzaga shuts down Isaiah Whitehead, bounces 6-seed Seton Hall
Published
Mar. 18, 2016 1:16 a.m. ET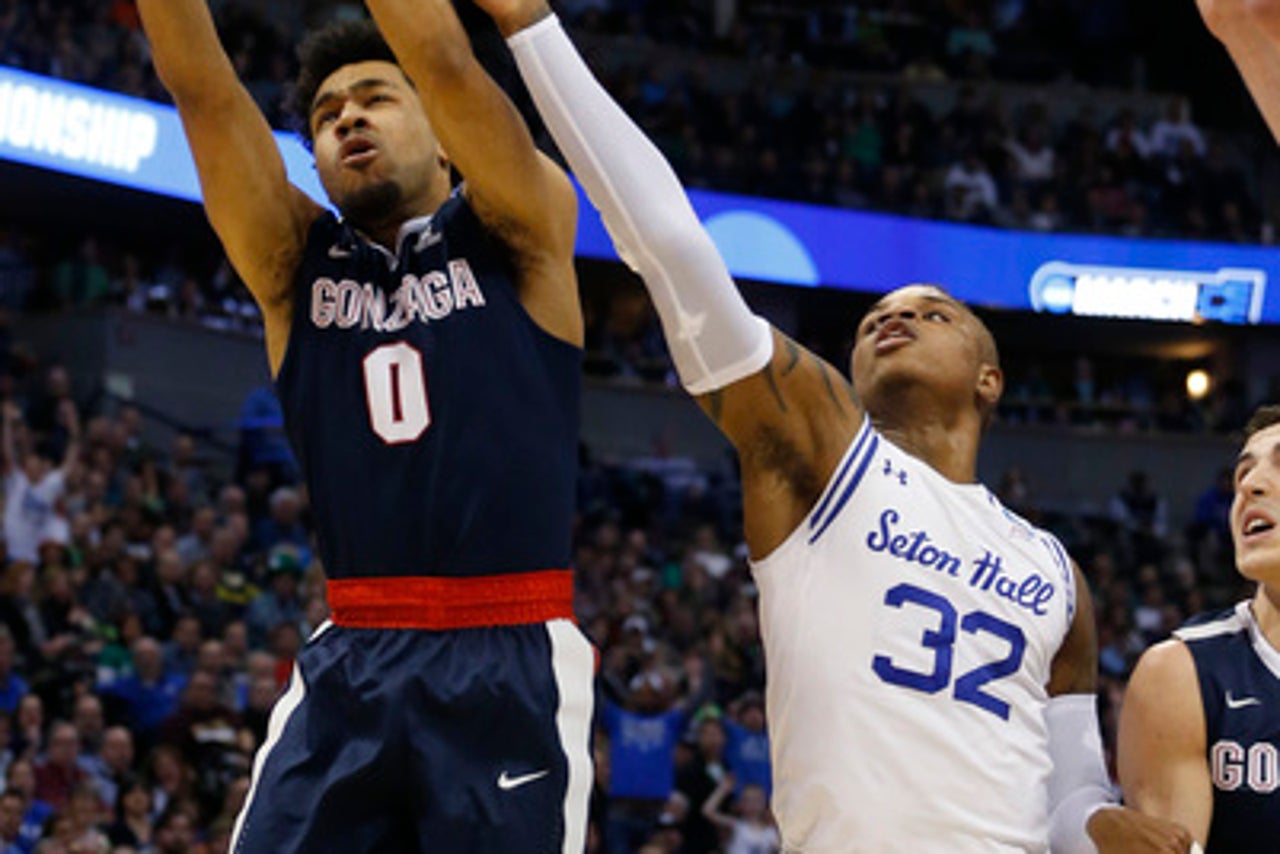 DENVER — Two losses in the span of three games can send the world off its axis at Gonzaga.
That was February. This is March.
Not only did the Zags make their 18th straight NCAA Tournament, they're moving on, thanks to a pullaway 68-52 victory over Seton Hall on Thursday night that looked every bit as good as anything this program's done.
This victory came thanks to a 21-point, 16-rebound effort from Domantas Sabonis and a shutdown defensive effort on Seton Hall's Isaiah Whitehead. It marks the eighth straight time Gonzaga has won its first game of March Madness.
"This group of guys, as well as the guys before them, have just done an unbelievable job of making streaks that just seemed impossible when you look back at them," coach Mark Few said.
In the bracket, this one goes down as an upset. Gonzaga (27-7) was an 11 seed, while Seton Hall (25-9) was a 6. Vegas knew better; the Zags opened the week as a 1-point favorite.
Favored or not, Gonzaga was no sure thing to make the tournament until it won the West Coast Conference tournament last week. It looked particularly bleak after a Feb. 20 loss at home St. Mary's. It was Gonzaga's second 1-2 stretch in the span of five weeks, and it marked the Zags' seventh defeat of the season. At that point, they were a bubble team, at best.
They haven't lost since and, suddenly, this looks like the sort of Gonzaga team hoops fans have come to know during March.
"They're a good basketball team. You know, a really good basketball team," Seton Hall coach Kevin Willard said.
The team's leading scorer, Kyle Wiltjer, had a 5-for-14 shooting night and finished with 13 points.
But the Bulldogs are more than one player.
They started relying on Sabonis more when their premier big man, Przemek Karnowski, went out with a back injury in December. On Thursday, Sabonis took over early and never let up. He was a force in the post, but also stepped outside for a few mid-range jumpers. Nobody could beat him on the glass. This marked his 21st double-double of the season.
"He was much more physical than he looked on film," Willard said. "He battled in there. I thought he did a really good job of being physical on the rebounding aspect. That's what I was really impressed with him about."
Gonzaga guards Josh Perkins and Eric McClellan, maligned for a large part of this season, helped put the hammer down on Whitehead, who had scored 130 points over his previous five games — 70 of those in the three wins that gave Seton Hall its first Big East tournament title since 1993.
Whitehead's numbers on this night: 10 points on 4-for-24 shooting, including 0 for 10 from 3-point range.
"The common theme was just making it tough (on him)," Wiljter said.
Whitehead insisted it wasn't all Gonzaga.
"I've faced some of the toughest defensive groups in the country, playing in the Big East," Whitehead said. "This is probably my worst shooting performance but I think it was just more missing shots. I had some good looks, just was an off night."
It came on the worst night possible for the Pirates, and wrapped up a day in which seven of 16 higher-seeded teams won, including two 11s and two 12s.
TIP-INS
Gonzaga: Perkins finished with seven points, seven assists and three steals. ... Sabonis also had four assists and a steal.
Seton Hall: Derrick Gordon became the first player to play in the tournament for three different programs. Western Kentucky and UMass were the others. Gordon finished with 10 points. ... Forward Ismael Sanogo suffered a dislocated right shoulder with 4:22 left. He went to the locker room and didn't return, but Willard said he should be fine.
UP NEXT
Gonzaga meets third-seeded Utah on Saturday with a trip to the Sweet 16 at stake.
---