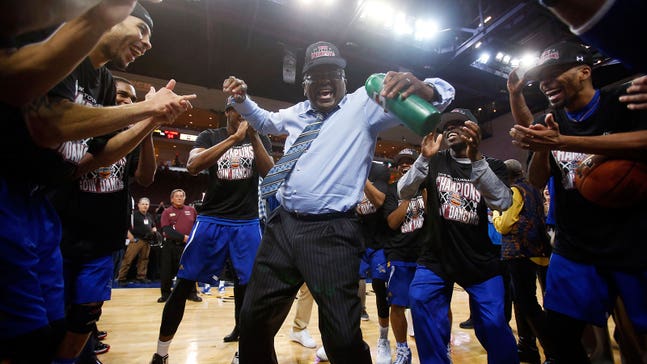 Game-winning 3 sends Cal State Bakersfield to 1st NCAA tourney
Published
Mar. 13, 2016 1:50 a.m. ET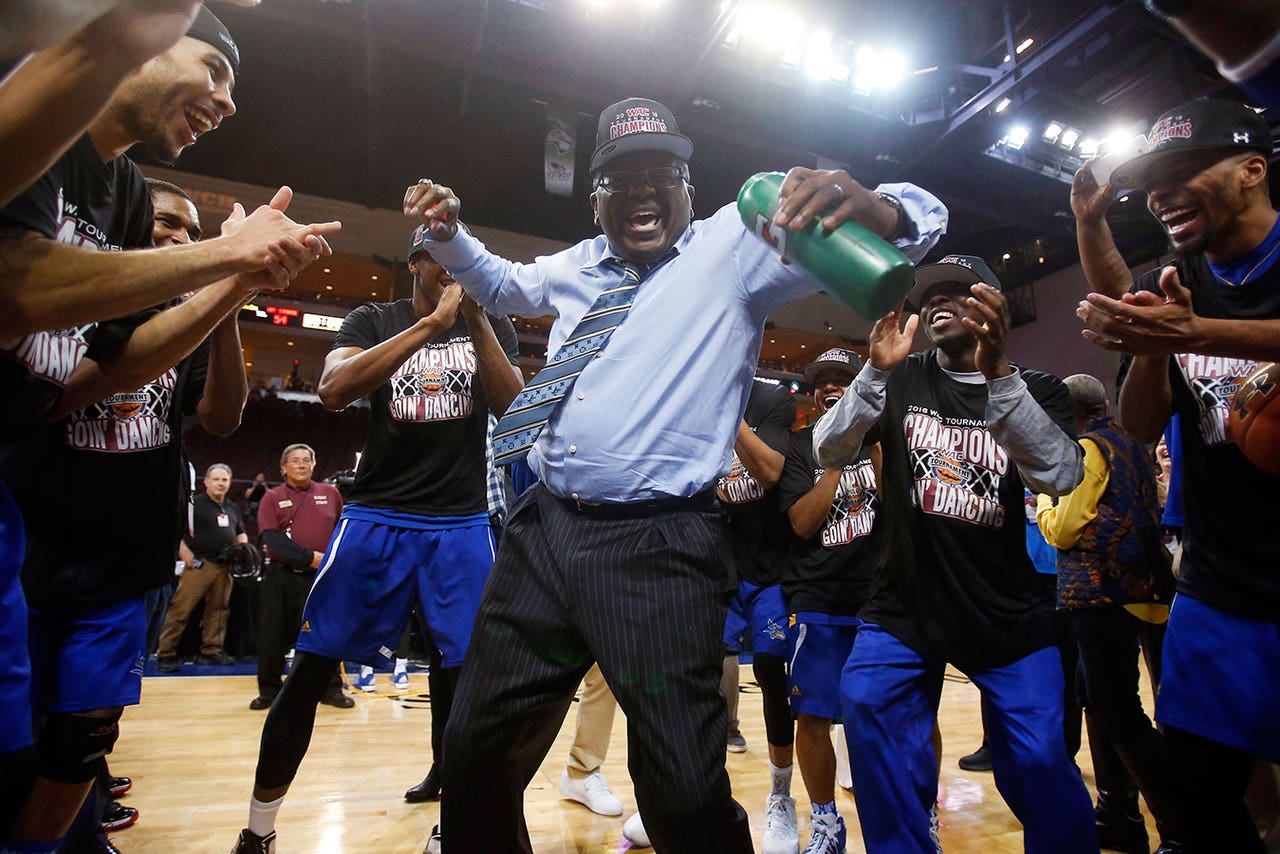 LAS VEGAS — Dedrick Basile's clutch shot sent Cal State Bakersfield to its first NCAA Tournament appearance.
Basile hit a 3-pointer with two-tenths of a second remaining, lifting Cal State Bakersfield to a 57-54 victory over No. 1 seed New Mexico State in the Western Athletic Conference Tournament title game.
"It was our night, our turn, our time," coach Rod Barnes said. "It's been a fantastic year."
Basile led the second-seeded Roadrunners (24-8) with 18 points, and Damiyne Durham added 15. Cal State Bakersfield had never beaten New Mexico State, losing their first 11 meetings, including twice during the regular season.
Pascal Siakam and Braxton Huggins each had 11 points for the Aggies (23-10), and Ian Baker added 10.
The Aggies, who never led, trailed by as many as 12 points but came back in the second half. They tied it at 54 when Tanveer Bhullar made one of two free throws with 14 seconds left, but that set the stage for Basile's buzzer-beating long shot won the game for the Roadrunners.
"The great thing about this team, they never panicked," Barnes said. "As I was talking to them, they never seemed to be in a situation where they were nervous or afraid that we were going to lose."
Teammates piled on Basile near mid-court, believing the game was over, but officials determined that two-tenths of a second were still left.
"That's something I always dreamed about," Basile said, "and it just happened."
A long inbounds pass, however, was deflected by Bakersfield, ending the game and giving the Roadrunners a second celebration.
The Aggies, who won the WAC regular-season title, lost in the tournament title game after four consecutive wins.
"When they needed big shots, they got them every time, usually from one of their upper classmen," New Mexico State coach Marvin Menzies said. "They just produced when they needed to. It was kind of heart-wrenching to say the least."
Bakersfield led for just about the entire first half, combining exceptional shooting with a turnover-prone offense by New Mexico State to take a 32-22 lead.
The game was tied at 10 before the Roadrunners went on a 20-9 run over the next 10 minutes. The Aggies committed eight turnovers in the opening half and compounded their troubles by shooting just 36 percent.
TIP-INS
Bakersfield: The Roadrunners had never played in a WAC tournament final until Saturday's game. They struggled with their shooting in the second half, making just 10 of 28 shots.
New Mexico State: Pascal Siakam, the conference player of the year, never got going. He scored two points in the game and finished with 11. Braxton Huggins also had 11, while Bhullar came off the bench to score a team-high 13.
UP NEXT
Cal State Bakersfield: makes its first appearance in the NCAA Tournament.
New Mexico State: hopes for an invitation to the NIT.
---
---