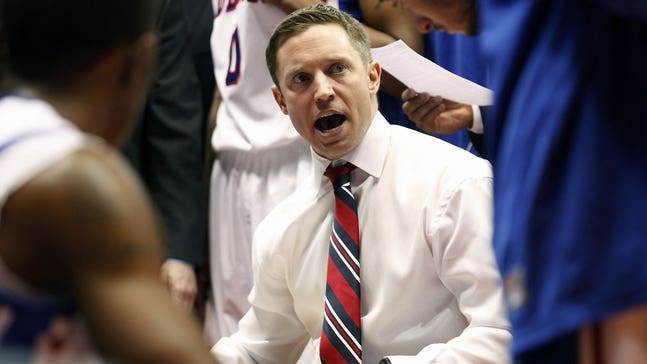 Florida hires Louisiana Tech's Michael White to replace Billy Donovan
Published
May. 7, 2015 8:19 p.m. ET

Florida has hired Louisiana Tech's Michael White as its basketball coach.
The school announced the move Thursday, a week after Billy Donovan left the Gators to take the head coaching job with the NBA's Oklahoma City Thunder.
White, who led the Bulldogs to a 27-9 record and the NIT quarterfinals last season, agreed to a six-year deal worth $2 million annually.
Donovan formally said goodbye to Florida on Monday, and athletic director Jeremy Foley said he would "call a lot of people and try to figure out the right person." He landed White three days later.
"Michael White is someone who came to the top of our list very quickly and he checks all of the boxes we were looking for," Foley said in a statement. "He is a winner who has a high level of integrity, plays an up-tempo style of play and has the respect of his peers and the basketball community. He has experience in coaching, recruiting and playing in the Southeastern Conference and has a strong pedigree. He has a certain authenticity with people and is not afraid of challenges."
White, the son of Duke athletic director Kevin White, grew up in Florida, played and coached in the SEC, and has experience recruiting in the south. His roster last season included five players from Florida.
Tennessee tried to hire White to replace Cuonzo Martin last season, but White chose to stay at Louisiana Tech and signed a six-year contract extension.
Although Florida fans seemingly wanted a more well-known coach -- Dayton's Archie Miller and Xavier's Chris Mack were popular projections -- White might just provide the Gators with another up-and-coming coach undaunted about the challenges of working at football-first Florida.
Donovan made basketball matter in Gainesville.
Now, White has the tough task of following him.
White, who played at Mississippi, spent four seasons as an assistant at Jacksonville State (2000-04) and then seven with the Rebels (2004-11) before getting his first head coaching job with Louisiana Tech. He went 101-40 (.716) in four seasons with the Bulldogs, winning at least 27 games in each of the last three years.
"I have an incredible amount of respect for the University of Florida, and I am so excited to be a Gator," White said in a statement. "Not only is Florida home for me, but the tradition and success that the Gators have built make this an incredible opportunity. I know about the great home-court advantage in the O'Connell Center, which is a testament to the fans and the Rowdy Reptiles. There's an unbelievable commitment to excellence athletically and academically at UF, and it starts with the leadership of Dr. Fuchs and Jeremy Foley.
"I look forward to returning to the SEC where I have a lot of great memories, and I can't wait to create many more alongside the Gator Nation."
White led Louisiana Tech to three consecutive regular-season conference titles, all of which resulted in NIT berths as the Bulldogs lost in the Western Athletic Conference (2013) and Conference USA (2014-15) tournaments. He was C-USA's coach of the year last season.
White brings a high-energy, fast-paced style that could help players ease any unrest following Donovan's departure. In four seasons at Louisiana Tech, the Bulldogs averaged 74 points, 14 assists, eight steals and seven 3-pointers a game.
"Coach White brings with him a distinguished career and an extraordinary record of success," school president Kent Fuchs said. "I have no doubt he will uphold high standards on and off the court, and am delighted to welcome him to the Gator Nation."
---