Even in traditional Indiana, basketball meccas get new looks
Published
Nov. 19, 2016 11:36 a.m. ET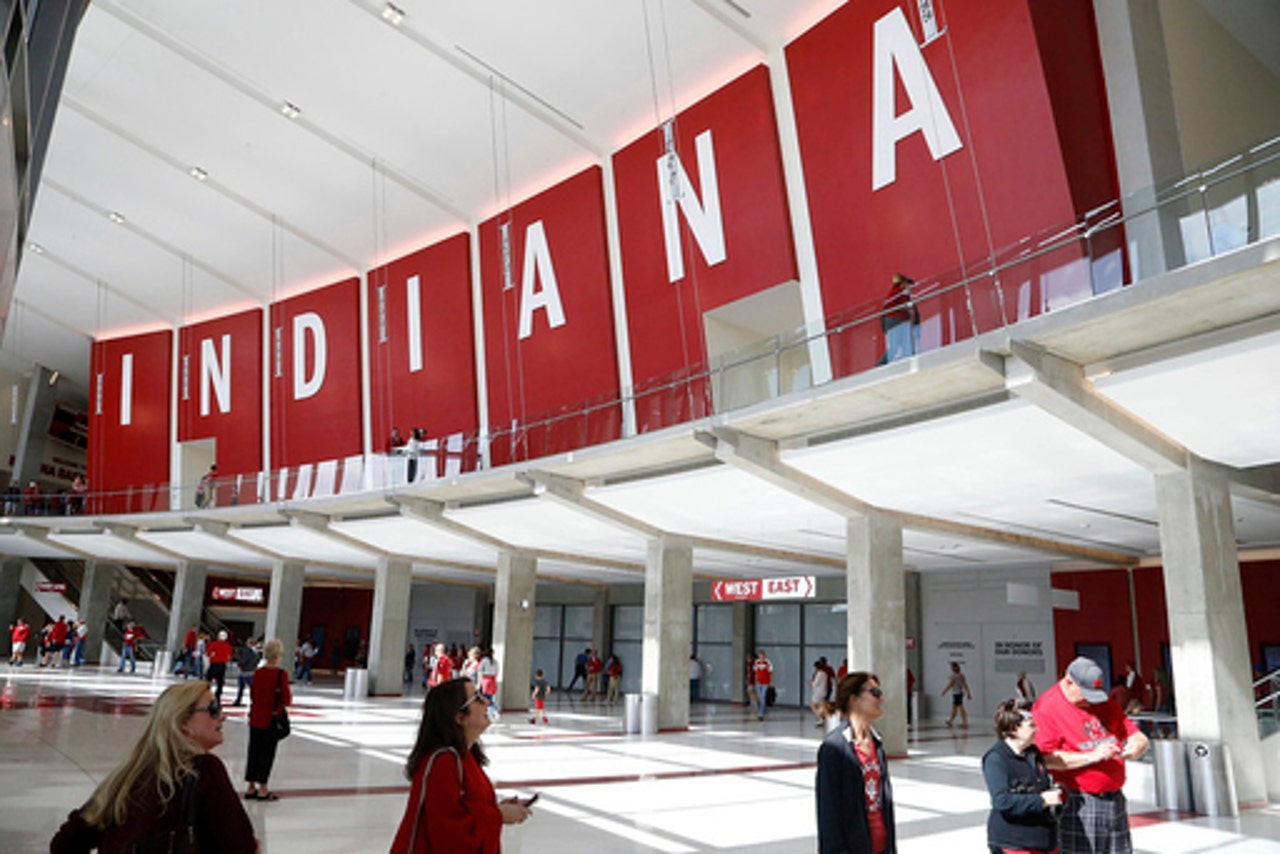 BLOOMINGTON, Ind. (AP) Joe McDufee has seen just about everything since he started attending Indiana Hoosiers games in 1949.
He's celebrated five national championships and an undefeated season, coped with the firing of Bob Knight, witnessed the rise and fall of the program under Mike Davis and Kelvin Sampson, cheered for the resurgence of the Hoosiers under Tom Crean and will never forget the indelible image of that chair being flung across the floor.
Yet when McDufee entered the newly renovated Assembly Hall for the first time in October, the 84-year-old Indianapolis resident was stunned.
''It's the same old place but it's gotten a shine to it, doesn't it?'' he marveled. ''Really, really beautiful. The entryway out here just blows your mind.''
There may be no state in America that reveres basketball history more than Indiana. McDufee, like so many others around the Hoosier State, knew the 35-year-old arena needed a makeover long before an 8-foot metal plate broke away from the ceiling and fell into the seats just hours before Indiana and Iowa were scheduled to play in February 2014.
What pragmatists noticed was that other schools were ditching their quaint, dark, sometimes historic arenas for bright, brand new palaces. They added more practice space, upgraded weight rooms and installed new amenities with hopes of attracting prized recruits and top dollars from donors who would embrace the improved fan experience.
Assembly Hall, meanwhile, was widely viewed as a prescient link to an Indiana history that should not be defaced or disturbed.
Athletic director Fred Glass knew better.
So when Cindy Simon Skjodt, an Indiana alum and the daughter of Mel Simon, the late Indiana Pacers co-owner, offered $40 million gift to give the arena a new look, Glass took it and began the quest of turning the hall into a basketball mecca for a whole new generation of Indiana fans.
---
Every Indiana community has a basketball story.
The Big Ten's career scoring leader, Calbert Cheaney, played high school basketball in Evansville. Purdue's career scoring leader, Rick Mount, played prep ball in Lebanon, about 45 minutes southeast of campus. Before chasing college and pro championships, Oscar Robertson fought for playing time on a hard-clay court in Indianapolis known as the Lockefield Dustbowl. Larry Bird, of course, will always be known as the ''Hick from French Lick.'' Bill Garrett went from Shelbyville High School to Indiana, becoming the Big Ten's first African-American to log regular minutes. Bobby Plump was the real-life star of the Milan Miracle, Damon Bailey of Bedford remains the boys' high school career scoring leader and former Looggottee High School coach Jack Butcher won a state-record 806 games.
Everywhere you turn in Indiana it seems there is another unique venue, too. Athletic administrators often find themselves tap-dancing around history while trying to keep up with the Joneses.
Butler athletic director Barry Collier faced that dilemma when he realized Hinkle Fieldhouse needed refurbishing. The former Bulldogs player and coach presided over a $36 million face lift on one of the oldest courts still used in Division I basketball. Hinkle hosted Indiana state basketball championship games from its opening in 1928 through 1971, served as a military barracks during World War II and was a movie set for ''Hoosiers.''
The project replaced wooden railings with Plexiglas, bench seats with seat backs, new scoreboards and a video board above midcourt that allowed fans to see replays. Administrators tried to leave the building's character untouched.
''I don't think it's lost anything at all,'' said 30-year-old Tyler Moore, who attended Collier's basketball camp at Butler. ''We talked about how much cleaner things like the bathrooms are now, and to be in the Big East and recruit the caliber of player you want, you need have a place like this.''
Former Purdue athletic director Morgan Burke faced the same task in 2007 when blueprints were being drawn for the first major project at Mackey Arena in 40 years.
When it opened in December 1967, Purdue hosted one of its most famous alums, the late John Wooden, and his powerhouse UCLA team. Mount made his college debut that day against reigning national player of the year Lew Alcindor. During the next several decades, the Boilermakers embraced coaches such as Gene Keady and Matt Painter, watched future No. 1 draft picks Joe Barry Carroll and Glenn Robinson and celebrated a three-year Big Ten title run.
Burke found a way to add more comfortable seats, a more appealing ticket office and better practice facilities. Since completing the $82 million project five years ago, attendance has increased and Purdue has reclaimed its perch in the Big Ten's upper division.
''As far as the recruits, it's all about the show,'' said Trent Johnson, who graduated from Purdue in 1988 and has had season tickets for 20 years. ''When they play AAU ball, they already are traveling to Las Vegas, Orlando and Atlanta. They want a certain wow factor. They are pampered. If you don't do it, you risk losing kids to other schools who have upgraded facilities. You need the players to continue to draw the crowds.''
Not everyone agrees.
A half century ago, six Indianapolis men pooled their money together to found the ABA's Indiana Pacers. Their first home court was Indiana State Fairgrounds Coliseum, where fans were so close to the floor that former Pacers star player Darnell Hillman said he could hear their heartbeats.
Over the years, the Pacers moved to Market Square Arena and eventually to Bankers Life Fieldhouse, a spacious NBA facility full of suites and restaurants. Despite the new feels, Hillman waxes nostalgic when he thinks about the renovated coliseum, which reopened in 2014-15 as the new home court for IUPUI.
''I think we have to find a way to hold on to that,'' Hillman said. ''That's where the history of basketball lives. This is basketball country. They love the game. They're into it from the moment they get to the arena.''"
---
At Indiana, the three-story entryway looks more like the entrance to a mansion than a basketball arena with its shiny escalators and elevators and all those open windows. There's a presidential suite behind the student section, trophy cases on both sides of the lobby, even touch screen technology to learn more about Hoosiers' history in all sports.
On the north end, the feature attraction is the hanging midcourt section from the playing floor used at from Assembly Hall from 1976-95. Look around and fans will find the scoreboard that hung above center court from 1983-2005 and the double-sided stanchions that were once a signature part of Indiana basketball.
Inside, all the seats are crimson-and-cream and a new large videoboard can be seen from every corner of the court.
''I think it's fantastic,'' said Dan Caldwell, a 37-year-old Bloomington resident. ''I love the mix of the new and the old and I think they've kept that home-court advantage just with the way the crowd is right on top of the floor and everything. And they've kind of brought it into the next century so to speak, so yeah, I love it.''
McDufee believes Indiana made the right call by making renovations to the building he calls home rather than tearing it down and starting over.
''If they could have built one that seated about 24,000 or 25,000 so all the people that could wanted to be in could be in, that would have been good,'' he said. ''But I don't know, there's a lot, a lot of history here and tradition and I love the place.''
---