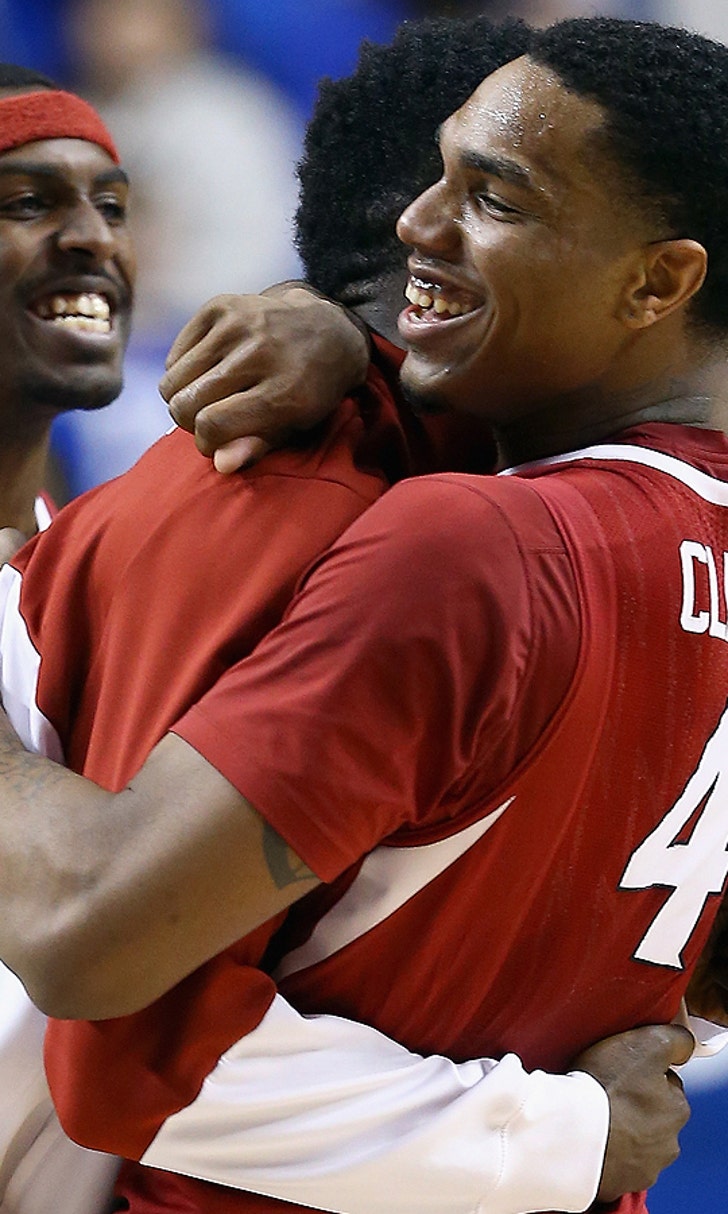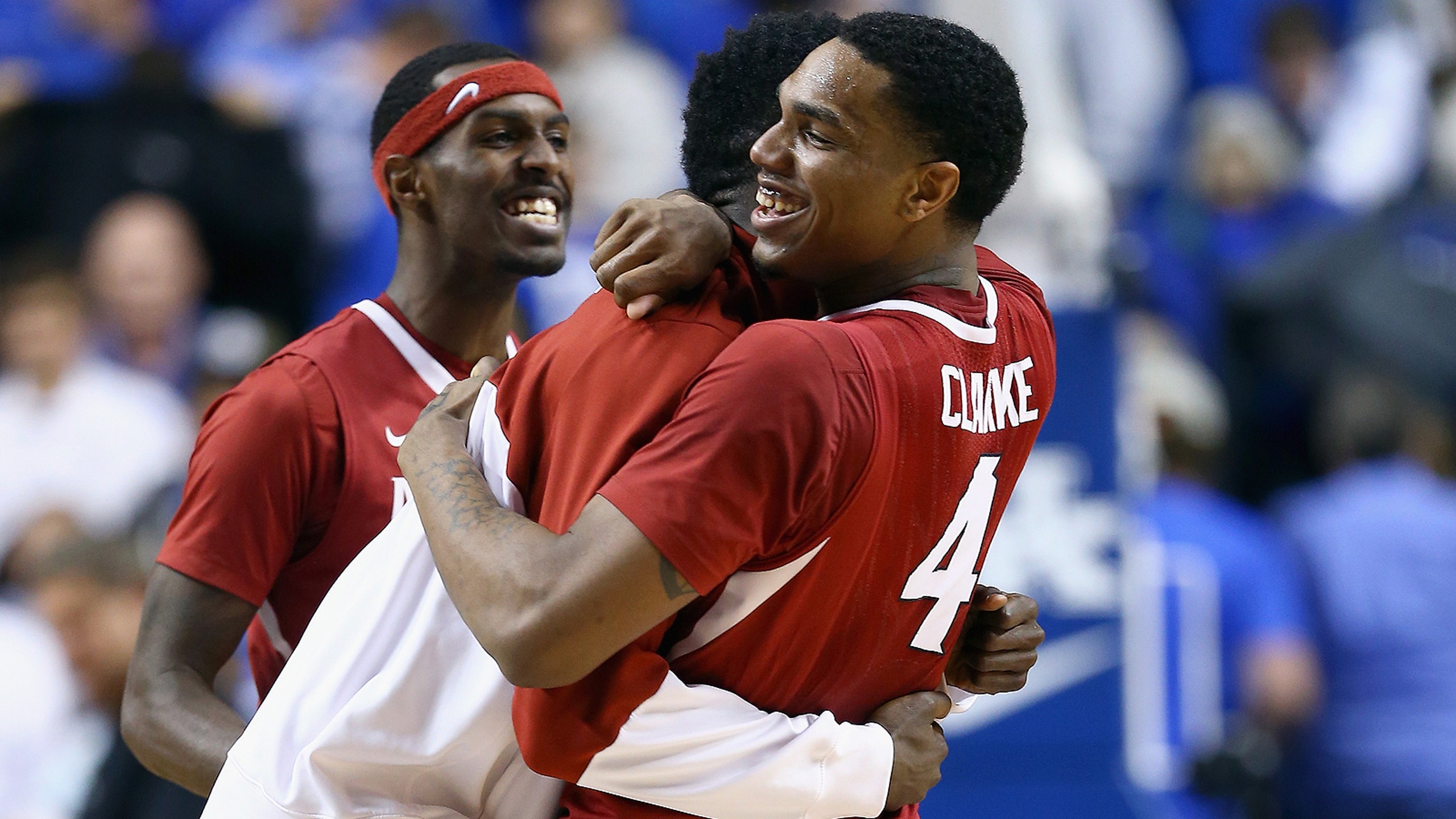 College Hoops Road Trip: Hog-wild opener in Kentucky
BY foxsports • February 28, 2014
Drew Franklin and Matt Jones are on a mission: 12 campuses, 12 days, and endless opportunities for unexpected adventure. Traverse the NCAA landscape from Kentucky to The Big Apple, the Ivy League to the Southern Conference Championship.
LEXINGTON, Ky. -- When we sat down at the table to draw up the college basketball road trip route, Arkansas at Kentucky seemed like the perfect start for our journey.
Not only did that game mean traveling an effortless 1.1 miles from my apartment to Rupp Arena, the shortest drive of the tour by far, but we were almost certain Kentucky would win the game. A rematch of a January overtime upset in Fayetteville, on UK's home floor in front of an electric Rupp Arena, in the final stretch of the regular season as the Cats fight for NCAA tourney seeding? Yeah, that'€™s the recipe for a convincing Kentucky win and the perfect sendoff for our trip -- so we thought.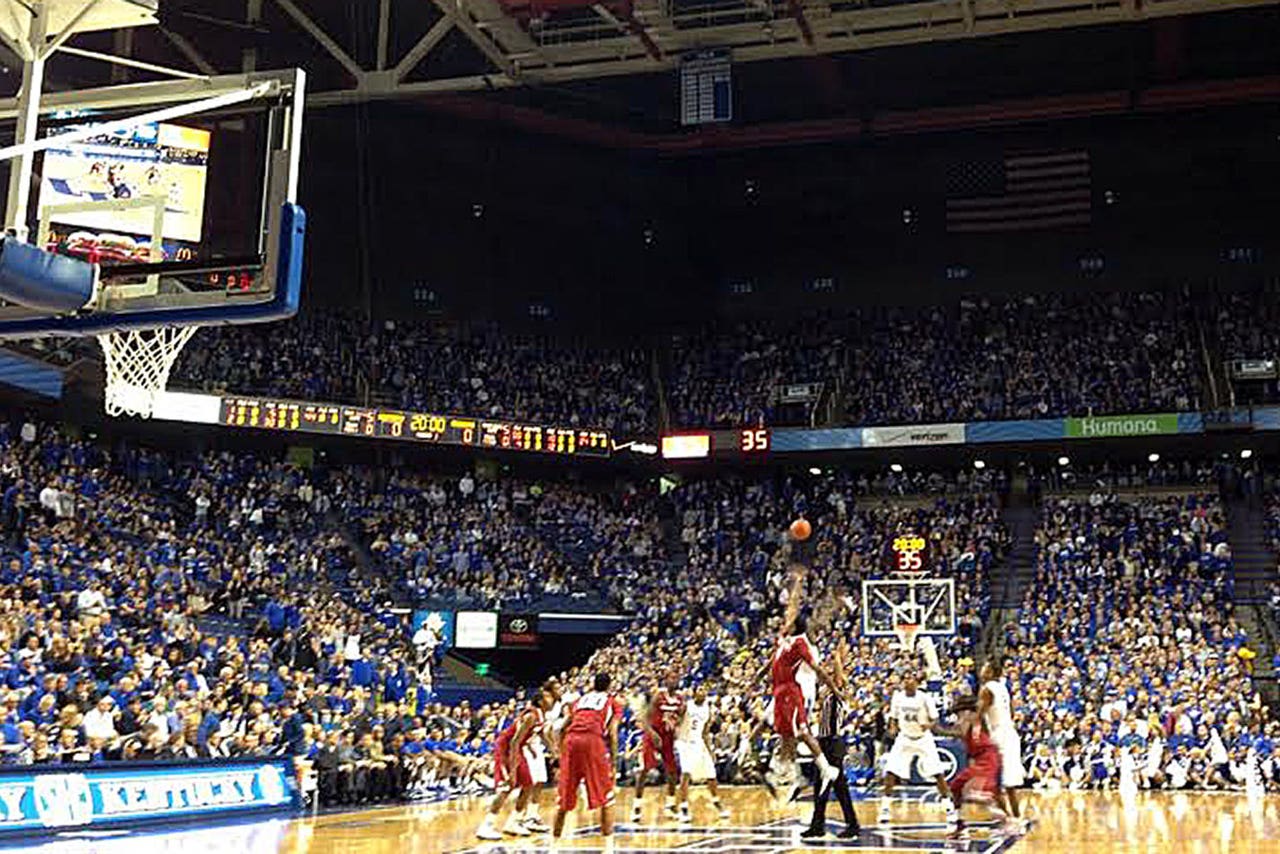 We were wrong. Boy, were we wrong.
I sit here in front of the computer now, having thrown away the happy-go-lucky story I started before tip-off, wondering how I'€™m going to find the words to congratulate Arkansas on the win, its fourth in the past five meetings with Kentucky. Matt and I have been Kentucky basketball fans since birth, we cover the team for a living, and we were excited to share everything we love about Lexington and the Cats with the readers at FOXSports.com. This was supposed to be the tale of third-generation season ticket-holders sitting beneath eight championship banners; college basketball's all-time winningest program and its greatest tradition; and the world'€™s tastiest soft-serve ice cream that can be found only in Rupp Arena.
But no. Nuh-uh. Arkansas went hog wild all over our party and pulled off the upset in overtime, derailing our plan on Day 1. It is one thing to beat our beloved Wildcats in Lexington, but listen here, Arkansas: You messed with my 1,000-word feature on Rupp Arena ice cream. And no one messes with my Rupp Arena ice cream. That'€™s punishable by death in all 120 Kentucky counties, I think.
But tasty treats, UK fandom and capital punishment aside, the win was huge for the Razorbacks' season. Arkansas was caught up in the SEC logjam for fourth place in the conference (seven teams tied at 7-7 entering this week) and now it'€™s looking at a potential run for the three seed in the SEC Tournament, and even better, an NCAA Tournament berth. All three remaining games are more than winnable, leaving hope for a 22-9 regular season record with two quality wins over Kentucky. That is a team stretching its legs for a spot on the dance floor in March, and now they'€™re close enough to hear the music.
For Kentucky, the loss leaves fans scratching their heads yet again, wondering when or if this team will ever "€œget it."€ Once the preseason No. 1 team and favorite to win it all, the Cats are now 21-7 with two losses in Rupp Arena this month. A little perspective for you: John Calipari had two losses in Rupp Arena in his first four and a half years at UK prior to February 2014, both coming during last year'€™s NIT season. Losing in Rupp isn'€™t something Big Blue Nation is used to seeing. It just isn'€™t supposed to happen. Like, ever. You're more likely to catch a man pouring out a bottle of single-barrel bourbon before you see a Kentucky basketball team lose on its own floor. And Kentuckians don't give up a drop of bourbon. That'€™s punishable by death in all 120 counties, too.
The problem with this current squad is, as Matt wrote in his Calipari column on Thursday, Coach Cal is struggling to get his young team to buy in. In the past it has been a couple of guys he had to transform before the team got rolling, but this season it is an entire starting rotation, plus reserves. Calipari is constantly reminding fans that "€œit's a process" with young teams, but we'€™re now one day from March and that "process"€ is taking a lot longer than anyone expected. The raw talent and athleticism are there; the question is will Kentucky ever reach its potential before the roster is dismantled and rebuilt next fall.
Speaking of dismantled and rebuilt, I bet this guy wishes someone had dismantled the goal and rebuilt it 10feet to his right before he took his half-court shot:
Just a bit outside. That looked kind of like some of Kentucky'€™s lob attempts against Arkansas, only he threw it into open space and not directly into the defense. If you didn't catch the game, that is what the Cats spent a lot of time doing, when they weren't busy missing free throws, of course. Arkansas, on the other hand, missed zero shots at the stripe, a perfect 16-for-16 clip. You'€™re not going to lose many games shooting 100 percent at the foul line. That's why this was the postgame scene: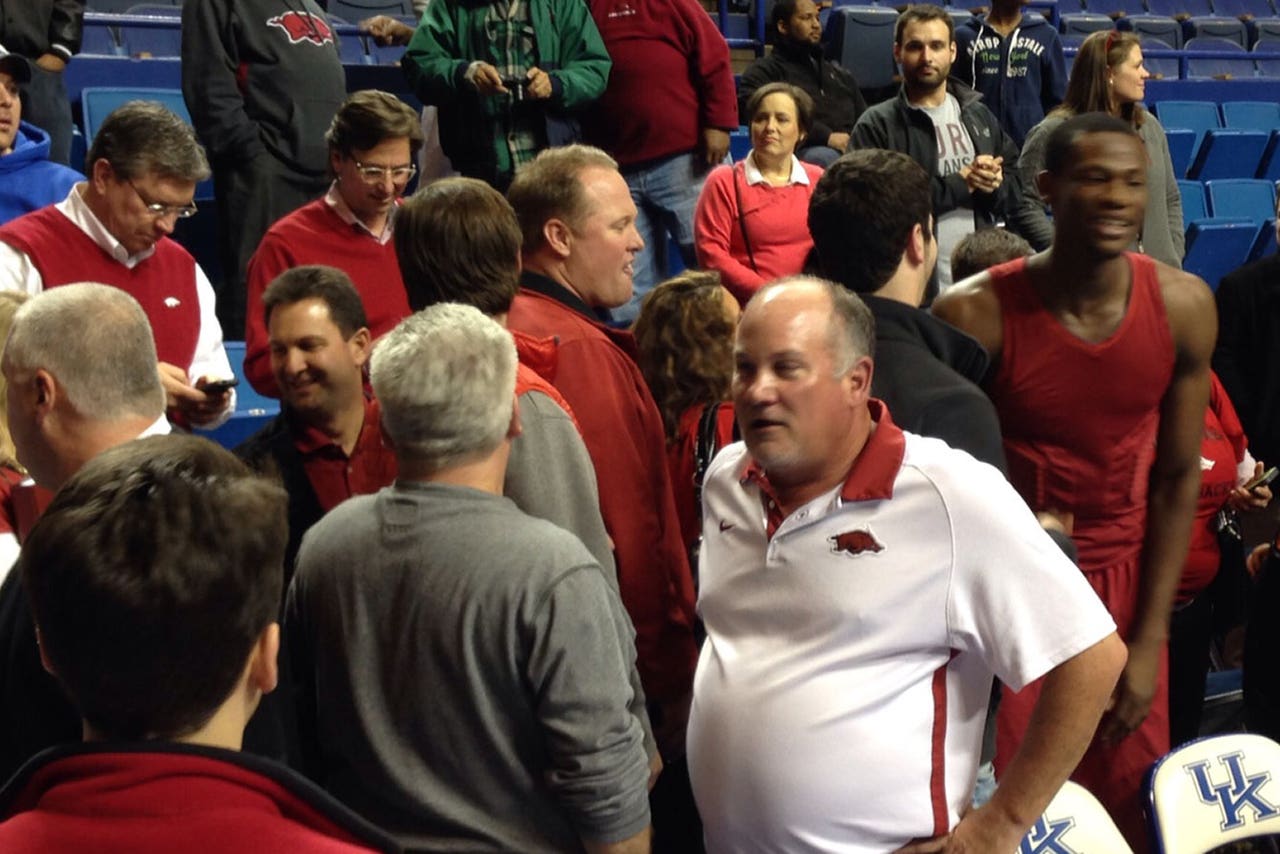 Instead of this, Kentucky'€™s reaction after the game-winner against LSU, now hanging in the practice facility: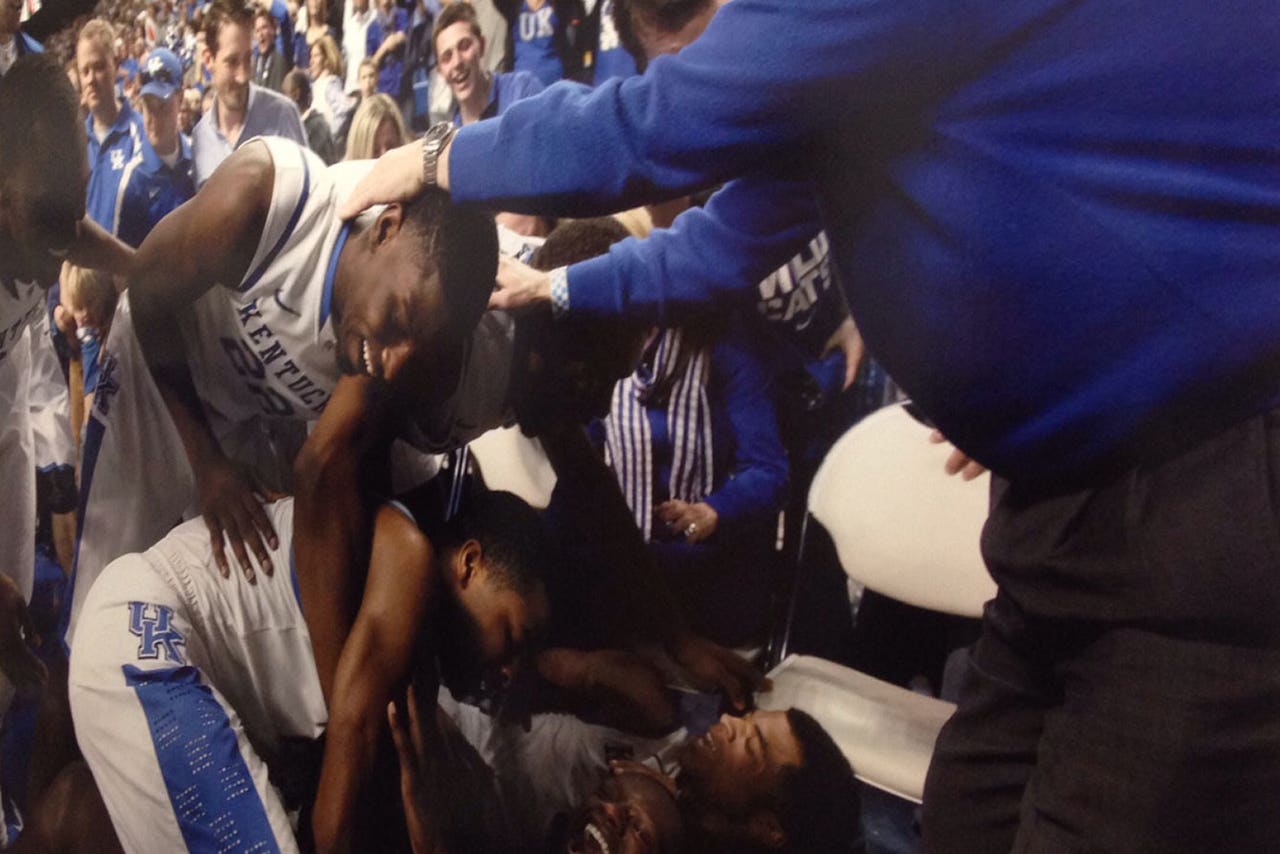 That'€™s the kind of passion and excitement we expect to encounter when the FoxSports.com College Basketball Road Trip rolls into Manhattan College Friday night for the Jaspers'€™ game against first place Iona. We don'€™t know a ton about either side, but we'€™re fired up for some MAAC basketball in the greatest city in the world. I'€™ve got my eyes on some Halal Guys after the game, too.
Talk to you then.
---