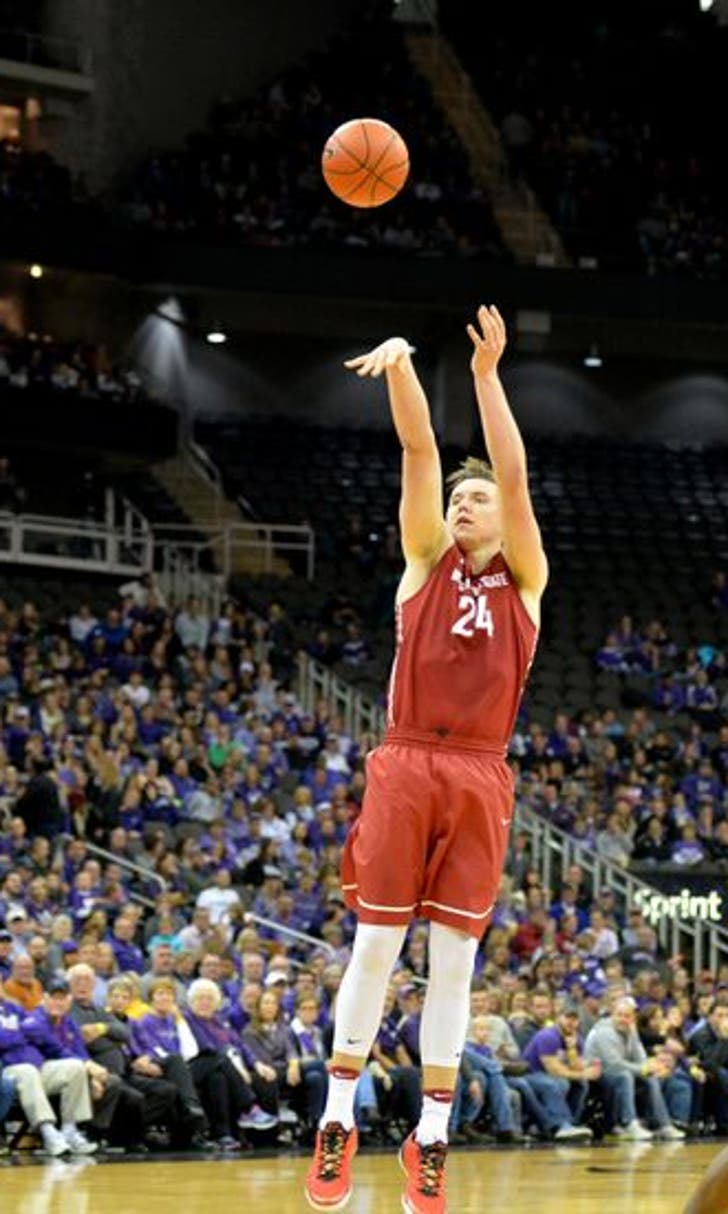 ASU MBB: Pac-12 Post Non-Conference Power Rankings
BY Fansided and Zach Pekale/FanSided via Devils in Detail • December 28, 2016
With Pac-12 play just hours away from its opening games, Devils in Detail presents its men's basketball conference power rankings. Check weekly for updates.
UCLA Bruins
(13-0)
Last week: 13-0Last rank: N/A
Who knew giving back a contract extension could fire up a team? With a very warm seat, Steve Alford was able to sign two top-15 recruits and turn his entire program upside down. Lonzo Ball and T.J. reinvigorated a program that was embarrassed in 2015. Veterans Bryce Alford, Aaron Holiday and Thomas Welsh have all benefitted from the presence of Leaf and Ball as they have found suitable roles and don't have to force plays. Additionally, the pace UCLA plays at is electric as the team leads the nation in assists and is second in scoring. With wins over Michigan , Ohio State, Texas A&M and silencing Rupp Arena by beating Kentucky, it is safe to say that the Pac-12 is the Bruins's to lose. 2
USC Trojans
(13-0)
Last week: 13-0Last rank: N/A
When Andy Enfield took the job at USC following a Sweet 16 run with Florida Gulf Coast, he was met by opposition who thought he couldn't handle the position. Then, the Trojans made the NCAA Tournament last season for the first time under Enfield. Now, the team is 13-0 and No. 22 in the polls. Senior guard Jordan McLaughlin is playing like a bona fide Pac-12 Player of the Year candidate the team is having most of its success without big man Bennie Boatwright. USC has big wins over BYU and Texas A&M and it looks as though Enfield is going to continue to prove his doubters wrong. 3
Oregon Ducks
(11-2)
Last week: 11-2Last rank: N/A
Oregon was a trendy preseason pick to make the Final Four before starting 2-2 with losses to No. 4 Baylor and Georgetown. I ranked the Ducks above Arizona for the caliber of those losses in addition to not having Dillon Brooks early in the year. Dana Altman uses a balanced attack to win games and relies heavily on the aggressiveness of his players. The Ducks possess so much althelticsm and grit, a key reason for their success on the glass and on defense. Oregon is already dangerous, they will be lethal when they are healthy. 4
Arizona Wildcats
(11-2)
Last week: 11-2Last rank: N/A
Not having Allonzo Trier is a big blow to the Wildcats but if he was taking the majority of shots, Lauri Markaanen might not be getting the same level of attention. Head coach Sean Miller is working with one of the shortest benches, allowing Markkanen to blossom into a superstar. He is already drawing comparisons to Dirk Nowitzki for his ability to shoot and play with his back to the basket. Arizona's two losses are to Butler and Gonzaga by a combined 11 points and Miller continues to find ways to win despite fatigue and one his top scorers. 5
Utah Utes
(9-3)
Last week: 9-3Last rank: N/A
As of now, Utah is the Pac-12 team no one is talking about that many people should be talking about. Despite losing three starters and the sixth man from the 2015 team, Larry Krystkowiak has the Utes right back in the hunt. They have two competitive losses to Butler and Xavier as well as another to an under-the-radar San Francisco team. Utah is currently a top-50 scoring offense, top-60 scoring defense and is top-20 in rebounding. They will gain recoginition as Pac-12 play picks up.6
California Golden Bears
(9-3)
Last week: 9-3Last rank: N/A
Injuries have plagued Cal early and the Golden Bears still put up together a 9-3 record heading into conference play. Cuonzo Martin has to be licking his chops at what his team is capable of when fully healthy. Freshman guard Charlie Moore made a big first impression, leading the team with 16.1 points per game. While Cal has yet to notch a signature win this year, they took Virginia to the wire and will get another chance at home against No. 18 Arizona on Dec. 30. Regarding the talent coming together on this team, it's a matter of 'when', not 'if'.
More from Devils in Detail
7
Colorado Buffaloes
(10-3)
Last week: 10-3Last rank: N/A
The graduation of Pac-12 First Team big man Josh Scott was expected to leave a large void for the Buffaloes to fill. However, rather than patch it with one player, head coach Tad Boyle instead uses senior Wesley Gordon as his lead big man and supplements with athletic wings and guards who can rebound. Through 13 games, Colorado already possesses two ranked wins over Xavier and Texas and played Notre Dame close at the Legends Classic. Boyle has a very deep team led by the veteran backcourt of seniors Derrick White and Xavier Johnson and will should compete for a top five seed in the conference. 8
Stanford Cardinal
(8-4)
Last week: 8-4Last rank: N/A
Stanford comes in at No. 8 in the first week of these Power Rankings but make no mistake, the difference between 5-8 is very close. After sitting the final 22 games of the 2015 season, junior forward Reid Travis has put Stanford on his back in 2016. Travis has taken big strides as a scorer and rebounder as he improved his line of 12.8 points and 7.1 rebounds to a near double-double of 17.8 and 9.8. Head coach Jerod Haase gave his team a few early challenges in Miami (FL), No. 12 Saint Mary's and No. 4 Kansas. With a nine-man rotation and one of the better defensive teams in the country, Stanford looks poised to improve on its 8-10 conference record from last season. 9
Arizona State Sun Devils
(7-6)
Last week: 7-6Last rank: N/A
In the three games since four-star wing Sam Cunliffe asked to be released from his scholarship, the Sun Devils have gone 1-2 with a pair of home losses to New Mexico and then No. 9 Creighton. Chemistry looks disrupted and ASU lost height and athleticism in Cunliffe. While you can credit head coach Bobby Hurley for scheduling difficult non-conference games against Kentucky, Purdue and Purdue, his team is still a year away from being a serious competitor. The Sun Devils will rely heavily on a strong backcourt of Tra Holder, Shannon Evans II and Torian Graham in Pac-12 play but undersized big men will hurt them in the long run. 10
Washington Huskies
(7-5)
Last week: 7-5Last rank: N/A
Through 12 games, Washington continues to prove that bringing in top talent doesn't necessarily equate to success. Lorenzo Romar has had no shortage of high-level players come to Seattle in recent years between Nigel Williams-Goss, Dejounte Murray, Marquese Chriss and now Markelle Fultz. The offense of the Huskies is potent but this team has shown consistentl that they struggle to defend, giving up over 80 points per game and have difficulty moving the ball with only 14 assists per game. Fultz is very talented and exciting to watch but if he continues to get no help from his teammates, it's possible that consecutive No. 1 overall picks in the NBA Draft miss the NCAA Tournament. 11
Washington State Cougars
(7-5)
Last week: 7-5Last rank: N/A
Up to this point, the Cougars have won games they were expected to win and lost to better teams. In seven wins, Washington State has yet to beat a team over .500 and the road now gets much more difficult. Senior forward Josh Hawkinson has been a consistent force on the low block and already has eight double-doubles but a short bench makes it tough to win in the Pac-12. 12
Oregon State Beavers
(4-9)
Last week: 4-9Last rank: N/A
After posting back-to-back winning seasons in his first two years with the program, head coach Wayne Tinkle's team has taken a step back in Year Three. Despite the loss of Gary Payton II to the NBA, three of the Beavers' top four players returned in guard Stephen Thompson Jr. as well as big men Tres Tinkle and Drew Eubanks. However, injuries have limited Tinkle and Thompson Jr. to six and seven games respectively which has played a part in two buy-game losses to Lamar and Savannah State. For a team that relies heavily on its stars, Oregon State will need a healthy lineup to compete this season. This article originally appeared on
---
---