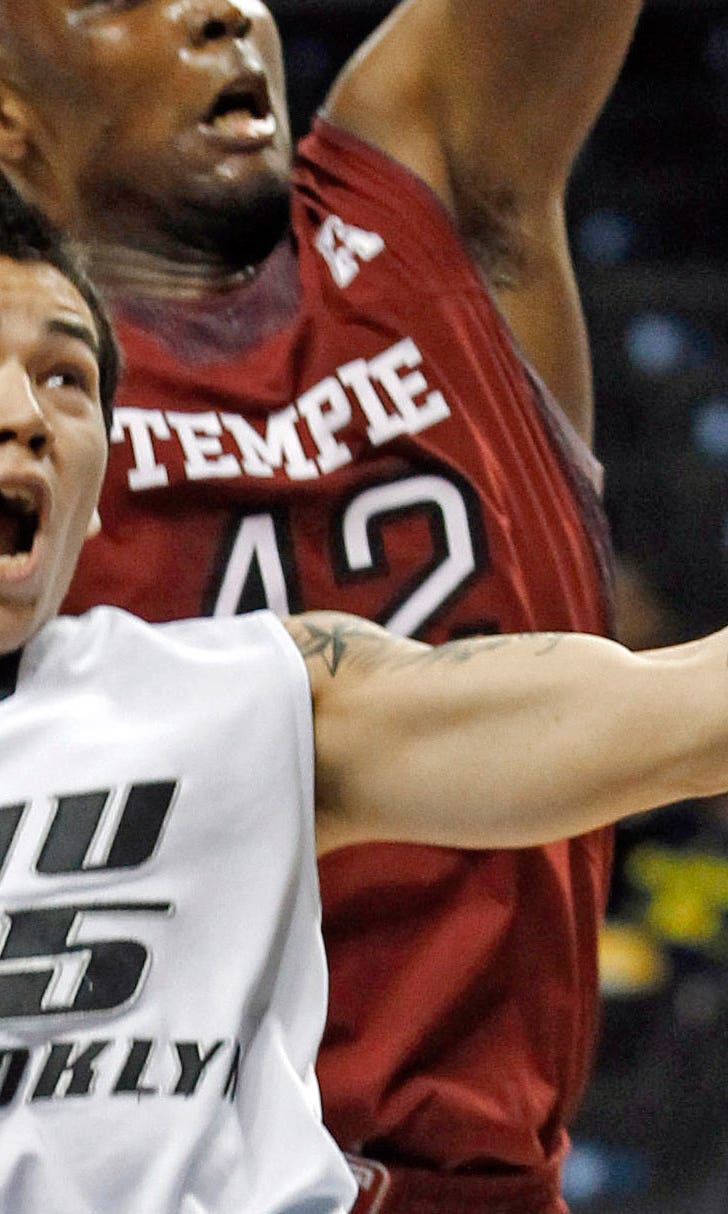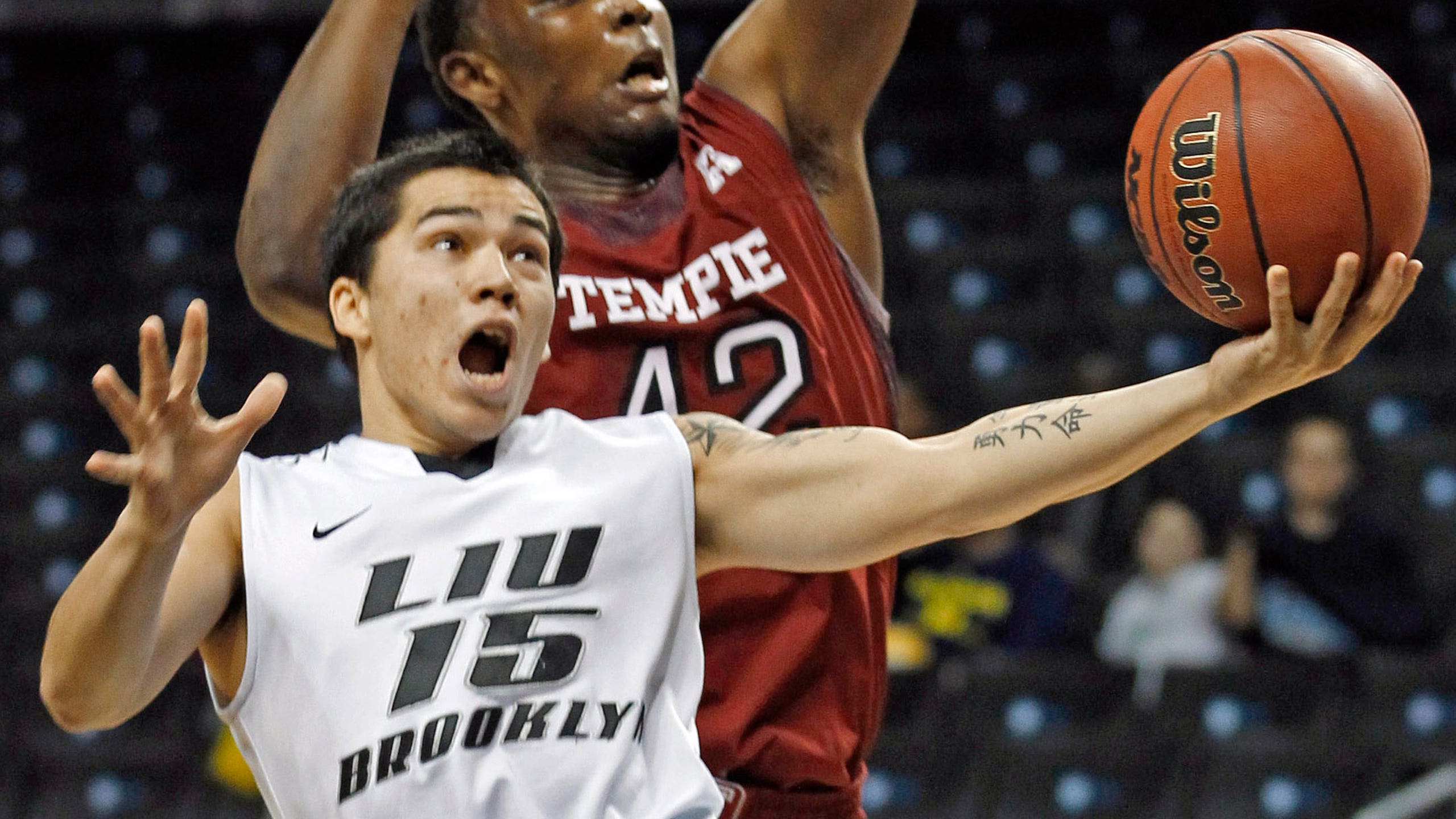 Art of passing on display as Brickman nears assists milestone
BY Reid Forgrave • February 26, 2014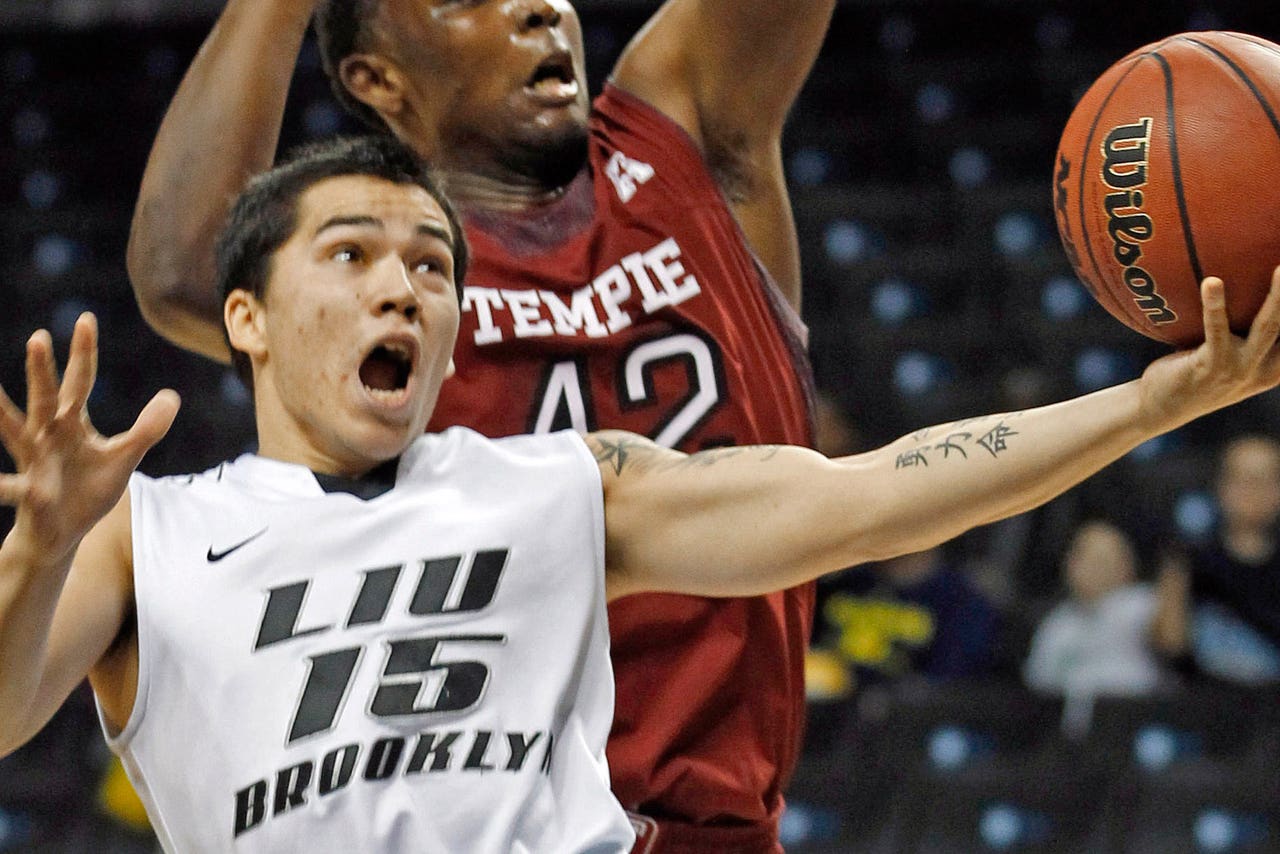 One of the most intriguing stories in college basketball this season is happening far away from the NCAA tournament bubble, far away from any semblance of national relevance, in a place known more for its hipsters and organic food co-ops than for its basketball.
And yet, on a recent night at LIU-Brooklyn's high school gym-sized arena in downtown Brooklyn, a few hundred fans sat and watched Jason Brickman make a few more passes toward basketball history.
The kid could not be more unassuming. He's an inch or two short of 6 feet, with light brown skin that hints at his Filipino-American heritage, a soft-spoken manner off the court and a quiet intensity on the court that revealed itself when the ball was in his hands -- which it usually was.
His genius revealed itself halfway through the first half of a recent home game at LIU-Brooklyn. He was dribbling on the wing, a few feet out from the 3-point line. Brickman surveyed the court, then he saw an open teammate on the other side of the floor, with space around him for a 3 but with a decent amount of traffic in between. Brickman flung the ball toward him sidearm, an eye-opening zip pass that made the crowd murmur in appreciation and made a few sportswriters wiggle in glee. It helped that his teammate drained the 3 and brought Brickman one step closer to his goal.
As he nears the end of a quietly brilliant college career, Brickman is chasing a number that only three players have reached in college basketball history: 1,000 career assists. Duke'€™s Bobby Hurley holds college basketball's all-time sharing record at 1,076, followed by Chris Corchiani at North Carolina State (1,038) and Ed Cota of North Carolina (1,030).
With one regular-season game left, Brickman is on the cusp of joining the 1,000-assist club, sitting at 997 leading into Saturday's home game against Bryant University.
"It's certainly nothing that I've taught him," said Brickman's coach, Jack Perri. "We recruited him because we saw it in high school. He just has this innate ability. It's remarkable when you watch him play. Watching him in practice as a freshman, we'd be in awe of the decisions he makes, and how he sees things, and how he puts the ball exactly where you want it.
"Some people can see things, see angles, but they just don'€™t deliver it in the same way this kid does. He made this one-handed zip pass crosscourt when two guys were trying to trap him, and it was right on the guy's hands for an easy 3. That'€™s just unique to have that ability."
Brickman has risen up the all-time assists ladder -- this year passing basketball such luminaries as Gary Payton and Greg Anthony, Sherman Douglas and Steve Blake -- in virtual obscurity, despite playing in the penumbra of New York City's bright lights.
Half a country away, Creighton's Doug McDermott is making his own run at history, rising up the all-time scoring chart (now at 10th) as he nears a stunning 3,000 points. But playing in the Big East, for a team that's ranked ninth in the country, as a shoo-in for every player of the year award in existence: all that means McDermott is chasing history with all of college hoops watching.
But Jason Brickman? You probably haven't heard of him, right? Like McDermott, he was under-recruited as a high schooler. Like McDermott, he has a game that's more about feel and work ethic than about raw talent. But unlike McDermott, Brickman, who was recently named to the watch list for the Bob Cousy Award for the best collegiate point guard, is playing in the one-bid Northeastern Conference. His team made the NCAA tournament each of his first three seasons, but this year injuries have decimated the team and derailed Brickman's senior season. LIU-Brooklyn is 9-19 and in danger of missing the conference tournament -- which would be too bad, because an extra game or two could extend Brickman's career and perhaps vault him all the way to second on the all-time list.
When you ask him about how he learned to become a great passer, it's a study in humility -- perhaps befitting a player whose role is to help others shine.
"I'm not very tall, so I have to use my talents to make my teammates better," Brickman told me after a recent game. "I'm a quiet person. I always want to make my teammates happy and want my teammates to love playing with me."
He learned playing basketball with his father and two brothers. They'd play two-on-two in the driveway, but the more important moments came when father took his sons to a park to work on fundamentals -- a blacktop area without any basketball hoops. They'd work on bounce passes. They'd work on keeping their heads up and using their fingertips. They'd work on snapping off their passes so the ball gets there as quickly as possible for the shooter.
It was there where Brickman honed his passing game so he's just as strong with a bounce pass as he is a lob pass, or a crisp rifle pass on a fast break. He knows not just when to pass it but where to pass it so his teammate can go right into his shooting motion. He studied tape of the game's best point guards -- Jason Kidd, Steve Nash, Chris Paul -- and modeled his game after theirs.
But the subtle art of passing, the part of the game that lies more in the head than the body, is a bit more difficult for scouts to quantify. It's not a skill that relies on wingspan or vertical leap as much as it does basketball IQ. So Brickman, who grew up in San Antonio, wasn't overwhelmed by scholarship offers, and he chose LIU-Brooklyn.
"The funny part was I knew he'd be pretty good college player," said his father, Bruce Brickman. "His first game as a freshman, he didn't start. They had another pretty good point guard. They played Norfolk State or something.  He only played 15 minutes, but he had seven assists. That's really good! And I told him, 'Hey, you get enough minutes, you'd have a chance to lead the country in assists.' "
He led the country in assists his junior year, and this season Brickman is averaging 10, more than two per game more than the player who is next in line.
"Scorers get a lot of credit, but he just found something he's really good at," his father said.
It's easy to appreciate a player who can throw down a thunderous dunk. Everyone loves a player who can jump out of the gym and swat a shot into the second row. There are few experiences in college basketball like when a 3-point shooter gets hot.
But passing? It's the more quiet of skills, the art of making the game easier for everyone around you. It's an art appreciated most by the true basketball junkies, people like Hall of Fame basketball writer Jim O'Connell of the Associated Press. O'Connell was courtside at LIU-Brooklyn on a recent night. It was his night off, in fact. He came because he wanted to see Brickman play a couple more times before graduation.
"He's not flashy at all," O'Connell said, comparing Brickman to the old Indiana point guard Quinn Buckner. "He's a coach's dream. He's the ultimate college point guard. If you go to a game and you're not pretending to be an NBA scout, you come out of the game saying he's the best player on the floor. On the court, he's in charge and you know it."
As O'Connell spoke, Brickman brought the ball up the court. He drove into the lane, straight into an opposing big man, then twisted his body and curled the ball around the big to give his teammate an easy layup. O'Connell and I looked at each other, our eyes huge.
"He throws around guys," O'Connell said. "It's like hitting a golf shot around a tree."
Unless an NBA general manager is dying to find the next Jeremy Lin -- the out-of-the-box, out-of-nowhere point guard who can capture fans' imagination but isn't some blue-chip talent -- you won'€™t be seeing Brickman in the NBA any time soon. He wants to continue his basketball career, sure. O'Connell sees Brickman as a perfect fit for Europe. Brickman's dad tossed out the possibility of him playing in the Filipino professional league. Brickman shrugged when I asked. If he doesn'€™t get any more opportunities, he's about to get his degree in computer science, so he can go become a programmer.
I wondered: Is there any connection there, between a kid who deciphers lines of computer code and a kid who deciphers the flow of a basketball game faster than anyone else on the floor?
"I just like solving problems," Brickman said. "Computer science, it's a lot of programming. You have to get every part of the code right or the whole thing doesn't work. I think it's the same way on the court. You're trying to figure a way to get the ball in there any way I can, bounce pass, lob it. Whatever it takes."
Follow Reid Forgrave on Twitter @reidforgrave or email him at ReidForgrave@gmail.com.
---