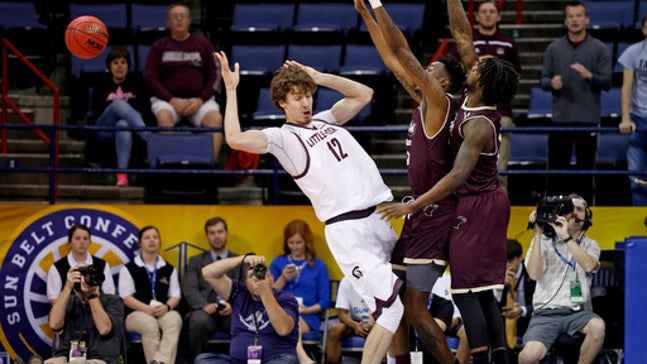 Arkansas-Little Rock wins Sun Belt title
Published
Mar. 13, 2016 5:46 p.m. ET

NEW ORLEANS (AP) Roger Woods scored 19 points and Arkansas-Little Rock punched its ticket to the NCAA Tournament with a dominant second half, beating Louisiana-Monroe 70-50 on Sunday in the Sun Belt Tournament final.
Trailing 33-28 at halftime, the Trojans raised their defensive intensity several notches and went on an 18-4 run to take control. Woods gave Arkansas-Little Rock the lead for good at 37-35, faking an outside shot and driving for an emphatic dunk with 15:01 left.
Marcus Johnson Jr. hit an open 3-pointer as the Trojans took their first double-digit lead, 53-42, at the 8:06 mark.
Woods, the tournament MVP, hit eight of 10 shots and added nine rebounds. Johnson scored 14 points for top-seeded Arkansas-Little Rock (29-4), which tied a Sun Belt conference record for wins in a season.
Justin Roberson had 17 points for second-seeded Louisiana-Monroe (20-13), which entered the final on a 10-game winning streak and having won 14 of its last 15 after a 6-11 start.
---