7 things to know about No. 2 Michigan State's shocking loss to No. 15 Middle Tennessee
Published
Mar. 18, 2016 4:56 p.m. ET

No. 2 seed Michigan State got down early to No. 15 Middle Tennessee State in their first-round game on Friday and, though the Spartans got back into the game late, never led in the shock 90-81 loss. Here are seven things to know about the upset of the tournament.
1. There have been as many No. 15 over No. 2 upsets since 2012 than there were from 1985 through 2011. 
The first 27 years of the 64-team tournament saw four first-round upsets of a No. 2 seed. That total has been matched in the last five years. Crazy stuff. 
(Photo by Dilip Vishwanat/Getty Images)
2. Michigan State was horrible and deserved to lose.
The Spartans didn't deserve to win. They missed free throws, had two traveling calls in the final six minutes on uncontested plays and had six or seven chances to tie or cut the lead to one late in the game and they failed miserably. Perhaps worst was their lack or hustle on rebounds. Big shots were missed. Lazy fouls were had. Any POY awards that Denzel Valentine will win should be retroactively stripped. And yet, MSU still had a chance to take the game late. They just couldn't take the given opportunities. 
3. Middle Tennessee State deserved to win.
We're in a different era of these upsets, though. While no one saw this Michigan State result coming (at all - from a mile away or 20 miles away), these upsets no longer feel like you're watching a game in which every little thing has to go right for the lower seed to win. MTSU missed free throws too. They turned the ball over. They made silly bounce passes that went straight into the arms of the other team. But when they needed to score, they did. For Richmond to beat Syracuse in 1991 (the first ever 15 over 2 upset), it took Syracuse playing horrible and Richmond playing at an A+. College basketball is no longer like that. David is a little better and Goliath has come back to the pack.
(Photo by Jamie Squire/Getty Images)
4. There have been eight of these upsets. Four have happened to title-winning coaches.
They are: Jim Boeheim, Lute Olsen, Mike Krzyzewski and Tom Izzo. You'd figure these losses would be the purview of coaches with one-hit wonders, guys who had one sterling year then were fired three years later after a run of sub-.500 records in conference play. But it's never been that way. Boeheim and Olsen were the first two coaches to experience the losses and they're Hall of Famers. It just goes to show that no matter how great the coach or talented the team, opponents can be looked past, stars can have off games, coaches can fail to get through to their teams and, at the end of the day, you're always dealing with 18-22 year olds.
5. Tom Izzo had only lost four first-round games in the tournament.
The coach whose teams are perennial Final Four and Elite Eight contenders has rarely been out so early. Since taking over in 1995, he's lost just four first-round games and those came as a No. 6, No. 7 and twice as No. 10. To me, this is as stunning as Duke's loss to Lehigh.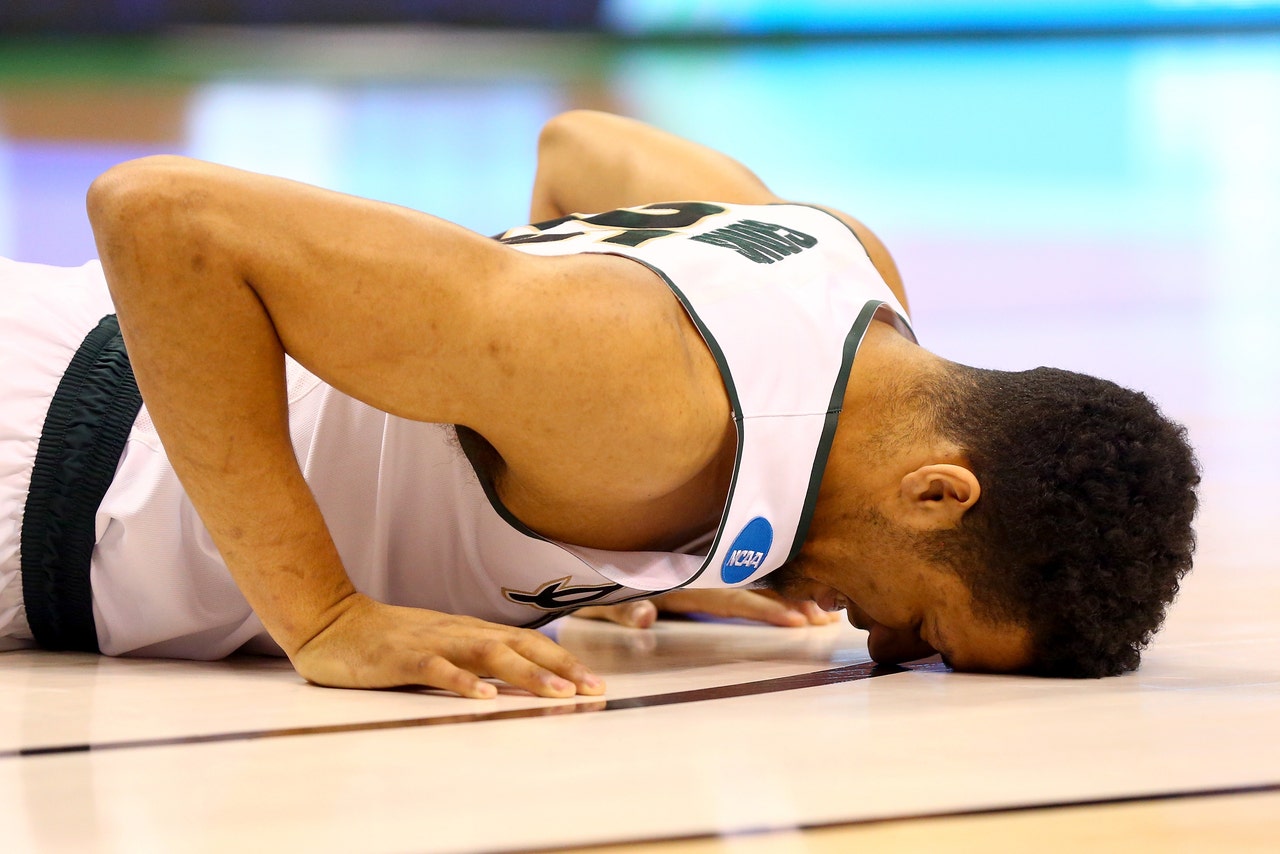 (Photo by Dilip Vishwanat/Getty Images)
6. Michigan State would win that game 92.2% of the time, according to kenpom stats.
The Spartans had the third-best odds of cutting down the nets in Houston, with kenpom.com giving Izzo's team a 1-in-8 chance of winning the whole thing. Heck, this might be bigger than Lehigh-Duke.
7. Only one No. 15 seed has ever won its second-round game.
And it was the last team to pull the feat: Dunk City (Florida Gulf Coast) had Ws over Georgetown and San Diego State back in 2013 before a tough loss to Florida in the Sweet 16. Middle Tennessee plays bubble-team Syracuse on Sunday. Why not again this year?
---