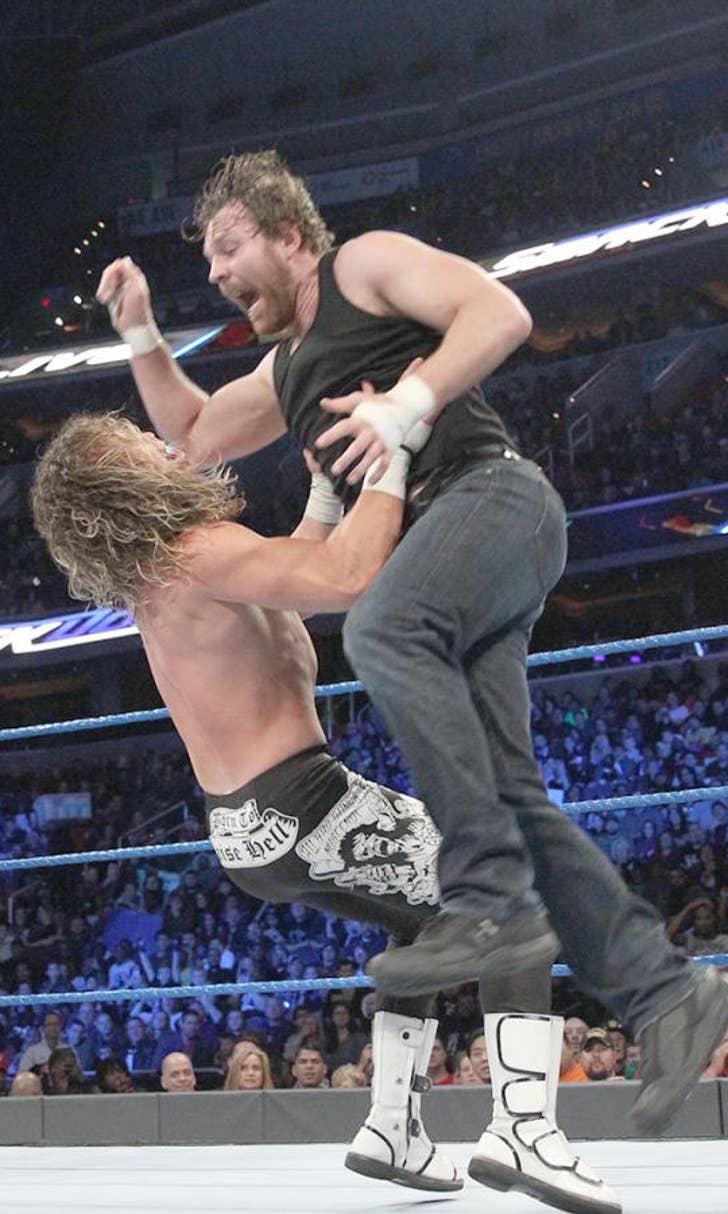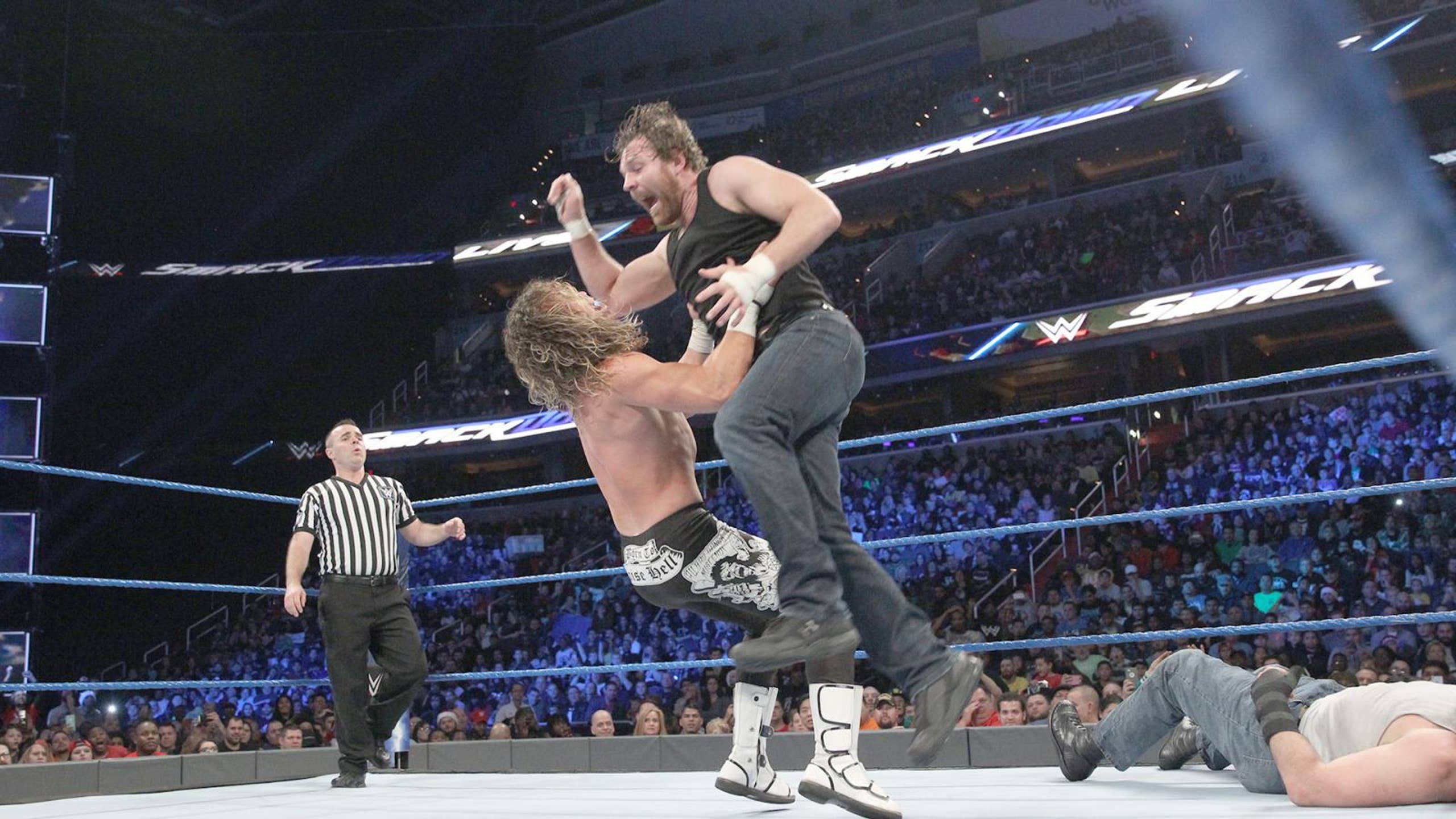 WWE SmackDown Live Results: Highlights, Analysis, and Grades for December 13
BY Fansided and Grant Mannis/FanSided via Daily DDT • December 13, 2016
Follow along with our review of Tuesday's episode of SmackDown Live.
As the final weeks of 2016 slowly come to pass, SmackDown Live looks to continue its dominant ways ahead of RAW's Roadblock event on Sunday. Here is everything you need to know heading into tonight's episode:
With no clear number one contender set in the tag team scene, it's been announced that here tonight there will be a tag team battle royal. The winning team will go on to face the Wyatt Family at a later date for the tag titles.
Although they didn't come to blows last week, the feud between Alexa Bliss and Becky Lynch only continues to escalate. Longing for her rematch at the SmackDown Live Women's Championship, one can assume Lynch will seek out the champion here tonight.
During last week's Talking Smack episode, Rhyno and Heath Slater seemed to have gone their separate ways after they lost yet again to the Wyatt Family. This was never going to be a team that was going to break the glass ceiling, but they were a solid unit while together. Perhaps tonight we will see these two become more aggressive towards each other, possibly culminating in a match in the near future.
In the main event of last week's episode, James Ellsworth inadvertently caused Dean Ambrose to lose yet another championship match. As one can imagine Ambrose was absolutely livid, and he's probably going to be looking for a fight should he come near his former friend tonight.
Speaking of Ellsworth, his title opportunity against AJ Styles was postponed last week due to a minor injury the champion suffered. Now that he is seemingly cleared for competition, could tonight be the night where Styles finally avenges his 0-3 record against everyone's favorite jobber turned main eventer?
So without further ado, here is the live results and analysis for the December 13th edition of SmackDown Live.
WWE.com
MizTV with Special Guest AJ Styles
The show starts off with a replay of the Miz's win last week. The camera then cuts to the backstage area, where a "sick" Ellsworth is apparently unable to compete tonight. This obviously doesn't sit well with both Shane McMahon and Daniel Bryan, but they allow the title match for tonight to be postponed. Ellsworth is instructed to leave the arena, and then Bryan and Shane take out some much-needed hand sanitizer. I guess this means that AJ Styles is still unable to compete her tonight.
Our first in-ring segment of the night comes to us courtesy of The Miz and his talk show "MizTV". With Maryse yet again by his side, Miz brings out the WWE Champion, who is no longer sporting his boot from last week. After the two spend a few moments complimenting each other, Styles brings up his recent victories over John Cena and Dean Ambrose. Styles questions who is worthy of facing him next, and Miz responds by bringing up how he's brought prestige back to the IC title. He then goes on to state that he is on a level above Styles, and he suggests bring prestige back to the WWE Championship as well.
Before they can come to blows though, Dean Ambrose comes down to the ring, as does a returning Dolph Ziggler (where has he been lately?). Things quickly go south, and Ambrose manages to take down both Ziggler and Miz with Dirty Deeds. Then Luke Harper makes his presence felt, and he levels Ambrose before staring down Styles, who at this point is halfway up the ramp.
Quite surprisingly, this was a strong opening segment which helped to potentially freshen up the main event scene. The Blue Brand's roster definitely didn't seem to be thin in this segment, as there are now four different men who could end up facing Styles in the near future. Once the title match with Ellsworth comes to pass, expect the WWE Championship scene to become much more legitimate.
WWE.com
Carmella vs Natalya
Result: Carmella wins via pinfall.
Rating: 2.25 out of 5 stars
After the commercial break, the cameras cut back to Bryan and Shane backstage once again. They are approached by Styles, who demands that he receive protection now that so many people are gunning for him. Instead of protection, they announce that tonight there will be a fatal four way between the four men from the previous segment. The winner will go on to face Styles December 27th, which is the date of the final SmackDown Live episode of the year.
Back in the ring, Nikki Bella is present at the announce table as a guest commentator for Carmella versus Natalya. Before the match begins, Natalya makes her way to the ring and attempts to convince Nikki that it wasn't her that assaulted her at Survivor Series. Her speech doesn't last long though, as Carmella makes her entrance and the match begins.
A commercial break interrupts the action, but when we return Natalya is in solid control of the match. Displaying a more aggressive side tonight given the recent accusations that have come her way, Natalya took it to Carmella early on. Control then shifted back and forth, with both women accusing the other throughout the match. Meanwhile, Nikki talked about her uncertainty about the identity of the culprit on commentary. A tense stare down between Nikki and Natalya during the closing moments allowed Carmella to pick up the win with a roll-up. As Carmella advanced her way up the ramp, Nikki would once again stare at Natalya before making her way to the back as well.
Although this feud isn't as strong as I would like, I'll admit I'm interested in finding out which of the two women attacked Nikki. There have been better starts to rivalries in the past, but if this goes on to benefit the SmackDown Live women's division I'm all for it.
WWE.com
Battle Royal for No. 1 Contendership to SmackDown's Tag Team Titles
Result: The Hype Bros win the battle royal to become the No. 1 contenders to SmackDown's Tag Team Championship.
Rating: 3.75 out of 5 stars
Following a plug-in for the WWE Network, it's announced that John Cena will make his return to SmackDown Live in two weeks. Then the cameras go to the back, where comedian Gabriel Igelsias approaches Apollo Crews and talks about his excitement for tonight's appearance as well as Tribute for the Troops. Miz makes yet another appearance with Maryse, but they are soundly made fun of by the duo and abruptly leave following a laugh from Miz which reminded me of Boss Nass from Star Wars (at least the beginning portion).
Our next match of the evening is the tag team battle royal. A rather surprising entry into this match was Heath Slater and Rhyno, who after last week I assumed to have gone their separate ways. Their issues only continued to escalate tonight, as Slater accidently collided with Rhyno and caused him to be eliminated. While many expected American Alpha to emerge victorious, it was the Hype Bros who managed to get the win when sole survivor Zach Ryder eliminated Konnor.
With expectations somewhat lowered considering this was just a battle royal, this encounter managed to deliver several curve balls that I wasn't expecting. An example of this was clearly the elimination of American Alpha. In an era where a majority of the outcomes are easily predictable, this was a welcome change of pace. There is no way the Hype Bros are going to beat the Wyatt Family, but I'm confident that this is also a match that could exceed expectations.
WWE.com
SmackDown Women's Championship MatchAlexa Bliss (c) vs Becky Lynch
Result: Becky Lynch wins via count-out, but Alexa Bliss remains SmackDown Women's Champion.
Rating: 2.75 out of 5 stars
When we come back from commercial break, the SmackDown Live Women's Champion Alexa Bliss is out for in-ring action. Her first match since winning the title, it was obvious she wanted to make an impactful appearance. She certainly did that her tonight, ejecting both her original, unknown opponent and the ring announcer from the ring. This drew out Becky Lynch who challenged the new champion to a rematch here tonight, but all it did was make Bliss angry. Rejecting the offer, she was about to make her way to the ring when Shane McMahon interrupted. Overriding the champion, he made the match official and had it start immediately.
Throughout this championship match, both women appeared to be on their game. The action was back and forth early on, but near the end it was clear Lynch had the advantage. Had there been a clean result, it's quite possible that Lynch was walking out as a two-time champion. Unfortunately, we never received a proper finish, as an apparent knee "injury" by Bliss led to her voluntarily taking the count-out loss to her challenger. This in turn incensed Lynch, who assaulted her foe and then watched with fire in her eyes as Bliss retreated up the ramp.
WWE.com
No. 1 Contender's Match for the WWE ChampionshipDean Ambrose vs Dolph Ziggler vs Luke Harper vs The Miz
Result: Dolph Ziggler wins via pinfall to become the No. 1 contender to the WWE Championship.
Rating: 3.25 out of 5 stars
In the main event, four of the top men on SmackDown Live fought for a shot at the WWE Championship. All of the men involved are known as solid in-ring workers, and that was more than apparent here tonight. This was a match where the result was up in the air, and that only helped to ensure the crowd was into the action. AJ Styles sat on commentary throughout the contest, eying the action and wondering who his next challenger was going to be. When it was all said and done, Dolph Ziggler managed to outlast his competition, last eliminating Dean Ambrose to earn the title shot. His win didn't come without controversy though, as The Miz helped to eliminate Ambrose after being eliminated earlier on by the Lunatic Fringe. Regardless, expect Styles and Ziggler to tear the house down when they collide in a few weeks.
Once again, SmackDown Live managed to topple the RAW in terms of show quality. This has been a common trend since the Brand Split, but I really feel as though this episode deserves praise. Every match felt worthwhile, and there weren't any segments that were overly cheesy or boring. Should WWE continue to make episodes such as the one here tonight, they can expect to see a slow (but hopefully steady) increase in ratings in 2017.
More from Daily DDT
This article originally appeared on
---