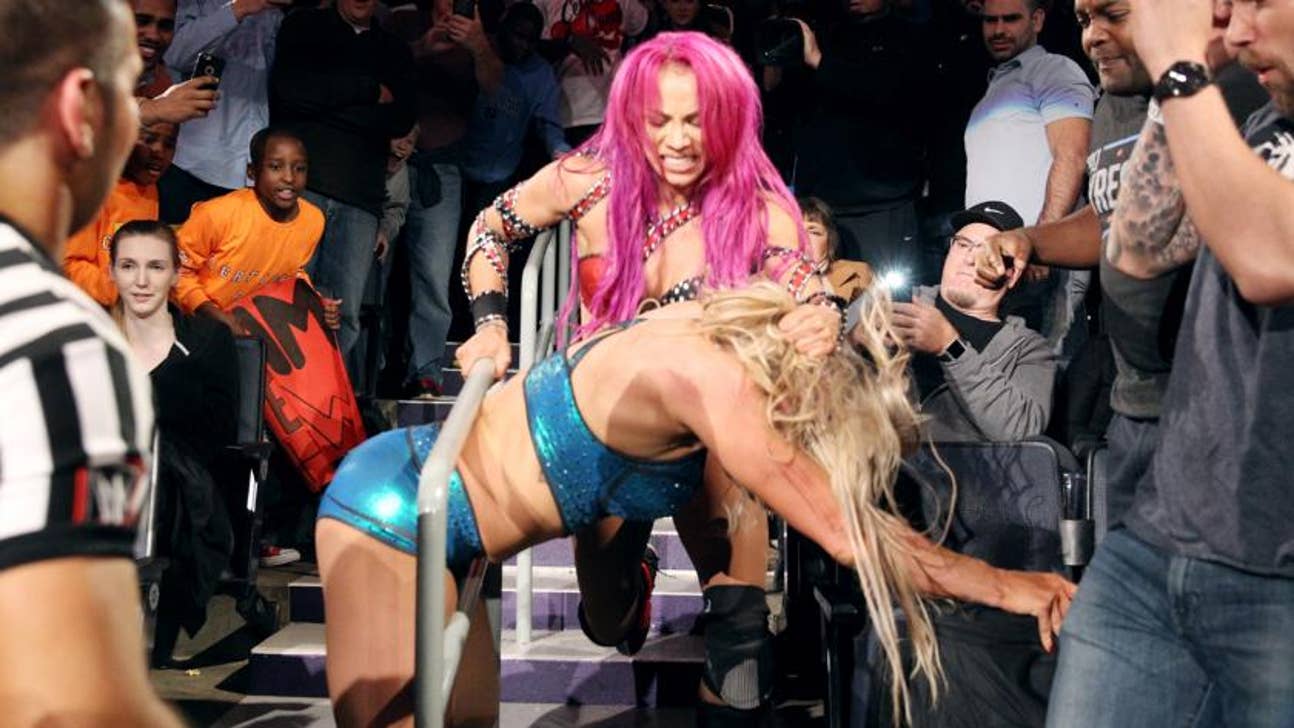 WWE Roadblock 2016: Ranking Every Sasha Banks vs. Charlotte Match
Updated
Mar. 4, 2020 5:51 p.m. ET

Fansided, Tim Sherry/FanSided via Daily DDT
WWE.com
A power ranking of the matches between Charlotte and Sasha Banks from the last two years in WWE.
On the November 28th episode of RAW Sasha Banks picked up a victory over Charlotte to capture the RAW Women's title for the third time in her young career.  The bout, A Falls Count Anywhere Match, the first of it's kind for the Women of WWE history was a hard-hitting, crowd-pleasing classic which came on the heels of a number of other brilliant fights between the two superstars starting back to when "The Boss" was drafted to RAW in July during the roster split.  In one of the best feuds of 2016, Banks and Flair have had a back and forth war that has seen the RAW Women's title change hands 5 times in 5 months and has been as engrossing as any program currently in the WWE.
However, the story between Banks and Charlotte began a while back, all the way to January of 2014 when the two were allies in a feud with Bayley and Natalya on NXT.  The alliance didn't last very long however as Banks, the rising star and ultimate opportunist, took the NXT belt from Flair in a fatal 4-way match at NXT TakeOver: Rival in February of 2015.  Banks would be the women that would send Charlotte out of NXT and to the main roster where they have now met up again.
On December 18th the two will tangle once again with the RAW Women's title on the line at Roadblock: End Of The Line and will look to add another classic to their sizzling rivalry.  Ahead we break down and power rank the list of matches The Boss and The Queen have battled in so far.
WWE.com
7. NXT Women's Title Match: NXT Live No. 155, July 15, 2015
On a scale of things, this was a very good match, but not great by Banks and Charlotte's standards.  On this night at Full Sail University, the two went back to war 5 months after Sasha had won the belt at NXT Takeover: Rival in fatal 4-way match.  For just under 14 minutes the two traded technique and skill, engaging in more a chess match than a pro wrestling bout.
Although this ranks at No. 7 in terms of in-ring action, the importance of what went down that night in July was paramount.  In losing the belt to Banks in February in a gimmick match, and on this night losing in a one on one bout due to a clean tap out, Charlotte officially passed the NXT torch to her conqueror.
Both competitors furthered their legacy in this match, as Banks looked like a superstar and Charlotte looked more than ready to take the next stop at the main roster.  The two also proved that their budding chemistry together was no fluke, and their futures against each other in the ring were only at the beginning.
WWE.com
6. RAW Women's Title Match – WWE SummerSlam 2016
Once again these two squared off and it didn't seem to have that type of intensity as most of their matches.  However, I don't blame it completely on Banks and Flair.  The crowd was almost non-existent for this match.  First of all, it was very early in the card before the crowd got really amped up.  Plus there was a ton of anticipation of what was to follow.  With matches like AJ Styles versus John Cena, Dean Ambrose versus Dolph Ziggler, Seth Rollins versus Finn Balor, and Brock Lesnar versus Randy Orton still ahead of them, it was easy for this match to get drowned out.
But that doesn't mean that the girls didn't bring it this night.  Quite the contrary.  Charlotte was absolutely surgical, channeling her father's focus and dismantling her opponents back while The Boss was her normal tenacious self.  And although it was a bit of an anti-climactic ending with Charlotte reversing a Bank Statement into a pinning combo for the win and her 3 WWE World title reign, it was a very worthy Women's title bout.
The challenge with any Banks/Charlotte match is that these two have set the bar so high for themselves because of their history that anything less than spectacular is seen as disappointing.  This match was far from disappointing, but they clearly have had better installments.
WWE.com
5. RAW Women's Title Match: WWE Hell in a Cell 2016
This Hell In A Cell match is a really difficult one to critique.  On paper it had potential for an absolute classic.  Two women in the midst of a searing feud climbing into the most demonic structure in the WWE, battling for a championship in Banks' home town of Boston.  It gives me chills just thinking about what might have been.
More from Daily DDT
This was a great match, no doubt, but a few major botches turned this from brilliant to only great.  Charlotte's half-hearted fall through a ringside table and a fluky ending that nobody understood especially in Banks' back yard are the only reason we're not calling this the best women's match of all time.  Those might only be a couple things, but they were big.
However, it was quite a sight to see the ladies ratchet up some violence.  Between Charlotte sending Banks through an announce table, to both of their creative uses of chairs and steps, the HIAC match was well represented in Boston that night.  Being that this was the first time two women stepped inside the cell they set the bar very high for any future female HIAC combatants.
Credit: WWE.com
4. RAW Women's Title Match: WWE RAW, October 3, 2016
In the midst of the back and forth title switches between these two came this gem from the October 3rd RAW.  Sasha won her first title on the July 25th RAW only to drop the title back to Charlotte at SummerSlam.  The Queen was able to once again retain the belt at Clash of Champions by pinning Bayley in a triple threat match that included The Boss.  Banks decided to invoke her rematch clause the following night and in the first women's main event on RAW in close to a decade, the two went to war.
No matter how many times these two work together, they always find a way to make their matches unique.  In this bout they used the David vs Goliath formula as Charlotte, the arrogant heel was dominant all match, with the fiery Banks refusing to give in.  In the end, it was Banks snatching up the title for the 2nd time due to tapout from The Bank Statement.
As impressive as Banks was at the Staples Center that night, Charlotte proved that if she wasn't already the best female wrestler in the company's history, then she would at least be that one day.  Her incredible full-twisting moonsault to Banks outside the ring was not only the move of the night but also showed that The Queen gets better and better each time out and that there is nothing that she can't do.
WWE.com
3. NXT Women's Title Match: NXT Takeover: R Evolution
Although the two had tangled numerous times before, this match is really where it all began.  In May of 2014, Charlotte captured the NXT Women's title, besting Natalya in the finals of an 8-woman tournament to crown only the second champion in that division.  During her 258 day reign as champion, Charlotte put on numerous great matches with her compatriots at Full Sail University, but none better than this one against Banks at TakeOver: R Evolution.
Banks stock was on a meteoric rise entering this match, while Charlotte was in the middle of cementing her status as the best female in the company.  And although Banks would go on to take the title from Charlotte three months down the road, it was The Queen who reigned supreme this night.  With only 12 minutes to work with these two showed everyone why the current crop of female wrestlers are the best the company has ever seen, as they had the second best match on a card that could've easily been overshadowed by a brilliant main event between Sami Zayn and Neville.
Banks became a superstar this night and it was evident that she would be the successor to Charlotte in the future.  This was the first one on one televised match between each other and it laid out the gauntlet for their future matches and how good they'd have to be to top this.  It would be really hard to accomplish, but two of their matches did just that.
Sasha Banks reclaims the top spot on Raw Women's Division. Photo courtesy of WWE.com
2. RAW Women's Title Match: WWE RAW, July 25, 2016
Charlotte had been flying high after being promoted to the main roster in July 2015.  Within 2 months of the promotion she captured the WWE Divas title from Nikki Bella at Night Of Champions and held onto to it for close to 200 days before the WWE rightfully re-branded the belt the "Women's Championship" which she also won in a show-stealing Wrestlemania 32 triple threat match with Banks and Becky Lynch.  All in all The Queen's title reign was at 309 days, the longest in recent WWE history.
But then along came Sasha Banks….again.  Selected by RAW with the #13 overall pick, The Boss was the just second female drafted to the red brand behind Charlotte who went 3rd overall and the two wasted no time battling over the title as this bout took place on the first post-draft RAW.  Unlike some of their other matches, the crowd at CONSOL Energy Center in Pittsburgh was electric, seemingly understanding the desire of Banks and standing firmly behind her.
The action spilled all over the ringside area and Charlotte even threw in one of her beautiful moonsaults to the outside.  It was everything that one would've expected between these two given their history as the two warriors matched each other at every avenue.  It was a perfect way to being the Women's division on RAW and established Banks as a big game player by winning and realizing a 14-year long dream.
WWE.com
1. Falls Count Anywhere Match: WWE RAW, November 28, 2016
Banks and Charlotte clearly have and will have plenty of firsts.  First ladies to step inside the Hell In A Cell, first duo to trade the belt in the WWE and NXT, and Sunday at Roadblock, they'll be the first girls to have iron man match on the main roster.  And on the November 28th RAW they pulled off another first for the women of the WWE: a falls count anywhere match.
It was impressive to see Banks and Charlotte put on a brutal battle and encapsulate the theme of this gimmick match.  They battled throughout the arena and hammered each other senseless.  Charlotte once again pulled off one of her patented moonsaults.  This one from the announce table to the floor.  At one point it seemed like she'd never come down.
The emotions and stakes were extremely high in this match.  Both women pounded their fists at each near fall, showing the feelings on their faces and their desire to win was evident.  And in one of the more painful looking sights, Banks sealed the win after locking in a modified Bank Statement on one of the railings to her foe.  To rub salt in the wound of losing the title, Ric Flair came to ringside to congratulate The Boss while Charlotte watched from ringside sobbing.  A harrowing scene and a clear sign that the feelings and intensity still has a long way to go in this feud.
---