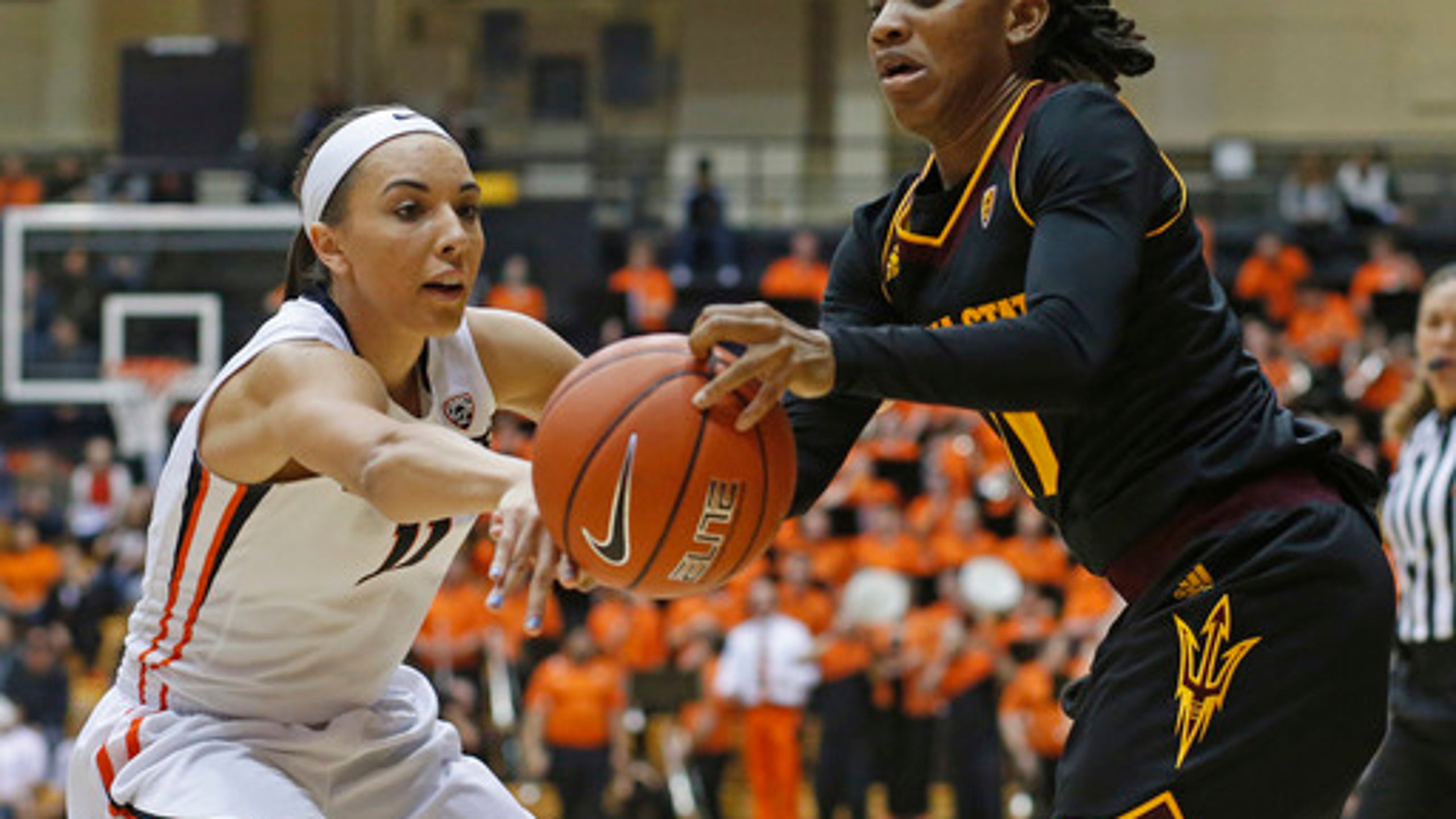 Weisner leads No. 9 Oregon St women past No. 8 Arizona St
BY foxsports • February 2, 2016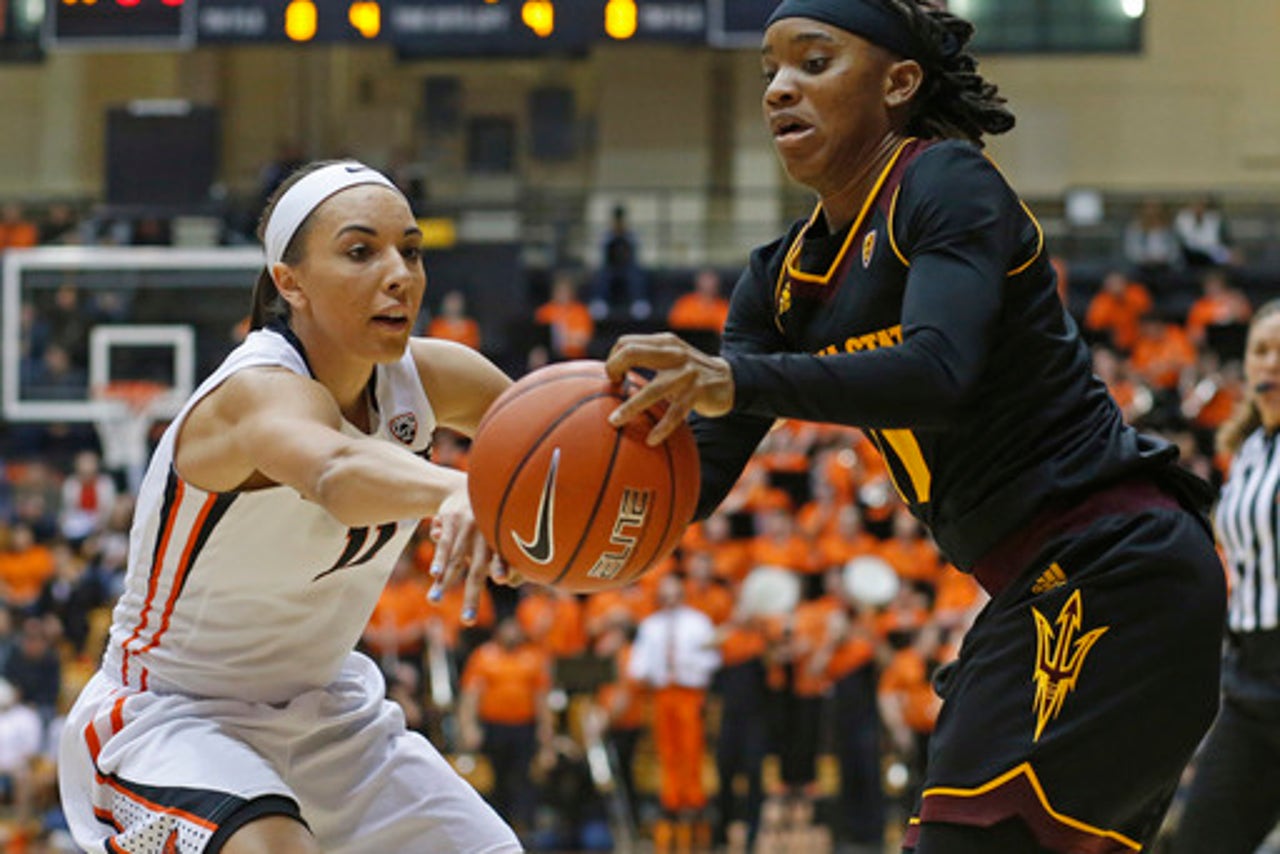 CORVALLIS, Ore. (AP) Oregon State point guard Sydney Wiese said she loves playing with senior guard Jamie Weisner.
''She's such a threat offensively, and then defensively, too, she's all over the place making plays,'' Wiese explained.
Weisner scored 25 points on 9-for-10 shooting to lead No. 9 Oregon State past No. 8 Arizona State 67-44 on Monday night in a matchup of the Pac-12 Conference's top teams.
''I just started off being aggressive to the hoop and that kind of opened up my 3,'' said Weisner, who returned to the starting lineup after missing the Arizona game Friday due to an undisclosed injury.
Ruth Hamblin had 12 points and eight rebounds, and Wiese added 14 points, nine rebounds and six assists for the Beavers (18-3, 9-1). Wiese also committed six turnovers, but Oregon State won its fourth straight over the Sun Devils and eighth in a row overall.
''This team rose to the challenge tonight in a big way,'' Beavers coach Scott Rueck said.
Sophie Brunner scored 13 points for the Sun Devils (18-4, 9-1), who were seeking a school-record 16th consecutive win.
Arizona State coach Charli Turner Thorne said her team got a bit complacent during its winning streak.
''You can't be like that against Oregon State (at Gill Coliseum),'' Turner Thorne said. ''This will probably be a good thing for us, because we need to get hungry again.''
The Beavers took control with a 15-2 run to start the second half, and Katie McWilliams' 3-pointer with 3:46 left in the third quarter put Oregon State up 46-31. The Sun Devils were held scoreless for nearly 6 minutes during the surge.
''At halftime, we just talked about increasing our intensity defensively, challenging a little bit better than we did,'' Rueck said.
Oregon State shot 58.1 percent, compared to 30.9 percent for Arizona State. The Beavers also outrebounded Arizona State 34-23, but committed 18 turnovers that led to 16 points for the Sun Devils.
Arizona State scored the first six points of the game, but Oregon State responded to tie it 10-all at the 4:37 mark thanks to Weisner, who made a 3-pointer and two driving layups. The first quarter ended tied at 12.
The Beavers went on a 7-0 run in the second, and Gabriella Hanson's layup gave Oregon State a 25-19 lead with 5:34 left in the first half.
Oregon State led 31-29 at the break.
Just before the third-quarter buzzer, another 3 by McWilliams put the Beavers ahead 49-35.
Oregon State led by as many as 25 in the fourth.
TIP-INS
Arizona State: The Sun Devils' No. 8 ranking matches their highest in the AP poll. ... Arizona State entered 18-1 in its last 19 true road games.
Oregon State: It was the first top-10 women's basketball matchup in Gill Coliseum. ... Oregon State has given up just seven 3-pointers in its last five games.
STARTING FIVE
Because of injuries to Wiese, absent for eight games due to a hand injury, and Weisner, who missed the previous game, Oregon State hadn't fielded its regular starting lineup since Dec. 19. ''To have our starting five back together again was comforting, and it was inspiring, and it was great to watch,'' Rueck said.
HOME COURT
The Beavers are 22-1 in their last 23 Pac-12 home games, and 38-4 at Gill Coliseum since the start of the 2013-14 season.
UP NEXT
Arizona State hosts UCLA on Friday.
Oregon State plays at Washington on Friday.
---