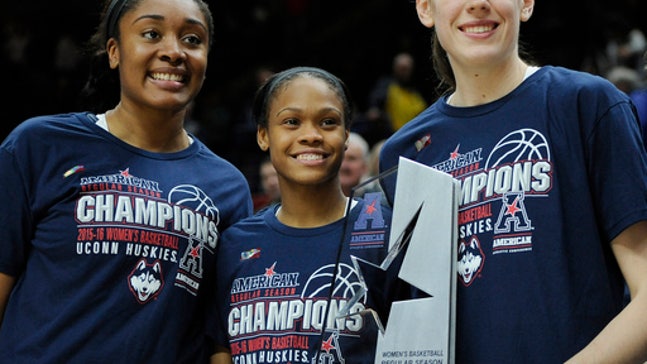 UConn's Stewart, Tuck and Jefferson looking to make history
Published
Mar. 16, 2016 11:23 p.m. ET

STORRS, Conn. (AP) UConn's recruiting class in 2012 came to Storrs with very high expectations.
The trio of Breanna Stewart, Morgan Tuck and Moriah Jefferson already have exceeded most of those and on Saturday began the NCAA Tournament hoping do something no other college players have ever done - play on four straight national championship teams.
UCLA's men won seven straight from 1967 to 1973, but back then, freshmen could not play.
UConn coach Geno Auriemma jokes that when the trio now known as ''The Big Three'' first arrived on campus, he wasn't sure they should play as freshmen either.
Stewart, he said, had unbelievable talent, but was often lackadaisical, because things were too easy for her. Jefferson, he said, had no grasp of running an offense. Her idea of playing point guard, he said, was to run at full speed until she ran into something.
Tuck was the best of the three in practice, but that didn't always translate to games.
Little by little, he said, they began to gel.
''Obviously they got close,'' he said. ''Each and every one of them got a little bit better and they started to kind of read each other, play off each other, encourage each other and they just have this tremendous self-confidence right now in themselves and in each other as a group.''
Their numbers have been unmatched. They have combined for 5,194 points, 2,015 rebounds, 1,283 assists, 633 steals and 228 blocked shots.
They have lost just five times in four years and have won 69 straight games, all by double digits. They also have won 18 in a row in the NCAA Tournament. If they go on to win a fourth straight national championship, they will break the record for wins by any single class at any Division I women's program with 151. Maya Moore's UConn class, which graduated in 2011, had 150 wins.
''To come in with those two guys and do what we've done is amazing,'' Jefferson said. ''We just want to keep it going on Saturday and every game after that.''
The trio knew each other from playing together on USA basketball squads before they came to UConn. But Tuck said they began to develop chemistry and close friendship in the summer before their freshman year, when they first began living together and went through the transition from high school.
''It was kind of bound to happen, because we were here and we get along with each other,'' Tuck said.
It also helps, Stewart said, that Tuck and Jefferson have never been jealous over the attention she has received as a two-time national player of the year.
They all know, she said, they would not have had their individual successes without each other.
The would like to go out together on top, but there is a caveat.
Tuck could win a fifth title. She's was granted an extra year of eligibility after missing all but eight games during her sophomore season with a knee injury. But, she's also projected to be a top five pick in the WNBA draft. She has said she will make a decision on whether to turn pro when the season ends.
Stewart said none of them expect that to happen before April 5th in Indianapolis.
''The three of us came here for a reason,'' she said. ''We could have gone to some other school. But we came here because we wanted to become great and we wanted to win and to win national championships.''
---