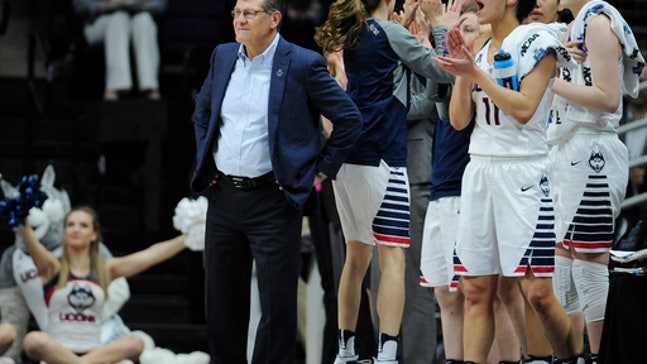 TIPPING OFF: UConn and Notre Dame cruise in NCAA openers
Published
Mar. 20, 2016 3:49 a.m. ET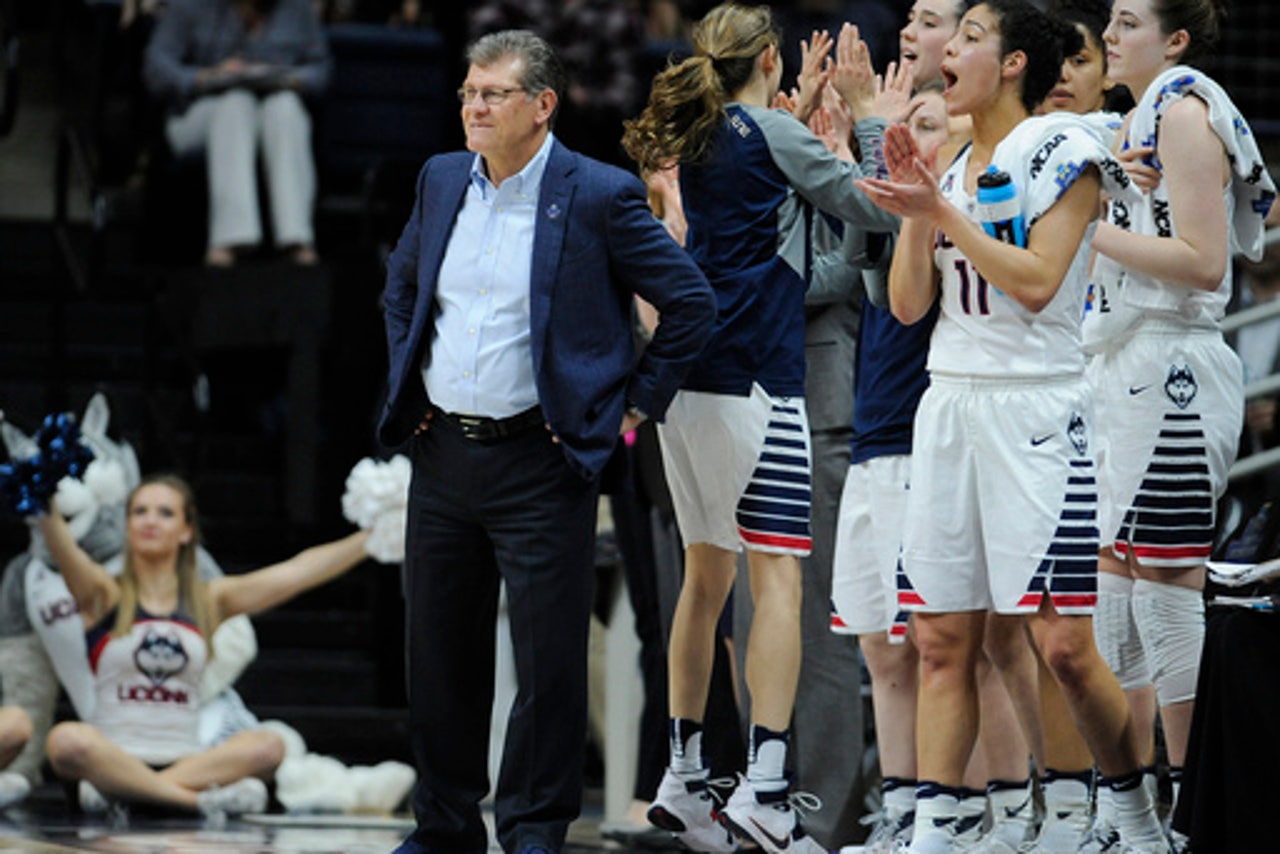 The first round of the women's NCAA Tournament is in the books and it went mostly as expected.
Top seeds UConn, Notre Dame, South Carolina and Baylor cruised to easy victories while a pair of 12 seeds provided upsets.
It didn't take the Huskies very long to show why they're the best team in the country.
The Huskies built a 30-point lead on Robert Morris before most of the fans had really settled into their seats Saturday morning. UConn went on to win by 52 points for the team's 70th consecutive victory.
''This team is pretty locked in,'' UConn coach Geno Auriemma said. ''They are pretty focused on what we are trying to do, what the task ahead of us is.''
Here are some other tournament tidbits from Saturday.
MAKING MISTAKES:
Texas A&M says Courtney Williams and Shlonte Allen have been suspended indefinitely for violating team policy. Word of the suspensions came Saturday just before the fourth-seeded Aggies played Missouri State in the opening round of the women's NCAA Tournament.
Williams is the team's second leading scorer, averaging 12.5 points and 4.8 rebounds. The senior guard started 25 games this season. Allen played in 19 games, averaging 2.2 points.
Even without the pair, the Aggies won by nine points. Coach Gary Blair said they wouldn't play in the second round game on Monday against Florida State.
---
GRABBING BOARDS: Texas A&M freshman Anriel Howard set an NCAA Tournament record with 27 rebounds in the win. She credited her success on the boards to wanting to play hard for her mother on a special day.
''About 10 years ago my mom, she was in the hospital, and her line was flat,'' Howard said. ''So March 19th has always been a day for sacrifice and accomplishment with her and I, and a lot of other things have happened on March 19th. That one, of course, is the one that sticks out the most, and I just really did it for her. I didn't know I had it in me, but I played really hard for her, and I'm glad I could get the accomplishment for her.''
Howard tied the record set by Cheryl Taylor in 1985
---
DIRTY DOZEN: South Dakota State became the latest 12-seed to win its opening round game. It's the third time in four seasons that a 12 has upset a 5-seed. However this is the first time since 2009 that two different 12 seeds were victorious as Albany upset Florida on Friday. In 2013, Kansas advanced to the Sweet 16. A year later, BYU did it.
---
FLEXING THEIR MUSCLE: The Power-5 conferences went 25-5 in the opening round with the SEC leading the way with 7/8 victories. The Pac-12 had the best percentage, going 5 for 5 in the opening round with Oregon State, Arizona State, Washington, Stanford and UCLA all advancing.
---
HOOSIER HYSTERIA: It was a great day for Indiana. The women's team advanced out of the opening round for the first time since 1983 with a 62-58 win over Georgia. The Hoosiers were making their first appearance in the NCAA Tournament since 2002. Their reward? A game with Notre Dame in the second round. That happened a few hours after the men's team knocked off Kentucky, marking the first time that both teams won an NCAA game on the same day.
---
SEEN AUBURN A LOT
While Auburn and Baylor are playing for only the second time ever, Lady Bears coach Kim Mulkey has already faced the Tigers five times in the NCAA Tournament.
''I've got a history with Auburn,'' Mulkey said, referring to the time before Auburn was the last unranked opponent to beat Baylor at home 13 years ago.
Mulkey was Louisiana Tech's point guard in 1983 for a win over Auburn in the second round of the NCAA Tournament.
She was an assistant coach for the Techsters in a win over Auburn for the 1988 national championship, and losses to the Tigers in national semifinal games each of the next two seasons after that. The Techsters beat Auburn in a second-round game in 1997.
---
SAME SWEET 16s, BUT DIFFERENT
Baylor and Auburn have both made 10 trips to the Sweet 16. But the Tigers have only once had to win two games to get that far - in 1996, their last appearance.
That was two years after the women's bracket expanded to 64 teams.
Auburn had a first-round bye for each of its Sweet 16s before then, while all of Baylor's have come since expansion.
---
WHAT'S BETTER, OFFENSE OR DEFENSE?
The second round game between fourth-seeded Michigan State and No. 5 seed Mississippi State should highlight the difference in styles between the Big Ten and Southeastern Conference.
Michigan State comes into the game averaging about 76 points per game, which ranks fifth in the Big Ten. That total would be second in the more defensive-minded Southeastern Conference.
Mississippi State gives up about 54 points per game, which ranks second in the SEC.
''You can compare it in baseball to good pitching versus good hitting,'' Mississippi State coach Vic Schaefer said. ''There are a lot of philosophies about which one of those wins.''
Both teams will likely lean on their star players. Michigan State's Aerial Powers led the Spartans with 27 points in a first-round win against Belmont. Mississippi State's Victoria Vivians scored 19 in her team's win against Chattanooga.
---
AP Basketball Writer Stephen Hawkins in Waco, Texas, and Sports Writer David Brandt in Starkville, Mississippi, contributed to this report.
---