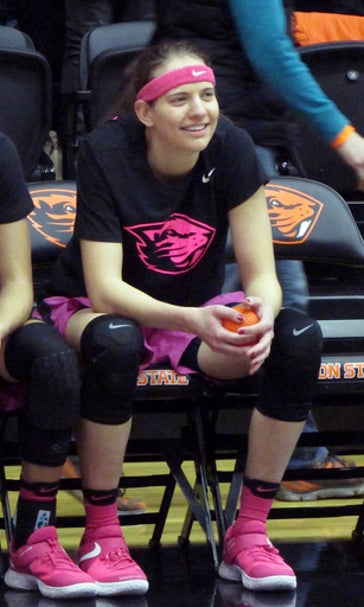 Oregon State's Sydney Wiese wrapping up legacy-making career
February 22, 2017

CORVALLIS, Ore. (AP) Four years ago, Sydney Wiese put her trust in Oregon State coach Scott Rueck. She's never once doubted the decision.
''Coach Rueck had the vision of doing something that had never been done at Oregon State before. And I had faith, with his character and the way he was handling the recruiting end, that it would be possible,'' Wiese said. ''It was definitely a leap of faith but I wanted to be part of something special - and that's definitely what it has been the past few years here.''
Weise is playing out the final season of a legacy-making career for the Beavers. She has been a constant in recent years as the team has enjoyed a dramatic rise as one of the nation's elite.
In December, she passed Stanford's Candice Wiggins to claim the Pac-12 record for career 3-pointers and she currently has 352 to rank 18th on the NCAA's all-time list. She more recently passed Leilani Estavan's school record for career assists with 592 and climbing. She's seventh in school history with 1,696 career points.
The 10th-ranked Beavers (25-3, 14-2) close out the regular season this weekend at home with games against Stanford and California. Oregon State is tied with the No. 8 Cardinal atop the conference standings.
After the conference tournament the following week, Oregon State will likely host first-round NCAA Tournament games as the team looks to improve on last season's Final Four run.
When Oregon State hired Rueck in 2010, the Beavers had seen a mass exodus of players from a team that dropped 17 straight games the previous season. He was left to build a Division I roster nearly from scratch and held open tryouts with the promise of walk-on status and a chance at earning a scholarship down the road.
The Beavers' climb was steady and in 2014 - Wiese's freshman year - the team reached the NCAA Tournament for the first time in 18 years. After finishing a then-school record 13-5 in Pac-12 play, the Beavers were runners-up in the conference tournament and advanced to the second round in the Big Dance.
The next season, Oregon State popped into the AP Top 25 for the first time since 1996, won the Pac-12 regular-season title to end Stanford's string of 14 seasons with at least a share of it, and again advanced to the second round in the NCAAs.
Last year, the Beavers collected a first-ever conference tournament championship, and, of course, that first Final Four appearance.
Wiese grabbed Rueck's attention at Pinnacle High School in Phoenix. She fell in love with Corvallis and started as a freshman. The next year, it became clear to her that Rueck's ''vision'' was turning into reality.
''I think my favorite moment was the first time we won the Pac-12 regular-season championship. It was on our home floor, it was my sophomore year and it was senior day for Ali Gibson, who was the lone senior at the time,'' she said. ''Just to be able to get that win on our floor in front of our amazing fans - it was crazy and it was loud. There were balloons and confetti, and it really felt like we were on track.''
The Beavers' progress has been incremental but striking. When Wiese was a freshman, the team was more likely to be rattled by little things. Now they are much more consistent.
''We've had to learn these lessons throughout the years - that you stay composed, you stay poised, and you stick to what the game plan is. You do that, and you'll be put in position to be successful,'' she said. ''You might not win every game, but you'll be in control.''
Behind the scenes, probably the thing that stands out most is that they're all good friends. Last season they binge-watched the TV series ''Grey's Anatomy.'' This season they have gone to the movies together a few times a month. Two summers ago, Wiese held the hand of teammate Breanna Brown as she was baptized.
The Beavers lost two key players from their Final Four team - Ruth Hamblin and Jamie Weisner - and expectations weren't as high this season. But Oregon State has proven any doubters wrong.
''Sydney has really developed into a bona fide All-American player. Her 3-point shooting, her passing, size, poise, IQ, leadership and defense,'' said Stanford coach Tara VanDerveer, who has watched Wiese develop over four seasons. ''She is the heart and soul of the OSU team. This year she is more impressive without Weisner and Hamblin.''
Wiese said the team is using the loss of Hamblin and Weisner as motivation, showing that Oregon State has enough pieces and enough depth to be just as good - not just this season but going forward.
Likewise, Wiese said she hopes she leaves the team in a better place than when she arrived.
''This place has become my home,'' she said. ''This is family to me. I am so thankful and blessed that this is the foundation for my life going forward.''
---
This story has been corrected to show Wiese was a freshman when Oregon State returned to the Tournament.
---