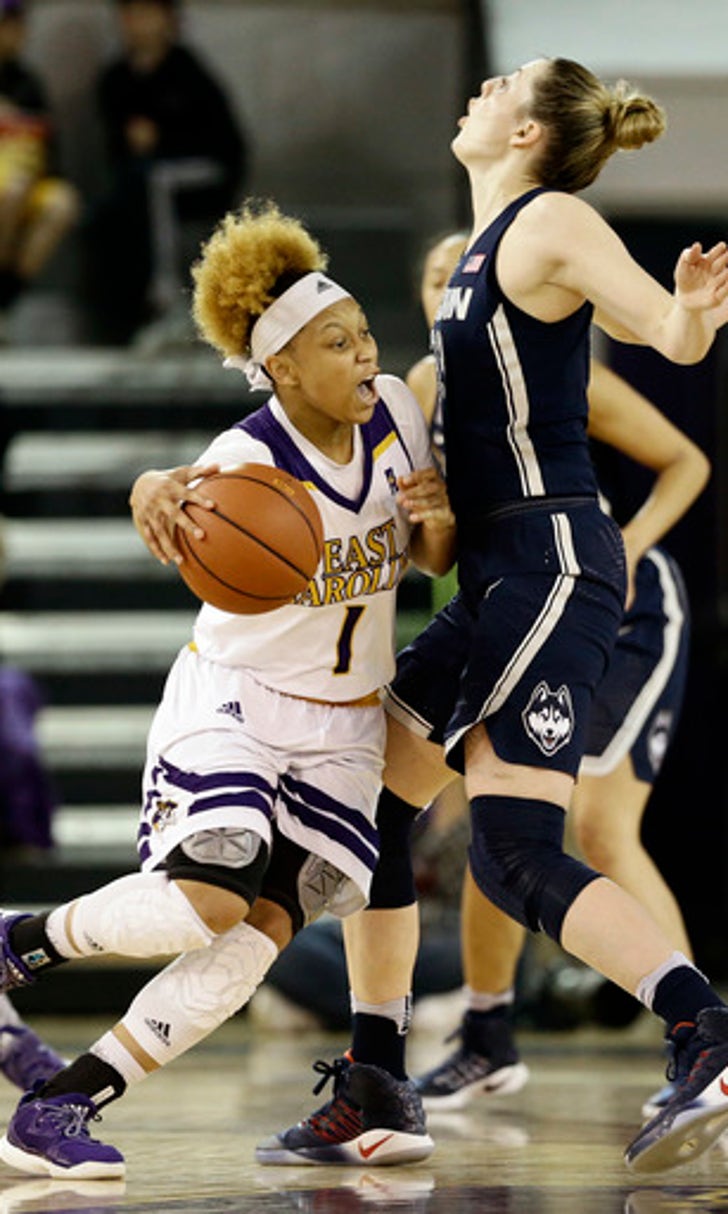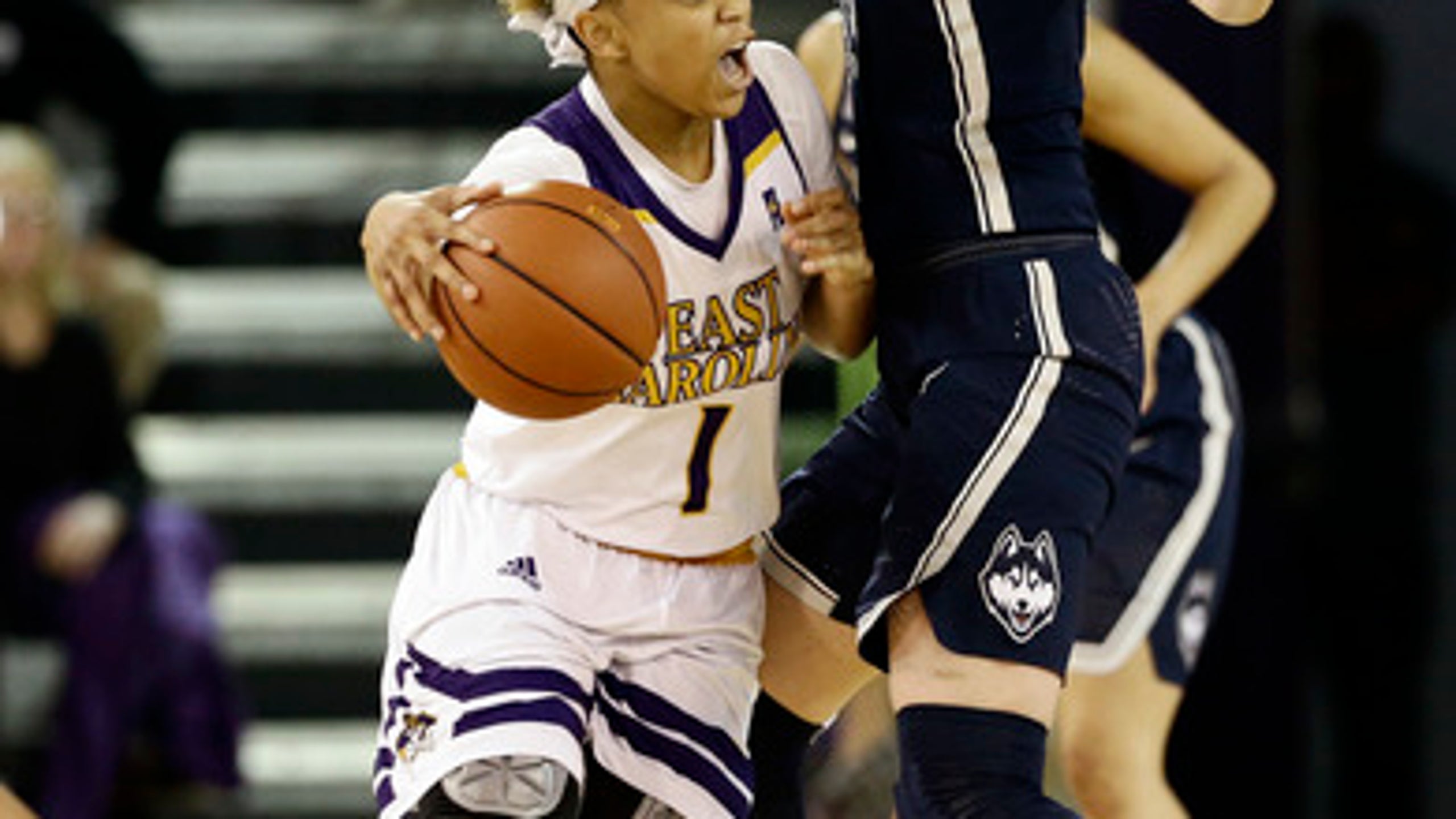 No. 1 UConn women rout ECU 91-44 for 34th straight road win (Jan 24, 2017)
BY AP • January 24, 2017
GREENVILLE, N.C. (AP) For UConn's Gabby Williams, the best part of her milestone was that it involved helping a teammate reach one, too.
Williams had a triple-double and the top-ranked Huskies extended their NCAA-record winning streak to 94 games by beating East Carolina 91-44 on Tuesday night.
Williams finished with 16 points and tied career highs with 16 rebounds and 10 assists in the fifth triple-double in program history. One of those assists set up a milestone for Kia Nurse.
''It wasn't just like I got a triple-double - everybody got a triple-double,'' Williams said. ''Kia got her 1,000th (career) point so that was a win for everybody tonight. And I think that's how we look at things. None of these accolades are individual.''
It helped the Huskies (19-0, 7-0 American Athletic Conference) match their record of 34 consecutive road victories, a mark the four-time defending national champions first set from 2000-04. They can break it Feb. 1 at Temple.
''It's difficult to do it over and over and over again because of the variables that go into traveling,'' coach Geno Auriemma said. ''We just played Sunday, and today's Tuesday, and we don't have a very deep team, so a lot of things can go sideways when you're on the road and you don't know how your kids are going to react.''
Katie Lou Samuelson finished with 20 points and Napheesa Collier added 16 for UConn, which never trailed and outscored East Carolina 45-20 in the second half.
Kristen Gaffney had 13 points to lead the Pirates (10-11, 1-7). Their 22 turnovers turned into 33 points for UConn, and they've lost five straight and eight of nine.
The Huskies haven't lost on an opponent's home floor since they fell at Stanford in overtime in 2014 and haven't been beaten on the road by an unranked opponent since Arizona State did it in 2004.
Nurse finished with 15 points for UConn.
BIG PICTURE
Connecticut: Before Williams stole the show with her triple-double, the key individual subplot was whether Samuelson would score 29 points and break the UConn record she already shared with Maya Moore for most points in a three-game stretch. Samuelson had matched Moore's record of 94 in her last three games, a stretch that included 34 points against Tulsa and 32 against Tulane.
East Carolina: The Pirates haven't hung closer than 41 in any meeting with UConn, so they took their small victories where they could find them. East Carolina can brag about that second quarter in which it shot 70 percent, trimmed a 21-point deficit to 12 and held UConn without a field goal for more than 6 minutes.
''I like how some of the young ones really competed ... but again, the gap is very large,'' East Carolina coach Heather Macy said. ''We've got to keep attacking, closing that gap, and that doesn't just happen on gameday.''
HUSKY LULL
The Huskies were in danger of being outscored in a quarter for the first time in nearly a month during East Carolina's strong second period that included UConn's field-goal drought. The Pirates had outscored them 15-12 in the final minute before Collier converted a three-point play with 33.3 seconds left and Nurse hit a corner 3 with less than 5 seconds before the break.
''The game got very physical'' in the second quarter, Auriemma said. ''I thought we didn't handle it very well. ... That happens. I'm surprised it doesn't happen more often.''
UP NEXT
Connecticut: The Huskies aim for consecutive victory No. 95 on Saturday when Houston visits the XL Center.
East Carolina: The Pirates look to snap their losing streak on Jan. 31 when they visit Tulsa.
---
Follow Joedy McCreary at http://twitter.com/joedyap.
---
More AP college basketball: www.collegebasketball.ap.org and https://twitter.com/AP-Top25.
---
---