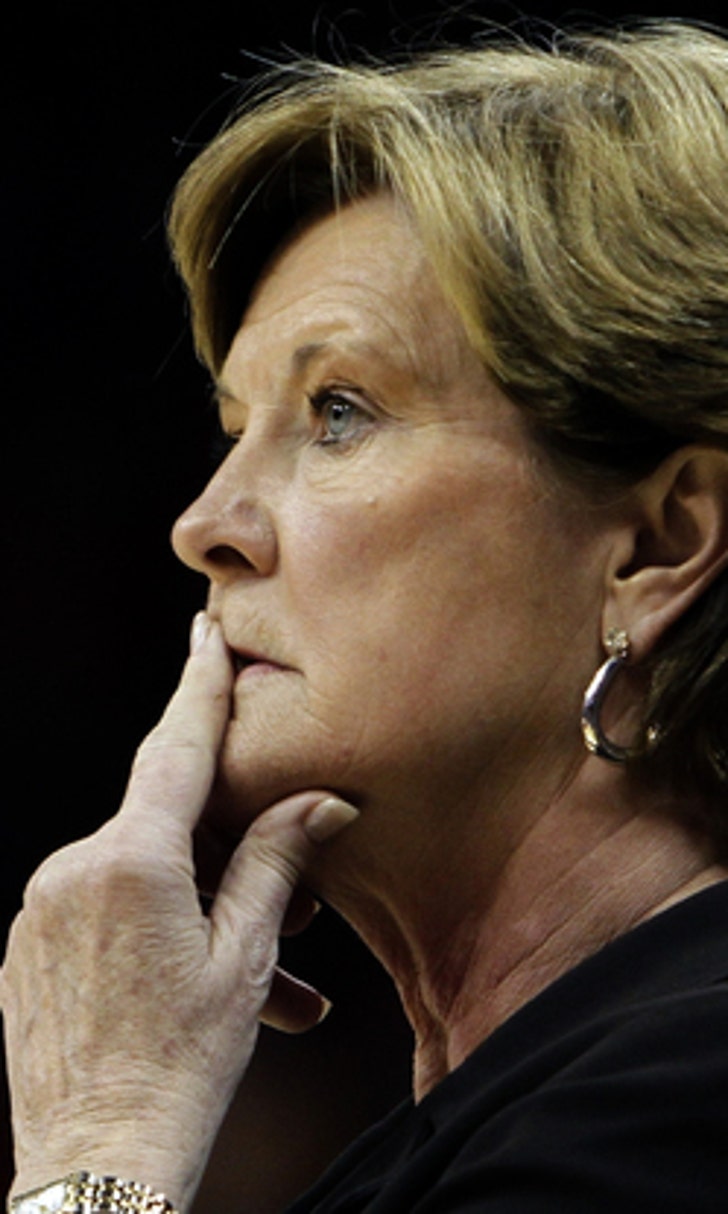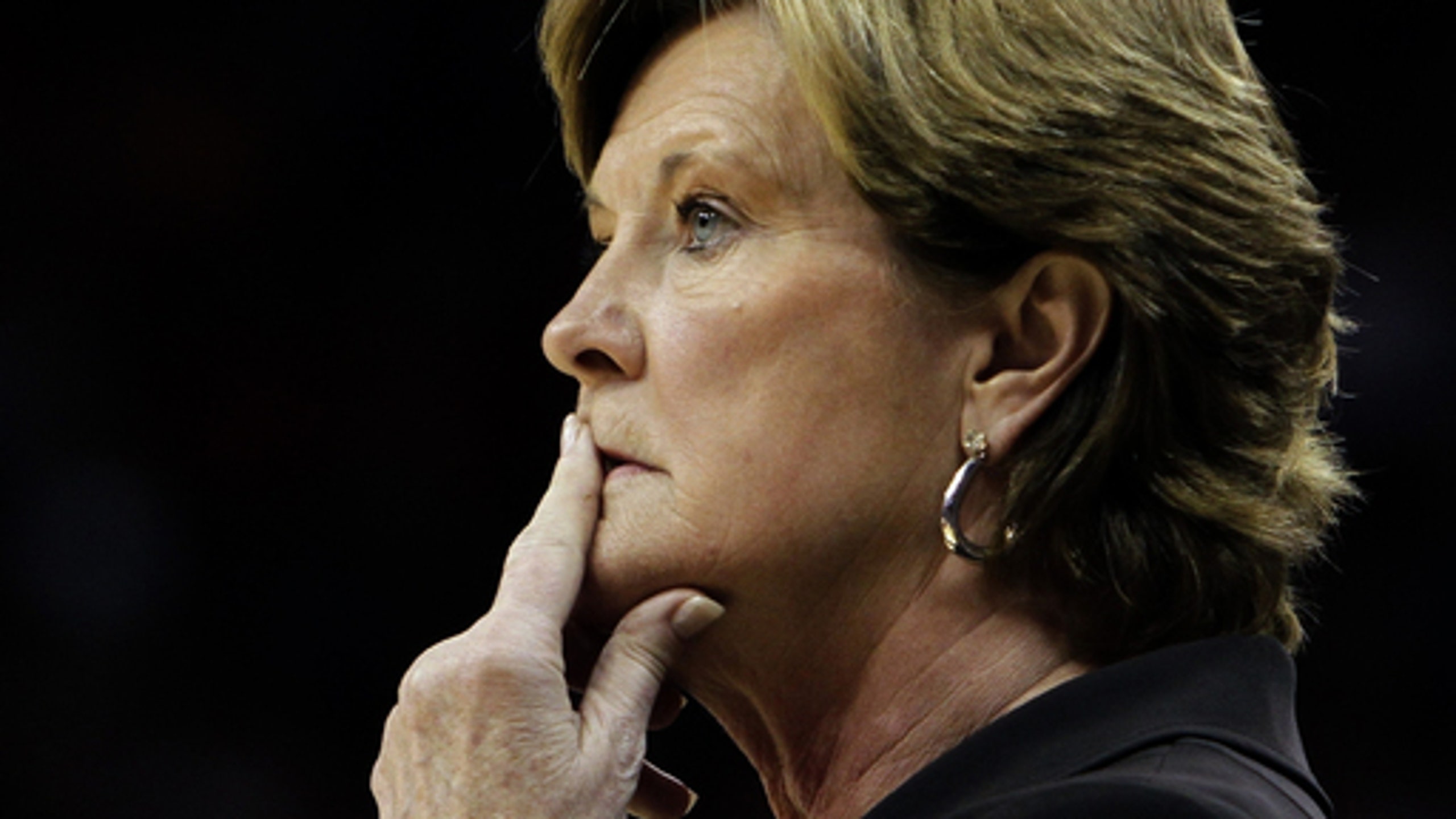 Lady Vols not alone this season in honoring Pat Summitt
BY AP • January 15, 2017
KNOXVILLE, Tenn. (AP) Tributes to former Tennessee women's basketball coach Pat Summitt in the season after her death are taking place at the program she built into a national power and on other campuses across the country.
Harvard, Kentucky, Vermont and Division II program Metropolitan State of Denver are among the women's basketball teams that have joined Tennessee in wearing commemorative patches on their uniforms to honor one of their game's greatest ambassadors . Summitt died June 28 at the age of 64 after battling early-onset dementia, Alzheimer's type.
Vermont coach Chris Day said it was an obvious decision.
''To be honest with you... we all should be doing it,'' Day said.
Summitt led Tennessee to eight national titles before stepping down in April 2012, one year after announcing her diagnosis. She spent the rest of her life leading the fight against Alzheimer's through contributions that included the development of her foundation and the establishment of the Pat Summitt Alzheimer's Clinic that opened last month at the University of Tennessee Medical Center. A ribbon-cutting ceremony for the clinic was held Sunday.
Tennessee hosts No. 6 Notre Dame on Monday as part of the Southeastern Conference's ''We Back Pat'' week that raises awareness of the Pat Summitt Foundation. As it has done for every home game, Tennessee will leave a chair on its bench vacant except for a strip of tape with the word ''Summitt.''
''I have a tendency to look at the chair every once in a while,'' said Tennessee coach Holly Warlick, who played for Summitt and worked as an assistant coach on her staff for 27 seasons. ''It's a visual for me just to understand where I am, what I'm doing and kind of what I'm doing it for.''
But the tributes to Summitt have extended far beyond Tennessee. Not only are a few schools wearing commemorative patches, but many high schools and colleges have conducted their own ''We Back Pat'' games to raise Alzheimer's awareness.
''It's incredible, and really I say that as a fan more than anything else,'' said Patrick Wade, the director of the Pat Summitt Foundation. ''It's just special anytime you see any kind of testimonial from someone outside our area code. You're just reminded constantly of how highly people think of who Pat was.''
Some of the schools wearing commemorative patches have ties to Summitt.
Kentucky coach Matthew Mitchell worked as a graduate assistant for Summitt at Tennessee. Metropolitan State head coach Tanya Haave and Kentucky assistants Niya Butts and Kyra Elzy played for Summitt's Tennessee teams. Kentucky assistant Lin Dunn and Summitt are both Women's Basketball Hall of Famers and Tennessee-Martin graduates.
Vermont and Harvard don't have such connections to Summitt but chose to honor her anyway.
''I am just a big believer in role modeling and mentorship and pioneers,'' Harvard coach Kathy Delaney-Smith said. ''She was one of our best - if not our best.''
Another tribute to Summitt could have a particularly lasting impact.
Elzy, whose grandmother died of Alzheimer's disease, started the ''SEC Win Challenge " project to benefit the Pat Summitt Foundation during the 2012-13 season while working as an assistant on Tennessee's staff.
During the first year of the project, she and her husband donated $50 to the foundation for every win the Lady Volunteers earned in SEC competition. The next year, she increased the contribution to $100 for every SEC win. All the while, Elzy encouraged fans to make their own contributions to Summitt's foundation.
Now that she's at Kentucky, Elzy is continuing the practice by donating $100 for every SEC win Kentucky earns. She increases the total to $200 per win for the SEC and NCAA tournaments.
Wade said the project has raised over $75,000. Wade added that Mitchell already has pledged to donate $2,000 to the foundation for each of Kentucky's SEC wins this season. Fans have been encouraged to donate money for however many conference wins their own favorite SEC team earns, whether it be Tennessee, Kentucky or anyone else.
''It's bigger than just Tennessee because Coach Summitt is a national icon and figure,'' Elzy said. ''With what she brought to the women's game - the exposure that she brought it - and the classiness she had (that was) second to none, people want to honor her as a person and as a coach.''
---
---