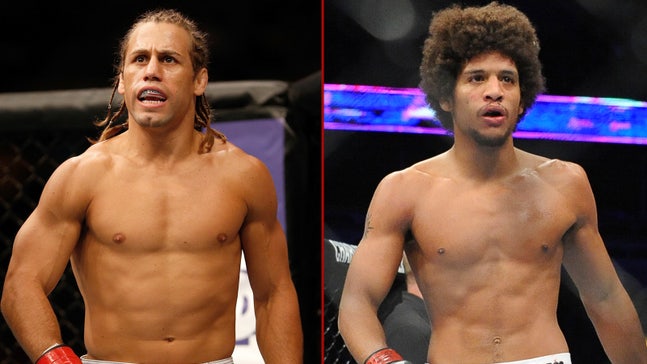 Urijah Faber vs. Alex Caceres added to UFC 175
Updated
Mar. 4, 2020 7:24 p.m. ET

Urijah Faber has run through so many of the UFC's bantamweights that matchmakers have had to get a little creative to find his next booking.
Or, it seems, Faber and the rest of the division might have done the job for them.
After calling out Faber on social media through Twitter, Alex Caceres has been given a bout with him at UFC 175. 
The UFC confirmed the matchup, which was first reported by ESPN.com.
From a strictly sporting standpoint, it was not an obvious pairing. While Faber is still ranked as the top contender in the division behind champ Renan Barao, Caceres is relatively far behind at No. 13.
Yet when UFC Tonight's Ariel Helwani reached out to Faber just before the bout was officially booked, the "California Kid" eagerly said that he was interested in the pairing.
For one thing, Faber, who last fought at February's 169, losing to Barao, wanted to fight on the big Independence Day weekend card. But for another, he's already squared off with a lot of the other names between himself and Caceres in the division, including No. 2 Raphael Assuncao, No. 3 Michael McDonald, No. 5 Eddie Wineland and No. 7 Iuri Alcantara. 
A move up in opponent caliber represents a fairly large gamble for Caceres (10-5, 1 no contest), who would be riding a five-fight win streak if not for a positive marijuana test that overturned a victory. Still, he hasn't lost in over two years.
"I think a guy like Faber let's him know where he's at," Caceres' manager Malki Kawa told Helwani earlier Wednesday. "Everyone in the top 10 is tough. We know he's one of the greatest of all time. So does Alex fight someone like Michael McDonald, who's just as tough and good but not as big of a name, or do we fight Faber right now and see where he's at? He would really like a test. Why not fight one of the pound-for-pound best?"
The UFC 175 event is set for July 5 in Las Vegas. Chris Weidman and Lyoto Machida headline the show, while Ronda Rousey vs. Alexis Davis takes the co-main event slot and Chael Sonnen and Wanderlei Silva's feud finally reaches its end as well. 
---
---