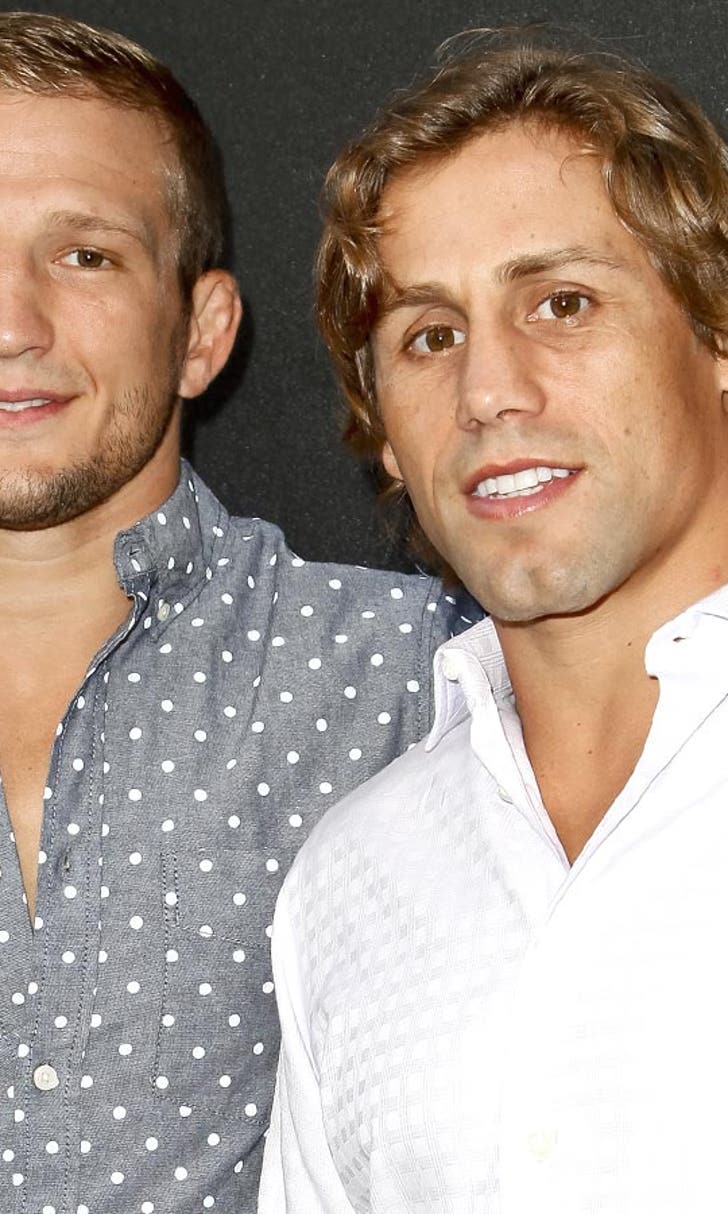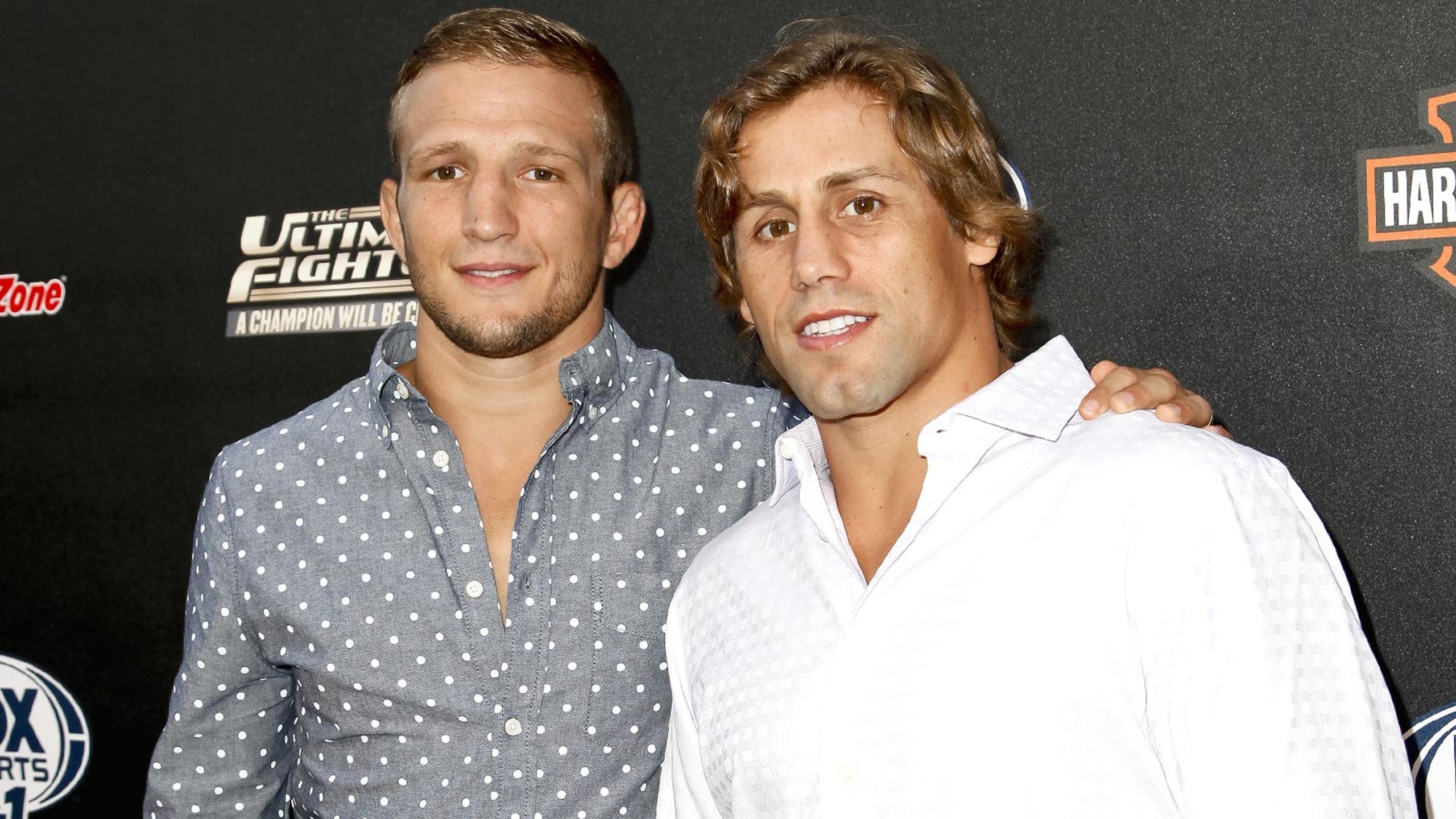 Urijah Faber 'rooting' for TJ Dillashaw to win, hopes to take the title from him
BY Damon Martin • January 15, 2016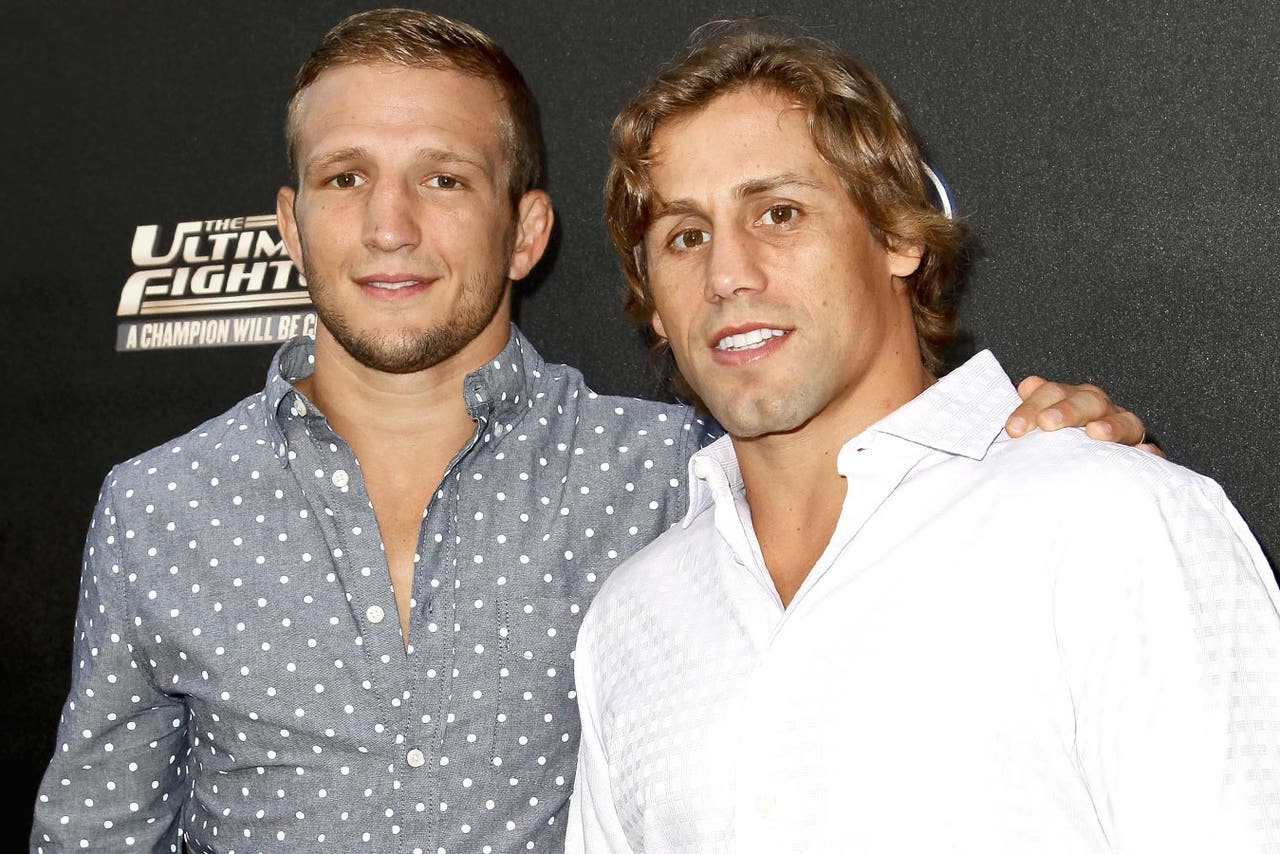 Urijah Faber may no longer count UFC bantamweight champion TJ Dillashaw among his teammates or closest friends, but he'll still be cheering him on cageside when he attends UFC Fight Night in Boston this Sunday.
Dillashaw split with his former camp at Team Alpha Male just recently to begin training full time in Colorado under head coach Duane "Bang" Ludwig as well as the Elevation Fight Team in Denver.
The breakup between Dillashaw and Team Alpha Male definitely left a bad taste in Faber's mouth over the way it all played out, but ultimately he still looks at the champion as a product of their system, and he'd like to see him beat Dominick Cruz this weekend.
"I'm definitely rooting for TJ," Faber told FOX Sports this past Monday. "You can't erase the fact that he's a product of our team. We're actually sending out Justin Buchholz in his corner to help make sure the job gets done. If you look at it from a pure financial standpoint, that's a fight people want to see and that's the reality of things. He came from diapers to a world championship under our banner.
"We have an amazing system, a system built on tradition and TJ's a product of that. So we're proud of that. This will be the last time that we send someone out to his corner. Justin will be out there to hopefully calm the nerves of Duane Ludwig, who's a nervous mess in the corner. That guy would probably pass out or crap himself is he's not medicated properly in the corner. It's got to be a little unnerving for TJ going in there with a new team, but hopefully he gets the job done and we can have a big fight. I'll take the belt from one of my own."
Faber knows that he's likely in line for the next title shot regardless of the outcome in Sunday's main event because he has history with both men.
Faber has split two fights with Cruz in the past and the two engaged in one of the most heated rivalries in the history of the division, which was supposed to culminate in a third fight until the former champion suffered a torn ACL in his knee and it scrapped the matchup all together.
Obviously, Faber has plenty of history with Dillashaw as well, although he promises that he holds no ill will towards his former teammate despite statements he's heard to the contrary.
"It's not me who's calling him a snake in the grass," Faber said. "It's all the people who have seen the story and Conor McGregor and it's not my fault this guy's getting called out on his actions. I didn't have anything to do with that. All I did was try to help the guy.
"If you ask him if I've done anything from the very beginning of his career until him leaving the team that wasn't to help him, he would be straight lying in your face. From helping lobby to get him big fights to helping him to get better with technique, whatever his animosity, it's just to make himself feel better about the way he approached things."
Regardless of the fallout, Faber knows Dillashaw very well and that's a big part of the reason he believes he'll get the job done against Cruz this weekend.
Dillashaw has been on a tear lately winning three title fights in a row, including two stoppage victories over former champion Renan Barao. Faber knows better than almost anybody how tough Cruz can be inside the Octagon, but he just sees Dillashaw as the superior fighter and he'll prove it when they meet.
"Cruz is a crafty guy, the myth that he's impossible to hit is just that -- it's a myth. He gets hit all the time. I hit him with a bunch of good shots, both times I fought him I rocked him," Faber said. "I think the whole footwork, etc. gets talked about and talked about because they need something to talk about because it sure isn't about him finishing anybody. I think it's a tough fight, it's a difficult fight but TJ's been preparing for this for a long time. He's mentally fought Cruz a bunch of times. He's mentally seen Cruz a bunch of times because we've fought him for over 17 rounds at Team Alpha Male. It's a fight that's going to be tough but I think TJ is going to pull it off.
"We did see Cruz get his first finish of all time in his last fight under the Zuffa banner. That's a positive sign that maybe he's going for the kill instead of going for points, but that could get him in trouble with the right guy. Who knows because I haven't seen TJ preparing over the last two months but I think he's got what it takes."
When the fight is over on Sunday night, Faber hopes to get the official offer to face the winner for the title later this year.
Considering Faber is picking Dillashaw to win as well as rooting for him to pull it off, it's clear "The California Kid" is already thinking about facing his former friend and teammate with the championship on the line.
And he's ready for it.
"I put that fight aside for friendship. That was the reason why back in the day. Really that friendship to me is not the friendship it used to be so that's off the table and I'm in the hunt for the title and that's great," Faber said.
"He's not one of my guys. In fact, we're going to be enemies when we step inside that cage."
---
---