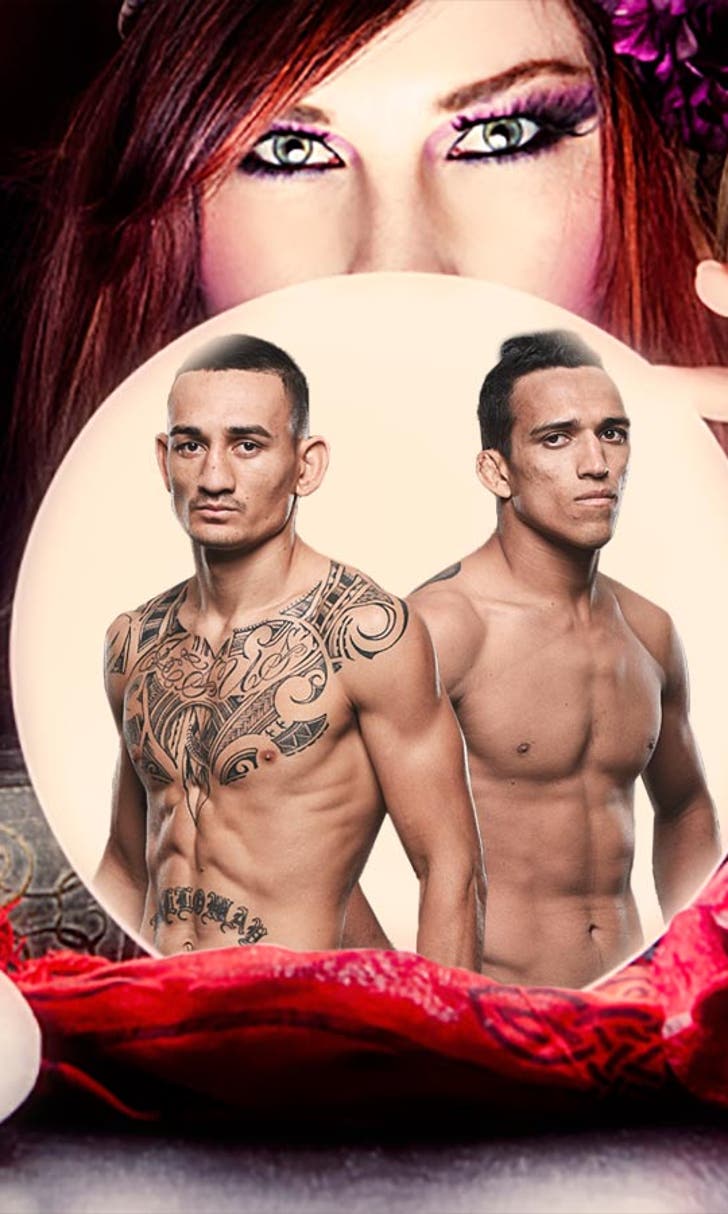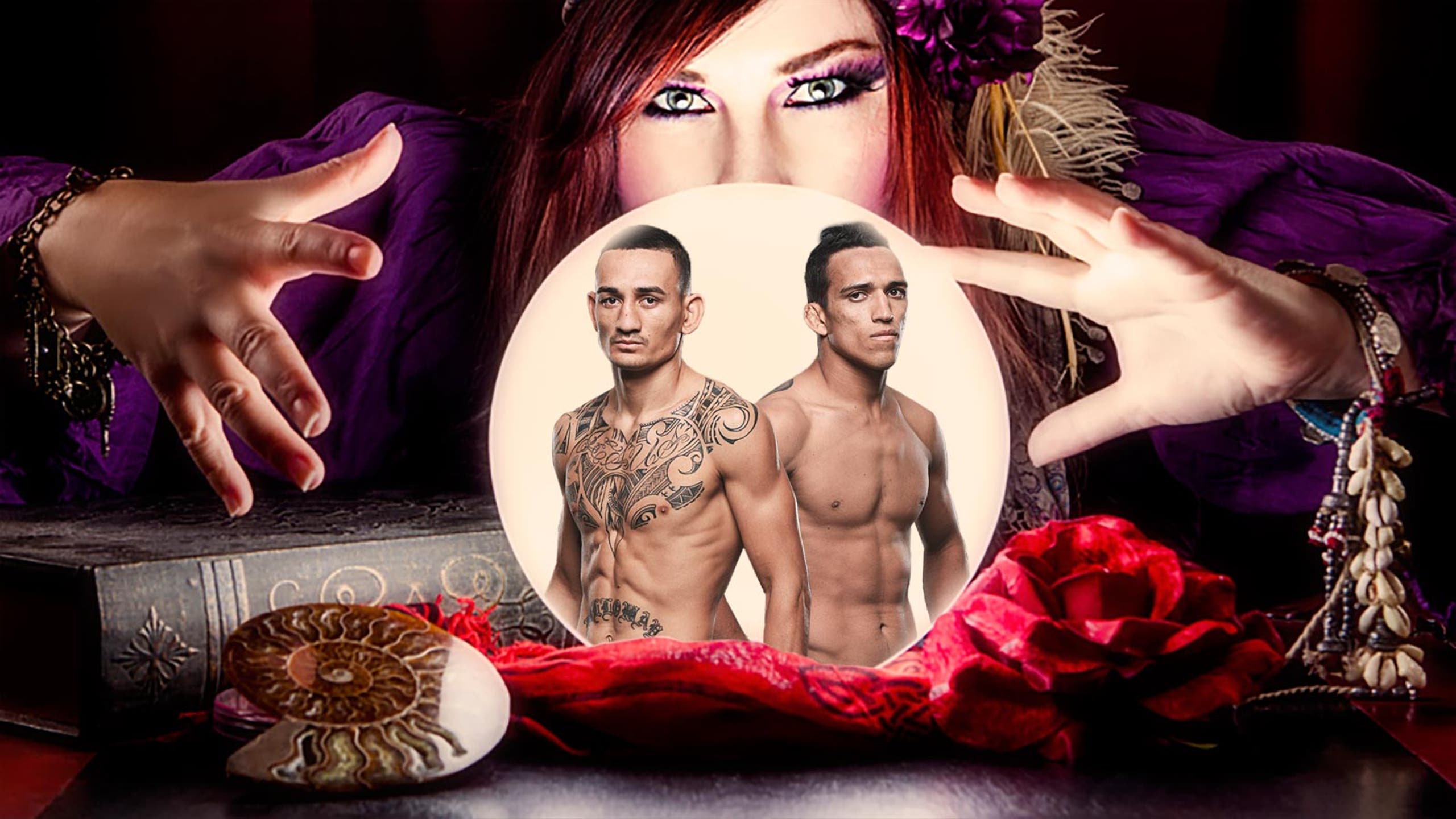 UFC Fight Night: Holloway vs. Oliveira Crystal Ball Predictions
BY Elias Cepeda • August 20, 2015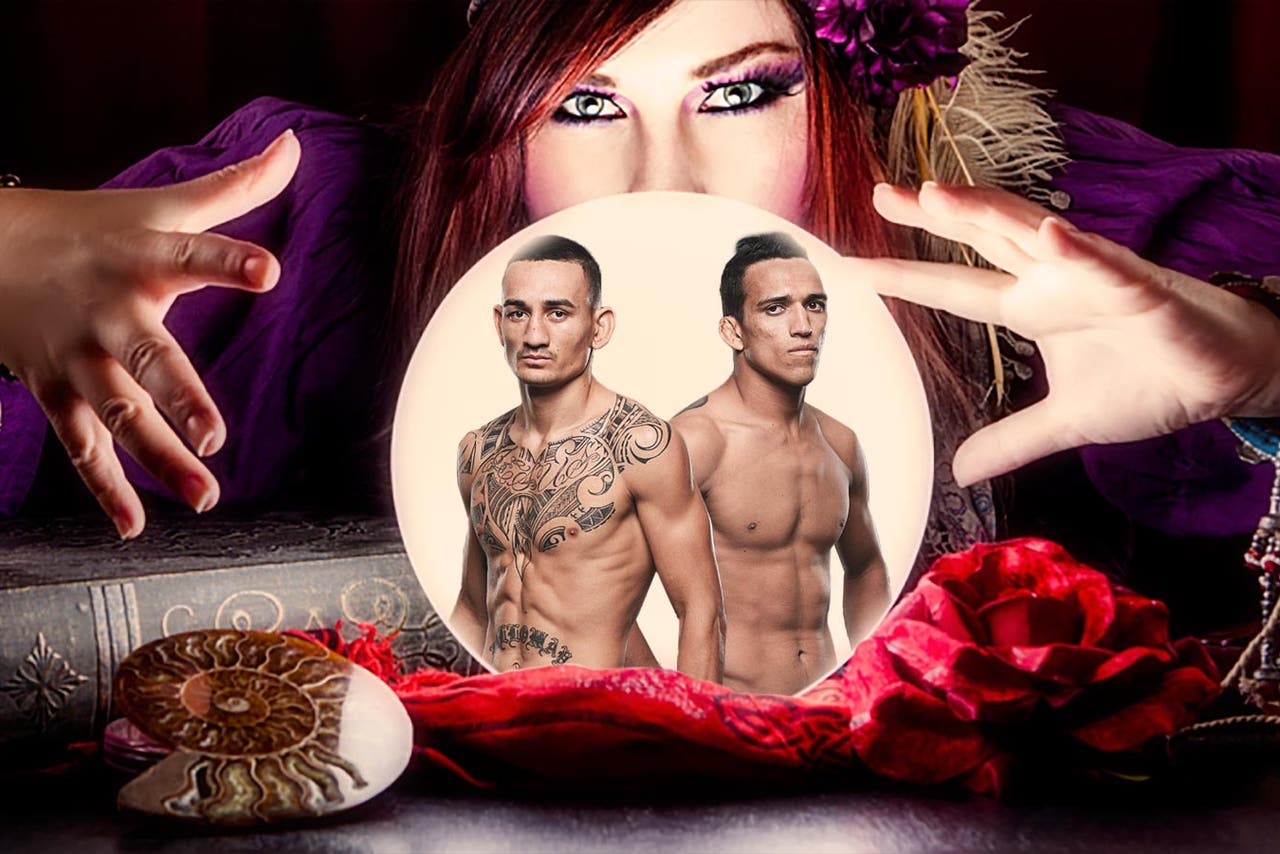 UFC Fight Night: Holloway vs. Oliveira on FOX Sports 1 (Sunday, 7 p.m. ET) is filled with rising contenders in almost every weight class. If you want to see some of tomorrow's stars, be sure to watch the action live from Saskatoon, Canada.
In the main event, featherweights Max Holloway and Charles Oliveira try to climb to the next rung on the title ladder. In the co-main event, Neil Magny fights just three weeks after a rough loss to Demian Maia as he steps in on short notice against the always exciting Erick Silva.
Check out our breakdown of those fights and the rest of the solid card below. Then, let us know who you're picking on Facebook and Twitter!
Max Holloway (13-3) vs. Charles Oliveira (20-4, 1NC)
Simply put, Sunday's exciting main event pits two of the very best young, rising contenders against one another. 
Holloway, 23, has fought in the UFC since he was just a couple months outside of his teens. That level of experience has given him growth, savvy and skill far beyond his years. Now, he really appears to be hitting his stride.
He's won six fights in a row, over some of the featherweight division's best, like Cole Miller and Cub Swanson, and is knocking on the door of title contention. The well-rounded Oliveira is also nearing the top of the division after having won four straight.
His last loss was a competitive one to former world champ Frankie Edgar in 2013. Since then, "Do Bronx" has been on a tear, winning 75 percent of his fights by submission.
As good as Holloway is on the ground, he'll likely want to try to keep Oliveira at bay with his striking on the feet. The Brazilian is certainly dangerous on the feet as well, but Holloway may still have an edge with his hands.
If they do mix it up in the grappling department, it is anyone's guess as to who will prevail. Oliveira may still be a hair above Holloway in the submissions department, however.
Holloway has faced and beaten slightly better competition, so we'll give him the tiniest of edges.
Prediction: Holloway by decision
Neil Magny (15-5) vs. Erick Silva (18-5, 1NC)
Before losing earlier this month to former title challenger Maia by submission, Magny probably had the most impressive streak of wins of anyone in the welterweight division. A desire to get that momentum back likely prompted him to jump in on short notice and fight Silva on Sunday, just weeks after his last fight.
That short notice and the damage sustained in his previous training camp and fight create huge X-factors in this fight. If both men had had full training camps, this fight would be a great gauge to determine who's ready to step up into the elite class at 170 pounds.
So far, both men have fallen just a bit short whenever they've faced the very best at welterweight. Magny's first such test was against Maia, while Silva lost to top welterweights Matt Brown and Dong Hyun Kim before winning his past two fights.
Silva likely will try to hurt Magny with his striking and keep the American off of him. Magny should look to stifle Silva against the fence and put him on his back.
Only time will tell if Magny's fight a few weeks ago will serve as a warmup to a win on Sunday, or hinder him because of wear and tear.
In the end, we like anyone who has had more time to prepare for a fight, so we give Silva a slight edge.
Prediction: Silva by decision
Patrick Cote (21-9) vs. Josh Burkman (27-11)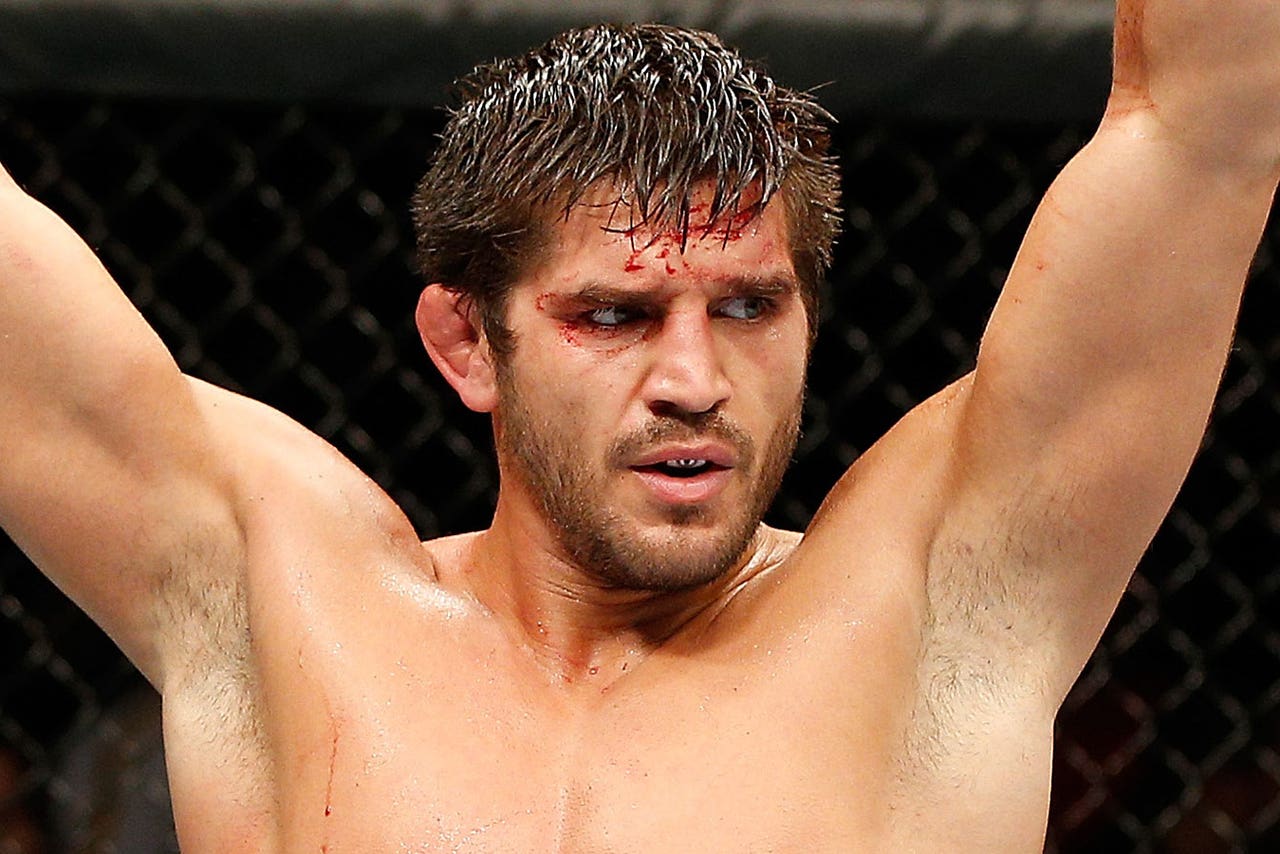 Will former world title challenger Patrick Cote win at home in Canada again?
Cote quietly has built an impressive record in the UFC since his return to the promotion in 2012, going 4-2 in that time.
Burkman has had a rough time since returning to the UFC, but tells us that he's finally had an actual training camp in preparation for this fight, as opposed to his injury-plagued camps prior to his fights against Hector Lombard and Kim.
If Burkman is indeed healthy, he's likely capable of pressuring and taking Cote down. However, the Canadian is hard to look good against, as even Anderson Silva knows.
Cote's distance management and conditioning looked solid in a decision win over Joe Riggs in April. Burkman has big power in his strikes but Cote may be a bit more of a straight puncher. 
If Burkman can get on top of Cote, he stands a good chance of winning. If Cote can keep him off and force a striking fight, it's anyone's ballgame.
Prediction: Burkman by decision
Chad Laprise (10-0) vs. Francisco Trinaldo (17-4)
Laprise and Trinaldo are both riding three-fight win streaks, but Laprise likely has the advantage being at home in Canada as well as in the wrestling department. These two grinders are tough to beat so it will be interesting to see who edges out the other.
Prediction: Laprise by decision
Olivier Aubin-Mercier (6-1) vs. Tony Sims (12-2)
Aubin-Mercier has the record and look so it is no wonder he's one of Canada's top-rising stars, nabbing sponsorships varying from the big (Reebok) to the delicious (Joe Beef). Once again, the Montreal fighter will get to fight in his home nation, this Sunday, but he'll do so against a very dangerous opponent.
Aubin-Mercier is a heck of an athlete, but so far his biggest strengths have been his grappling and wearing down opponents. Sims, on the other hand, is no grappling novice and also a serious KO threat.
Prediction: Aubin-Mercier by decision
Maryna Moroz (6-0) vs. Valerie Letourneau (7-3)
Letourneau has been beaten by only the very best women in the world. Years ago she lost to both Sarah Kaufman and Alexis Davis, but those were fights in which she was at least 20 pounds undersized.
Since dropping down to 115 pounds, Letourneau has lost only to Claudia Gadelha, by split decision. Of course, Gadelha recently lost a razor-close decision to current flyweight champion Joanna Jedrzejczyk.
The point is, Letourneau is good, and a tough out for anyone. Moroz comes into this fight ranked in the top 10, undefeated and about a decade younger than the Canadian, however.
She's also a crazy effective submission specialist. This one is hard to call but we bet that if anyone finishes the bout, it will be Moroz.
Letourneau has a lot more experience, specifically in going the distance, since Moroz has seen the second round only once. She needs to survive Moroz's early attack and try to tire her in the later rounds.
Prediction: Moroz's youth and dynamism are tough to pick against so we'll take her by decision.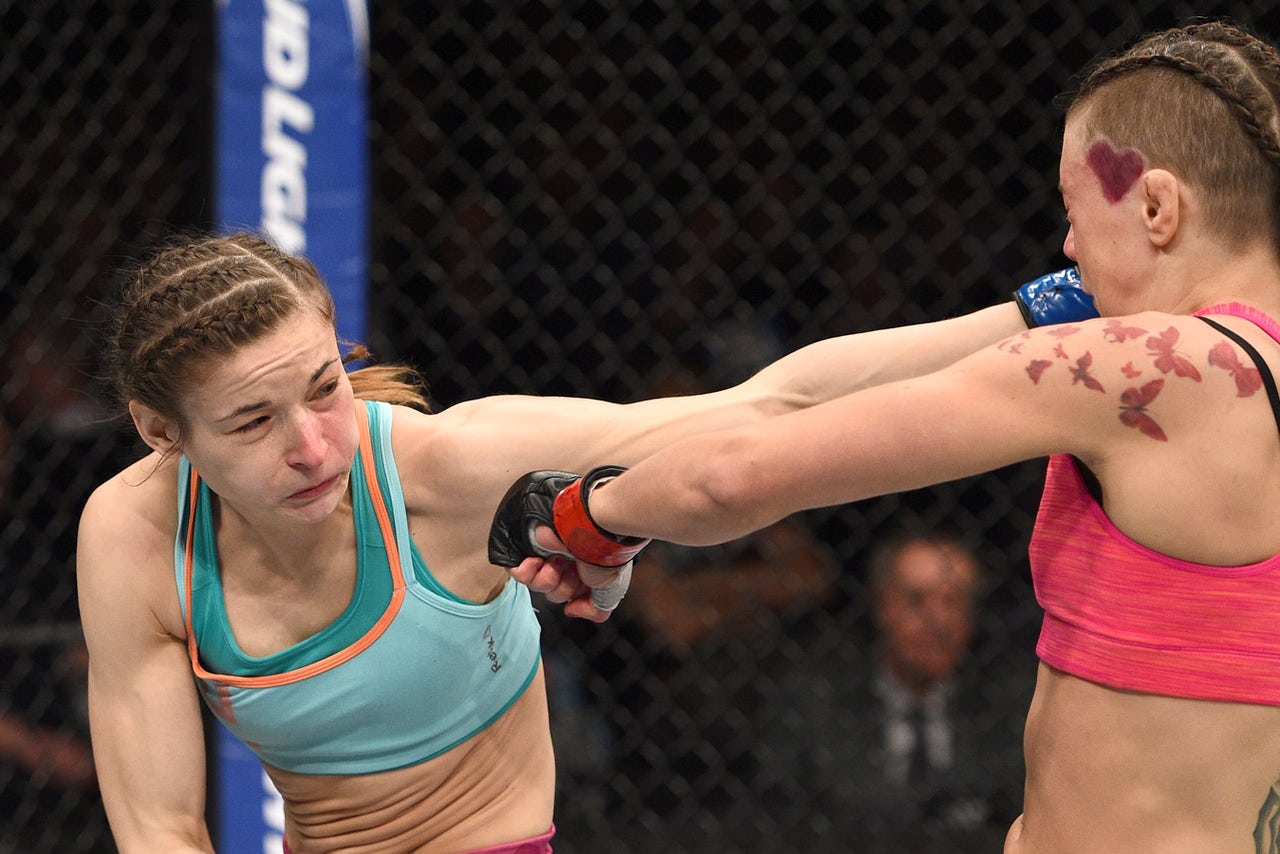 Maryna Moroz (L) wants to move closer to a strawweight title shot Sunday.
Sam Stout (21-11-1) vs. Frankie Perez (9-2)
Stout has been finished in three out of his past four fights, but he'll be amped up to fight at home in Canada. He'll also carry his hands of stone with him, and slick striking skills on the feet. 
If he is to win, Perez will have to keep his hands up, get inside and work for submissions. He has the stuff to do it, and it could be a tough fight for both men.
Prediction: Stout by decision
Yves Jabouin (20-10) vs. Felipe Arantes (16-7-1)
Expect these guys to wing hard strikes on the feet until Arantes shoots for a takedown. The Brazilian has power but likely believes that he has the advantage on the ground.
Jabouin is difficult to put away and has serious stopping power in his punches and kicks, and that could make the difference.
Prediction: Jabouin by decision
Marcos Rogerio de Lima (13-2-1) vs. Nikita Krylov (18-4)
Krylov used to be easy to dismiss with his soft body and costumes. Three stoppage wins in the UFC have shown how dangerous the Ukranian fighter is, however, and a drop from heavyweight to middleweight has reflected a dedication to physical conditioning.
His opponent, de Lima, is also surging right now, on the strength of some monster punching power. This fight may come down to who lands the first big bomb, or who is best able to deal with big strikes.
Prediction: Krylov by decision
Chris Kelades (8-2) vs. Chris Beal (10-1)
Both men are not used to losing, but are coming off defeats. Beal probably will be eager to get the first taste of loss out of his mouth after losing a decision to Neil Seery in January. 
Kelades will be determined to not lose at home in Canada. Both men are savvy and experienced. 
Kelades may be a tad more well-rounded, but Beal is downright stifling with his grappling, so it will come down to either how much he's improved in other areas or whether his strong suit will be enough to overcome the Canadian's defenses.
Prediction: Beal by decision
Shane Campbell (11-2) vs. Elias Silverio (11-1)
Both men are coming off losses and while Silverio's grappling is solid, Campbell has more ways to win.
Prediction: Campbell by decision
Misha Cirkunov (9-2) vs. Daniel Jolly (5-0)
Cirkunov has been much more active over the past couple years and that should serve him well here.
Prediction: Cirkunov by decision
---
---