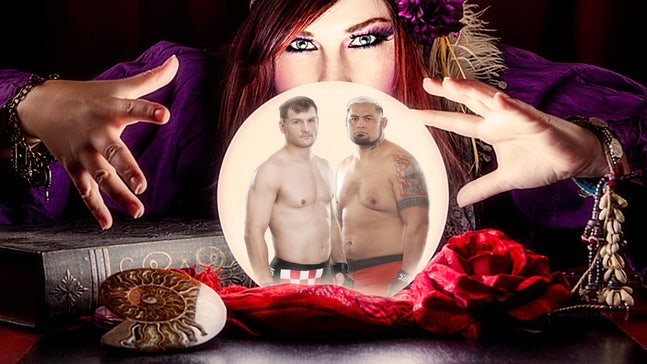 UFC Adelaide: Miocic vs. Hunt Crystal Ball Predictions
Published
May. 6, 2015 5:20 p.m. ET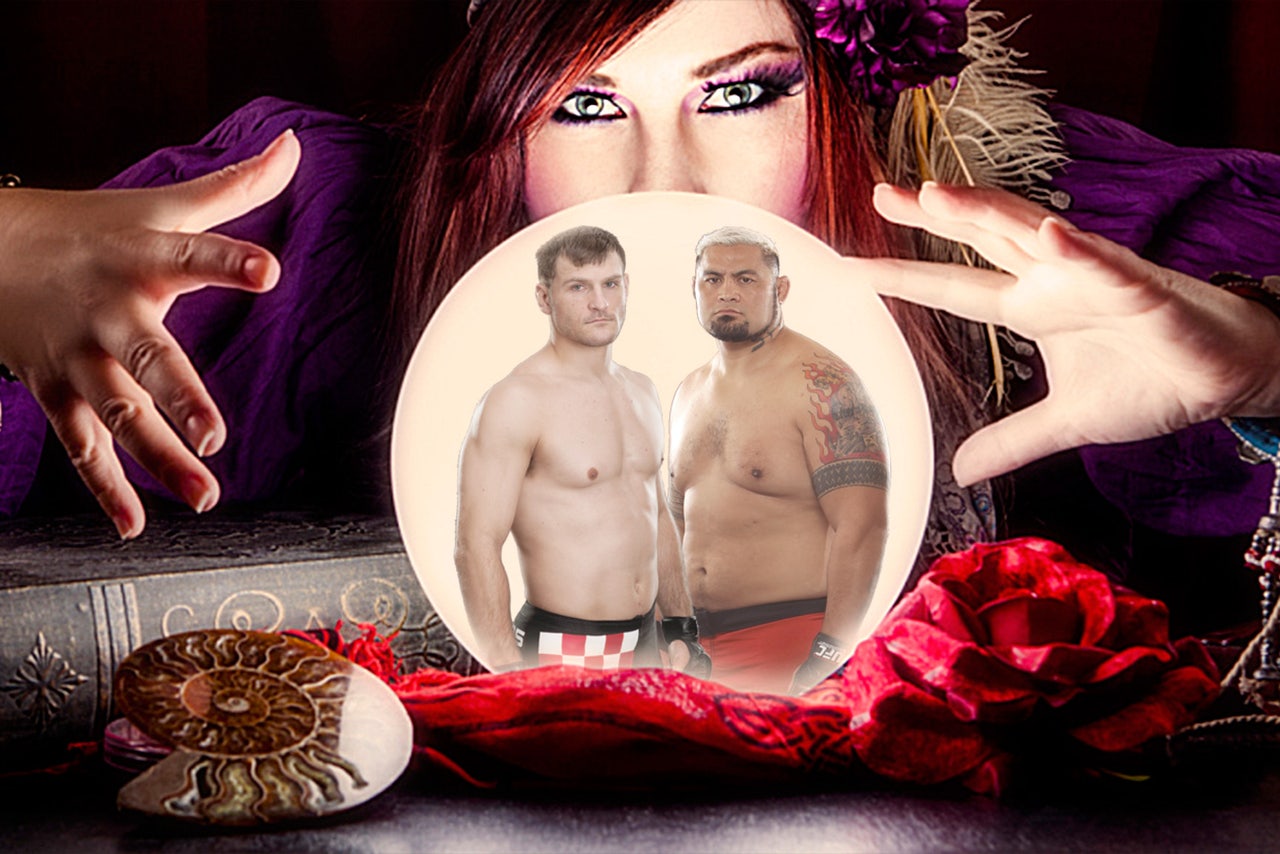 This Saturday the UFC goes down under to bring international fans a big event with world-title implications. Read on to see our analysis and picks for the entire main card, as well as one can't-miss prelim card bout that is sure to deliver.
Then, let us know who you're picking in the comments section and on Twitter and Facebook!
Stipe Miocic (12-2) vs. Mark Hunt (10-9-1)
Since 2011, Mark Hunt has proven himself one of the very best heavyweights in the world. He won four straight fights before losing to former champion Junior Dos Santos.
An incredible draw with Antonio Silva was followed up with a walk-off KO of the iron-chinned Roy Nelson. Then, Hunt stepped in on short notice last November for an interim title fight against Fabricio Werdum and it appeared as though he was on his way to winning UFC gold.
The New Zealander knocked Werdum down early, but then got caught in the second round with a knee that stopped him. Hunt has only lost to the best of the best in recent years, so the former K-1 kickboxing champion may still be just one fight away from another championship fight.
That fight happens this Saturday in his adopted home of Australia, against Stipe Miocic. Miocic himself has looked excellent in the last couple years.
Never more so than in his controversial loss to Dos Santos last year. Miocic has shown that he can hang with the big boys of the UFC's heavyweight division, and now he gets to fight another, on his home turf.
Though Miocic has crisp boxing and arguably had the edge over Dos Santos on the feet, he would be wise to look to put Hunt on his back, off of his punches. Hunt has gotten a great deal better at defending takedowns, so that will be no easy task.
The powerful "Super Samoan" is always just one punch away from a KO win, so Stipe will need to be cautious of looping overhands and hooks, while keeping him at bay with his jab and footwork, before timing his long cross and a takedown attempt, or 10, and relying on his endurance.
This fight is hard to call, largely because of the damage sustained by both men in their last fights. Whoever has recovered the best and is able to get off first, Saturday, will likely have the best shot at winning.
Prediction: Miocic by decision in a razor-close fight
Brad Tavares (13-4) vs. Robert Whittaker (14-4)
Tavares has quietly become a top talent in the UFC. The Hawaiian has won six out of his last eight fights, including a decision over former world title contender Nate Marquardt in his last outing.
TUF Smashes winner Whittaker is riding a two fight win streak, and will no doubt have the Aussie crowd behind him. He may also have the slight power striking advantage.
However, we like Tavares' size against Whittaker. The former welterweight from South Wales will be shorter and smaller than Tavares at middleweight, and that could end up being a big factor.
Prediction: Tavares by decision
Anthony Perosh (15-8) vs. Sean O'Connell (16-6)
Anthony Perosh doesn't fight all that often anymore. But when the 42-year-old Australian veteran does, he is damn hard to beat.
"The Hippo" has won and finished two out of his last three fights, over much younger competition. His last loss was a decision to top-five light heavyweight Ryan Bader.
No shame in that. Now, the Brazilian jiu-jitsu black belt gets to lay it on the line in front of his home audience, and he'll be looking to make a statement. Once again, he'll face another much younger man in O'Connell, who is high off of his own TKO win earlier this year.
Both men have lost via KO to a common opponent - Ryan Jimmo - but have different styles. Though O'Connell has fight-ending power, he can also grind opponents down for decisions.
Perosh has never won a fight by decision -- only by submission or KO. It will be interesting to see how Perosh's endurance will hold up should he not get O'Connell out of there early on.
Prediction: Perosh by submission
Jake Matthews (8-0) vs. James Vick (7-0)
We really like this fight. In boxing, rising prospects like the Australian Matthews and the American Vick might be kept away from one another for a long time, in order to protect their respective undefeated records, until they fought for some alphabet soup title. 
Instead, the two lightweights will each risk their first loss this Saturday on the main card's first bout. Matthews, at just 20 years old, and with a penchant for submissions, looks as promising as anyone at 155 pounds.
Vick, with his nearly peerless height (6'3) and length at lightweight, has proven able on the feet with strikes and capable of finishing bouts on the ground with submissions of his own. He will be the bigger man, but more than likely also the slower one.
If no one hurts the other early, this fight may come down to which young fighter can prove he's got the savvy, patience and toughness of a veteran.
Prediction: Vick by decision
Prelim Wild Card to Watch!
Alex "Astro Girl" Chambers (4-2) vs. Kailin Curran (3-1)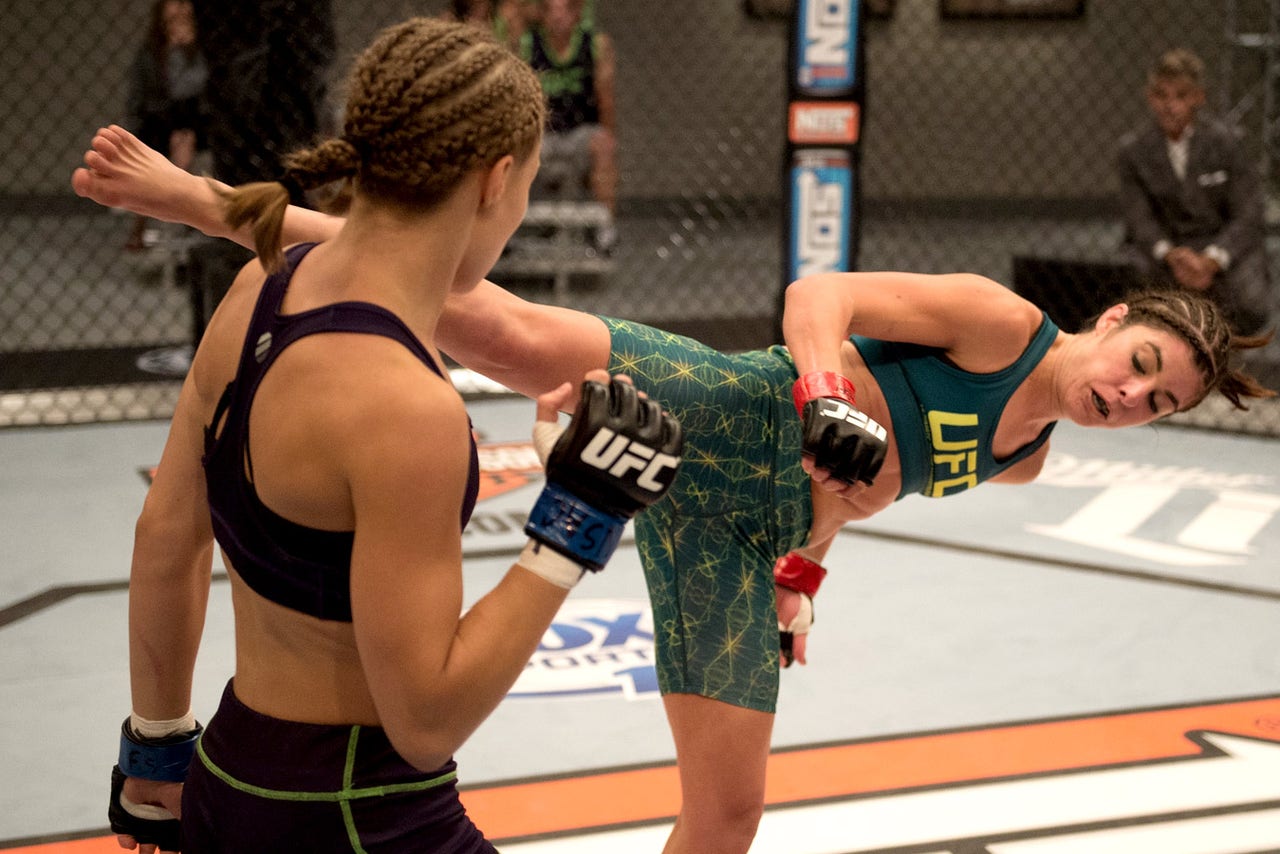 Alex Chambers (R) is ready to swing for the fences in her home of Australia, Saturday.
If this fight doesn't provide excitement for as long as it lasts, we'll be shocked. In her UFC debut, Curran often looked on her way to beating the surging Paige VanZant before ultimately getting stopped late in the fight.
The 24-year-old has skills way beyond her years and pro MMA experience level, and could very well end up becoming a strawweight title contender, one day. However, she'll have to get past the likes of TUF veteran Chambers, first.
Chambers is also coming off of a stoppage loss in her previous fight, but hadn't lost since 2012 prior to that submission defeat to Aisling Daly. The 36-year-old will have a chance to get back on the winning track at home in Australia, and show that age is just a number against her much younger opponent.
Prediction: Curran by decision
---
---