UFC 179: Aldo vs. Mendes II Crystal Ball predictions
October 22, 2014

In a year in which there has been more disappointment than satisfaction when it comes to UFC main events, there's a lot to like about this one.
Jose Aldo and Chad Mendes are without a doubt the two best fighters in the featherweight division and in their prime. Aldo is one of the best pound-for-pound fighters in the world, some would even say the best. And Mendes might have the right abilities to hand him his first loss since 2005.
So while this event doesn't have a ton of marquee names and pivotal matchups, Aldo-Mendes II is pretty much worth the price of admission alone.
Below we look into the crystal ball to tell you who will win that fight and the other big ones at UFC 179 on Saturday night in Rio de Janeiro.
Jose Aldo vs. Chad Mendes
There is no tougher matchup for Aldo in the featherweight division than Mendes, which is what makes this fight so interesting.
Mendes is the kind of athlete and wrestler who could give Aldo fits. Mendes' game plan is simple. He's going to push the pace, stay in Aldo's face, push him up against the cage and try to take him down. Aldo has not really fought anyone with his skill set.
That being said, Aldo has incredible takedown defense and is quite the athlete himself. It won't be easy for Mendes to take him down. He's going to need to set up his shots with striking. Aldo is far superior when it comes to standup, though Mendes has gotten demonstrably better since the last time the two fought. Mendes cannot get sucked into a striking battle, because then Aldo would pick him apart.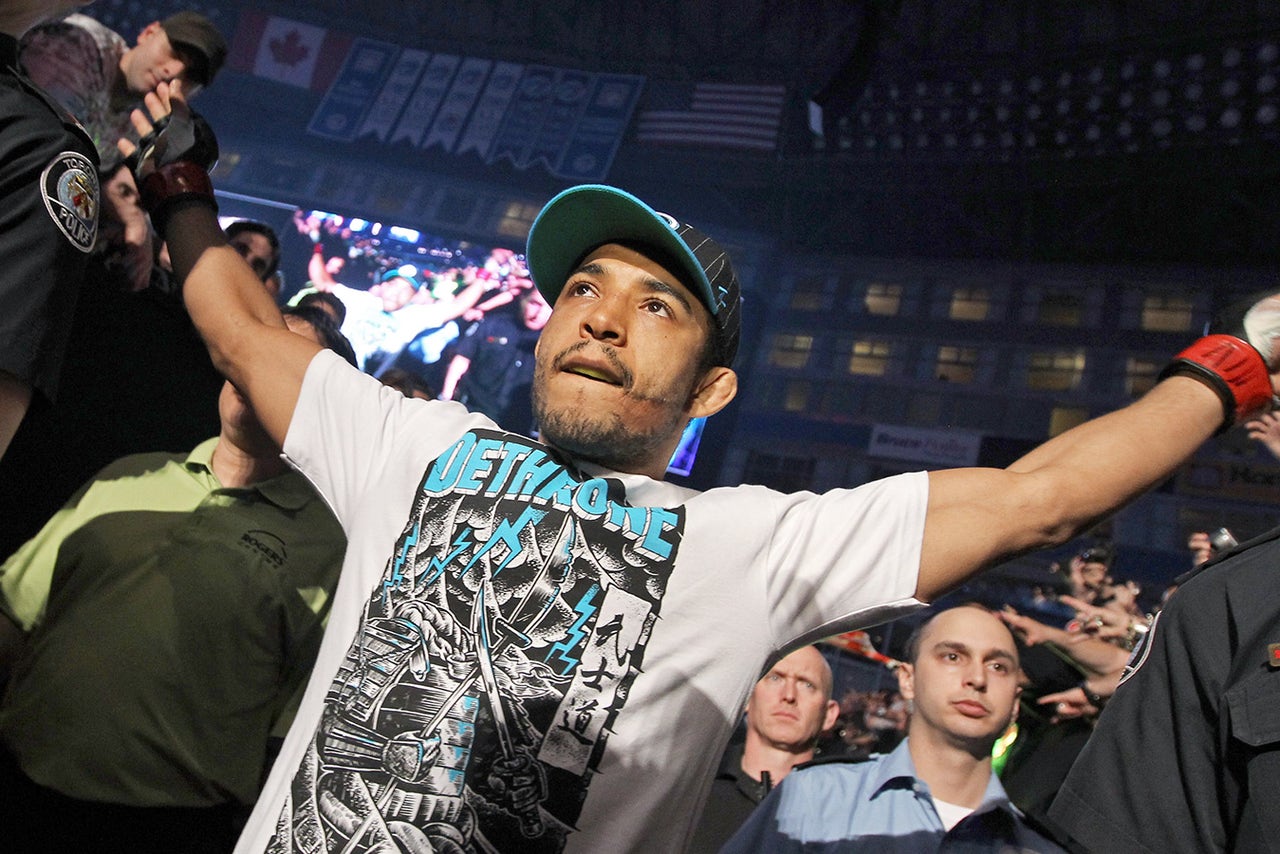 Will Aldo be celebrating Saturday night?
Speaking of that last bout, throw everything that happened in 2012 out the window. Mendes was on his way to executing his game plan, trying to take Aldo down when Aldo grabbed onto the cage to stop the attempt. In that same motion, Aldo wheeled around and knocked Mendes out with a knee. It was absolutely spectacular, but came through a violation of the rules.
That doesn't mean Mendes would have eventually won, of course. Aldo was the better fighter two years ago and he might still be now. It's hard to pick against someone who hasn't lost since he was 19.
Prediction: Aldo by unanimous decision
Glover Teixeira vs. Phil Davis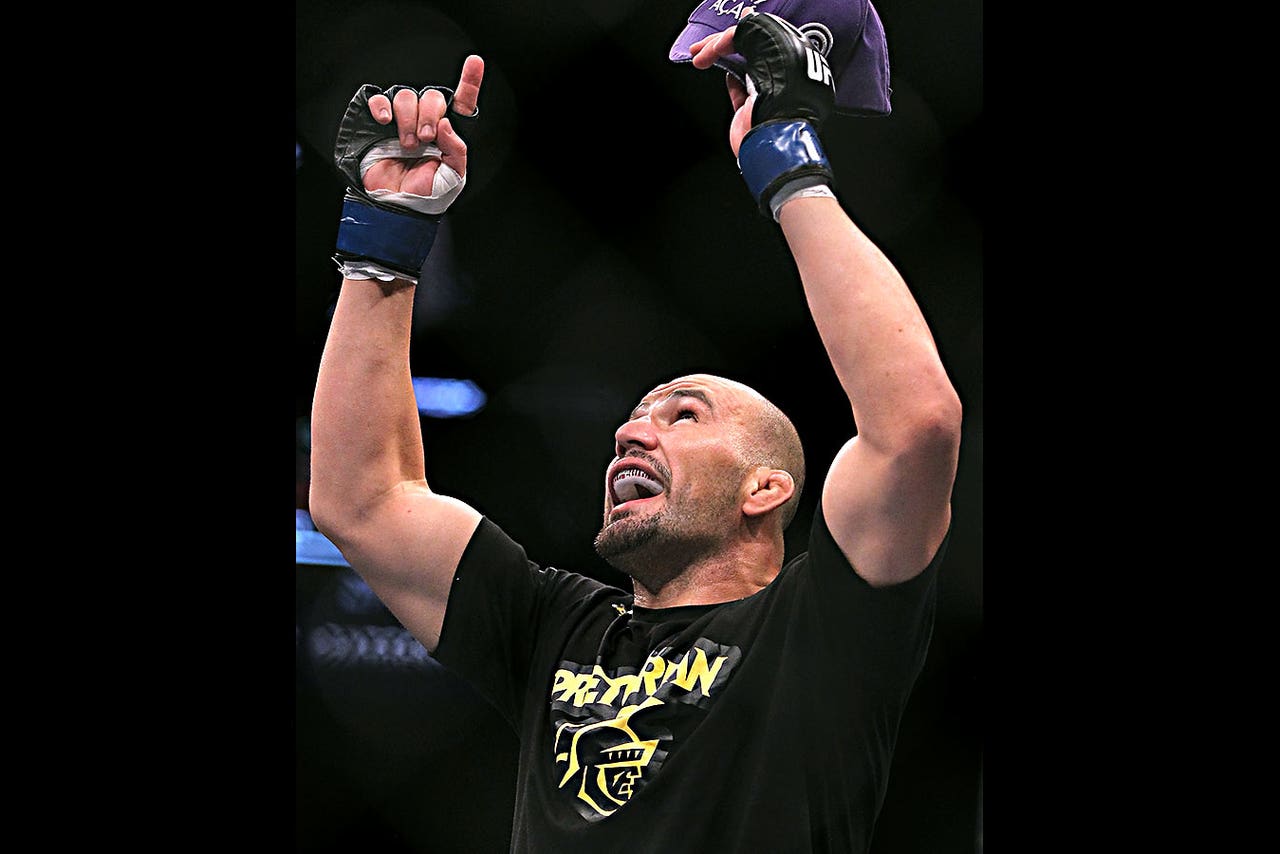 Teixeira could give Davis a hard time standing up.
Teixeira and Davis are both two of the best light heavyweights in the world and both are coming off high-profile losses. There is plenty at stake here. The winner stays relevant in the title discussion.
Davis has still not fulfilled the potential he had as a prospect. His striking game hasn't evolved the way it has for other former Division-I All American wrestlers. That's a problem against a technical boxer with power like Teixeira.
Davis' path to victory, of course, is getting takedowns. Teixeira just happens to have excellent defensive wrestling and is adept at using his strikes to keep opponents at bay. Davis needs Teixeira to actually respect his striking if he's going to get inside on his shots. Anthony Johnson didn't respect it when he beat Davis in April. It's unlikely Teixeira will either. Davis will have his moments but will come up short.
Prediction: Teixeira by unanimous decision
Fabio Maldonado vs. Hans Stringer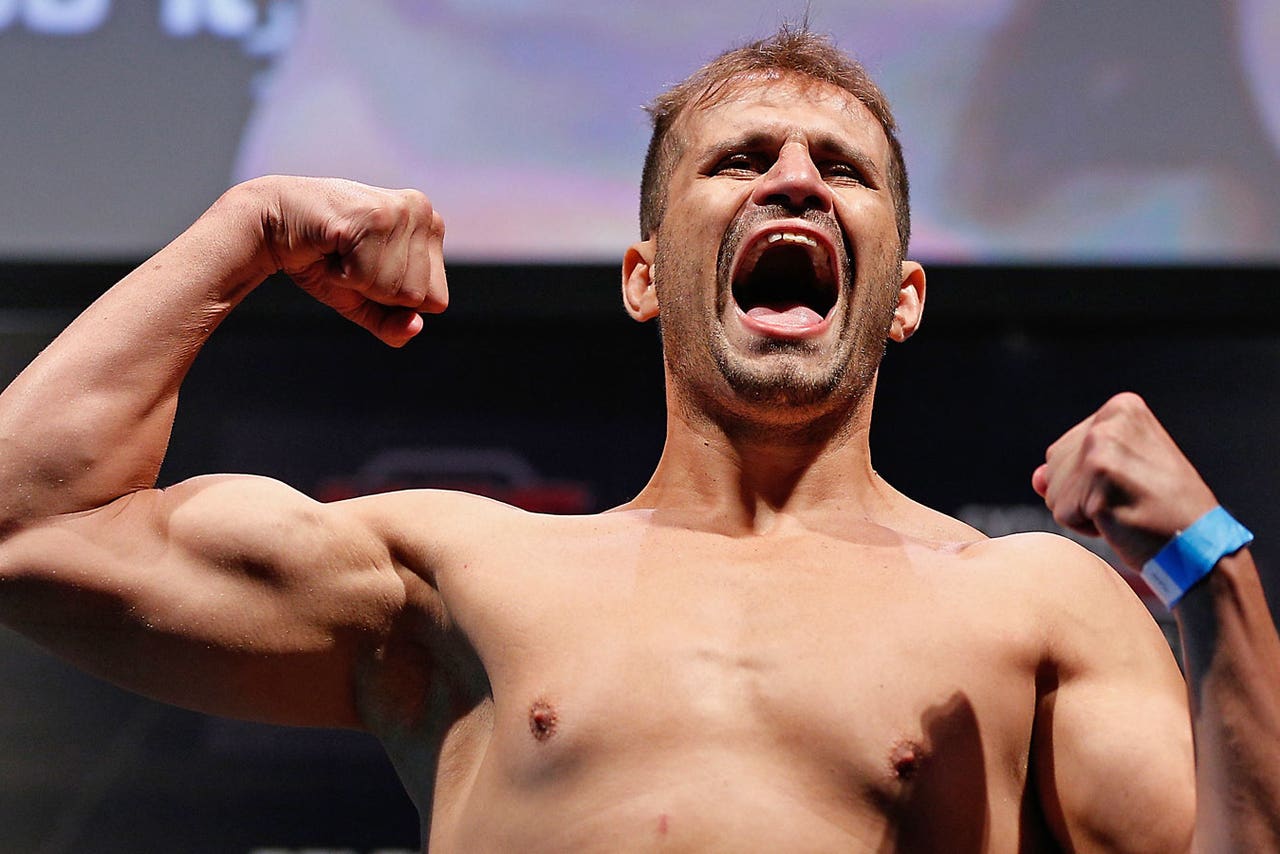 Maldonado should fare better here than he did against Stipe Miocic.
Maldonado was absolutely destroyed in 36 seconds by Stipe Miocic back in May. Pay no attention to that fight when you're analyzing this one. Maldonado moved up to heavyweight on short notice to meet Miocic, one of the elite guys in that division. He was doomed from the start. At light heavyweight, Maldonado is pretty underrated.
We all know about his durability, chin and fearlessness. But the Brazilian has some technical boxing with some pop in his hands. Stringer is a Dutch kickboxer with solid grappling chops. So this won't be an easy fight for Maldonado. But the veteran has far more experience and should push the pace with his hands. Stringer will make a mistake and Maldonado will catch him late.
Prediction: Maldonado by knockout in the third round
Darren Elkins vs. Lucas Martins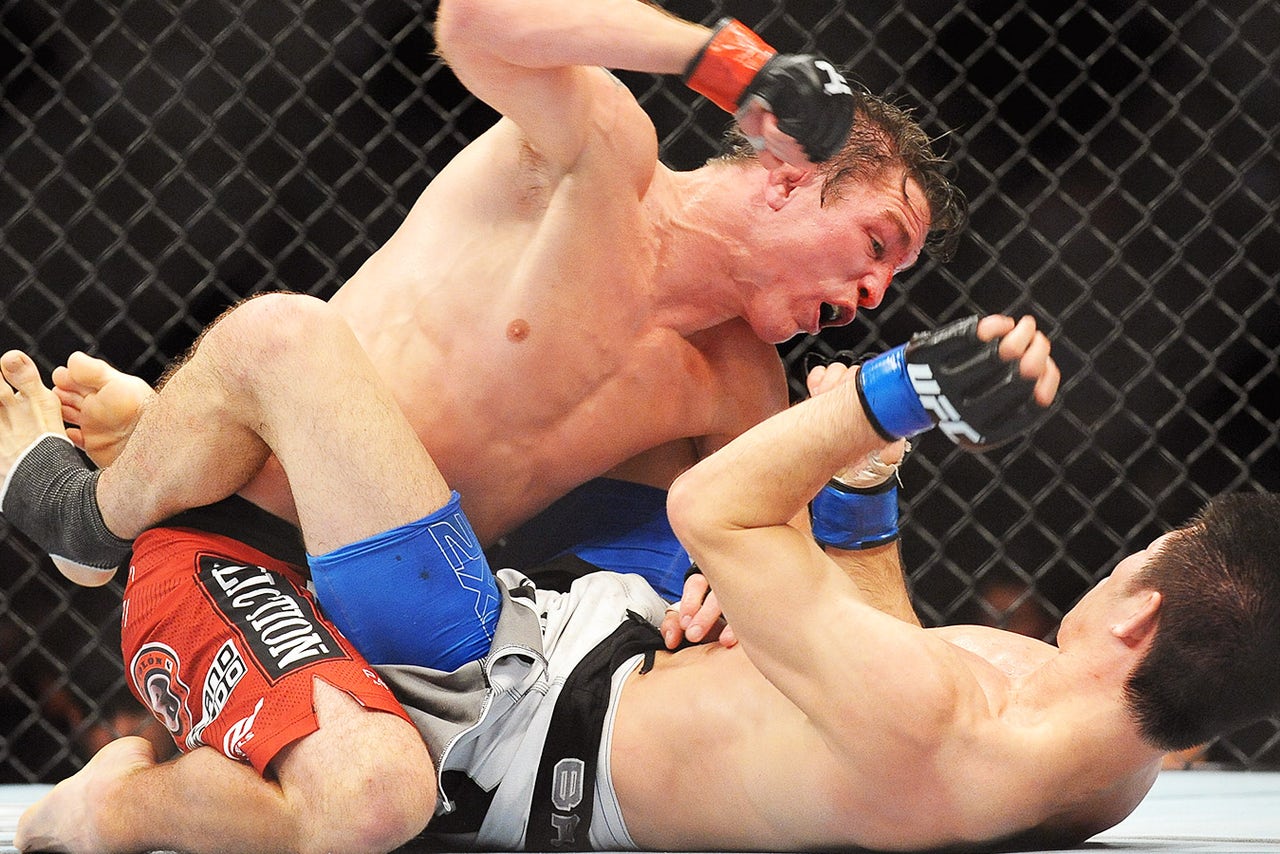 Elkins probably plans for a lot of this Saturday night.
Martins has fought in three different weight classes in his career and would firmly entrench himself in the featherweight division with a strong performance over Elkins, who is ranked No. 13 among 145-pound contenders. Elkins is a tough matchup for just about anyone with his wrestling grappling. Martins is a pretty talented, dynamic striker, but we've never seen his takedown defense tested. It sure will be Saturday.
This is Elkins' fight to lose. He is more experienced and has the tools to put Martins on his back and, at the very least, grind out a decision. There's a chance Martins could catch him with something, but chances are Elkins will eventually take the bout to the mat. He's pretty good at making things messy. Martins is an intriguing prospect at age 25, but this is not the fight that will get him to the next level.
Prediction: Elkins by unanimous decision
Diego Ferreira vs. Beneil Dariush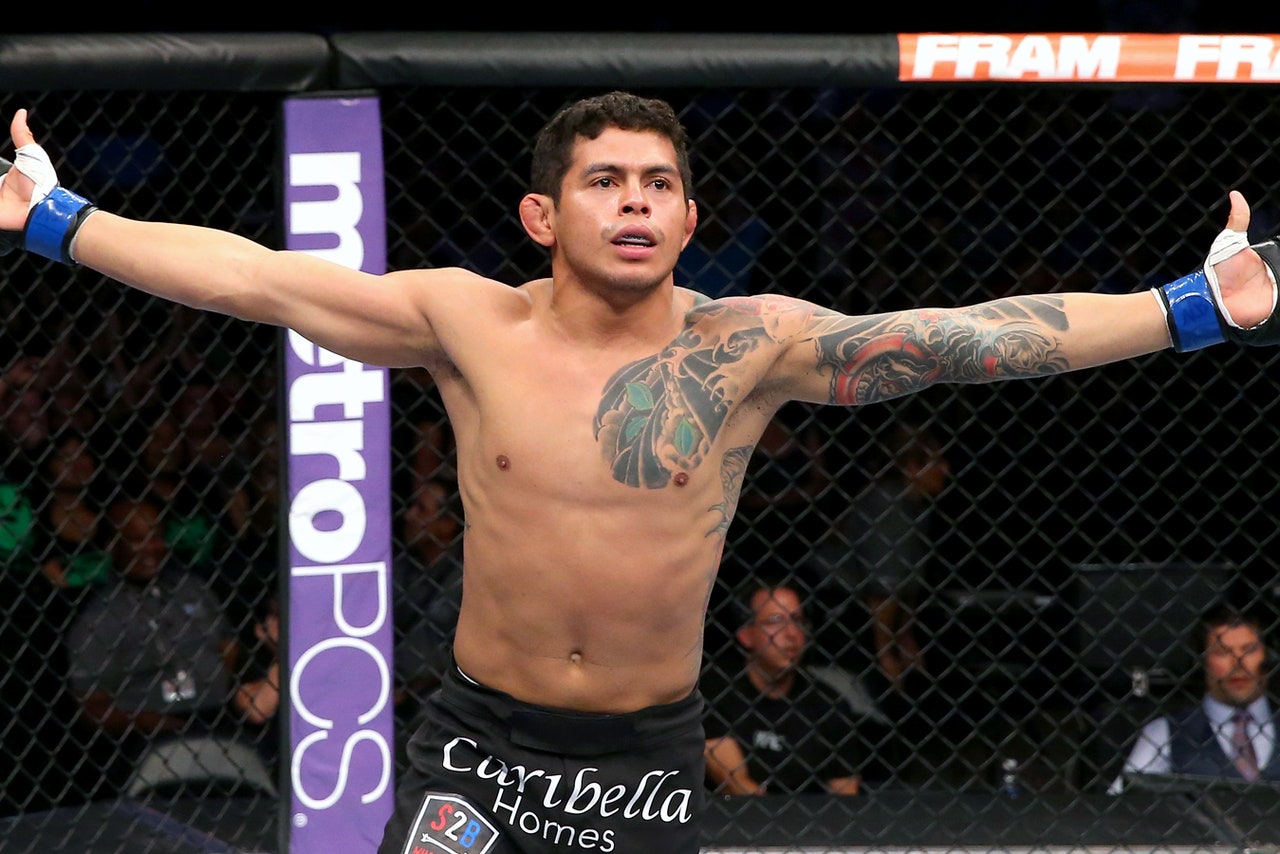 Will Ferreira stay undefeated?
MMA math doesn't work. Remember that. Just because Ferreira beat Ramsey Nijem and Dariush lost to him doesn't automatically mean Ferreira will beat Dariush. Granted, Ferreira is the favorite here and rightfully so. But this has a chance to be a pretty close, competitive fight. Dariush is the better striker, and that's no surprise given he trains at Kings MMA under the tutelage of Rafael Cordeiro. Ferreira has the edge on the ground, but Dariush is pretty good there as well.
Dariush is probably slightly more well-rounded than Ferreira, though Ferreira's standup looked pretty solid in knocking out Nijem. Ferreira's path to victory is taking things to the ground, and he should be able to do that here. If he can get Dariush on his back, Dariush would be in trouble. Expect a close fight on the feet until Ferreira hits a takedown and starts working on the ground. He'll remain undefeated.
Prediction: Ferreira by submission in the second round
Five for fighting
Donald Cerrone, who? Neil Magny is trying to go 5-0 in 2014 when he meets William Macario on Saturday. That's a pretty ridiculous run. Magny doesn't face the level of competition that Cerrone does every fight, but you can't take anything away from his willingness to chase paper. Magny is long, lanky and well-rounded. Macario is 23 years old with some power in his hands. He's an OK prospect. But Magny will have too much guile and experience for him here. Look for a unanimous decision and another win for the Ultimate Fighter alum.
Pretty fly
Here's a fight flying under the radar. Get it? A pair of very solid flyweights -- Scott Jorgensen and Wilson Reis -- will meet Saturday night. Jorgensen is No. 15 among contenders and Reis is right on the rankings bubble. A win would be very meaningful to both. Jorgensen has fought pretty much all of the elite fighters at 125 and 135. If he can use his defensive wrestling to keep things standing up, he'll have the advantage over Reis. Jorgensen is a slight underdog, but expect him to win by split decision in a close one.
---
---