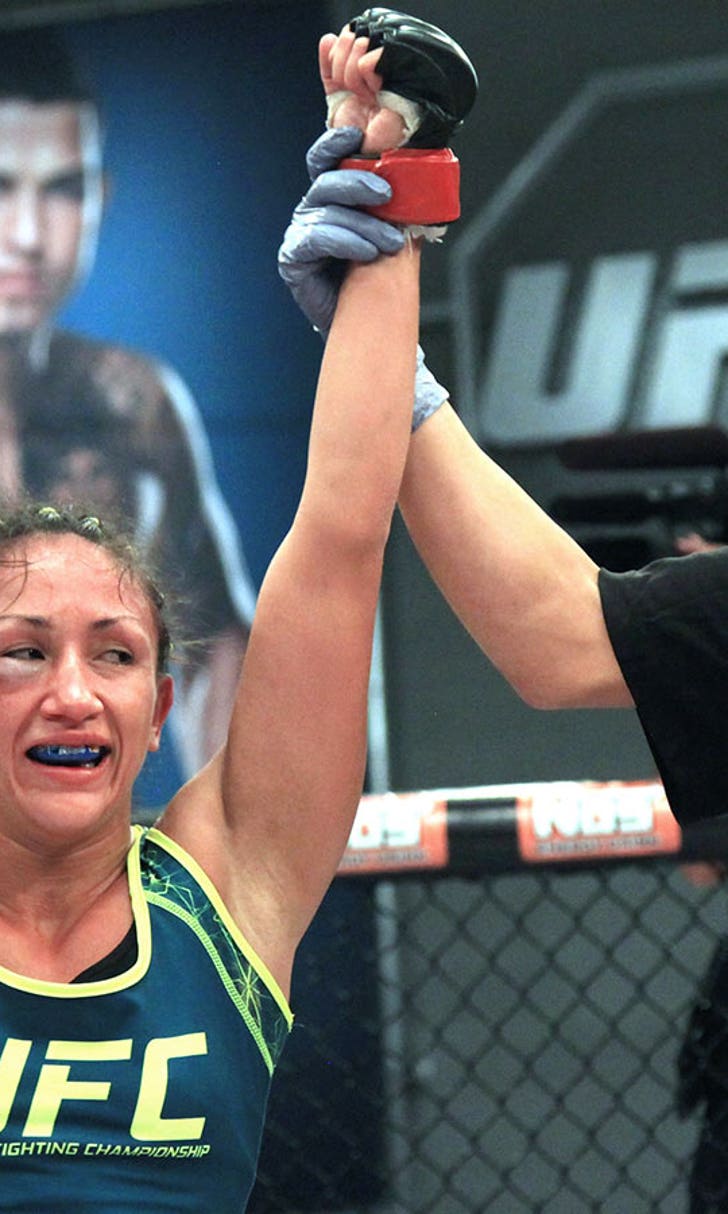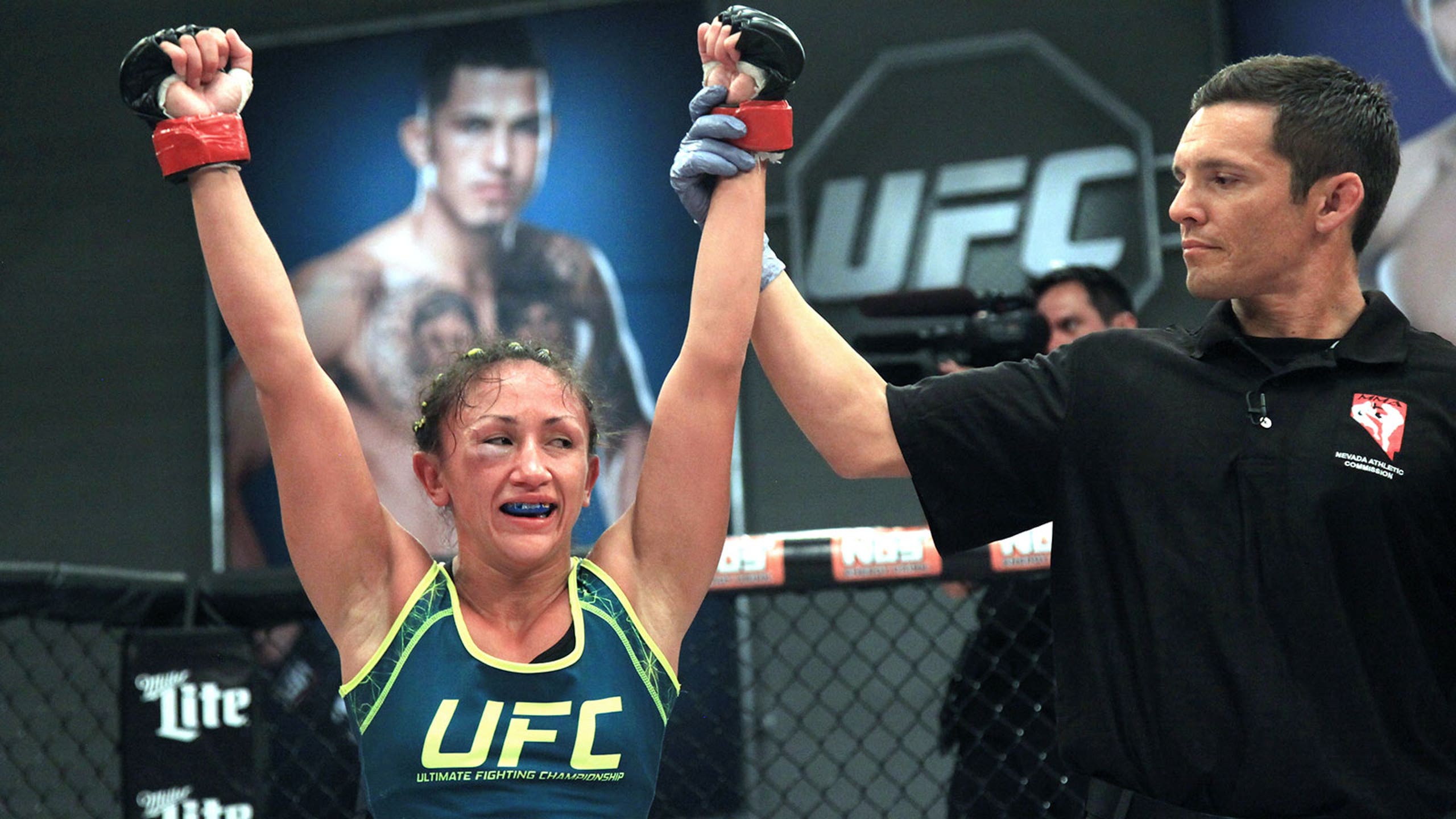 TUF Finale Recap: Esparza becomes first UFC strawweight champ with submission win
BY Elias Cepeda • December 12, 2014
Carla Esparza become the first 115 pound UFC champion in history with a third round rear naked submission win over Rose Namajunas in Las Vegas, Friday night. The former stand-out collegiate wrestler put "Thug Rose" on her back repeatedly, over three rounds, but also scored with nasty ground strikes, that opened up the opportunity to finish with the choke.
In the night's co-main event, Charles Oliveira dominated the ground action en route to a unanimous decision victory over Jeremy Stephens. Before that, Daron Cruickshank and KJ Noon's lightweight title fight ended prematurely and in unfortunate fashion when a second accidental eye-poke from Noons resulted in a no contest.
Check out all of the action below!
Main Card
Carla Esparza (10-2) vs. Rose Namajunas (3-1)
The most important TUF fight in UFC history is underway, you all. Namajunas comes out and takes the center of the cage, throwing punches and kicks. Esparza is forced to counter but oon gets the single leg take down. Esparza wastes no time in raining down strikes on Rose.
Namajunas gets back to her feet. We're just one minute in. 
Good left hook from Esparza. Namajunas gets taken down briefly but gets right back up, grabs Esparza's hair and lands a knee to the head. Esparza with a good return elbow. Rose lands a right hand and two push kicks in a row.
Esparza lands some hooks and a knee to the body from the clinch. Rose flies in with what is her second or third flying knee/kick attack that is not set up with anything, and doesn't land. Esparza gets a double leg take down and lands inside Rose's full guard.
Carla immediately opens the guard but Namajunas gets back to her feet. With a minute left, the two trade big punches. Rose closes the distances and works for a trip, doesn't get it but backs Carla against the cage. Carla lands knees to the body and Rose returns fire with her own.
Esparza hits another take down just before the buzzer. 
Round 2
Carla shoots for another takedown but is stuffed by Rose. A jab from Rose lands but Carla lands knees to the gut from the clinch, again. Esparza hits another double leg takedown and once more is aggressive from the moment they touch the mat, throwing punch after punch to the downed Namajunas.
Carla doing a great job of keeping a knee between Rose's guard to keep the legs split. Namajunas gets back to her feet and lands an overhand right punch counter. Esparza has the lead in significant strikes, 35 to Rose's 23, at this point in the fight. Rose shoots in, gets stuffed and then pulls full guard. Esparza breaks the guard once more and throws punches while looking to pass. 
Esparza can't get the clean pass and Namajunas can't control her posture or get any offense mounted. With under thirty seconds left, Carla gets the full mount and rains down punch after punch. Rose turns her back and gives up back mount and eats more shots before the round ends.
Round 3
Esparza gets another takedown within the first fifteen seconds and immediately punches to pass and takes Namajunas' back. Esparza continues to punish Rose with punches from the back mount and then goes for a rear naked choke, and sinks it in and forces the tap out!
Official Decision: 
Carla Esparza wins via rear naked choke at the 1:26 mark of the third round.
Jeremy Stephens (23-10) vs. Charles Oliveira (18-4)
Oliveira closes the distance right away but soon drops to his back, against the cage, and works for an arm bar on Stephens. Stephens picks up Oliveira and slams him onto the mat. The slam doesn't break the submission hold, however. Oliveira bites down with his leg on Stephens' neck, and punches away with his left hand. Stephens stands to defend but only extends the lock. Oliveira is lifted up off the ground again, but maintains his hold, while against the cage.
Stephens sits back and extends his arm more, before freeing himself from the hold. Stephens now throws elbows from inside the full guard of Oliveira, while pressing the Brazilian against the fence. Oliveira lands his own elbows before Stephens stands up and out of the guard. Oliveira chases Stephens and clinches up with Stephens against the cage. Stephens gets double underhooks on Oliveira and then separates. 
Stephens fires off a punch combination that is mostly blocked. Oliveira stalking Stephens but eats an overhand right punch. Oliveira throws a spinning back elbow that is blocked. Stephens throws a 3-2 combo to the head that Oliveira blocks. Oliveira ends the round with punch combo to the head. 
Round 2
Oliveira punches his way into a shot, he hits the double leg on Stephens but not before eating elbows to the side of his head. Oliveira has Stephens pressed against the cage, on top from inside his half guard. Oliveira transitions to full mount and then the back mount, with a figure-four lock. Oliveira landing elbows and punches from behind on Stephens before moving to an armbar attempt. 
Oliveira extends the arm but Stephens eats the pain, escapes and gets on top of Oliveira. Stephens punches to pass and both men stand back up. Oliveira presses forward again with a right punch and then gets a clinch position. He drags Stephens' head down and knees it. Oliveira looking to lock up an arm-in choke while he throws knees. Oliveira pulls guard and takes Stephens down and backwards before landing on top.
Oliveira pressing Stephens against the cage while in his full guard. Stephens tries to get to his feet with under a minute left in the round but Oliveira takes his back once more and looks for a rear naked choke, and then transitions to an armbar again. Stephens sits up and gets on top and escapes as the round comes to a close.
Round 3
Oliveira shoots in and gets stuffed, to open the round. Oliveira stands up, shoots again and gets the take down. Stephens briefly goes for his own shoulder lock but Oliveira defends and gets on top. Stephens gets out of cross side and gets back to his feet. 
Oliveira barely misses with a spinning back kick before shooting in once more. Oliveira lands a right punch, shoots in and gets stuffed. Stephens refuses to get into Oliveira's guard and they are stood up by the referee. Oliveira lands another take down on Stephens against the cage, half way through the round. 
Oliveira working for another arm-in choke. Stephens gets to his feet while fighting Oliveira's hands and escapes. Oliveira goes to his back againsat the cage and invites Stephens to come down. Stephens obliges him by punching to pass once more. 
They return to their feet and trade 1-2 punch combos. Stephens lands a big right hand. Oliveira presses him against the cage with a minute left in the fight. Oliveira once more jumps guard, with his own back against the cage. Stephens striking actively from inside the full guard of Oliveira with thirty seconds left.
Oliveira ties up Stephens' right arm but Stephens hits him big with his left. The round ends with Stephens taking Oliveira's back.
Official Decision:
Charles Oliveira wins a unanimous decision with scores of 30-27, and 29-28 (twice).
KJ Noons (12-6) vs. Daron Cruickshank (16-5)
Daron landing with nice punches to the head and body, as well as a good body kick, to get things going. Noons accidentally pokes Cruickshank in the eye, and the referee lets him rest for a few moments before re-starting the action. When they resume, Daron takes Noons down, briefly. Commentator says that Cruickshank's right knee appeared to buckle as he took Noons down. Hopefully it's not injured.
Cruickshank with a noticeable speed advantage, early on. Cruickshank hits an ankle-pick takedown but Noons gets back up to his feet immediately. Nice left hook from Daron as KJ charges in with a knee. Noons charges in again and Cruickshank counters with a right hand.
Through nearly four minutes, both men have each landed 26 strikes. Noons gets inside and lands punches and a knee to the head of Daron. Cruickshank shoots in and gets a take down with ten seconds left in the round.
Round 2
Noons all over Cruickshank early on. Daron claims he has been poked in the eyes. The referee initially makes him continue but then eventually calls a pause in the action. The replay clearly shows a second accidental but blatant eye poke from Noons.
Cruickshank cannot see very well and is bleeding out of his eye. This doesn't look good. The doctor tells the referee to give him time to rest, and then that he'll test his vision again, afterwards. Cruickshank does not look good. He did not appear to be able to tell how many fingers the doctor was holding up.
The doctor tells the referee that he can't see. The referee says to give him time. The doctor corrects him and says that Cruickshank can't see and that he can't continue to fight. The fight is called off.
Official Decision:
At twenty five seconds of the second round, the fight is stopped and declared a no contest.
Joe Proctor (10-2) vs. Yancy Medeiros (10-2)
Both men trade leg kicks in the early goings. Spinning back kick from Yancy. Proctor connects with another leg kick. Yancy lands a big right punch to the head of Proctor that hurts him. 
Proctor firing back with kicks and punches before Yancy complains to the ref for a supposed low blow and presses him against the cage for a few moments. Yancy with an overhand right. Overhand counter fight from Proctor.
Another spinning back kick to the liver from Yancy hurts and drops Proctor. Yancy bends down, locks on a guillotine choke and gets the submission. 
Official Decision:
Yancy Medeiros wins by submission from a first round guillotine choke.
Jessica Penne (11-3) vs. Randa Markos (4-2)
They scramble hard to the ground with Penne getting a take down and taking the positional advantage. Markos escapes and gets back to her feet, but soon finds herself in a triangle choke and arm bar attempt after going back into Penne's guard.
Good ground striking from Markos but Penne hits a sweep and gets on top inside Markos' full guard with under thirty seconds left. The round ends with Penne inside of Markos' guard.
Round 2
Markos lands an uppercut and follows up with straight lefts and rights. Markos lands a superman punch to the dome of Penne. Penne has the total strikes advantage at this point, 44 to Markos' 20. Markos trips Penne to the ground off of a kick, but doesn't follow her there. Markos huffing and puffing but throwing heavy shots.
Markos lands another big overhand right, and Penne lands a knee to the gut. Another big overhand right from Markos, follows up with a ten-punch combination, while marching forward. Three more right hands from Markos!
She lands yet another overhand right and charges forward before Penne pushes her off. Penne stalking Markos, but only eating lead rights as a result. Markos trips Penne to the ground, Penne sweeps her but doesn't follow and Markos regains top position.
From there, Markos mounts Penne briefly before getting reversed into her full guard. Penne stands and breaks the guard up against the cage with a minute left. She comes back down to the half guard of Markos. With 15 seconds left, Penne goes hard with punches downward on Markos.
Round 3
Markos starts out strong again with punches, but Penne maintains her cool, looking for and getting leg kicks. Markos' attack is a bit more varied, including spinning back fists and kicks. 
Markos begins to find her range again with the overhand right. Penne fires back and gets Markos to the ground. The two scramble back and forth, exchanging positions. Penne has Markos pressed against the fence once more, but Markos scrambles to an inverted triangle position, and that's where the fight ends.
Official Decision:
Jessica Penne wins a split decision with scores of 30-27 and 29-28. One judge scored the fight in Markos' favor with a 29-28 score.
Prelims
Angela Hill (1-0) vs. Emily Kagan (3-1-0)
Round 1
Kagan rushes in and closes the distance straight away, but it is Hill who strikes first with a big knee to the head from the clinch. Out in the center of the cage, the Muay Thai fighter Hill lands a couple big over hand punches, and Kagan closes the distance again, pressing Hill against the cage.
Kagan with good dirty boxing from the clinch but Hill gets free and begins to unload with punches. Hill catching kick attempts from Kagan and landing more punches.
With a little over a minute left, Hill drops Kagan with a punch. Kagan hangs tough and gets back to her feet. Hill lands several more big knees to the head of Kagan from the clinch and hurts her bad. Hill follows up with a head kick.
The round ends with Hill landing more knees to the head.
Round 2
The instant replay reveals that Hill hit Kagan with an illegal knee to the head as she had three points on the ground. Ref missed it. More clinch work at the start, with Hill landing good shots inside with her hands and knees. Another big knee to the head from Hill staggers Kagan. Kagan presses forward, looking for a take down but gets stuffed. Hill lands knee and elbow after knee and elbow to Kagan as she's pressed against the cage and bleeding above her right eye. Hill has landed 39 strikes from the clinch up to this point. Kagan hanging tough and looking for a take down from the clinch against the cage. Hill is able to circle out and land more knees to the head, before snapping a head drag take down, and landing more punches and knees. Once more, it looks as though Hill is moments away from finishing the fight but Kagan keeps fighting. Hill tossing Kagan around from the clinch, now, and continuing to land punches and knees as the round ends.
Round 3
Hill has Kagan pressed against the cage and is landing knees to the mid-section. Kagan gets free and shoots for a take down but is stuffed once more. Hill has thrown nearly 160 strikes in the fight, so far. Kagan changes levels for a single takedown, and then switches to a double leg attempt. Kagain pressing Hill against the cage and gets an old school Gracie take down from the side of Hill, scooping her up and slamming her down. Hill gets back to her feet, but Kagan hits it again with under a minute and a half left. Hill gets to her knees and takes the back of Kagan, without hooks in. Kagan stands but gets elbows and knees for her trouble. Now Hill has Kagan pressed against the cage, using her head well. Short elbows from Hill to the head. Hill ends the fight with more knees, her own take down and more punches and knees.
Official Decision:
Scores are in and in favor of Angela Hill, 30-26 (twice), and 30-27. The humble Hill says the experience was "really scary," but that she thinks she "proved it tonight that I deserved to be in the [TUF] house, and the UFC."
Round 1
Daly gets things started by pushing the pace and peppering Chambers with punches. Chambers slows things down for a moment by clinching with Daly and pressing her against the cage. Daly gets free but Chambers shoots and scores with a take down. Daly gets busy from her full guard right away and looks for an arm bar. Daly has it locked on and has flipped Chambers over. Chambers defends and slips her arm out.
Daly takes top half-guard position on Chambers, then works into mount. Daly blasts Chambers with big punches from the mount before Chambers regains a half guard and temporarily stops the assault. Daly gets to cross-side, and resumes the striking attack. Chambers gets to her knees and her feet but Daly is still all over her.
Daly has a 54-12 striking advantage at this point in the round over Chambers. Daly gets Chambers down again and mounts her once more with about thirty seconds left.
Daly goes for a second arm bar from mount andstraightens the arm out...Chambers taps out with eight seconds to go!
Official Decision: Aisling Daly gets a tap out submission win by arm bar at 4:53 of the first round.
Tecia Torres (4-0) vs. Angela Magana (11-6)
Round 1
The last woman to beat Rose Namajunas, Tecia Torres walks into the Octagon second, after Angela Magana, and looks every bit the part of a "Tiny Tornado." We are set for the FOX Sports 1 prelims.
Torres stalking Magana and throwing punch combinations. Nothing completely flush has landed yet, however. Torres hits a big right punch.
Torres mixing in leg kicks now, with her right hand. Torres throws and connects with another body-head punch combination that drops Magana to her seat!
The tough Magana gets back to her feet and looks for a take down from the clinch, against the cage. Torres has a 32-14 strike advantage at this point, with under a minute left in the round.
Torres lands another right hand to the chin, and follows with a leg kick and another punch combo to end the round.
Round 2
Magana's corner tells her that they love her but forget to put her mouth piece back in, initially. Eventually, they get it back in and the second round starts. Magana trying to keep her distance in the first minute, connects with a two-punch combo and follows up with a rear roundhouse kick to the lead leg of Torres. Torres punches her way into the clinch and Magana counters with a Thai plum clinch and a knee to the head. Magana begins to pump the jab in Torres' face and gives her something to think about on her way in. Torres lands a solid high kick. Magana answers with a knee to the body. Torres lands another right hand, and continues to stalk Magana with a minute left in the round. Torres lands a left hook in the middle of a punch combo. Torres is landing 53% of her strikes up to this point in the fight. Torres staggers Magana with another combo with thirty seconds left. Magana eats another right hand and a side kick but survives the round.
Round 3
Torres picks up where she left off, by stalking Magana and throwing a body-head punch combo, capped off with a side kick to the body. Torres' lead right hand is setting up most of her combos.
Torres hurts Magana with another right hand. Yet another prompts Magana shoots for a take down but is defended by Torres. 
Torres goes over the top with another right hand and then lands a head kick with her foot. Torres has now landed 60 head strikes, compared to Magana's 9, up to this point in the fight.
Torres connects with another side kick and her corner calls for her to try and finish Magana. Torres lands almost every strike of yet another punch-kick combo started off by her right cross. Torres lands another kick to the face.
Torres is blitzing Magana with under a minute left, going all-out with punches and kicks, seeking the stoppage win. Torres ends the round and fight with a side kick, and a take down.
The horn sounds and Torres raises her hands in celebration after her UFC debut.
Official Decision: Judges score the fight 30-27 (twice), 30-26 for Torres, who wins by unanimous decision.
Round 1
Ham with a counter left straight, and body kick to get things going. A hard left inside leg kick from Ham lands. 
Push kick from Calderwood connects. Another left punch lands for Ham. 
Ham lands a head kick. Ham catches a kick from Calderwood, and then lands a straight punch to the head. Ham much smaller but the quicker fighter, so far. Nice jab from Calderwood.
Hard kick to the body from Calderwood lands. Hard spinning back kick lands for Calderwood. Calderwood misses witha  spinning back elbow, and Ham clinches up with her and presses her against the cage. Calderwood reverses position and presses the Korean champ against the cage.
They get back into the center of the mat and Calderwood lands a side kick and right hand. Ham responds with a big left hand. 
Ham lands a body kick and another big left hand to the chin of Calderwood to end the round.
Round 2
Calderwood lands a solid knee to begin the round. Calderwood switches her stance and lands a left straight punch to the face of Ham. 
Ham lands a straight right to the gut of Calderwood, then a left straight to the face. Calderwood lands a short elbow to the head.
Calderwood lands a double jab to the face of Ham. Ham lands another left to the face, then another to the mid-section. They clinch against the fence and Calderwood gets behind Ham and gets one hook in. Calderwood's nose is bleeding badly, and her mouth is open.
Calderwood landing good knees to the legs and body from behind Ham. Ham turns around and pushes Calderwood against the cage. They separate and Calderwood gets to work with kicks. Ham lands a stiff left straight to the chin of Calderwood.
Calderwood answers with a  jab and takes the back, standing, of Ham once more. Calderwood gets a take down to end the round.
Round 3
Calderwood presses Ham against the cage and lands two knees, one to the head and one to the body. Ham answers with her own knee to the gut. Calderwood keeps good head position to keep Ham pressed against the fence. 
Ham lands another left straight to the face once they free up. Calderwood presses her against the cage once more. Calderwood looking for the take down, but Ham defends well. 
Nice knee from Calderwood to the head form the clinch. Size playing a big role in this fight, at this point. Calderwood able to make the natural atomweight Ham feel her weight.
Ham eats a front kick to the face and gets taken down straight into a side-control arm-triangle choke position. Ham defending by grabbing her right leg, as Calderwood gets perpendicular to Ham. Calderwood sticking full side control and then moves into the mount and back with thirty seconds left in the round and fight.
Ham stands to defend but gets brought back down to the mat. Calderwood firing punches to end the fight, from the back.
Official Decision:
Joanne Calderwood wins by unanimous decision with scores of 30-27 (twice) and 30-26.
Bec Rawlings (5-3) vs. Heather Jo Clark (6-4)
Round 1
Clinching up in the center of the cage, early. Clark absorbs a right but takes Rawlings down right into the side mount. Rawlings gets to her knees but Clark lands good punches and hammerfist strikes. Rawlings gets back to her feet but is pressed up against the cage by Clark.
The referee separates them for no reason and Clark immediately closes the distance once more and works into a clinch. Rawlings does a great job of using her head, however, then throws and lands with big punches on separation. 
Clark recovers and presses Rawlings against the cage again. Big elbow from Clark on separation from the clinch, and then she gets back into the clinch. Rawlings hits a head lock hip toss!
Clark lands softly and works to take Rawlings' back on the ground, however. Rawlings has the total strikes advantage at this point but it's doing her no good as Clark takes her back.
Round ends there.
Round 2
Clark with a nasty right overhand to the head of Rawlings. Rawlings lands a good left hook and defends a take down attempt from Clark. Rawlings has eaten an unintential headbutt from Clark, and a bruise is starting to swell on her head.
Clark takes Rawlings down off of another head and arm hip toss attempt from Rawlings. Clark working from side control once more. Clark takes Rawlings' back again, with two and a half minutes left in the round. Rawlings tries to hustle and turn in to Clark but Clark maintains her back position with great timing and movement.
Clark working a short rear naked choke after flattening out Rawlings' hips. Rawlings defends the choke but can't yet escape from the back mount. Clark begins to lose the back control as Rawlings stands, but sets up the arm bar. Clark posts on her right arm, and scoots back down on Rawlings' back in order to keep the back mount position.
Clark begins to punch the head of Rawlings with 15 seconds left, from back mount. Once more, the round ends with Rawlings' back taken, and she's saved by the bell.
Round 3
Rawlings starts out the round with big punches and elbows. Clark looks tired and hurt but presses on. Rawlings swinging for the fences and trusting her conditioning. Clark now developing her own mouse on her face. 
Clark slows things down and presses Rawlings against the cage with three minutes left. Rawlings will not concede the position and pushes and swings away to momentarily get free. Clark presses her back against the cage. Rawlings uses her right elbow to frame on the chin of Clar, create space and land a knee to the body. The referee tells the ladies to "work," because he's apparently an idiot who has no idea how hard it is to fight, and can't tell how hard they are, in fact, working.
They are separated and Rawlings lands a flying left knee to the chin of Clark! She follows up with a right punch to the head. Clark lands an uppercut! They are going for it with a little over a minute left. Rawlings throws an uppercut and Clark clinches up with her again.
Rawlings fighting hard to get out and does. They center up and Rawlings lands with a kick to the body before Clark lands two right hands to her face! Clark pressing her against the fence again, with less than thirty seconds left. Rawlings throwing knees and punches as the round ends. 
The two bitter rivals embrace after the final horn. Harder to hate someone after you learn to respect them over three rounds of battle.
Official Decision:
All three judges score the fight, 29-28, in favor of Heather Jo Clark by unanimous decision.
Felice Herrig (9-5) vs. Lisa Ellis (15-8)
Round 1
Ellis wastes little time taking Herrig down. Herrig gets back to her feet but gets caught in a guillotine choke almost immediately. Ellis tells the refe that Herrig is grabbing her glove. Herrig escapes the choke and takes Ellis down.
Herrig now in Ellis' half guard. Ellis sweeps Herrig from the half guard and Herrig shoots for a triangle choke and gets her own sweep into mount from there! Ellis gets back on tpp but looks to be in trouble. She steps over and Herrig tries to switch to an arm bar while both women are face-down.
Ellis now free from danger and in cross side. Ellis briefly looks for another guillotine choke but Herrig gets out and begins to work from inside Ellis' full guard. Ellis throwing and landing with elbows from her back. Ellis working an Oma Plata shoulder lock but Herrig isn't in danger. Ellis transitions to a knee bar attempt but Herrig escapes and kills Ellis' hips with a leg drag position.
Herrig now landing elbows from on top in Ellis' half guard with ten seconds left. Close, great round!
Round 2
Herrig gets Ellis on her back early but Ellis stands and gets her own take down. Ellis gives up too much space and Herrig sits up, presses forward and puts Ellis back on her back. Herrig gets the mount on, and then the back of Ellis! Herrig riding the back a little bit too high, is sliding off as Ellis stands and tries to escpae out the back door.
Herrig switches to an arm bar but Ellis defends and lands on top, again. From there, Herrig grabs a triangle choke, with the help of a hair grab. Herrig has the triangle choke from the mount and throws punches down on Ellis before Ellis rolls and gets back on top.
Herrig pulls the arm out and gets the arm bar submission!
Official Decision:
Felice Herrig wins her UFC debut with an arm bar submission at 3:05 seconds of the second round.
Jessica Penne (11-3) vs. Randa Markos (4-2)
---
---