Silence is golden: Rousey mum on mom ripping coach
October 28, 2015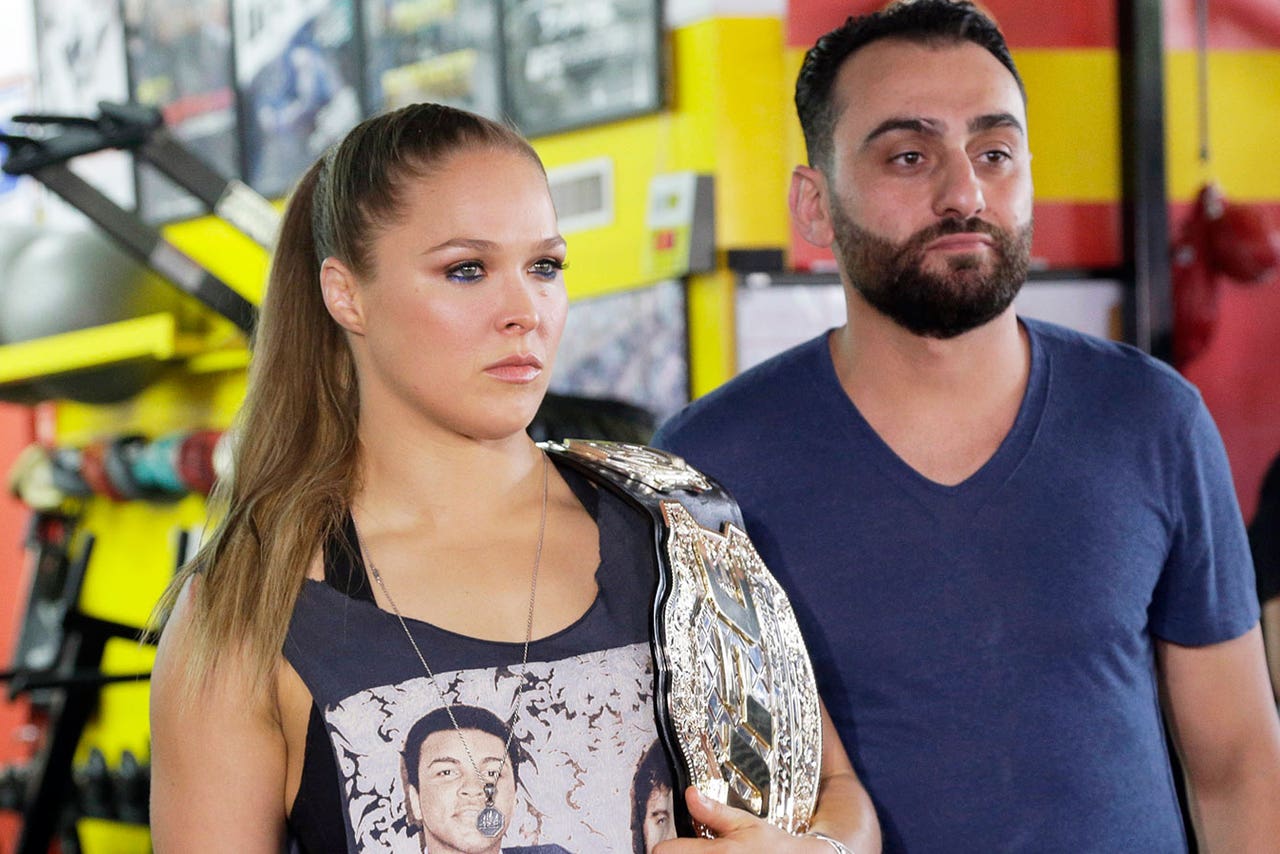 UFC champion Ronda Rousey isn't sharing her opinion of her mother's sharp criticism of her coach, Edmond Tarverdyan.
Tarverdyan also declined to trade verbal shots with AnnMaria De Mars on Tuesday during a promotional appearance for Rousey's next title defense.
De Mars called Tarverdyan "a terrible coach" and "a bad person" in a video interview with LatiNation earlier this month. De Mars claims Tarverdyan "hit the lottery" when Rousey decided to study mixed martial arts with him.
"Any reaction or response I have to my mother, she's going to hear it from me, and not a media outlet," Rousey said, declining to indicate whether she had confronted her mother about it.
Rousey's mother is a former judo world champion who introduced her daughter to the sport and raised her to be an Olympic medalist. Rousey took up MMA after the Beijing Olympics and swiftly became the UFC's first women's bantamweight champion in late 2012.
Rousey and Tarverdyan have been working together for five years. Tarverdyan, a veteran combat sports trainer who also has worked with boxer Vic Darchinyan and other UFC fighters, declined to say much about De Mars' opinions.
"It's her mom at the end of the day, and that's it," Tarverdyan said. "I'm a person that's never spoken negatively about anybody's mom. I've always said a mom is a mom. That's all I have to say."
Rousey (12-0) will attempt her seventh title defense when she faces Holly Holm at UFC 193 in Melbourne, Australia, on Nov. 15. She has won her previous three fights in 64 combined seconds, establishing herself as the UFC's most dominant champion and the world's most famous MMA fighter.
Tarverdyan initially wasn't interested in training Rousey when she went to work at his Glendale Fighting Club, claiming he was too busy with boxers and other fighters. He changed his mind when he saw how Rousey's judo skills would translate to MMA, particularly her formidable armbar skills.
Rousey and Tarverdyan have formed a tight bond, and De Mars' comments seem unlikely to break it. Tarverdyan and De Mars are both at cageside when Rousey fights, and both are expected to be in Australia next month.
Rousey has kept her focus on training to meet Holm (9-0), a former boxing champion and a relative newcomer to MMA. Rousey was excited for a matchup with Holm to show off her boxing skills, which have progressed during her half-decade with Tarverdyan.
Although the New Mexico native is among the toughest strikers Rousey has ever faced, the face of women's MMA will carry a heaping amount of her usual confidence into the Melbourne cage.
"She seems like a very nice person, a sweet girl," Rousey said. "She's the kind of person like, after I beat her and she makes a lot of money, I'm like, `Good for her! You buy yourself an Albuquerque house with that!' ... With Holly, I'll genuinely be happy for her and hope that she accepts her loss in a healthy way and enjoys all the benefits that she got from this fight."
---
---