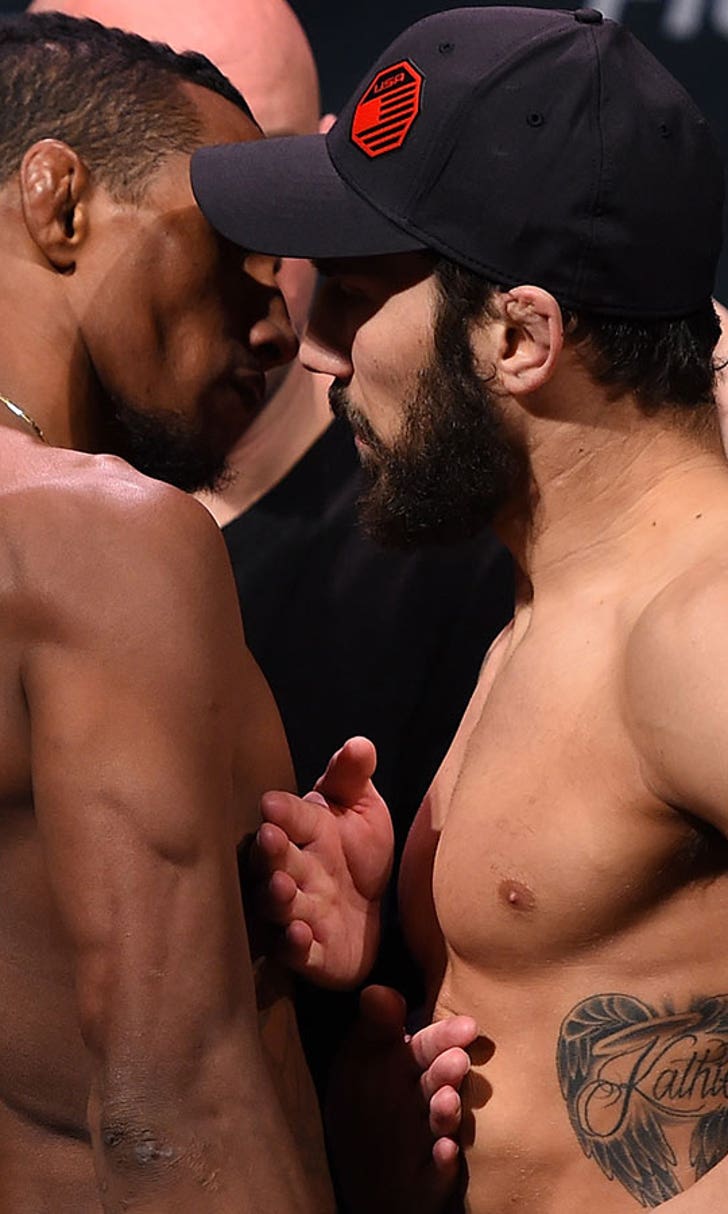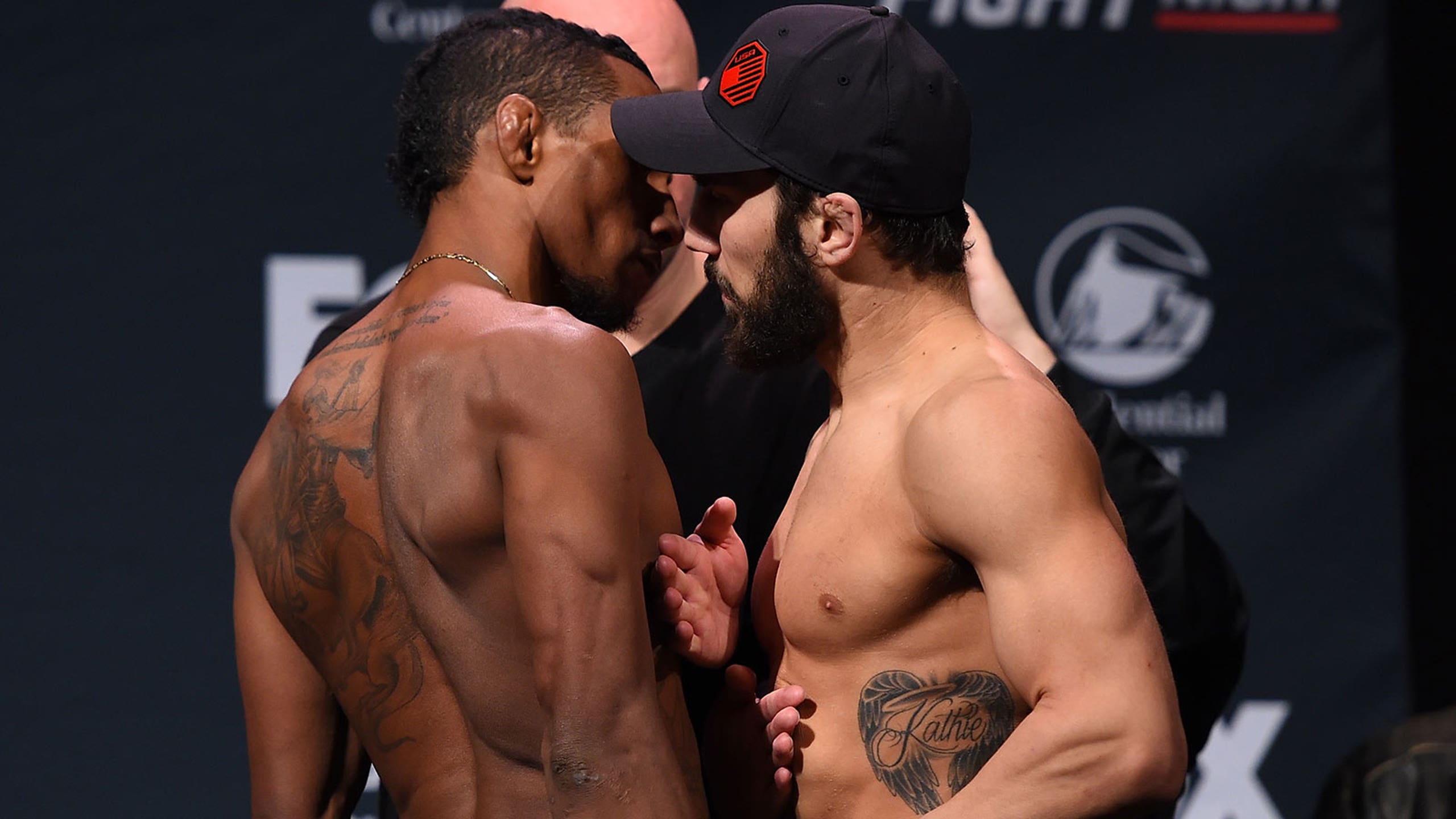 Shoving match and maple syrup highlight UFC Fight Night weigh-ins
BY Damon Martin • January 29, 2016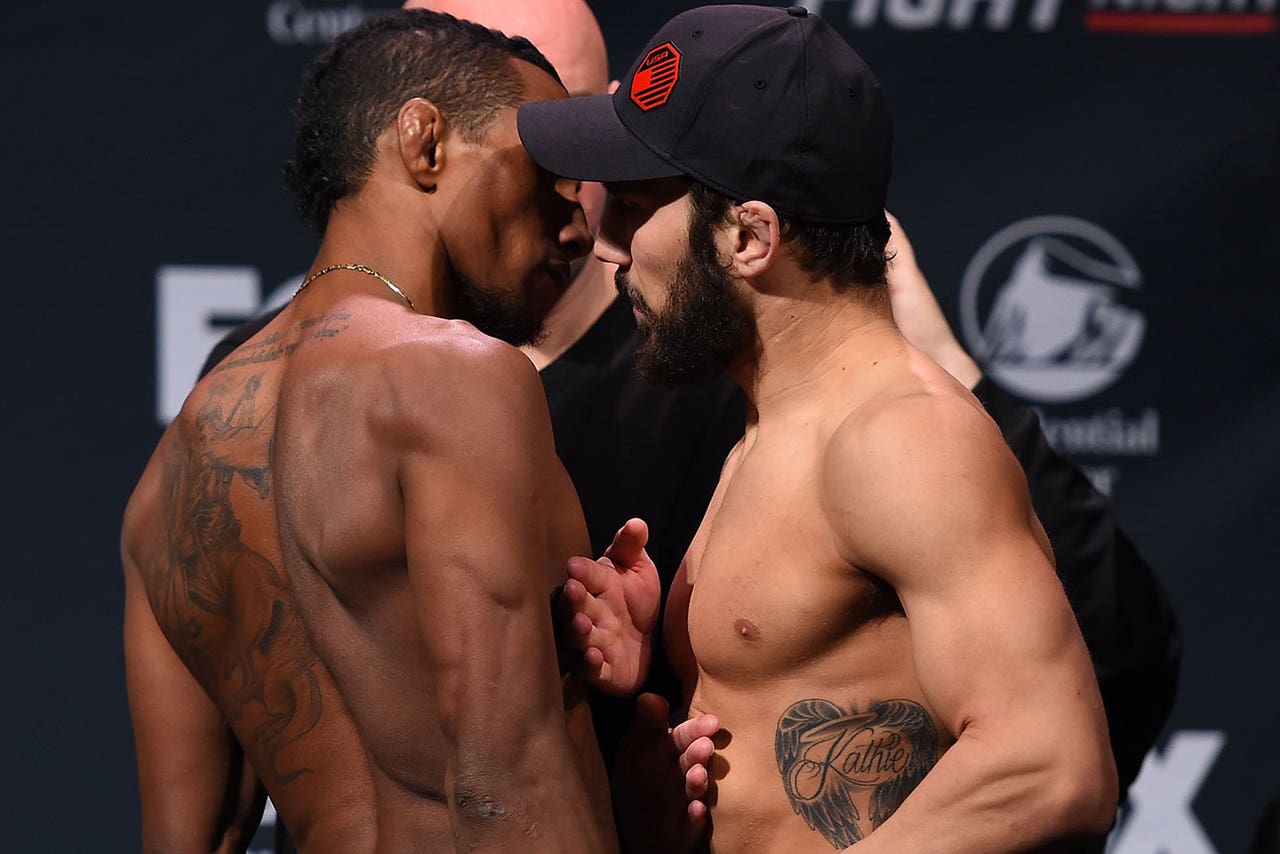 Everybody hit the scale and made weight ahead of FOX UFC Fight Night in New Jersey with a few heated staredowns, some Canadian maple syrup exchanging hands and one 19-year-old superstar doing his best Arnold Schwarzenegger impression.
Main-event fighters Anthony Johnson and Ryan Bader had no issues as they weighed in ahead of their five-round fight on Saturday night.
Johnson, who has notoriously suffered through tough weight cuts in the past while trying to fight at both middleweight and welterweight, looked slim and trim while hitting the mark for his latest fight in the Octagon.
While both the main and co-main event feature fighters ranked in the top 10 with title implications potentially on the line, it was the bantamweight battle between Jimmie Rivera and Iuri Alcantara that had the most sparks at the weigh-ins.
The two fighters made weight and then immediately charged towards each other with shoves being exchanged before UFC president Dana White was forced to intervene and separate Rivera and Alcantara before something bad could happen.
Nineteen-year-old phenom Sage Northcutt was all smiles as he weighed in at 170 pounds for his first fight at welterweight in the UFC.
Northcutt even did his best bodybuilder stance on the scale before staring down opponent Bryan Barberena with a big smile plastered across his face for their matchup on Saturday.
The friendliness also extended in the lightweight matchup between Olivier Aubin-Mercier and Diego Ferriera after they weighed in for their fight.
Aubin-Mercier is well known for extending some kind of olive branch to his opponents with cookies or some kind of post weigh-in snack. This time around he handed over a jug of Canadian maple syrup to his opponent -- and if you've ever shopped for that at your local market it looks like Aubin-Mercier just gave Ferreira a sizable bonus before the fight even began.
FOX UFC Fight Night: Johnson vs. Bader kicks off live on FS1 on Saturday night with the prelims at 5 p.m. ET followed by the main card on FOX at 8 p.m. ET. 
---
---