Paige VanZant: 'I wasn't a real fighter until my last fight'
April 13, 2015

A 21st birthday is treated like a holiday by many people. You've reached the legal drinking age, and a night of partying might typically end with visits to at least a few local bars -- and maybe a bad hangover the next day.
For UFC strawweight Paige VanZant, who recently turned 21, her party included a day full of wrestling practice, sparring and training as she gets ready for a showdown with Felice Herrig at FOX UFC Fight Night in New Jersey this weekend.
VanZant was only 20 when she made her UFC debut last November, and she made the most of that appearance by taking home a win and a $50,000 "Fight of the Night" bonus. A few months later, VanZant signed an endorsement deal with Reebok, making her only the sixth UFC fighter on the entire roster to have an individual deal with the show and apparel company.
Needless to say, VanZant isn't anything like most 21-year-olds.
"I grew up really fast," VanZant told FOX Sports. "I went to college when I was 16 so I was always just ahead of my time. I'm surrounded by people who care about me. Urijah (Faber) really cares about me, keeps me on track and makes sure if I need anything, he makes it happen. It's just the team and the environment that I'm around.
"I'm in such a positive environment with such positive people. I couldn't imagine being anywhere else."
Unlike her debut, for which she was forced to stay at home in Nevada for training, VanZant was able to travel to Team Alpha Male's headquarters in Sacramento this time. She's spent nearly two months getting ready for Herrig with the fighters there.
It's not VanZant's first time training at the gym, but following her first experience in the UFC, she's beginning to see things in a much different light. VanZant has no problem pointing out the flaws in her early fights because, truth be told, she went out there as a complete novice in the cage.
Now she's starting to get some real-world experience and the payoff has been immeasurable.
"I honestly will say I wasn't a real fighter until my last fight," VanZant said. "I went in there for most of my fights not really knowing what I was doing, but I had a lot of heart and I had a lot of determination. I was physically an athlete, so that's why I was able to pull off those wins. But with this fight and my last one, as a fighter I've got so many more skills and the technique, and I've gotten that from being at Team Alpha Male."
It's been a whirlwind for VanZant since beating Kailin Curran as the opening fight of the entire card, and now she's part of the first bout airing live on FOX this weekend. When you couple that with her Reebok deal, VanZant has made a lot of waves since her debut, but with that level of attention also comes a mountain of scrutiny.
Following the announcement that she signed with Reebok, former UFC women's strawweight champion Carla Esparza spoke out about the lack of promotion she was receiving despite holding the 115-pound title at the time. Esparza did say she was happy for VanZant after she got her Reebok deal, but there was definitely resentment in the air by several fighters with more experience and deeper resumes in the Octagon.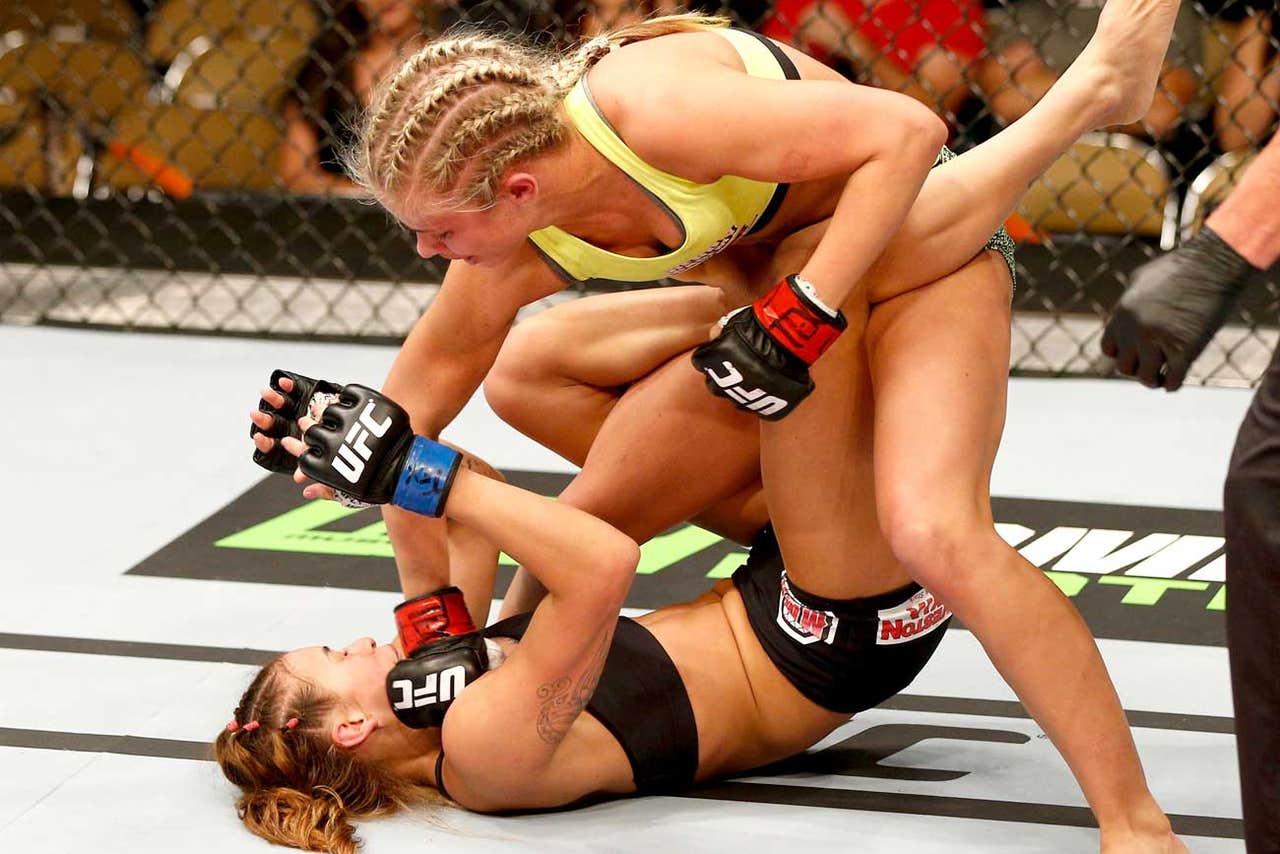 VanZant won a $50,000 'Fight of the Night' bonus for her win over Kailin Curran in November.
VanZant doesn't show any ill will toward fighters who are upset that she scored a deal with Reebok because she would never get angry with them for landing something similar. Instead she chooses to be positive about the entire experience and use her Reebok deal to the fullest.
As a matter of fact, VanZant's Reebok deal helped her tremendously as she prepared for Herrig in this fight camp.
"I'm not one to hate on people for having success. If anyone has success in our division, I think that's something to be proud of because women's MMA is really developing," VanZant said. "I get it. For Carla (Esparza) to be upset, I get it, she was the champion. But Reebok is their own company so when they put out offers for sponsors, they just take people that connect with them and connect with their brand.
"I'm just so fortunate that they picked me. It's really helped with my training camp. I'm able to stay in Sacramento and pay rent, which is great."
Sometimes it's tough to remember just how young VanZant is with the amount of maturity she shows inside and outside the cage. There are dozens of fighters who would likely wilt under the pressure, but she just smiles and shrugs off any of the negativity thrown her way.
VanZant is the one person who never forgets her age because despite all the accolades, compliments and even sponsorships, she knows there's still a long road to travel before she's anywhere near the place she wants to be as a fighter.
"I'm still very young and I'm very young in this sport," VanZant said. "I have a lot of room to grow athletically. I have not peaked. My fighting style's going to change a lot. I have the best team in the world to learn from and I can't wait to show off what I've learned in this fight camp.
"This is the biggest fight of my career and I'm making sure I treat it that way during every second of training. I want to be the best I can possibly be. I'm pushing myself very hard."
And after her fight is over this weekend, VanZant says she will finally get around to celebrating her 21st birthday.
"Me and my mom are going to go to the beach," VanZant said. "We are going to go to the beach and just relax. That's all I have planned."
---
---