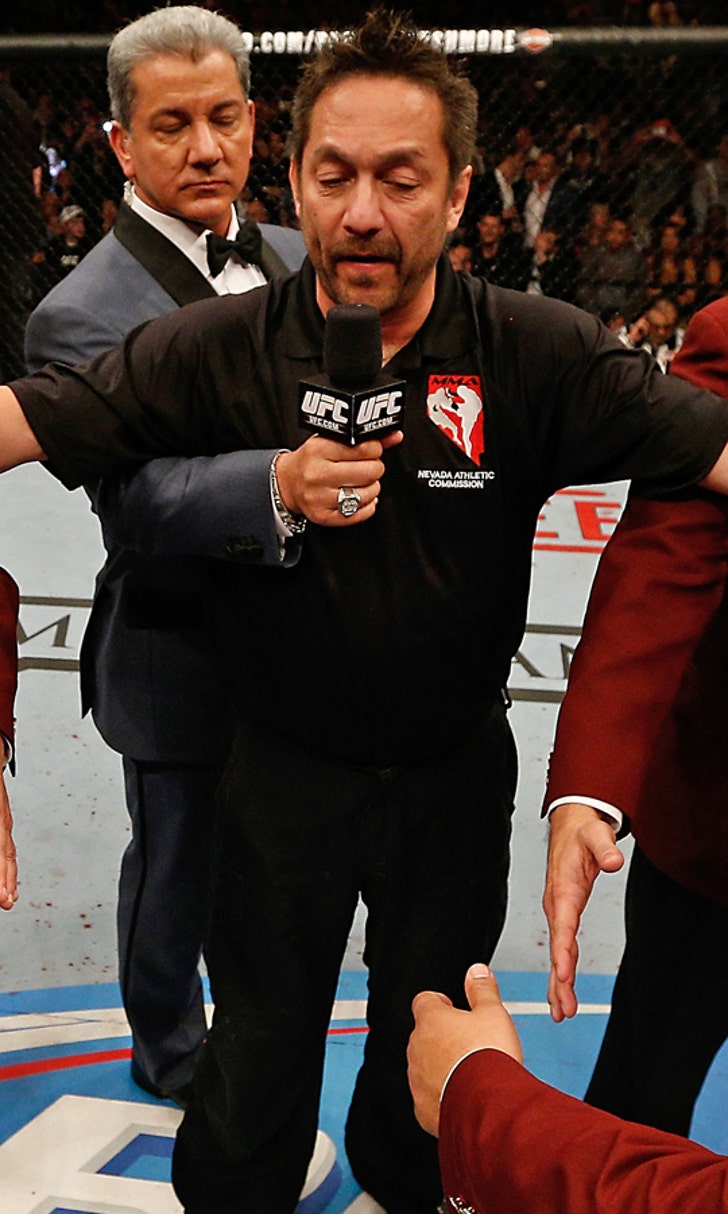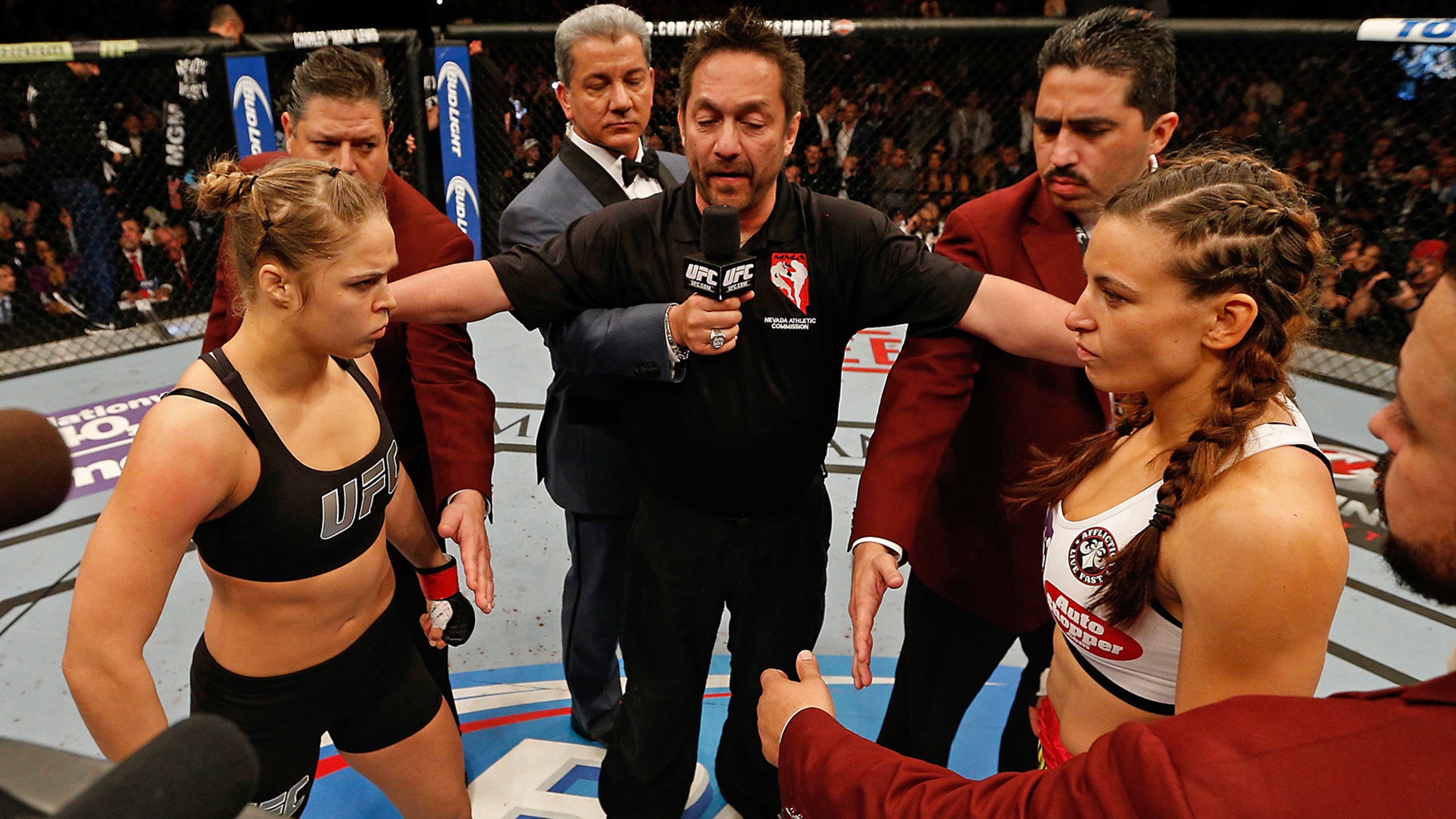 One year after Octagon debut, women firmly established in UFC
BY foxsports • February 18, 2014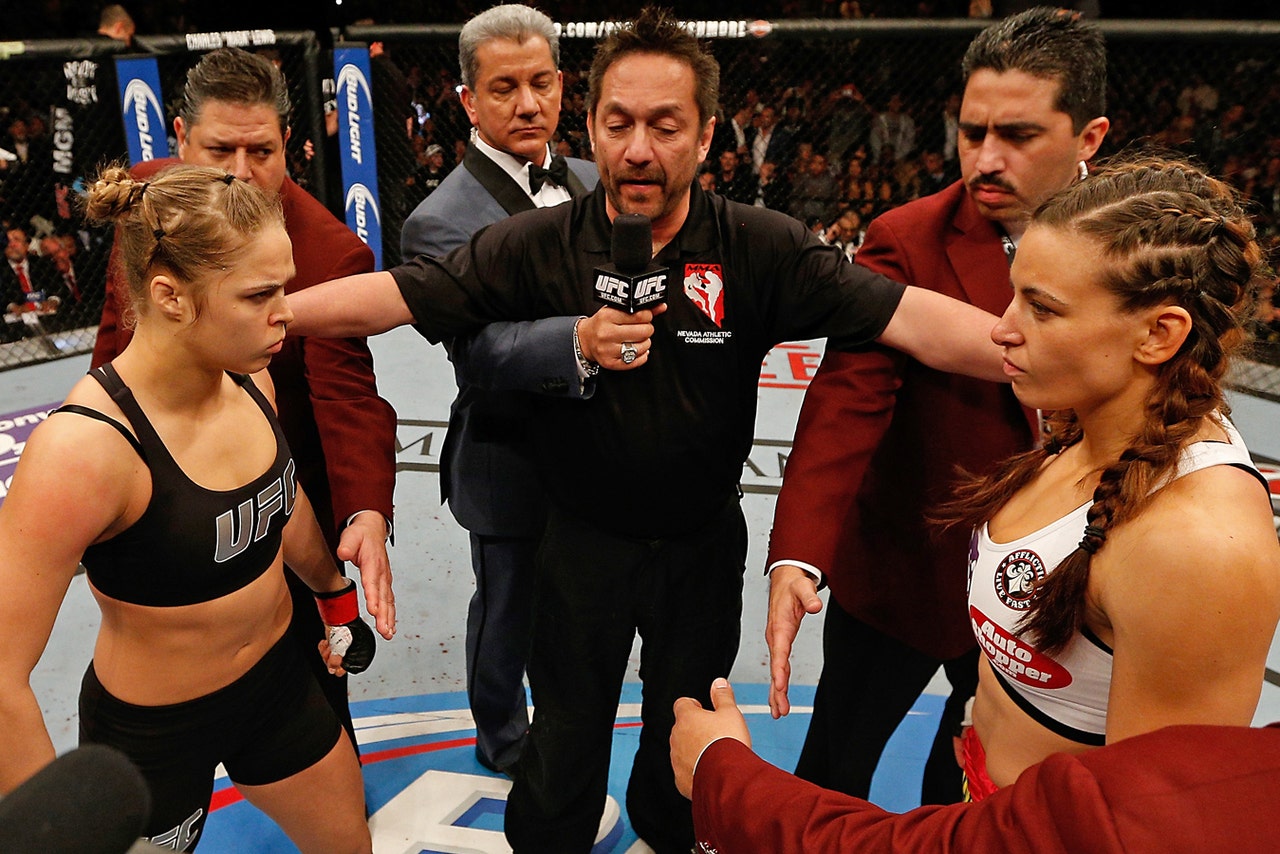 Sitting inside of the Honda Center last February, Julie Kedzie might have been experiencing a tingling sense of familiarity. Six years earlier, she had helped blaze a trail for other women to walk. It was Kedzie who stood across from Gina Carano in the first women's match ever aired on live U.S. television. Now, here she was watching, waiting for Ronda Rousey and Liz Carmouche to become the first women ever to walk out and compete in a UFC Octagon.
"When they were walking out, I started crying. Totally bawling," said Kedzie, a 10-year veteran of the sport who recently announced her retirement. "I was with a friend of mine, and she said, 'Julie, hold it together.' It was just that I couldn't believe this moment was finally here. It was so cool."
The historic nature of the fight combined with the emotion of the moment made the atmosphere electric, which in retrospect, seems as if it was an obvious conclusion. But leading up to UFC 157, a successful outcome seemed no sure thing. There were plenty of critics, both of women's fighting and of the match's placement as the main event ahead of veterans Dan Henderson and Lyoto Machida.
Would MMA fans -- mostly young and male -- accept the women? No one knew for sure.
But as the event neared, it became clear that there was a growing groundswell of interest. Rousey, an outspoken former U.S. Olympic judo medalist, had drawn unprecedented media attention, earning requests from outlets that had never previously shown interest in MMA. Meanwhile the UFC smartly worked to publicize Carmouche's unique personal interest story. She was a former Marine who did multiple tours in Iraq, and was now scraping by while trying to reach her dream. And she just happened to be publicly gay.
As pure as the prizefight itself can be, the money is generated in the drama that precedes it, and by the moment that Rousey and Carmouche prepared to enter the arena, fight fans were fully invested.
"The energy of the entire place charged me," Carmouche said of her arrival into the arena. "I was relaxed the entire time backstage, but then to feel the people, it almost felt like I was drifting off their energy to the cage."
The momentum for women in the UFC has never quite ceased. In just one year, the women have fully established themselves as mainstays. Aside from the Rousey-Carmouche fight, there was Cat Zingano vs. Miesha Tate, which was considered one of the best fights of 2013. There was Rousey vs. Tate II, a co-main event of UFC 168, an event that surpassed the magical 1 million pay-per-view buy threshold. There was the talent of "The Ultimate Fighter" season 18. And the announcement of a second women's division. And on, and on.
The impetus for all of this, of course, is Rousey, the 27-year-old former Olympian who began to seize headlines almost from the beginning of her run in major MMA. According to UFC president Dana White, the "Rousey Effect" was solely responsible for changing his mind on adding a women's division in the UFC. For years, he'd resisted the idea, sure that there just wasn't the depth necessary to sustain an entire weight class.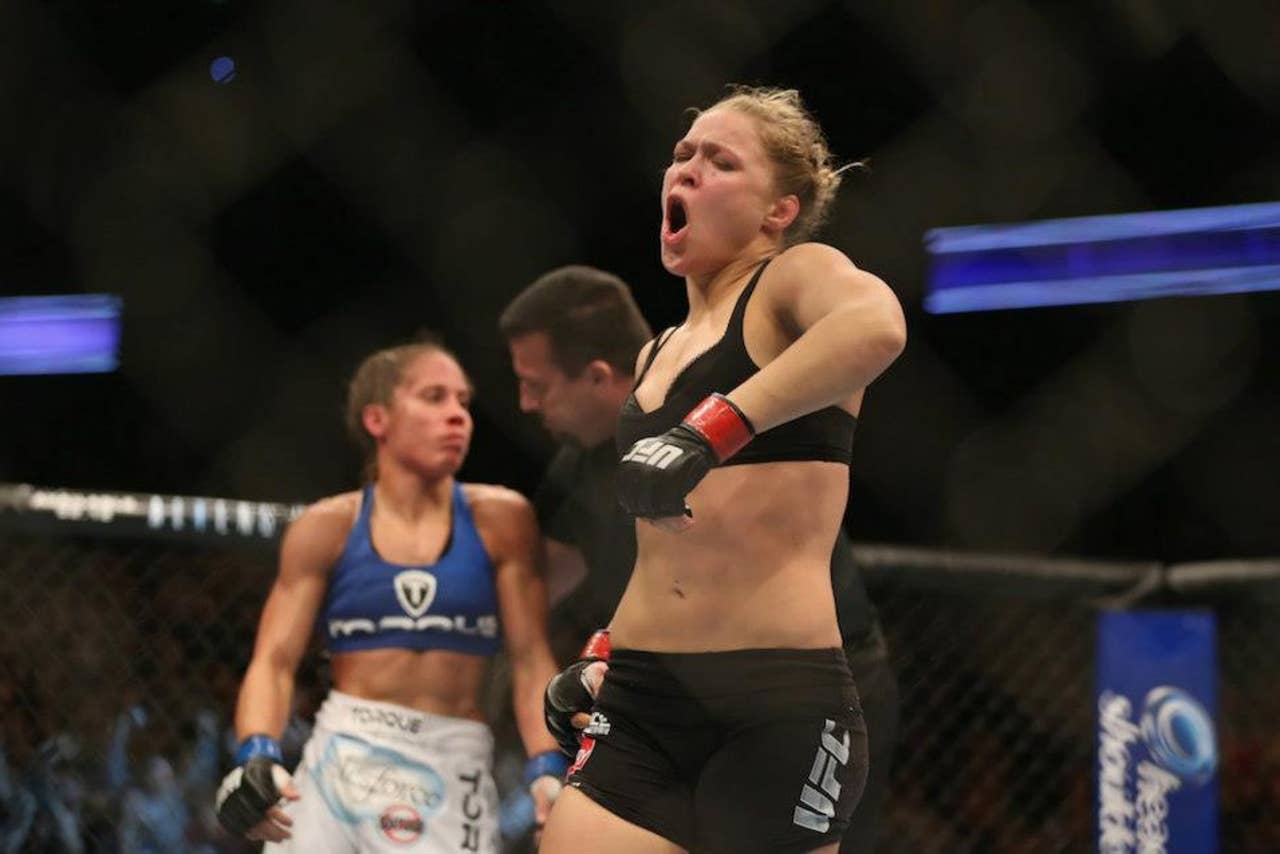 That was before the UFC's parent company purchased Strikeforce, which was then Rousey's home. In August 2012, White traveled to Rousey's title fight with Sarah Kaufman. During that trip, watching Rousey's intensity and seeing her star power live, his interest was piqued. Within days, he was referring to Rousey as a "rock star," and publicly saying he could envision her fighting in the Octagon. A few weeks later, he invited Rousey out with a group of people for a television premiere in Los Angeles. As the group dined at Mr. Chow's, White asked her if she knew what was special about the restaurant. Rousey said no, and White informed here that this was the place where a TMZ crew had filmed him a year before saying women would "never" fight in the UFC. He had been wrong, he told her. And she was going to be the first one to fight in the Octagon.
In his own parlance, he was getting into "the Ronda Rousey business."
In the year since she debuted, she's arguably become the UFC's most important asset, crossing nearly every major demographic. She was included in TIME Magazine's "30 Under 30: World Changers," she's been featured on the covers of ESPN The Magazine and Maxim, she's appeared on late night talks shows like "Conan" and "Jimmy Kimmel Live," she's earned movie roles in Hollywood blockbusters, she's even been featured in Latino media due to her Venezuelan roots.
Indeed, the Ronda Rousey business is booming.
"There were a lot of other women who struggled to put the bricks in and build the foundation, but Ronda certainly blew everyone out of the water with her tenacity, attitude and incredible skill level," Kedzie said. "She's a one-in-a-generation kind of fighter."
"I'm going to go out and say she's the biggest superstar we've ever had," UFC president Dana White added. "No guy we've ever had has broken into movies or made as much money with sponsorships, movies or fighting like Ronda Rousey has."
Rousey has been at the vanguard, much the same way Carano was in the late 2000s. Carano, though, was eventually lured away from fighting after 2009, although she occasionally pops up at events as a fan.
While there has been concern about Rousey prematurely walking away from the sport given all of the outside interest in her, this time there is not as much fear that she will take the spotlight with her. At this point, the UFC is far too invested in women's fighting. For example, in December, the promotion announced that it had acquired the contracts of 11 female strawweight fighters from Invicta Fighting Championships, and planned to center the next season of The Ultimate Fighter around them, marking the first time there would be an all-women's season.
That is a welcome development for Rousey, who from the beginning has credited Carano as a trailblazer and voiced a hope of creating similar opportunities for the next generation of female fighters. Now it's happening before her eyes, which causes her to feel a sense of kinship not only with Carano, but also with UFC pioneer Royce Gracie.
These days, she often sees Gracie around the UFC introducing his children to the current crop of fighters, and she dreams off into the future about doing the same thing.
"Anything can happen, but I really am extremely encouraged that they have a whole other division that has nothing to do with me, surviving and being supported and having people excited about by it, just for itself on its own," she said. "And so, yeah, I'm extremely encouraged by that. It's a big stress off my shoulders to not have to worry about the girls and the girls' divisions. Now that I see they're catching their own momentum and the fans are excited about them, it's like, 'Go. Go off into the world and have fun with it.'"
The aftershocks are already being felt. Among the female fighters FOX Sports spoke with, all of them said there have been noticeably increasing numbers of women coming into their gyms to train.
"Having seen women in the UFC, they realize they can actually do something with this," Carmouche said. "They never thought it was possible before, and now it's creating opportunities for them."
"There are way more women doing MMA," Kedzie added. "When I first came to Greg Jackson's gym, there was me and [Invicta atomweight champion] Michelle Waterson doing MMA, and a bunch of female boxers and kickboxers. Now, every single one of us does MMA here. We get women from all over the world who come here to train MMA."
This current crop of featured talent will almost certainly give rise to a younger generation who sees the women of the UFC as empowered role models. UFC light-heavyweight champion Jon Jones, for example, has publicly said he has already begun to train his older daughters some fight moves.
"I love women in MMA. I think it's awesome," he said. "What Ronda Rousey, Miesha Tate and all these girls are doing for our sport, it's gigantic, and I think it's changing the world right before our eyes."
If there is one thing that has been downplayed in this whole whirlwind year, it is the step forward for women's sports that Rousey and Carmouche took. In basketball, women have their own professional league. In tennis and golf, the women have their own tours. But in one fell swoop, female fighters have been invited to permanently share the same platform and screen time with their male counterparts on a regular basis. That's something that doesn't take place in any other professional sport.
For a sport that still receives criticism as fostering misogynistic attitudes, that side-by-side placement is awfully progressive.
"It's really an awesome opportunity we've been given," said Sara McMann, the former U.S. Olympic wrestling medalist who will face Rousey in the UFC 170 main event on Saturday. "The amount that the UFC supports and backs the women, it's really incredible. When you hear NBA basketball coaches and executives talking, it's about their team, their league, the goals they have before them, but they're not interacting with women's basketball. It's not happening at the same time and it's not discussed as frequently. The fact that Dana White and the people who promote it are adamantly talking about how hard the women work, and how tough they are, and how they come out to fight, that's awesome. It helps us a lot."
Part of the move to full honors initially faced some resistance. Both the camps of Dan Henderson and Lyoto Machida, for instance, at first protested the decision to promote Rousey and Carmouche as the main event, a move which pushed them to co-main event status on the UFC 157 card.
"To be honest, at the time of course I wanted to be the main event as anyone would," Machida said. "I was upset we were dropped to the co-main event. But looking back at it, it was a title fight. And it's something that has grown a lot in the sport, the women fighting. So really the only reason to be upset is it wasn't the main event."
A year later, nobody batted an eyelash when Rousey and McMann were placed as the main event ahead of former champion Rashad Evans.
While the women have won some battles, others remain. There are still the ongoing issues of objectification. There are still problems in some parts of the world finding suitable training partners. And in October, Jessica Eye became the first UFC woman to fail a drug test.
The good news, however, is that most of the problems are not specific to being a female fighter. Most of them are simply pro athlete problems, or human problems, which leads most to believe the growth pattern will continue as the talent level increases.
"The men have been fighting in an organization like the UFC for 20 years," Carmouche said. "For women, it's one year. And in that one year, I can already see the skill level changing. Even around here, in the local [San Diego] fights, with women it used to be so sloppy because there weren't a lot of opportunities. Now I look on every fight card, there's one or two women's fights on the show. That's a huge difference. You can see it expanding and growing. It takes time. We're babies in the sport, but we're fast-growing babies."
Indeed, the women in the UFC have come far in just one year, further than most people thought was ever possible. From a time when there was furor over their place in the Octagon to a time when their champion's spot in the main event is routine. All of that in 365 days.
That gives hope to people like Kedzie, who lived through one women's MMA explosion but sees different seeds planted this time around that will have women's fighting thriving and reaching levels of interest even past what Rousey has drawn. This time, there is a whole division around the superstar, another one on the way, and grassroots numbers exploding.
Dana White might have initially invested into the Rousey business, but he's expanded far past that now. When it comes to women's MMA, the Las Vegas based company is all-in. One year later, even the unflappable Rousey finds a thrill in a house built so quickly yet so masterfully.
"It's funny, I thought that if all the stars and aligned and everything went perfectly it could go this fast," Rousey said. "But the realistic side of me thought, 'OK, there's going to be some things that come up.' And even though I knew that everything that has happened was possible, I didn't think it would all progress as seamlessly as it all has."
---
---