New footage of the sights and sounds during epic Conor McGregor vs. Nate Diaz rematch
BY Damon Martin • March 26, 2017
The epic rematch between Conor McGregor and Nate Diaz at UFC 202 will undoubtedly go down as one of the greatest fights in mixed martial arts history.

The five round war unfolded last August, but now there's even more to look back on during that 25-minute battle that saw McGregor edge out a majority decision over Diaz.

In a new look at the fight, McGregor, Diaz and their respective corners watched in awe as these two warriors went back and forth with the result ended in the narrowest of margins.

"Thank you Conor and Nate for taking our sport to a different level," flyweight champion Demetrious Johnson said while sitting cage side for the bout last year.

The footage picked up just ahead of the third round, where Diaz was able to sting McGregor several times with some hard combinations after he was dropped twice in the first 10 minutes of the fight.

"Listen, Nathan he can't take the pace no more!" Diaz's boxing coach Richard Perez shouted at him going into the third round. "He's done! He's done!"

With a star studded audience looking on, McGregor slouched over in the corner, clearly feeling the burn from exerting himself through the first two rounds where he did his best to get a finish over the ultra tough Diaz.

"This is why you push yourself everyday," McGregor's head coach John Kavanagh told him.

It was one of the toughest rounds of McGregor's career as he got backed against the cage while Diaz absolutely battered him with punches. At one point during a particularly brutal exchange, McGregor's girlfriend Dee Devlin was forced to look away as the punishment continued to mount.

"Huge round for Nate Diaz!" UFC color commentator Joe Rogan said.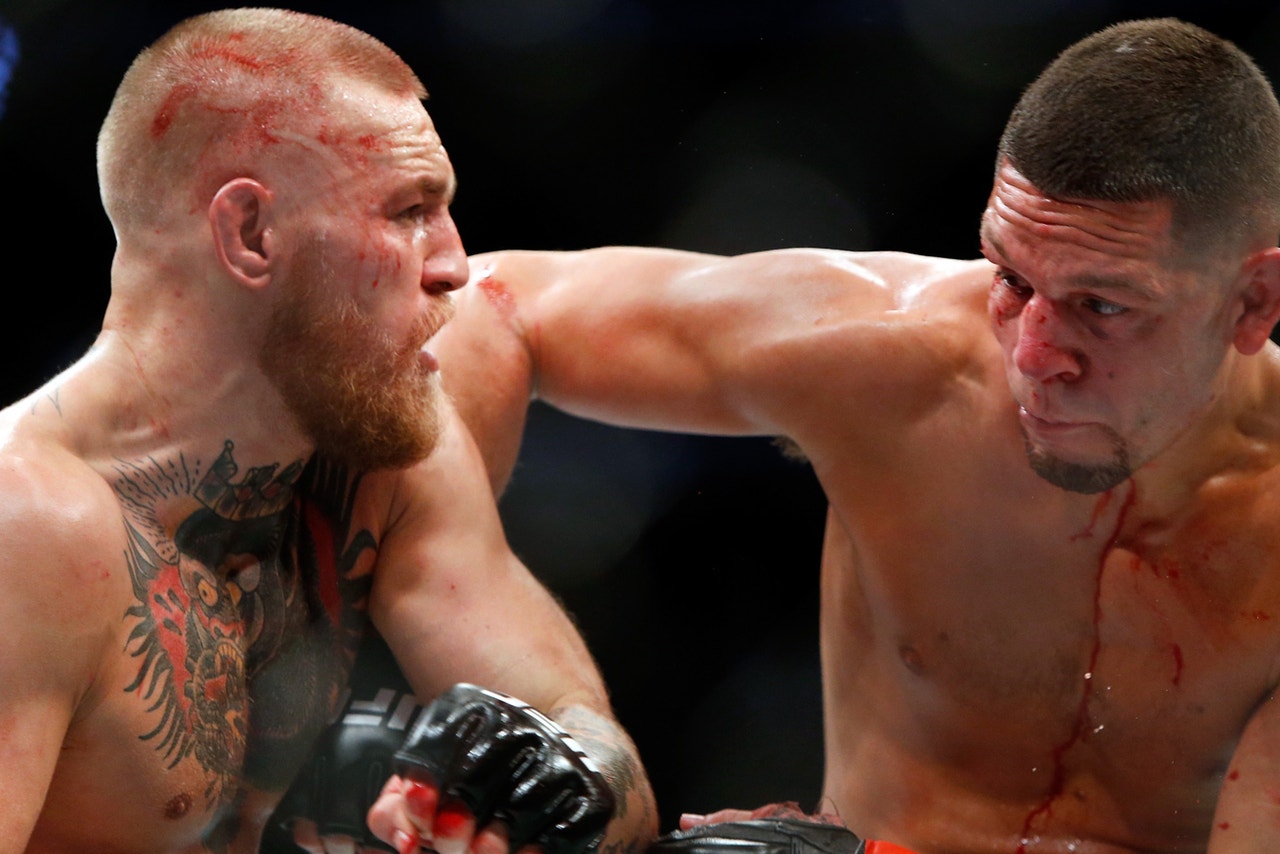 McGregor survived the onslaught but not only managed to recover in the corner, but he then came out with even more energy in the fourth round as he started to return fire against Diaz.

Diaz then came storming back in the fifth before landing a takedown near the end of the round that saw him mount McGregor before raining down a series of hard punches from above. When the horn finally sounded, Diaz helped McGregor up from the canvas and they embraced after going through hell together for 25 minutes.

"What was it?" McGregor asked his head coach about the result of the fight before the scorecards were read.

"3-2," Kavanagh responded to reassure his fighter that he did enough to win.

Just before Bruce Buffer revealed the scores, McGregor gave Diaz congratulations for giving him everything he could handle and more over 25 minutes.

"Great fight, brother. Great [expletive] fight," McGregor told Diaz. "You're a Mexican warrior."

Not to be out done, referee "Big" John McCarthy then paid McGregor a similar compliment just before the decision was read.

"Great job," McCarthy told McGregor. "You are a [expletive] warrior, brother."

A few seconds later the scores were revealed that gave McGregor the victory and revenge after he suffered a submission loss to Diaz just five months earlier.

As McGregor made his way backstage he had to get some crutches for his banged up leg that was damaged after delivering a brutal series of kicks to Diaz throughout the five round fight. It was all worth it as McGregor celebrated a hard fought win over Diaz.

Considering the magnitude surrounding the rematch it's tough to imagine McGregor and Diaz not meeting for a third time in the UFC at some point in the future.


---
---