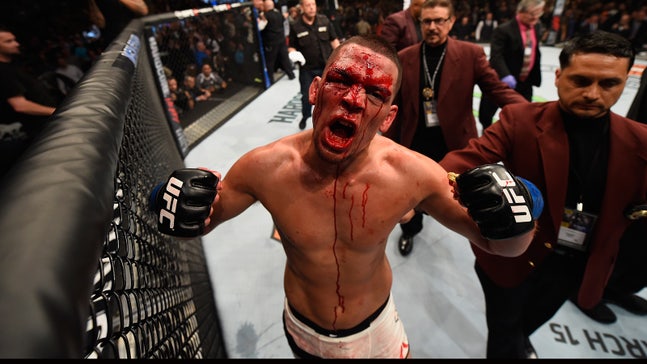 Nate Diaz tired of 'ridiculous' excuses for Conor McGregor
Published
Mar. 15, 2016 12:55 p.m. ET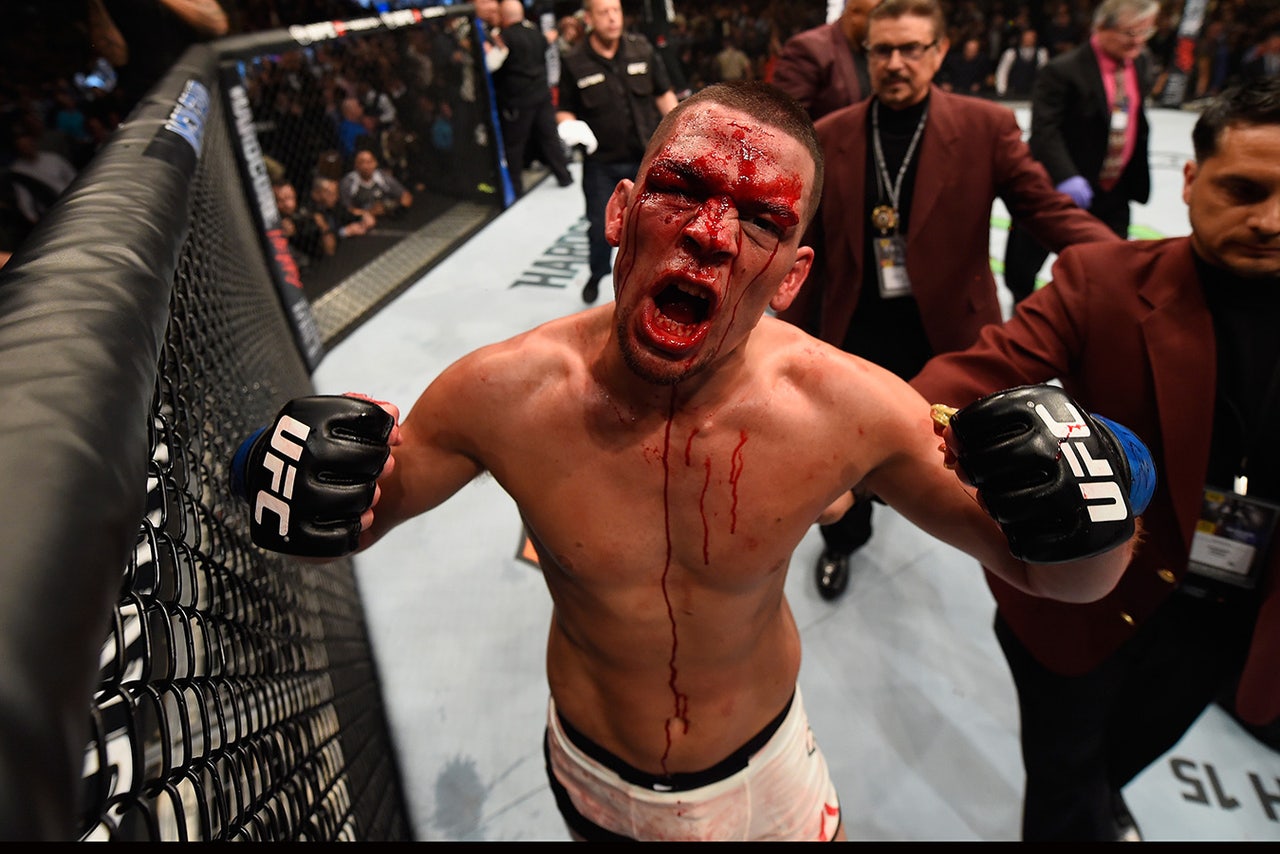 If anybody was at a disadvantage going into UFC 196, Nate Diaz had plenty of built in excuses if he didn't come out on top against featherweight champion Conor McGregor.
Diaz accepted the fight on just 10 days notice with no prior training camp to prepare for McGregor. He was in Mexico on a vacation when the UFC gave him the call to offer him the fight with the outspoken Irishman, who was supposed to fight for the lightweight title until champion Rafael dos Anjos got injured.
Of course, Diaz fought McGregor at 170 pounds although most everybody watching believed the bout was really contested between two lightweights who didn't actually cut the additional weight to get down to 155 pounds.
Still, Diaz got the job done with a second round rear naked choke submission yet all he's hearing since the fight ended are the excuses why McGregor lost rather than giving him credit for pulling off the win.
"I feel like, honest, I feel like the UFC wants to weed me the (expletive) out of this position. I don't know if I'm supposed to say that. Sorry," Diaz said when speaking to ESPN. "I feel like a lot of people are coming at me now. I see them making a lot of excuses for him, and I think it's kind of ridiculous."
Diaz's issues with the excuses being made for McGregor goes much further than the promotion, who he still says refuses to push him into the spotlight even after a massive win at UFC 196.
Diaz has a major problem with McGregor making the statement he's made since the fight while trying to drag credit away from the way he lost by saying things like he won the first round and most of the second until he got submitted.
"I don't think it's just the UFC. It's everybody. People are saying, 'Oh, (McGregor) is great, he's accepted the loss so well.' If I would have lost, people would be saying, 'piece of (expletive) shouldn't have accepted the fight.' I don't mean to be bitter, but there are a lot of excuses being made for this guy," Diaz said.
"He's talking about winning the first round. There are five rounds in a fight. Who gives a (expletive) if you won a round? You lost."
In addition to Diaz's complaints about McGregor's excuses after the loss, he's still not happy with the amount of money he made despite a noted $500,000 flat payday plus a back end on pay-per-view that will push the former "Ultimate Fighter" winner into a multi-million dollar salary for the fight.
Diaz is even angrier that it took him this long to get paid as well as he did for the McGregor fight and now he's standing his ground about making those kinds of dollars going forward.
"I made a good amount of money," Diaz said. "I think they're over-exaggerating how much. I don't feel like anybody did me any favors, I'll tell you that much. But I made a good chunk of change and I'm grateful. I've been demanding that.
"I was screwed for a long time. If I had been thinking business since I was 21, I'd be a rich man right now."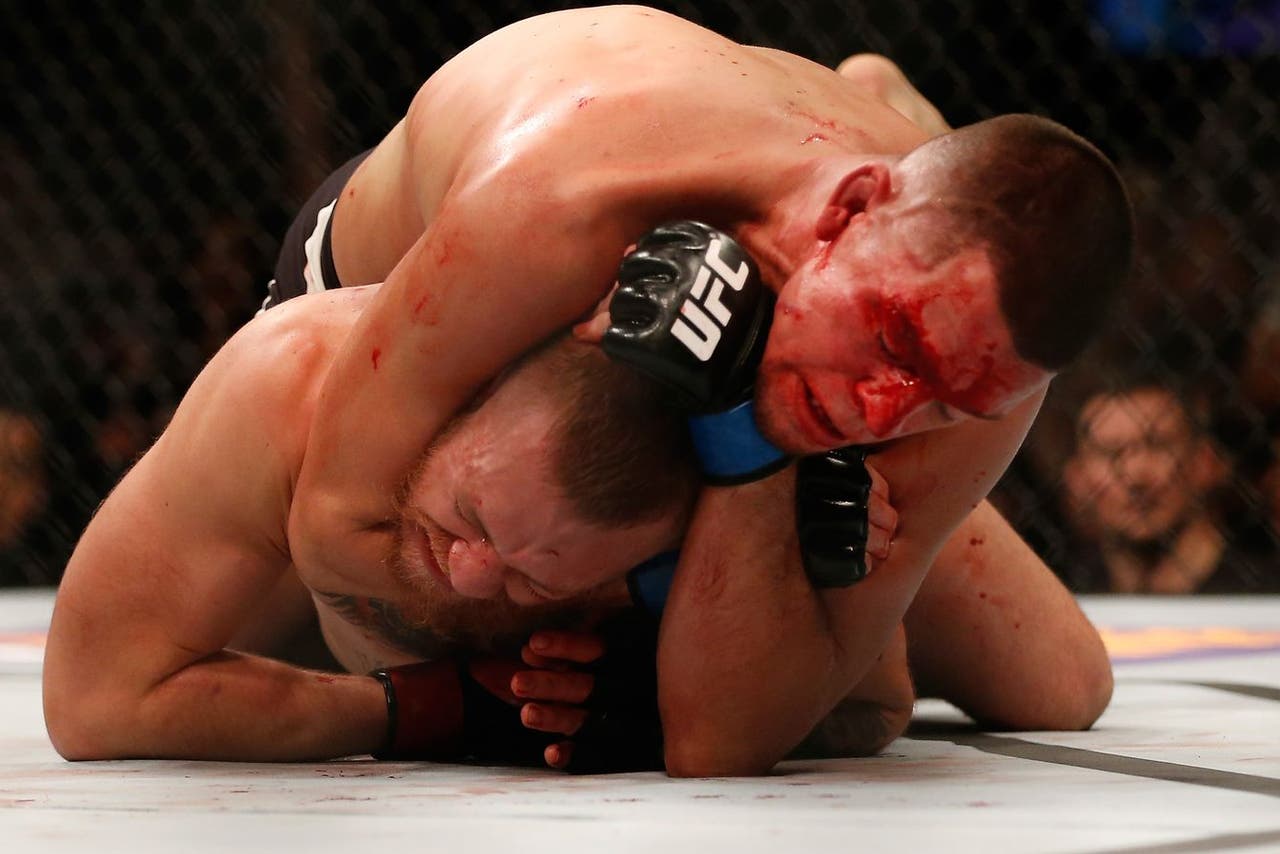 As much as Diaz seems irritated by the fallout from the McGregor fight whether it's his salary or the reaction the featherweight champion has faced from the defeat, he's still interested in moving forward with his next matchup.
While UFC president Dana White and co-owner Lorenzo Fertitta had mentioned the possibility of Diaz fighting welterweight champion Robbie Lawler with other rumors possibly pitting him against Georges St-Pierre, it appears neither of those are the Stockton, Calif. native's first options.
With Nick Diaz set to return in late July after serving an 18-month suspension following a positive drug test for marijuana stemming from his last fight in 2015, the younger Diaz believes both Lawler and St-Pierre are fights he'd like to save for his brother.
Meanwhile, Diaz has dibs on a rematch with lightweight champion Rafael dos Anjos, who he fell to in a previous fight from December 2014.
"I'm thinking probably the lightweight title fight, whatever is biggest," Diaz said. "The biggest thing with Lawler and GSP -- I would have been all about those fights and I am, but at the same time, my brother is coming back and those are his fights. Those are Nick Diaz fights. I'm not trying to step on his shoes."
As far as a rematch with McGregor goes, Diaz is still not all that interested in facing the Irishman a second time after submitting him in less than 10 minutes the first time around. There are plenty of bouts Diaz lost and he never got a rematch so why should McGregor be any different?
"We'll see how things play out," Diaz said. "As far as rematches go, I lost close decisions and never got a rematch.
---
---