Kenny Florian talks Ronda Rousey's dominance & worry over Nogueira's health
BY Elias Cepeda • July 31, 2015
Former three-time world title challenger Kenny Florian is spending some time breaking down UFC 190 this week on FOX Sports 1, but we wanted his expanded take on a few of the highest-profile fights on the Pay-Per-View card.
So we asked "KenFlo" to bring his considerable analytical skills to our digital pages once more to answer some crucial questions regarding UFC 190, Bethe Correia, Ronda Rousey, the Nogueira brothers and "Shogun" Rua.
As it stands, the Brazilian challenger Correia is a huge underdog to Rousey in their main event women's bantamweight championship fight. More importantly, the matchup seems like a favorable one for Ronda.
We asked Kenny if he felt Correia had any real chance at dethroning the undefeated titleholder. In short, he said no.
"I don't think Correia has a chance," he said.
According to Kenny, Ronda is like a dominant Mike Tyson in his prime in that her winning has become predictable. However, Florian doesn't think that's a bad thing.
"I don't think there's a more dominant athlete in the UFC than Rousey," he said.
"At this point we are watching Ronda Rousey fight to witness destruction, to witness domination. I don't think there's anything wrong with that. As a martial artist, I watch Ronda to see her technical advantages put into action. As a fan, I want to see how she's going to do it. I want to see that domination in action, and the technical ways she goes about it. Any time there's a dominant athlete in various sports, we don't necessarily watch them to be challenged all the time. We want to see their greatness on display. I just think Ronda was born 30 years too soon to be really challenged."
As for the legendary Nogueira brothers, who both fight on the main card of UFC 190, Florian shares our concern that they have gone through too many wars, over too many years, to continue to fight in a relatively healthy way. "Especially in the case of 'Big Nog' because he's done so many great things in the sport," he said.
"I don't to see his legacy hurt even more. Often times, the latest memory we have ends up being the verdict on a fighter. That's not correct, but it often happens that way. Now, our most recent memories of 'Big Nog' are of him getting knocked out or submitted in brutal ways. In reality, he's a legend, but this could affect his legacy."
More important than perceived legacy, however, is consideration for the 40-year-old former heavyweight champion. "At the same time, I don't want to see him physically affected," Florian continued.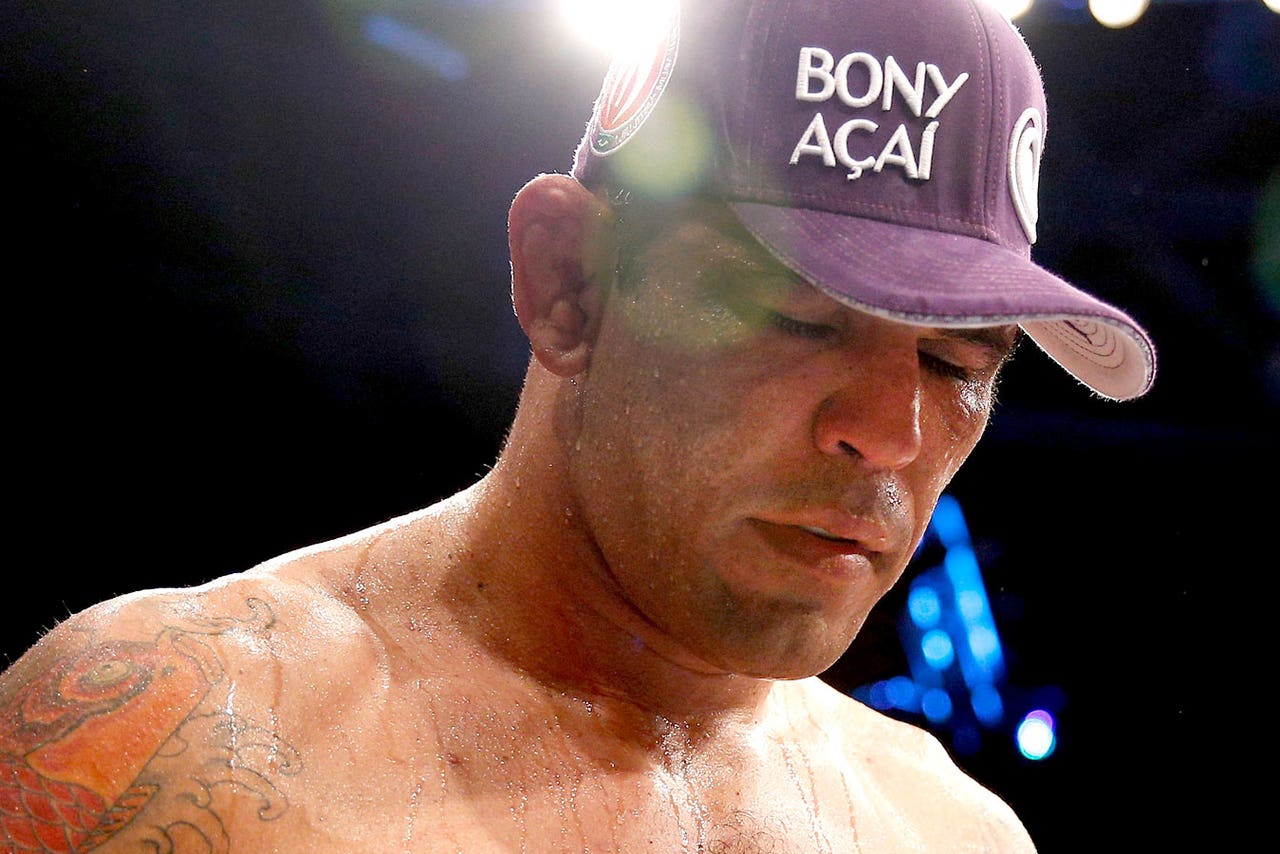 Kenny Florian knows why it is hard for fighters like Antonio Rodrigo "Minotauro" Nogueira to retire when they should.
"I can relate to what these guys go through. Fighters always believe that we're one fight away from changing the story, from coming back and having that rebirth. That is always the struggle for any competitive person. How do you tell them that it's done? 'That's it, you're on the decline. It's time to hang it up, time to reinvent yourself'? Especially if this has been your only job, and it has become such a big part of your identity. It's hard to walk away."
Despite his young chronological age, "Shogun" has been in some of the greatest fights of all time. The thing about "great" fights is that they are usually brutal wars of attrition where years of qualitative life are taken away from fighters.
From his nasty war with Antonio Rogerio Nogueira in 2005, which we'll get a rematch of Saturday, to his two thrillingly violent battles with Dan Henderson and more, Rua has taken several lifetime's worth of damage to his brain and body. Oh yeah, let's not forget the decades of training in the gym (where most damage is actually accrued for fighters), specifically at Chute Boxe.
Back in those days, those guys like Rua, his brother "Ninja," Anderson Silva and Wanderlei Silva were known for knock-down, drag-out sparring. Heck, according to legend, Wanderlei once knocked Rua out over a puppy in the gym.
Really.
All that is to say that Rua has a lot more wear-and-tear than the average 33-year-old fighter. His frequent losses over recent years are a testament to that. 
More than that, however, Florian's expert eye has noticed that the Brazilian simply does not move the same, anymore. Kenny isn't saying that it is time for "Shogun" to retire, but he does have his concerns for the man's health.
"It's tough to say," he began.
"He is certainly not the same as he used to be. All indications are that he is on the decline, unfortunately. It is tough as a fan to see that from a guy who maybe was the best pound-for-pound in the world at one point. His 2005 was one of the best years for a fighter in MMA history, with what he did and who he beat. 
"I don't know if he is on the same decline as 'Big Nog' but he is certainly on a decline. I think it comes down to what he can do to change up his training. Can he reinvent himself on the technical side? Because, he's just not moving the same. For a fighter who has done a lot of the things he has done, and had the success he has had, it is hard to get those guys to reinvent themselves. I do like the fact that he's mixing things up by training in the U.S with his old coach Rafael Cordeiro, away from his home country. That makes a fighter focus. It is a positive sign of his mentality, that he still has the hunger to go outside of his comfort zone, and to learn and evolve."
---
---