Joseph Benavidez defends Demetrious Johnson: "Our job is to fight"
BY Damon Martin • November 21, 2014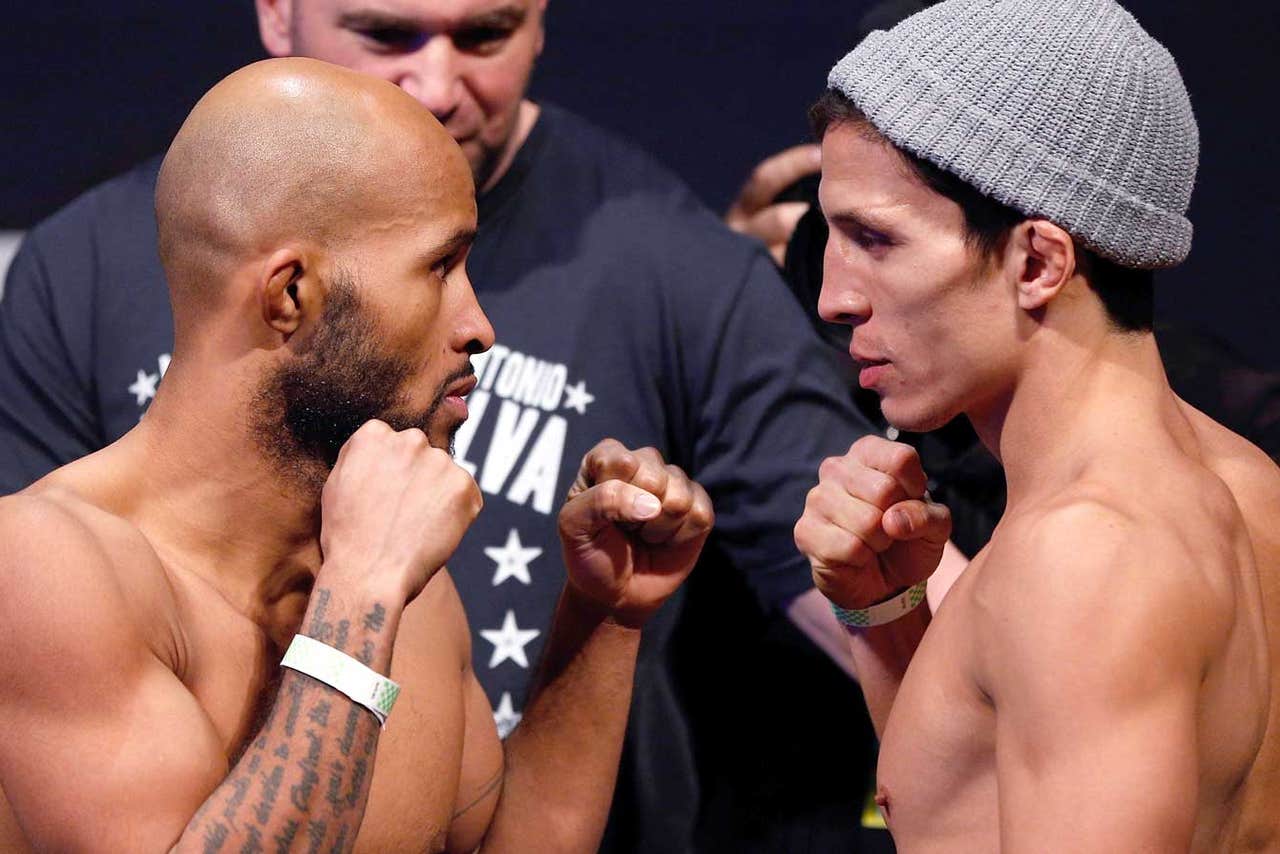 The UFC flyweight division will celebrate its third anniversary in March 2015, but the weight class is still struggling to find attention from fans when it comes to ratings and overall appeal for pay-per-view buys.
The division has only ever known one champion, Demetrious Johnson, who might be the best pound-for-pound talent on the planet and also the person with the least interest in the entire UFC when it comes to promoting his fights.  Johnson is a blue collar worker who prefers to let his actions inside the cage do the talking for him, but it's hard to look the other way when promotion becomes another part of a fighter's job in the UFC.
Stars like Conor McGregor have earned main events, huge paydays and potential title shots by mixing in dominant performances with the gift of gab on the microphone.  Johnson will never be that guy, but is it holding back the division from actually getting over with fans?
"If you're asking would the division be better off if I was champion? Of course it would, especially for me," Joseph Benavidez told FOX Sports when asked about Johnson prior to his fight this weekend in Austin.  "Yeah it would be a better thing, but I guess you could say it's holding back the division. At the end of the day, the guy's doing what he has to do and you can't fault him."
In a perfect world, Benavidez actually agrees with Johnson's approach to a no non-sense style of just going out, fighting and beating every opponent that stands in front of him.  Benavidez has fallen to Johnson twice in the past, virtually eliminating him from title contention so long as he hold the belt.
Still, Benavidez isn't bitter that Johnson isn't doing more to perpetuate the division in terms of selling fights or promoting his title bouts.
"He's not going to talk smack, he's not going to call anybody out.  I kind of agree with the whole base of he lets his fighting do the talking for him," Benavidez said. "I think people would just like to know him a little more.  At the end of the day, our job is to fight and that's it."
When the microphones aren't on and the cameras aren't rolling, Benavidez got to know Johnson a bit more through two public relations cycles as champion and challenger.  He knows Johnson to be a pretty interesting guy, but he just doesn't put that personality on display when it's time to promote fights and that's his choice.
Benavidez enjoys his time doing interviews and promoting fights and it's helped him build a loyal fan base both for his fights and via social networks like Twitter and Facebook.  Johnson just isn't that guy.
"Mighty Mouse is actually a pretty funny and interesting guy, but I think when it comes down to fighting he takes it for what it is.  He takes it as a fight and he's concentrating on that instead. I think I have a lot of the same views he has, but I do enjoy talking to people and expressing myself," Benavidez said.
"There are other people out there who are invested in me and I just like to show my thanks.  For me it's a form of self expression to show my personality.  To talk about my fights or send a tweet or tell people what kind of music I like or what kind of movies I like.  It's just a form of self expression."
Other flyweights like Ian McCall have spoken out in brutal honesty when it comes to Johnson's demeanor before and after a fight.  Some believe there's no doubt if he was a more marketable champion, the division as a whole would see an influx of attention, people would want to pay to see them perform and everybody wins.
Benavidez takes a different course of action when looking at Johnson's electric performances inside the cage and subdued demeanor outside of it. Whether Johnson is the best talker in the world or the worst.  Whether he's the promoter's dream or an organizational nightmare.  There's no question Johnson is the best flyweight in the world and Benavidez, McCall and every other top contender would trade the world for a taste of the gold he's had wrapped around his waist for over two years now.
"I'm sure me or (John) Dodson or "Uncle Creepy" (Ian McCall) would trade in his nickname and mustache to have that belt.  At the end of the day it really doesn't matter," Benavidez said.
"Right now, I would trade in whatever I could to get the title.  That's what he did.  You can't have it all but I'm sure Dodson would trade in his laugh and ability to do a back flip to have the belt. You don't get to pick your champion or who you think is the best fighter.  You could say it holds us back a little, but it also holds us back because none of us have been able to go in there and beat him."
---
---