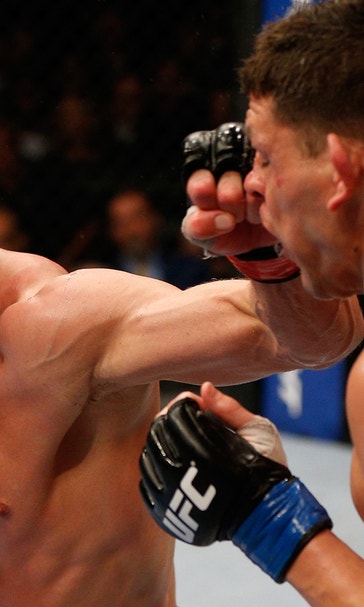 Georges St-Pierre fires back at Nick Diaz, open to rematch in return to UFC
BY Damon Martin • November 15, 2016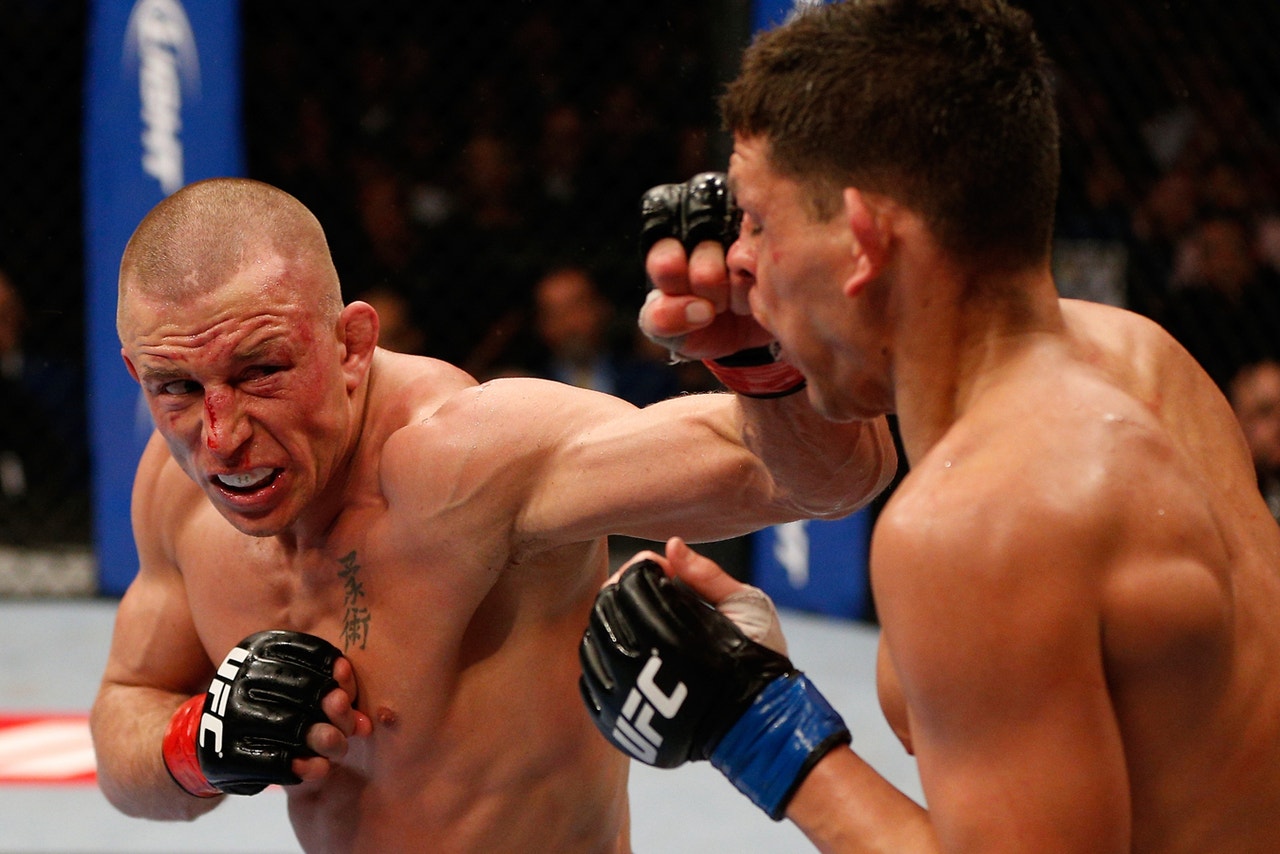 Georges St-Pierre is plotting his comeback and looking at a lot of potential opponents when he returns -- and that includes UFC bad boy Nick Diaz.
St-Pierre and Diaz engaged in one of the most heated rivalries in recent years after they were matched up to fight at UFC 158 in 2013.
The pre-fight banter was legendary but the bizarre allegations after St-Pierre won a unanimous decision have only spurred on the possibility of a rematch. With everything from Diaz claiming that St-Pierre didn't actually make weight to allegedly being drugged before the fight, there certainly seems to be enough interest to make a rematch happen.
St-Pierre says that he's more than happy to face Diaz for a second time and settle this rivalry once and for all.
"It seems to me to me like it's Nick Diaz that is running for another shot at me," St-Pierre said when speaking to Bloody Elbow. "I wouldn't mind, I'm not afraid of Nick Diaz, I'll tell you. I am telling you right now -- if it's what the fans want to see, I'm in."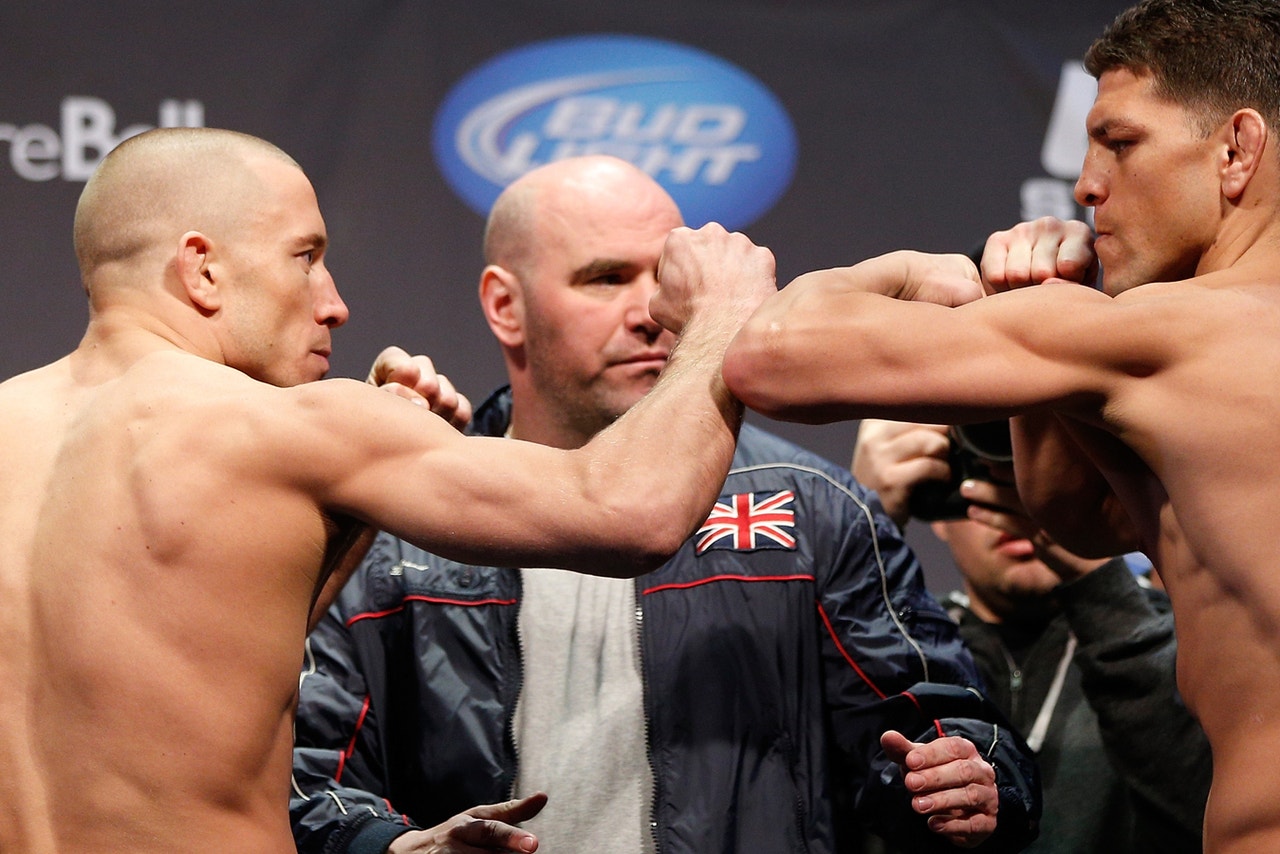 St-Pierre is best known as a cerebral fighter, who rarely gets drawn into pre-fight trash talk or emotional back and forth with any of his opponents.
That didn't seem to be the case with Diaz, however, who seemed to irk St-Pierre at every turn in the lead up to their first fight.
As much as Diaz may have been an annoyance, St-Pierre is prepared to do it all over again for a rematch, if that's the fight the UFC wants to put together.
Of course, he doesn't think Diaz will like the result.
"I beat him last time easily, but I was not happy -- It's one of these fights that I'm not happy with," St-Pierre explained. "Because I didn't feel like I gave enough, for different reasons. It left me angry that fight, when I look back at it -- maybe I won, but for some reason it left me angry and I feel like I could have done so much better."
St-Pierre didn't bring it up, but his Brazilian jiu-jitsu coach John Danaher just recently revealed that the Canadian fighter suffered some kind of food poisoning after drinking some bad watermelon juice the night before his first fight with Diaz.
Whether that was the cause of St-Pierre's malaise in the bout with Diaz is unknown, but he's more than confident that the rematch would go his way.
St-Pierre makes it clear that no matter what Diaz does or says in the lead up to a potential second fight, he's definitely not scared to face the Stockton, Calif. native a second time. In fact, he welcomes the opportunity.
"He got in people's heads, but everybody knows who's who, who's bringing which set of skills, I have no problem, I'm not afraid of him," St-Pierre said.
"He said I'm afraid but I'm not afraid of him."
---
---