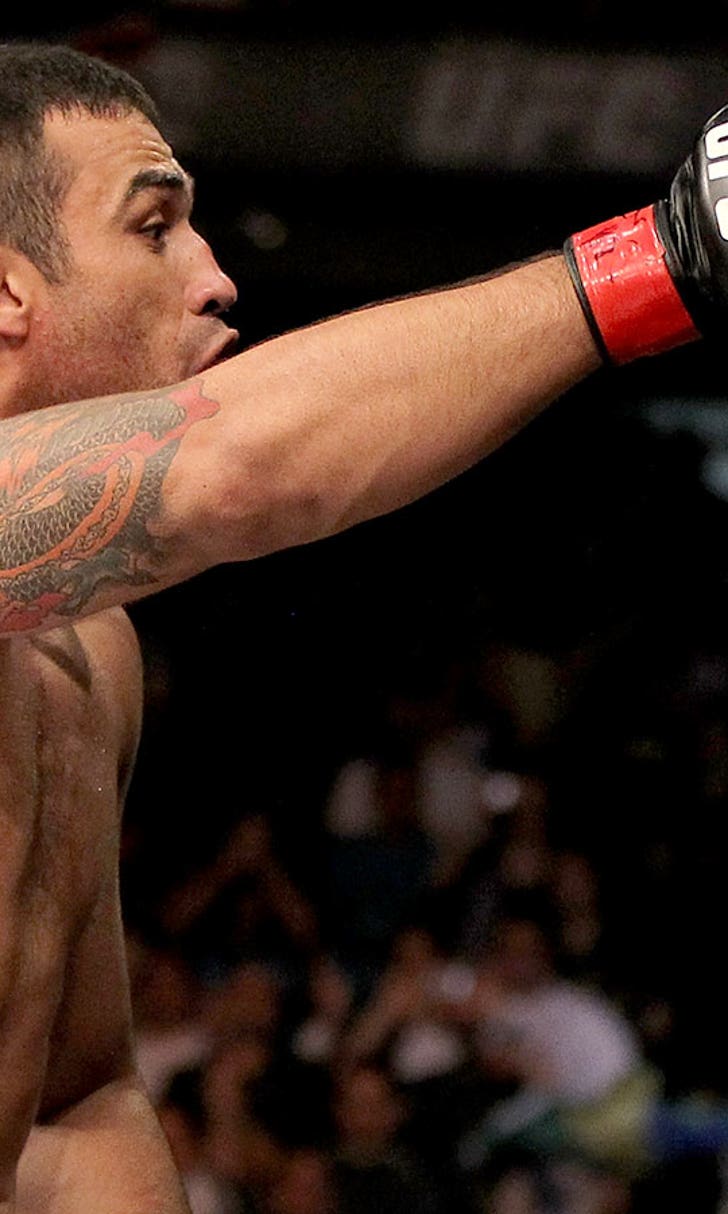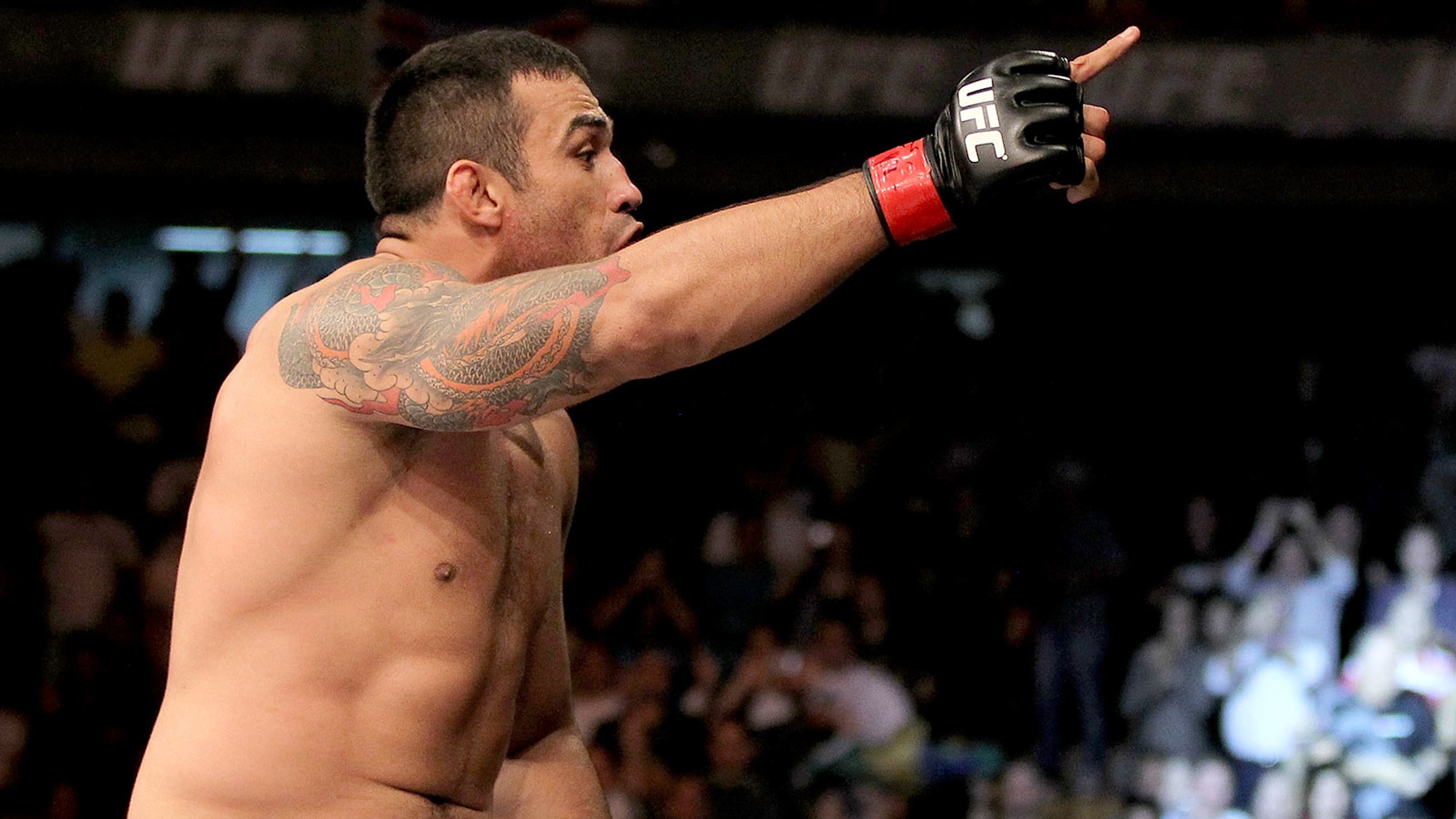 Fight Blog Recap: Fabricio Werdum TKO's Mark Hunt to claim interim heavyweight title
BY Damon Martin • November 15, 2014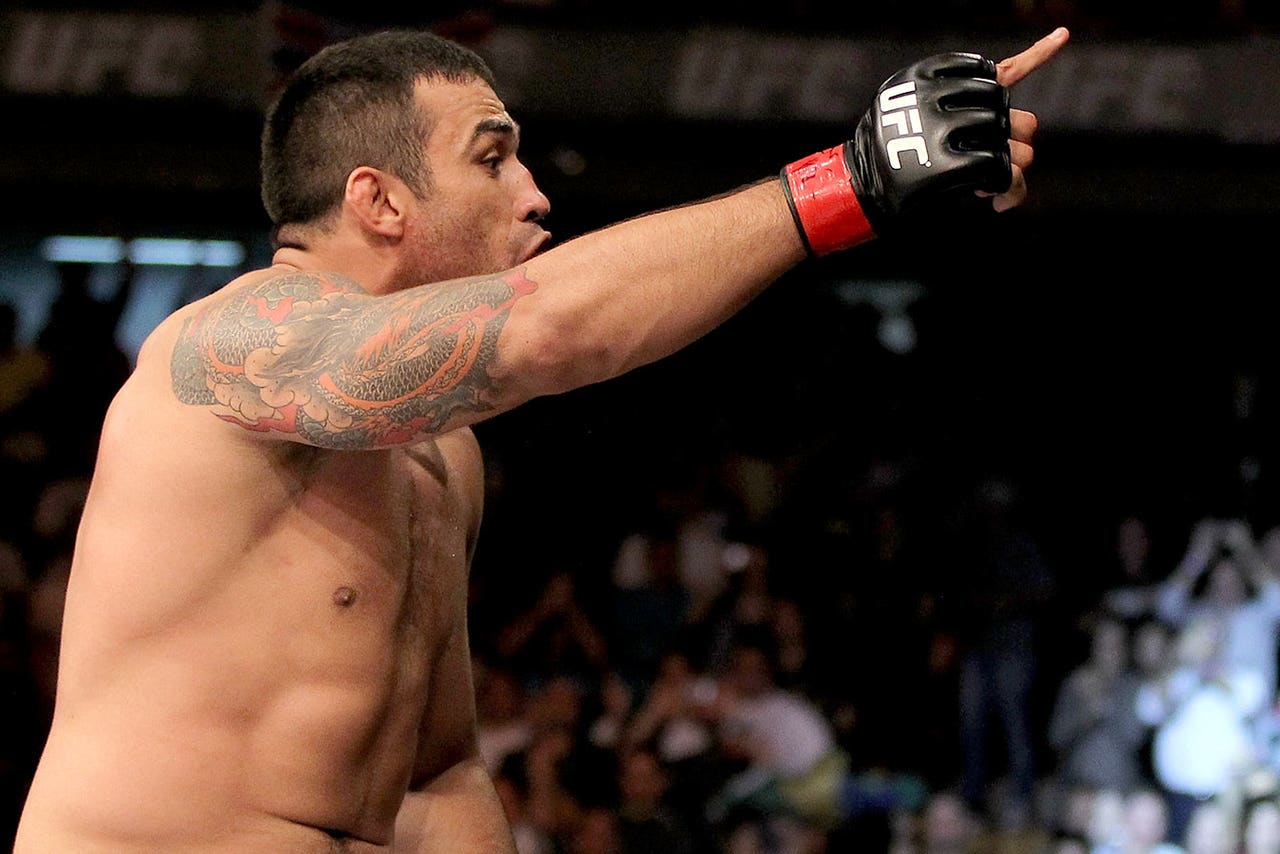 Following a 12 year career where he was always a top contender, but never a champion, Fabricio Werdum claimed his first title on Saturday night as he knocked out Mark Hunt to win the interim UFC heavyweight strap in front of 20,000 fans in Mexico.
It wasn't an easy road to get there, however, as Werdum got dropped twice by Hunt before he finally connected with a massive knee strike that put the former kickboxing champion on the ground.  Werdum followed up with a barrage of strikes to get the stoppage before celebrating with the UFC title around his waist.
Following the win, Werdum requested that his unification bout with heavyweight champion Cain Velasquez happen in either Mexico or Brazil and hopefully that will come together in early 2015.
Also on the card, Kelvin Gastelum backed up a mountain of hype as the young welterweight prospect made short work of Jake Ellenberger.  Gastelum sunk in a quick rear naked choke in the first round, getting the tap as he will enter the top 10 for the first time in his career after knocking off the No. 7 ranked fighter in the world.
Full play-by-play and results from UFC 180: Werdum vs. Hunt below:
Mark Hunt out to "Set a Fire" by Jesus Culture. Fabricio Werdum to "Cielito Lindo" by El Mariachi Vargas de Tecalitian
Round 1:
Hunt connects with a punch and drops Werdum to the canvas.  Werdum back up but he's looking for takedowns now.  Hunt slips a punch and takes Werdum down, but that's not the place he wants to be.  Werdum has Hunt in his full guard as they wrestle against the cage. Hunt stands back up after landing some short punches to Werdum. Hunt with a stiff uppercut that rattles Werdum's jaw. 
10-9 Mark Hunt
Round 2:
Hunt steps in and drops Werdum with another straight punch.  Not a lot of damage done, but Werdum is struggling with Hunt's power so far.  Werdum tries a spinning back kick, but Hunt ducks and just shoves him to the ground. Werdum counters with a huge knee and drops Hunt to the mat.  Werdum follows him to the ground where he unloads a barrage of strikes and gets the stoppage! Werdum is the new interim heavyweight champion
Official result: Fabricio Werdum def. Mark Hunt by TKO (strikes) at 2:27, R2
Analysis: Mark Hunt had his chances in this fight, knocking Fabricio Werdum down on two occasions, but he just couldn't get the finish.  Werdum was struggling with Hunt's power, but all it took was one huge knee that clocked Hunt right on the jaw to put an end to the fight.  Werdum was preparing for a physically imposing wrestling with serious power in the clinch in Cain Velasquez so the fact that he struggled early against Hunt shouldn't be a huge surprise.  In the end he still got the win.
Now, Werdum has to wait to see when Cain Velasquez is ready to return so he can unify the titles for one, undisputed UFC heavyweight champion.  The interim belt is nice, but Werdum knows the real title still remains around Velasquez's waist. 
Kelvin Gastelum out to "El Palenque" by Vincente Fernandez. Jake Ellenberger to "Dream On" by Aerosmith
Round 1:
Ellenberger countering well as Gastelum presses forward.  Ellenberger nails Gastelum with a big counter right to wake up the former Ultimate Fighter winner. Gastelum gets under Ellenberger's hips and lands a big takedown. Gastelum looking for big elbows but they get back up again.  Ellenberger looks for a takedown, but in the transition to the mat, Gastelum takes his back.  He sinks in a rear naked choke and that's it Ellenberger taps out! Wow what a win for Gastelum
Official result: Kelvin Gastelum def. Jake Ellenberger by submission (rear naked choke) at 4:46, R1
Analysis: Welcome to the top 10 of the welterweight division, Kelvin Gastelum.  He was already considered one of the top prospects in the weight class, but choking out Jake Ellenberger in the first round is huge.  Gastelum seems to have figured out his weight cut to get down to 170 pounds and he has all the talent in the world.  A fight against Tyron Woodley would seem like a logical next step for Gastelum. 
As for Ellenberger that's three losses in a row and likely a severe drop in the rankings following this fight.  He's raved about training under new coach Edmond Tarverdyan, but thus far he's 0-2 with a knockout and a submission loss.  Maybe a change of scenery is forthcoming. 
Dennis Bermudez out to "Ambition" by Wale. Ricardo Lamas to "De Mexico a la Habana" by Sonora Santanera
Round 1:
Bermudez jumped in with a good right hand that cracks Lamas before getting in the clinch, but they quickly separate.  Lamas lands a good body kick that pushes and floors Bermudez for a moment. Lamas cracks Bermudez with a huge left hand and then jumps on a guillotine choke and rolls to mount.  Bermudez taps out and there goes his seven fight win streak.
Official result: Ricardo Lamas def. Dennis Bermudez by submission (guillotine choke) at 3:18, R1
Analysis: Ricardo Lamas will be the first person to say he didn't have a good fight against featherweight champion Jose Aldo, but he came back in a big way on Saturday, putting away Dennis Bermudez with a first round submission.  Lamas cracked him with a punch and finished with the guillotine.  It's disappointing more people didn't give Lamas the credit he deserved going into this one. It would be fun to see Lamas face Chad Mendes in his next fight. 
Chris Heatherly out to "Handsome and Wealthy" by Migos. Augusto Montano to "Un Gran Circo" by Maldita Vecindad
Round 1:
Heatherly with an early takedown, Montano constantly switching his hips trying to go for submissions and uses it to slip out the backdoor and stand up again.  Montano traps Heatherly against the cage and starts slipping punches in bunches. Heatherly weathers the storm and circles out the other side.  Montano looking for an anaconda choke after Heatherly pulls guard, but they are up again.  Montano pushes Heatherly against the cage and he's getting plowed by knees.  Montano landing to the head and body and Heatherly just defending.  John McCarthy sees enough and stops the fight.
Official result: Augusto Montano def. Chris Heatherly by TKO (stoppage due to strikes) at 4:50, R1
Analysis:  Augusto Montano was the veteran star from Mexico on the card and he did what he had to do to win.  Not the most impressive performance considering Heatherly has shown little in the way of being at a real UFC level. Still a good win for Montano and it will be interesting to see if he can develop with more fights in the Octagon. It's hard to imagine Heatherly coming back after two rough performances in a row. 
Hector Urbina out to "Cumbia Sobre el Rio" by Celso Pina.  Edgar Garcia to "Bandoleros" by Don Omar, Tego Calderon
Round 1:
Garcia catches a kick from Urbina, takes him down and starts looking to take his back.  Garcia gets the hooks in, but can't control Urbina and he gets reversed.  Urbina looks for a guillotine and then transitions to an anaconda choke, but loses it.  Urbina stays after it and locks up another guillotine choke and he twists and wrenches the neck in directions it should not go.  Garcia has no choice but to tap. Great win for Urbina.
Official result: Hector Urbina def. Edgar Garcia by submission (guillotine choke) at 3:38, R1
Analysis: Urbina was one of the stronger competitors on The Ultimate Fighter 19, nearly finishing Cathal Pendred in his quarterfinal fight before ultimately losing a close decision.  Urbina is a well rounded fighter and a veteran with a good team around him.  It would be fun to see him get a second fight with Pendred after what happened on the reality show.
Round 1:
Yair Rodriguez opens with a nice trip takedown and lands right in the mount, takes the back and he's got Morales in trouble.  Morales reverses, but he's stuck for a moment in an armbar before he slips out.  Morales slips through a left hand during a big exchange. Really good first round
10-9 Yair Rodriguez
Round 2:
Rodriguez lands a big takedown about 90 seconds into the round and he's inside Morales' guard. He stands up and throws down a haymaker, missing but lands in half guard this time. Rodriguez up again and he goes for a cartwheel kick and then goes to the ground where he looks for a heel hook.  Morales just can't get out of the way and he eats a big up kick as well when he tries to escape.
10-9 Yair Rodriguez
Round 3:
Morales tags Rodriguez with a good body kick, but the Mexican fighter just fires right back at him while standing toe-to-toe in the pocket. Morales gets a throw on Rodriguez, but loses his grip and Rodriguez pops right back up.  Rodriguez goes for a big combination, ending with a spinning wheel kick but misses.  Another good flurry from Morales before the end of the round. Close one right there.
10-9 Leonardo Morales
FOX Sports scores the fight 29-28 for Yair Rodriguez
Official result: Yair Rodriguez def. Leonardo Morales (29-28 on all cards)
Analysis: Much like the bantamweight finals, the two fighters at 145-pounds really brought it in the first ever TUF Latin American finale.  Yair Rodriguez showed more well rounded skills with good takedowns, submissions and standup, but Morales countered with some heavy shots on the feet.  Rodriguez might be the best prospect to come off the reality show judging by his performance on Saturday. Well rounded and dangerous everywhere. 
Round 1:
Quinonez and Perez are exchanging some big strikes in this first round. Perez using his leg kicks to slow down Quinonez. Meanwhile, Quinonez using his reach and quick movement to tag Perez.  Perez coming over the top and tagging Quinonez throughout the right, hurting his former Team Velasquez teammate several times
10-9 Alejandro Perez
Round 2:
Perez still firing his combinations, but Quinonez looks more comfortable this round as he starts to use his reach a bit more.  Quinonez keeps looking for a jumping knee, but Perez is timing his counters perfectly.  Perez slowing down in this round, which allows Quinonez to come back.  Close round, tough to call
10-9 Jose Quinonez
Round 3:
These guys come out throwing heavy leather in round three.  They are really going for it all.  Perez grabs Quinonez and tosses him with a suplex and then transitions for a rear naked choke.  Quinonez slips out and he's on top. Quinonez is looking for a head and arm triangle choke.  They separate and Quinonez slams his head down into Perez, clearly an illegal head butt.  John McCarthy deducts two points from Jose Quinonez for the intentional head butt. Quinonez gets a takedown on the restart.  He needs a finish or he's probably going to lose this one.
9-8 Alejandro Perez
FOX Sports scores the fight 28-27 for Alejandro Perez
Official result: Alejandro Perez def. Jose Quinonenz by unanimous decision (29-26, 28-27, 29-26)
Analysis:  Back and forth war between these two Mexican fighters, both leaving everything in the cage to try and take home the TUF title.  Quinonez made a massive mistake with the head butt and it likely cost him the fight.  Kudos to John McCarthy for realizing it was clearly intentional and deducting two points, making it virtually impossible for Quinonez to win the fight.  Perez looked good early, but faded late.  Quinonez will likely get a second chance following a very fun fight.
Round 1:
Eye's boxing is on point putting together fast, hard combinations.  She's landed 32 strikes already through the first two minutes of the fight.  Smith connects with a straight punch that snaps Eye's head back looking for more power shots. Eye blasts Smith with a right hand that opens a huge cut on the side of Smith's head and ear.  Eye out lands Smith 57-17 in head strikes in round on
10-9 Jessica Eye
Round 2:
Smith's ear is a mess from Eye's punch in the first round.  Eye's combinations are lighting up Smith.  The fight is paused again because Smith's ear is literally split in two and it's bad. The fight is stopped because Smith's ear is hanging off her head.
Official result: Jessica Eye def. Leslie Smith by TKO (doctor's stoppage) at 1:30, R2
Analysis: Jessica Eye looked better than ever tonight.  Fast combinations, hand speed was incredible and the volume she landed was accurate and did maximum damage.  Eye made a real statement in the UFC women's bantamweight division with her win on Saturday night.  She deserves a top five matchup at this point, maybe drawing a fight with popular Brazilian striker Bethe Correia for her next matchup. 
Gabriel Benitez out to "Mejor Morir En Pie" by Tierra Santa
Round 1:
Benitez snatches a guillotine choke when Brown looks for a big double leg slam.  Benitez locks it up ultra tight, but Brown fights his way out.  Benitez is stuck on the bottom now, but he's looking for armbars and triangle chokes until they work back to the feet.  Benitez locks up another guillotine choke, but Brown slips out again.
10-9 Gabriel Benitez
Round 2:
Between rounds, Benitez's coaches including Luke Rockhold tell him to stop going for guillotines, keep it standing.  He listens and does a good job establishing his jab early in the round.  Humberto Brown lands a second low blow during the fight, and the referee decides to take a point away.  Could be devastating in the final decision.  Brown looking for a takedown, but Benitez defending well. Benitez aggressive again before the end of the round
10-8 Gabriel Benitez
Round 3:
Brown slips inside early but Benitez locks up another guillotine choke while standing.  Sinks it up so deep, Brown just crumbles to the mat and when they land on the mat it' clear he's gone to sleep. Benitez with a nasty guillotine choke finish
Official result: Gabriel Benitez def. Humberto Brown by submission (guillotine choke) at :30 seconds, R3
Analysis: Really solid performance from Gabriel Benitez, who was one of the most experienced fighters on The Ultimate Fighter: Latin America.  Still some work to do when it comes to his wrestling defense, but he showed a slick guillotine choke when Brown looked to take him to the mat.  Benitez trains at American Kickboxing Academy in San Jose, so he's definitely got a good team to help him get better. 
Guido Cannetti out to "Mi Buenos Aires Querido" by Carlos Gardel. Henry Briones to "Bad" by David Guetta, Vassy, Showtek
Round 1:
Cannetti with some good kickboxing at range to start the fight and he even snags a takedown.  Back to the feet, Cannetti opening up again, tagging Briones with a good right-left combo.  Cannetti digs into Briones' body with two kicks in a row and he hurts the Mexican. Briones shows great toughness, but he took a lot of damage that round
10-9 Guido Cannetti 
Round 2:
Cannetti still looking for kicks and knees from the outside, but Briones is head hunting with punches.  Cannetti jumps in and Briones nails him with a huge uppercut! Cannetti goes down and Briones pounces and locks on a rear naked choke.  Cannetti taps out and that's it!
Official result: Henry Briones def. Guido Cannetti by submission (rear naked choke) at 1:44, R2
Analysis: Another big win for the Mexican side of The Ultimate Fighter.  Briones was barely surviving a very rough first round, but he came back huge in round two.  Briones trains out of Alliance in San Diego so he has a good team around him so given enough time he should develop into a solid prospect out of Mexico.  
Marlon Vera out to "Beautiful People" by Chris Brown. Marco Beltran to "Asi Son Mis Dias" by Control Machete
Round 1:
Beltran out struck Vera for the biggest part of the round but when the fight hit the ground it was Vera constantly fishing for submissions.  Vera escapes from the bottom and slips out and begins looking for kicks while Beltran is on the ground.  Vera lands a nasty axe kick right to the cup of Beltran, causing a pause to the fight. 
10-9 Marco Beltran
Round 2:
Vera looks for a quick downtown and Beltran tries for a guillotine, but can't quite put him away.  Vera takes the back and starts looking for a rear naked choke.  He has it locked in a couple of times, but Beltran resists and he's able to reverse position and land on top.  Beltran starts unloading huge elbows and strikes as he traps Vera under him as he moves to guard.  Beltran was down early but came back huge in the last two minutes and stole the round
10-9 Marco Beltran
Round 3:
Beltran comes out firing in the final round and getting aggressive trying to put this one away.  Vera is coming back probably knowing he's down and needs a finish.  He lands a huge knee to the body and Beltran is hurt.  Vera takes the back and he's blasting away with shots.  Vera looks for the D'arce choke and he nearly locks it up but time runs out on him.
10-9 Marlon Vera
FOX Sports scores the fight 29-18 for Marco Beltran
Official result: Marco Beltran def. Marlon Vera by unanimous decision (29-28 on all cards)
Analysis: Back and forth fight from two hungry members of The Ultimate Fighter: Latin America.  Vera had some very close moments, but just couldn't close out the fight.  Beltran was able to do more damage and get the win.  Beltran becomes the first ever UFC fighter to win at an event in Mexico and since he's from Mexico City, it makes it all that much sweeter.
MAIN CARD (PPV, 10p ET)
MAIN EVENT: Fabricio Werdum vs. Mark Hunt
Kelvin Gastelum vs. Jake Ellenberger
Dennis Bermudez vs. Ricardo Lamas
Augusto Montano vs. Chris Heatherly
Hector Urbina vs. Edgar Garcia
PRELIMS (FOX Sports 1, 8p ET)
Yair Rodriguez vs. Leandro Morales
Alejandro Perez vs. Jose Quinonez
Jessica Eye vs. Leslie Smith
Gabriel Benitez vs. Humberto Brown
EARLY PRELIMS (Fight Pass, 7p ET)
Henry Briones vs. Guido Cannetti
---
---